Research shows that many iPhone users do not know which model they use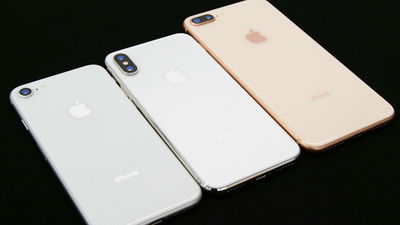 "
Decluttr,
" a service that enables smartphones, CDs, DVDs, books, games, etc. to be sold easily, has conducted an unusual questionnaire survey for smartphone users. The questionnaires vary from orthodox questions such as 'when do you switch devices?' To something unusual such as 'do you correctly recognize the model name of your device?' It became clear that many did not understand which model they were using.
Sell My Stuff | Sell Stuff Online | Decluttr
https://www.decluttr.com/mobile-device-secondhand-market-analysis/
A questionnaire survey was conducted on Decluttr's 2000 smartphone users aged 18 and over living in the United States to find out in detail how much they know about smartphones they use regularly.
The most common answer to the question about the reason for changing smartphones was 'when the terminal breaks down' (31%). Next reason is that 'if you need to use a faster terminal' (26%), users often do not consider switching unless it is necessary, such as failure or slow terminal operation It is clear.
In terms of cost, 43% of the respondents spend more than $ 500 (approximately 54,000 yen) to change terminals. And, 86% of them answered that the terminal which changed was worth the cost.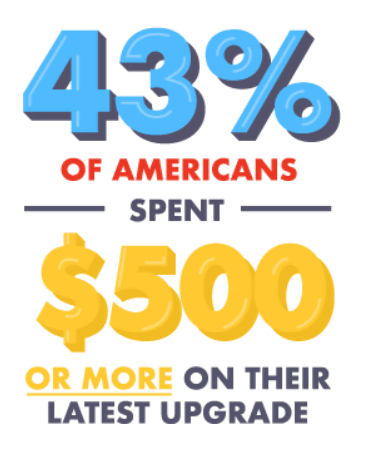 When I asked the user to identify which device they were using with images, many iPhone users did not correctly recognize the device they were using. It seems that it was Samsung's Galaxy S9 + user who was able to recognize the terminal used most properly. The graph below shows the rate at which the owner correctly recognized the terminal, with the highest rate being 71.32% for Galaxy S9 + users, compared with the lowest 44% for iPhone XR and iPhone 7 users. The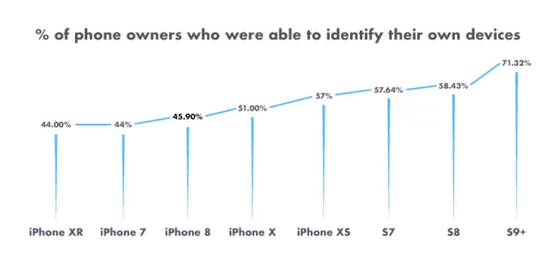 In addition, when I checked whether I knew what kind of function my terminal had correctly, I also clarified that many users did not recognize it correctly. For example, in the case of Samsung Galaxy S7 / S8 / S9 users, it is said that the percentage of users who are aware of the wireless charging function is 40%. In the case of iPhone users, only 14% of iPhone X / XS / XR users correctly understand that their terminal has NFC function.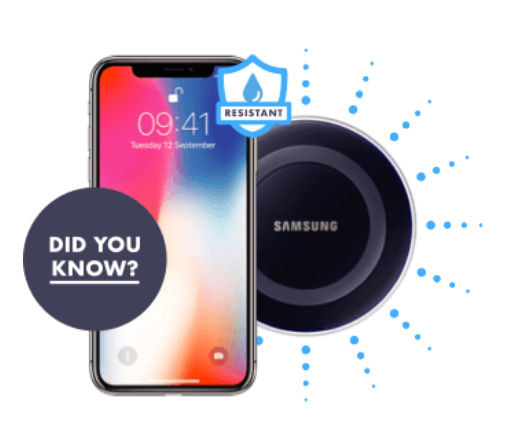 Furthermore, when it was confirmed how much they understood about '5G' which is the next-generation mobile communication standard, about one third of the questionnaire respondents said that 'I own a 5G compatible terminal' is. Furthermore, many of those who answered that 'I own a 5G compatible terminal' claim that I noticed improvement in mobile communication by using a 5G network. However,
5G service
started in the United States from April 2019, and only a few areas offer service. It is thought that many respondents misunderstand about 5G because the compatible terminals are also limited.
The graph below summarizes the percentage of iPhone users (blue) and Galaxy users (light blue) that they think are compatible with 5G by major US carriers. Among the iPhone and Galaxy terminals, at the time of writing, only 'Galaxy S10 5G' is compatible with 5G, but I misunderstand that many users use 5G compatible terminals.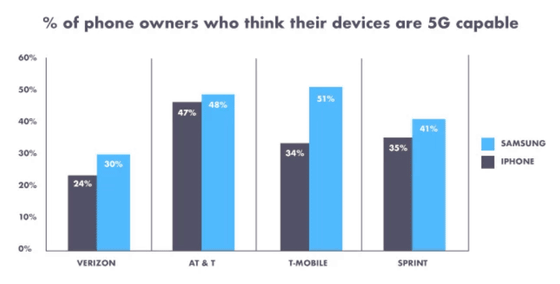 Thirty-two percent of users correctly understand the difference between a new device and a refurbish product . Users who actually use a refurbish product, although they believe that purchasing a refurbish product can save $ 399 (about 43,000 yen) rather than 60% of respondents buying a new item The proportion of is only 6%. However, 51% say that they are considering purchasing and saving refurbish products in the future.

Also, as a misunderstanding about the referee goods, 'it may not work well' (64%), 'not under warranty' (44%), 'the referee goods are different from new ones because they are used' ( 36%) are mentioned.

What is the "Referer's" product you often hear on your smartphone? -GIGAZINE