'Naturo Koshi rice and steamed chicken salad set meal' tasting review that the appetite does not stop with fried oyster × daikon radish × tempura lemon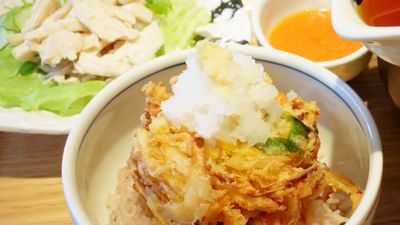 In accordance with the deity " Natsukoshi " to spend the second half of the year without illness, "Nagogoshi (Nagoshi) Rice" has appeared on the menu of the good eaves for a limited time from June 25, 2019. Set menu ' Natsukoshi rice and steamed chicken' with 'Natsukoshi rice' which eats fried rice with radish, grated daikon radish and grated ginger on top of 16 grain rice and put on a soup and a salad combining steamed chicken with cabbage and cucumber. The set meal of the chicken salad is 'the deliciousness of the whole body' which I want to eat in summer, so I actually went to the Yayoi eaves and ate.

'Set meal of Natsukoshi rice and steamed chicken salad' June 25 (Tuesday) limited new sale for a limited time! | What's New | Yayoi
https://www.yayoiken.com/news/view/299

Set menu of Natsukoshi rice and steamed chicken salad | Menu | Yayoi
https://www.yayoiken.com/menu_list/view/453

Summer event food Set meal of summer rice and steamed chicken salad It is released from June 25 (Tuesday)
(PDF file) https://www.plenus.co.jp/files/optionallink/0001279.pdf


Summer event food for wishing health later this year! 'Naturo Koshi rice and steamed chicken salad set meal' is 890 yen!
It is on sale for a limited time from today ✨ # Settling Anatomy chart pic.twitter.com/O9yuxTe8tD

— Yayoi eaves (official) (@ yayoiken_com) June 25, 2019


Arrive at Yayoi eaves.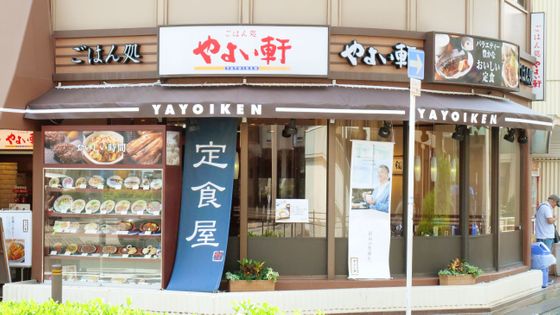 At the storefront, there was a signboard that appealed that a limited-time set meal menu had appeared. 'Natsukoshi rice' is an event food where rice is fried on a round rice ball and placed on a millet rice bowl , in honor of the roundness of the rice bowl held at the ' Natsukoshi's rice bowl ' event held at a shrine around the country around June 30.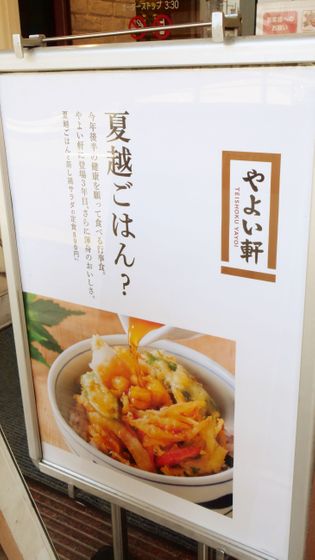 Enter the store right away and purchase a meal ticket for 'Set meal of Natsukoshi rice and steamed chicken salad' (tax-included 890 yen). In addition, it is possible to make 16 grains rice free of charge.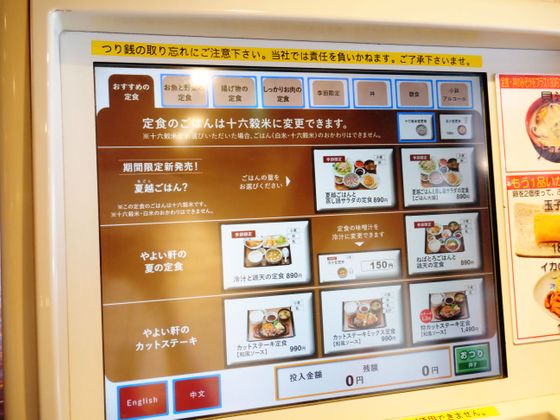 In about 5 minutes passing the meal ticket, 'Natsukoshi rice and steamed chicken salad set meal' arrived. The set meal is set with 'sixteen grain rice', 'kakiage with lemon, daikon radish, grated ginger', 'miso soup', 'steamed chicken salad', 'tenshu', and 'ginseng dressing'.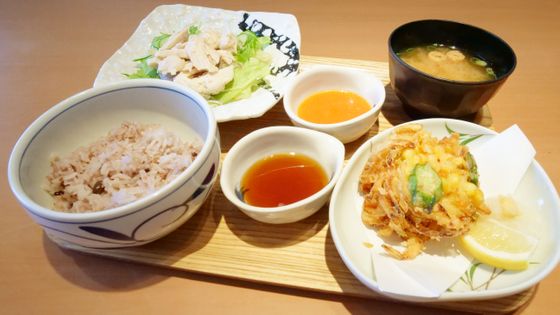 Kakiage, the plants, grasses as a material of Chinowa Kaya thing with red carrots, onions, corn to pay the green okra-evil likened to have been used.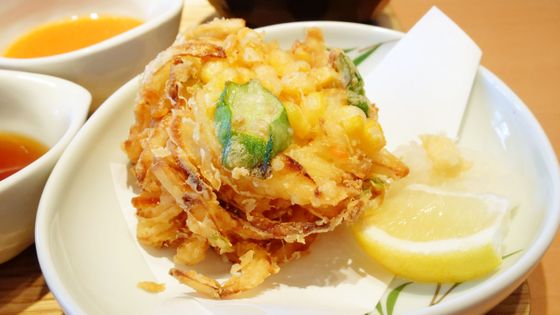 First of all, in order to reproduce the summer Yukoshi rice, put the fried fish on the rice.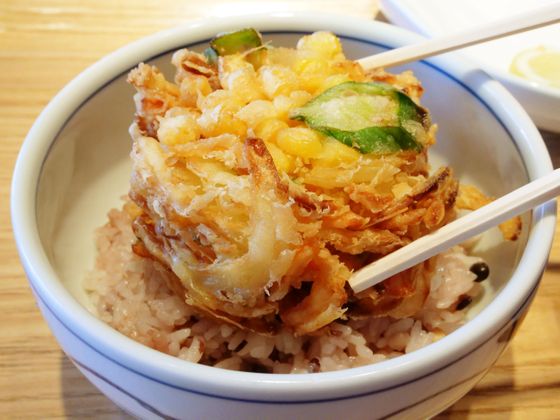 Next, put daikon radish and grated ginger on it ...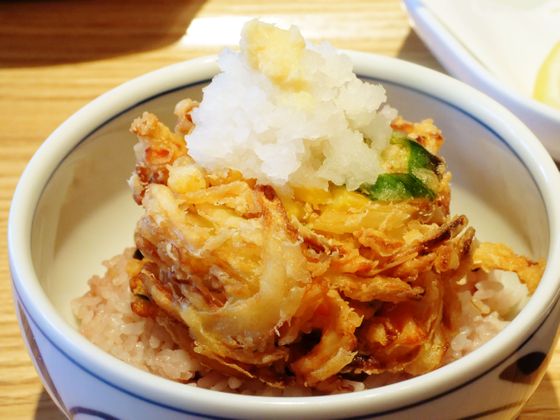 I will put the soup.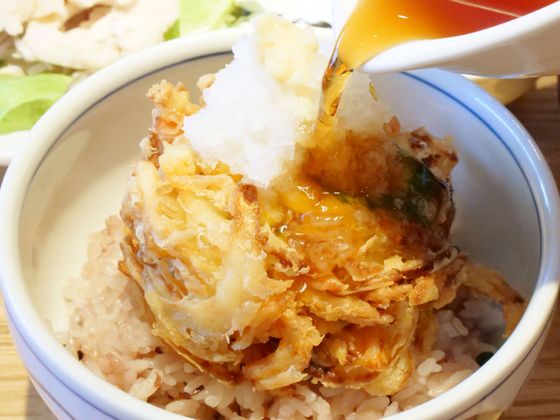 It is complete when you squeeze lemon to finish.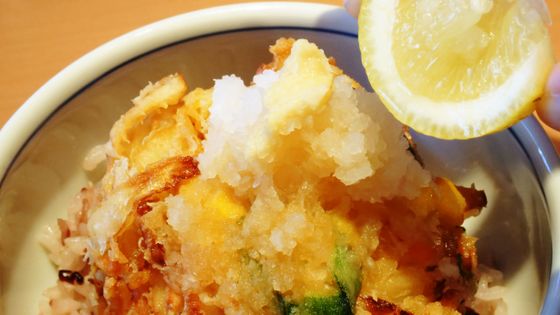 When I try to eat it, it is extremely compatible with the crispy, deep-fried tofu and the deep-fried soup soaked with bonito soup. The taste of grated daikon and ginger and the sour taste of lemon juice are finished by suppressing the frying oiliness and being crispy, and it is hot with heat and appetite because it is possible to stir it along with the sixteen grain rice inhaling a great amount of tempura soup I felt it was a perfect trap when I was not there.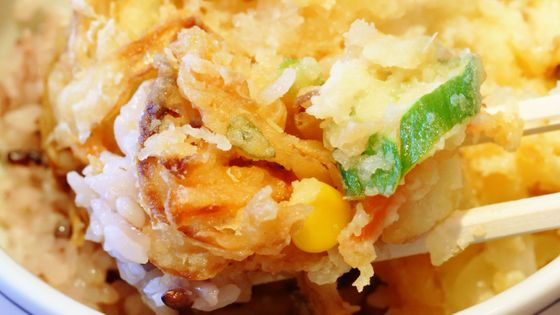 Next, try steamed chicken salad. Steamed chicken is on the salad which combined cabbage, lettuce, cucumber, purple onion and mizuna.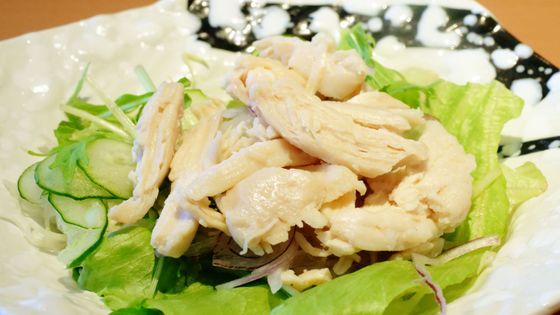 Try dressing with plenty of grated carrots.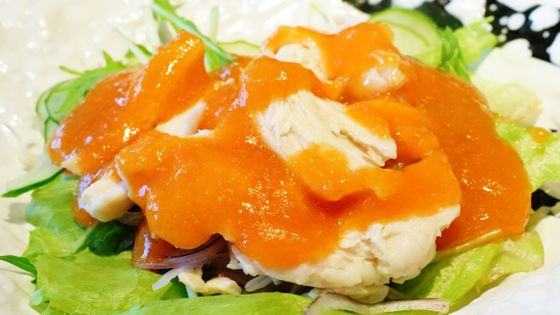 Steamed chicken using raw meat is a light taste, but it is soft and sucks in a sour Japanese style dressing with plenty of sour taste, so the rice goes on steadily. The crispy vegetable salad was designed to allow the eyes to enjoy the red and fresh green contrast of the dressing and was able to enjoy both color and texture.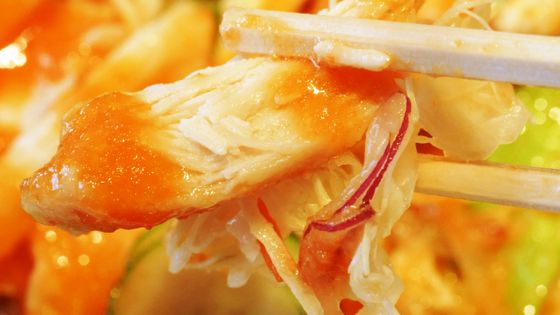 Eating from the table-top pickle bowl with a self-made pickle is a polypoli texture and is perfect for a break with the warm miso soup that will make you feel comfortable.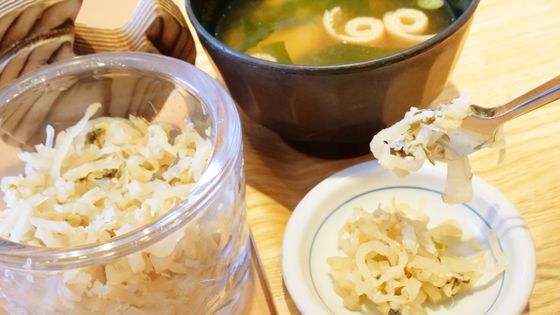 Set meal of summer Yukoshi rice and steamed chicken salad is sold for a limited time from June 25, 2019, and price is tax-included 890 yen.