Japan's first release of the original version of Once Upon a Time in the West, an epic poem acclaimed by Kubrick Scorsese Lucas and others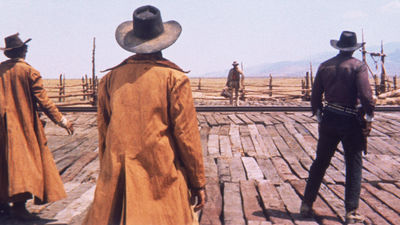 Celebrating the 90th and 30th anniversary of director Sergio Leone, who has caused
Macaroni and the Western
Boom around the world with works such as 'The
Wilderman of the
Wilderness
' and '
Gunman at the Sunset,
' the 50th anniversary movie '
Once-
'
Upon a Time in the West
('
Western
') will be released for the first time in Japan in 2 hours and 45 minutes.
Once Upon A Time In The West Official Site
http://onceinthewest2019.com/
(will be released on June 25)
Once Upon A Time In The West Official (@onceinthewest) | Twitter
https://twitter.com/onceinthewest
Sergio Leone was born in 1929. In 1964, directing 'The
Bouncer
in the Wild', a Western adaptation of the movie '
Bouncer
' directed by Akira Kurosawa, was a worldwide hit.
Thereafter, the '
sunset of the gunman
' (1965), '
Sequel sunset of the gunman
was a hit in a row and' (1966).
After this 'Dol Box Trilogy', director Leone, who was invited to the United States, took a picture of the falling sun of the ruined gunmen with the transitional age under the '
wild cat
' directed by Lucino Visconti.・ Upon a time in the west ('Western' · published in 1968).
The original version was 2 hours and 45 minutes long, but it was released in the short version at the time of release to the US, and it was against the fact that Henry Fonda, who played the role of Wyatt Earp of 'The
Duel of the Wild
', was the first villain It didn't hit as much as expected because of the audience's resistance. However, it has been a long run hit for two years in France, and as of 2019, it has remained in the top 10 successive box office revenues. In Japan, it was released in 1969 in a two-hour 21-minute version that is even shorter than the US-public version, and it was said that it was not as highly evaluated as the US.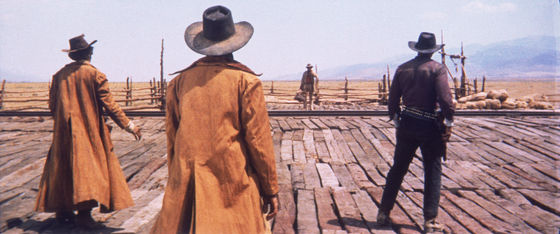 © 1968 BY PARAMOUNT PICTURES CORPORATION. ALL RIGHTS RESERVED.

However, since the 1970s, it has been re-evaluated by movie directors and critics such as Stanley Kubrick, Martin Scorsese, George Lucas, John Carpenter, Wim Wenders and John Buaman.

After this film, Leone produced 'The gangsters of the setting sun' (1971) and 'Once upon a time in America' (1984). These three works are also called 'once-upon-a-time trilogy'. The original version of 'Once Upon a Time in America' was also 3 hours and 25 minutes long, so in America etc. a 2 hour 19 minutes re-edited version is made and released by the production company, and it is criticized Yes. However, in Europe and Japan, the original version was released and well received, and Leone later made a 'full version' for 3 hours and 49 minutes and re-published, and received high acclaim in the United States. There is also an 'Extended Version' for 4 hours and 11 minutes, with an additional 22 minutes of scene added.

Scheduled for release on Friday, August 30, 2019, Quentin Tarantino's latest work 'Once Upon a Time in Hollywood' is the title of this trilogy.


The latest work 'Once Upon a Time in Hollywood' trailer featuring Tarantino's tragedy in the 1960s Hollywood Golden Period-GIGAZINE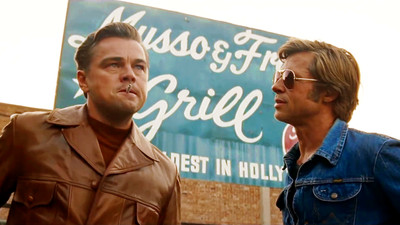 The 'once upon a time in the west' to be released this time is an original version of 2 hours and 45 minutes which was not released in Japan at that time. Please enjoy western masterpieces at the cinema on this occasion. From September 27, 2019 (Fri), Marunouchi Piccadilly, Shinjuku Piccadilly et al.

・ 'Once Upon a Time in the West' Work Information
Starring: Claudia Cardinale, Henry Fonda, Jason Robbers, Charles Bronson
Director, draft, script: Sergio Leone
Draft: Dario Argento, Bernardo Bertolucci
Screenplay: Sergio Donati
Cinematographer: Tonino degli Colli
Art ・ Costume: Carlo ・ Seami
Music composition / Conduct: Ennio Morricone
1968 / Italy / United States work / color / scope size / 5.1 ch / DCP / screening time: 2 hours 45 minutes / first time public topic: 'Western' / original English title: C'ERA UNA VOLTA IL WEST (one time, west There) / Lafran-San Marco production / Paramount Pictures provided
Distribution: Arc Films, Boid, Interfilm
Supported by: Italian Culture Hall


in Movie, Posted by logc_nt