The public beta version of 'iPadOS' for exclusive use of iPad that finally came out distribution start, new function summary such as new home screen, multi window, side car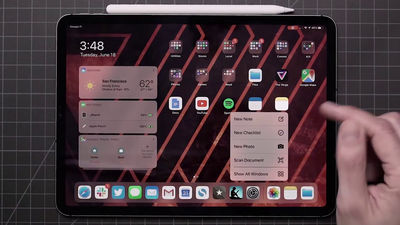 In
WWDC 2019
, which was held on June 4, 2019, the public beta version of the new iPad operating system '
iPadOS
' announced by Apple has been released. Reviews and impressions are being made on a variety of media, such as what new features have been incorporated into the iPad-specific operating system that has long been desired by some users.
iPad OS Preview-Apple (Japan)
https://www.apple.com/jp/ipados/ipados-preview/
iPadOS public beta preview: top features-The Verge
https://www.theverge.com/2019/6/24/18714798/apple-ipados-ipad-ios-public-beta-preview-top-features-safari-window-files
iPadOS makes Apple's tablets feel like a priority again
https://www.engadget.com/2019/06/24/apple-ipados-hands-on-preview-public-beta/
You can see how the iPad Pro that actually installed the public beta version of iPad OS looks like the following movie released by The Verge.
iPadOS public beta: top 6 features-YouTube
◆ Multi-window
In previous iPads, there were only functions that can display two screens at one time, such as 'Slide Over' and 'Split View'. However, iPad OS enables 'multi-window' to display two or more windows side by side on one screen. In addition, the Slide Over function, which displays a vertical window like the iOS screen at the right end of the screen, is now available to all applications.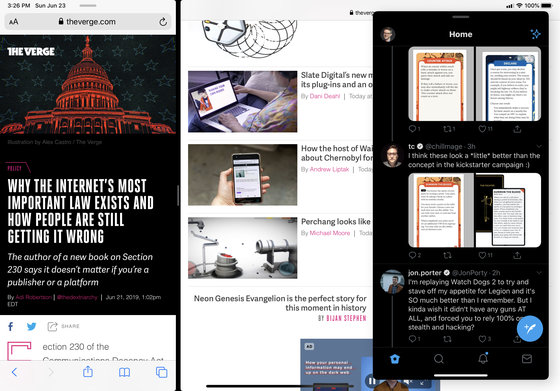 Then, from the screen that displays the opened app in a tile format of iPad unique is displayed side by side, the switching screen of the app becomes a screen in which the apps such as iPhone are overlapped and arranged,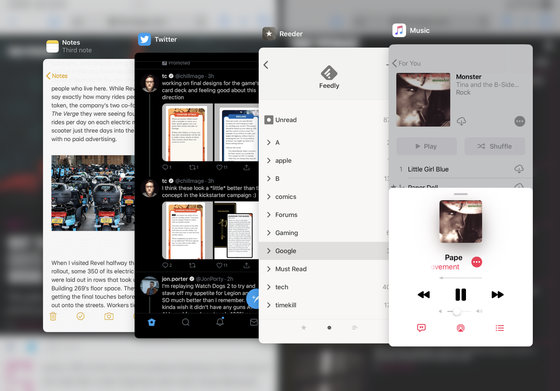 Also, by tapping the icon in the Dock, you can now check all the open spaces (in Safari's case, all open tabs) for that application. However, the multi-window feature in the public beta version of iPadOS is still buggy and difficult to evaluate, The Verge says. In addition, it is not something that can be used intuitively when actually using it, and there are things that have not been used, and usability has not been so good yet.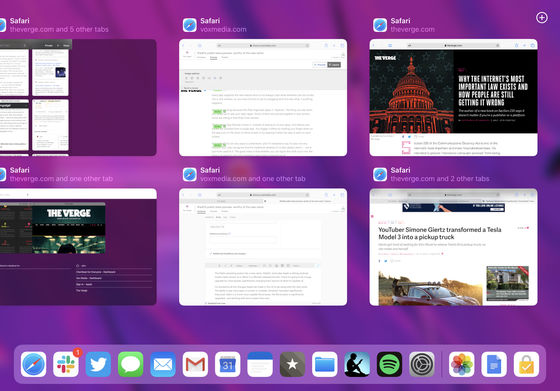 ◆ Safari
'IPadOS Safari lets you view desktop-class websites, so you can use web documents such as Google Docs and WordPress,' said Apple. However, The Verge has questioned 'What does the desktop class mean?' And reports that it sometimes redirects to a mobile version of a page or web app. Note that Engadget's web version CMS also works with Safari on iPad, but The Verge's CMS was optimized for mobile Safari, so it didn't work correctly with Safari for iPad OS.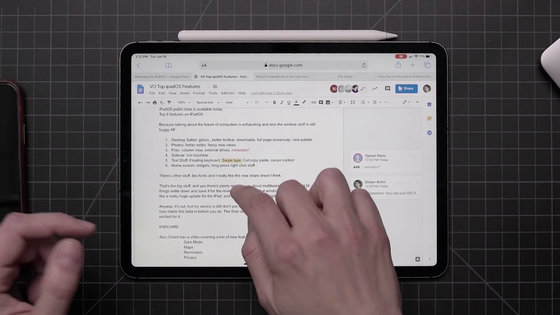 Also, because the download manager can now view the items and history being downloaded, you can immediately access the downloaded items without closing the window and searching for files.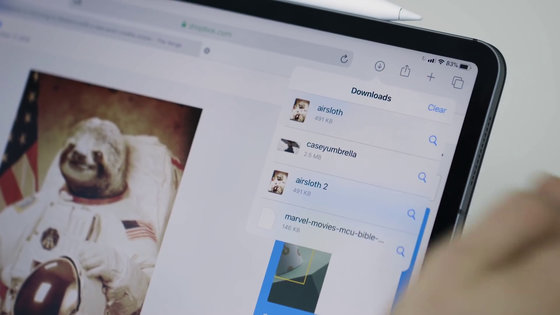 Also, if you do Safari screen capture using the physical button ...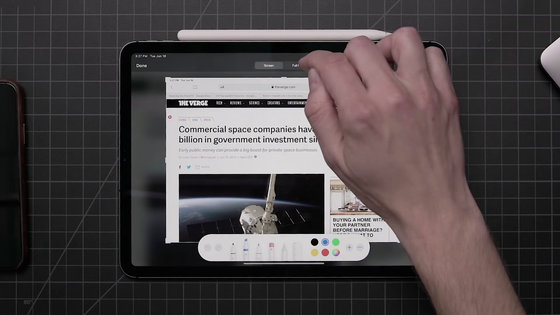 Selecting 'Full Page' enables capture of the entire page.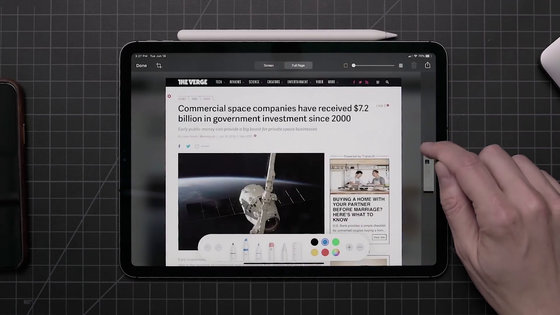 Of course, it is also possible to write using the Apple Pencil. The Apple Pencil has a new palette. Apple has announced that the latency of the Apple Pencil has dropped to 9 milliseconds, but when Engadget's reporter actually touched it, no major difference in performance was felt.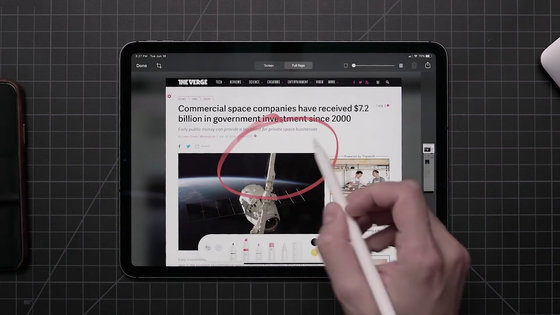 ◆ Photograph
In the photo app, a new display method is adopted in which the best shot is displayed and summarized for each year, month and day. The browsing of the photos is speedy, 'The accessibility is very high because you can find the photos you want right away,' the Verge highly valued.



In the tiled preview screen, the movie plays automatically.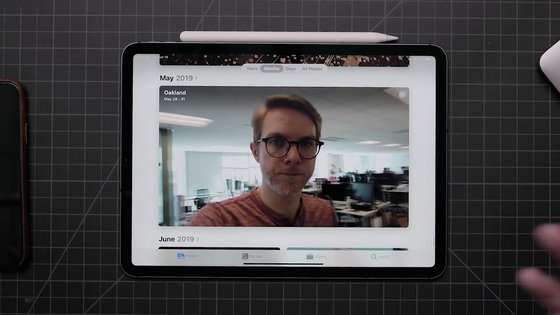 More photo editing features have been added.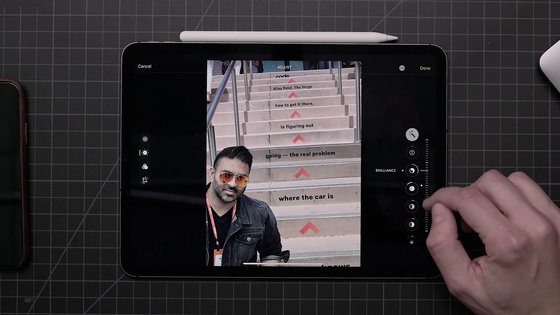 You can also edit movies directly from the photo app.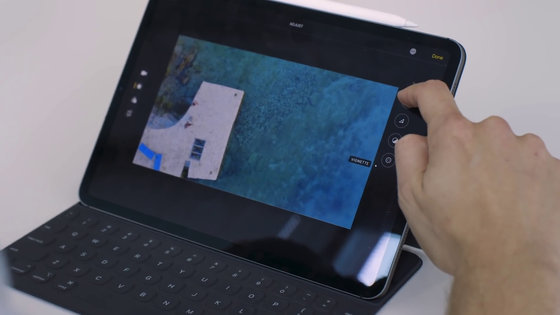 ◆ File management
File application is an application that allows all access and management of files in one place. In addition, you can now directly access external storage such as USB drives. In addition, iPadOS also supports direct decompression of files on the device, so it is no longer necessary to extract the downloaded compressed file from the iPad and decompress it.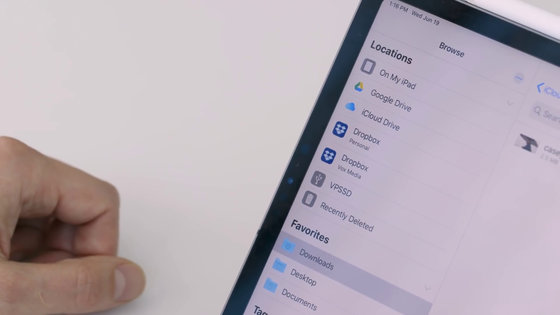 You can display frequently used files in the widget on the home screen.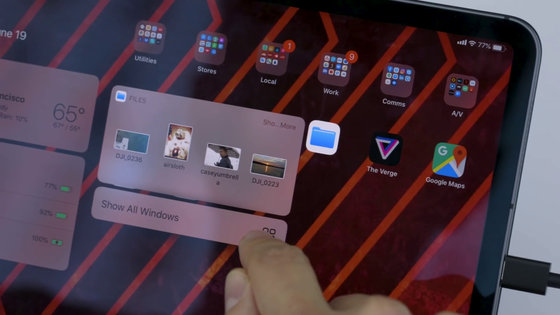 You can find files intuitively in the multi-column tree view.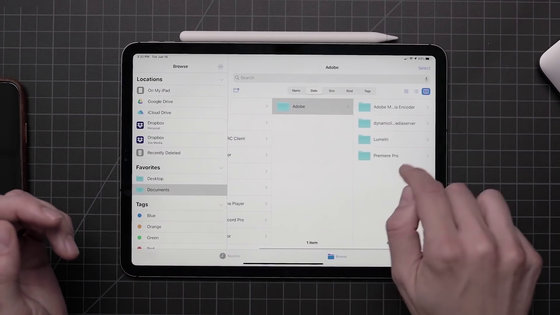 The file application can directly access working files on a server or home PC.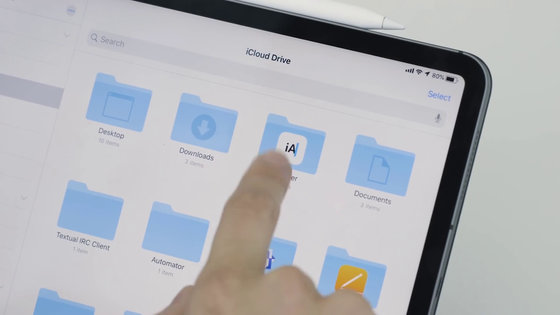 ◆ 'Side car' function
The sidecar function is a function that can use iPad as a sub display of Mac.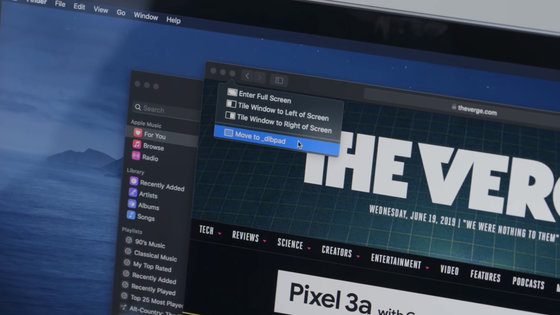 From the left MacBook ...



You can move the browser window to the right iPad Pro.



A toolbar similar to the Touch Bar installed on the
MacBook Pro
is displayed at the bottom of the screen. You can also control YouTube movie playback time directly from this toolbar.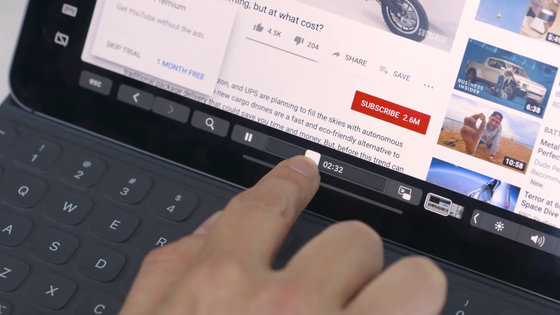 ◆ Text editing
The software keyboard used for text input is ...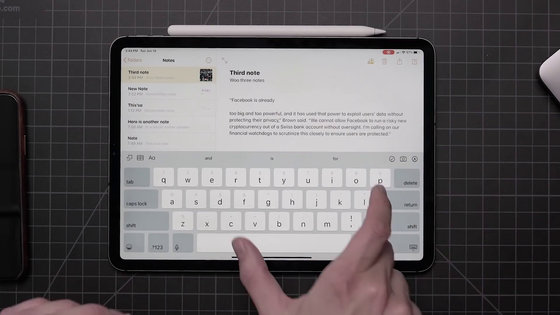 It can be miniaturized. This small keyboard can be moved freely, so it may be a nice point for people who don't want the keyboard to narrow the viewable area of the screen.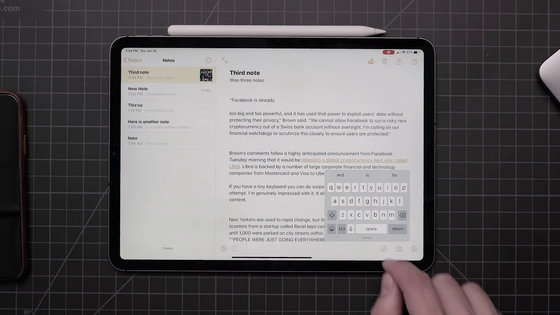 Text can be selected by tapping, words can be selected with 2 taps, sentences can be selected with 3 taps, and whole paragraphs can be selected with 4 taps.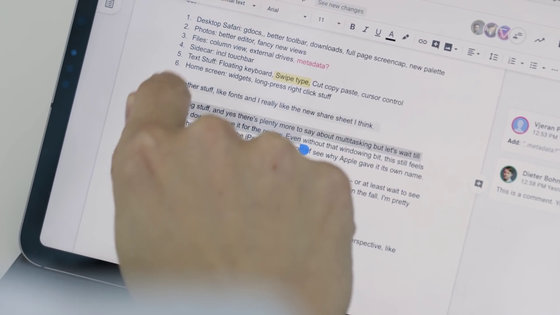 In addition, instead of using keyboard shortcuts, shortcut operations using multi-touch gestures are possible. Pinch-in on selected text to copy or cut ...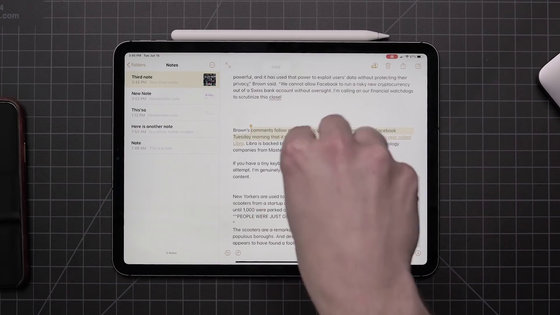 When I pinched out, the cut text was pasted. The accuracy of the text selection and cursor movement was still low, and sometimes it did not move as expected. Also, the multi-touch gesture shortcut doesn't seem to work very well, and there was a scene in the movie that pinched in and out again and again.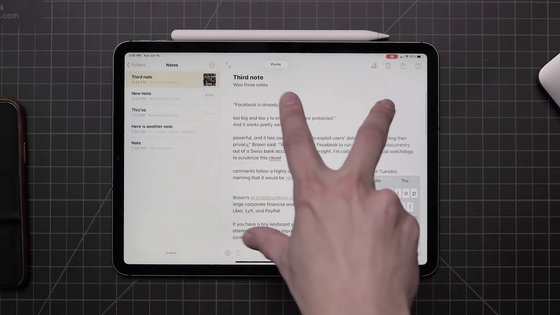 ◆ Home screen
The home picture looks like this, but up to now you can only display 20 apps of 4 columns × 5 rows on one screen, but now you can display up to 30 categories of 6 columns × 5 rows . And the space created by stuffing and displaying apps is used to display widgets.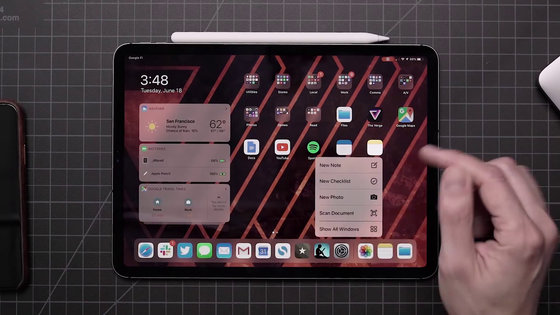 The widget displays various information such as weather, battery level, and files.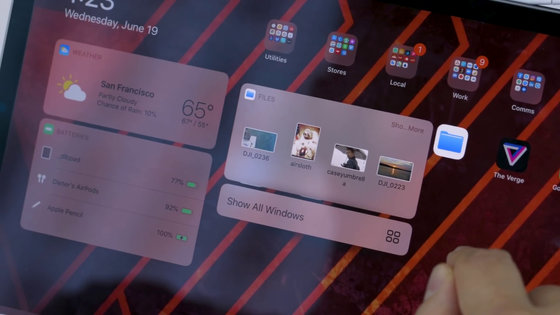 It seems that the display and movement of the app is taken over from iOS as it is.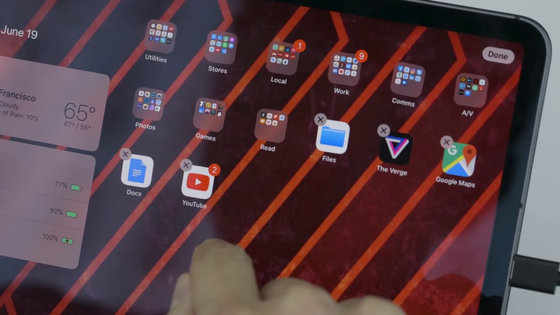 In addition, although it has become possible to use a wired / Bluetooth mouse on the iPad, Engadget is not able to add functions to the mouse button or adjust the mouse sensitivity with only basic support. 'It is not as useful as expected.'

In addition, iOS 13, macOS Catalina, and the public beta version of tvOS 13 are released at the same time as iPad OS, and not only developers but also general users can try it. As it is a public beta version only, performance is not guaranteed and there is a possibility that a malfunction may occur, but if you really want to experience new features early, please experience on your own risk. However, in order to participate in the public beta test, you need to register your Apple ID in the following Apple Beta Software Program.

Apple Beta Software Program
https://beta.apple.com/sp/en/betaprogram/