The US government launches a strange 'game ban' sanction as a retaliatory sanction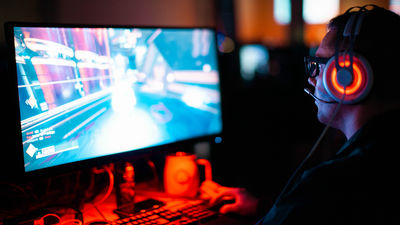 by Sean Do

Tensions are rising between the United States and Iran, with President Trump revealing a policy to impose additional sanctions on Iran. Under such circumstances, the United States has given unintended sanctions to Iran and Syria. The sanctions are to block access from Iran and Syria in the League of Legends , one of the most played games around the world.

US government blocks League of Legends in Syria and Iran amid escalating tensions | Dot Esports
https://dotesports.com/league-of-legends/news/us-government-blocks-league-in-syria-and-iran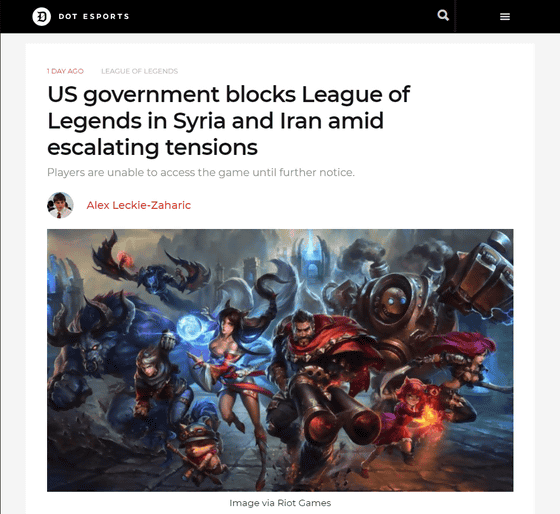 US Government Bans League Of Legends In Iran And Syria-Game Informer
https://dotesports.com/league-of-legends/news/us-government-blocks-league-in-syria-and-iran

The tension between the United States and Iran is growing even more as Iran shoots down the US reconnaissance drone . In response to the Iranian drone shot down, President Trump of the United States immediately approves the attack as it will carry out retaliation bombing. However, the BBC reported that the operation was discontinued before the retaliatory bombing was carried out. After that, President Trump announced in his Twitter account that 'a large additional sanction will be issued on Monday (24th),' and said that the Iranian side would have some retaliation sanctions.

Under the terrible Obama plan, they would have been on their way to nuclear in a short number of years, and existing verification is not acceptable. We are putting major additional sanctions on Iran on Monday. I look forward to the day that .....

— Donald J. Trump (@realDonaldTrump) June 22, 2019


The US government has imposed sanctions in the League of Legends to block access from Iran and Syria, although it is unclear whether it is part of the 'big additional sanctions' we tweeted on Twitter. While economic and trade sanctions such as tariff increases and trade restrictions have been frequented so far, sanctions such as 'block access to the game for civilians' are 'unconventional and unprecedented' And, overseas e sports related media Dot Esports reports.

The sanctions are a manifestation of a major change in the game's position, with politicians frequently discussing the in-game charging process, Dot Esports said. And this game ban sanction also states that there is a 'precedent possibility' that in the future conflicting countries will lose access to the game.

A new bill has emerged to ban systems that favor games with root box (games) and billing-GIGAZINE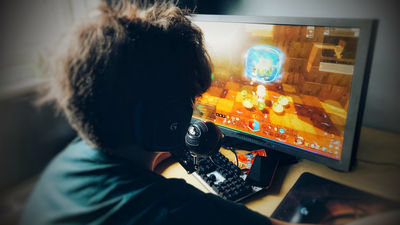 This game ban sanction is to block access when trying to log in to the League of Legends from Iran and Syria, and it seems that it is possible to overwhelm access restriction by using VPN etc. However, using VPNs in online games can be very costly, making it difficult for Iran and Syria to play the League of Legends.

"The Iranian and Syria-based League of Legends players are desperate in this situation," Dot Esports said, "(The US government bans the game for sanctions) damages politicians and people with some sort of power. Not affect, but it affects the general public. "

In fact, on the League of Legends forum is the Iranian League of Legends player who reports that 'the access from Iran has been blocked' due to a game ban from the US government.

i can not play anymore. Game blocked my country's IP
https://boards.na.leagueoflegends.com/en/c/community-moderation/sEofE6NP-im-from-iran-i-cannot-play-anymore-game-blocked-my-countrys-ip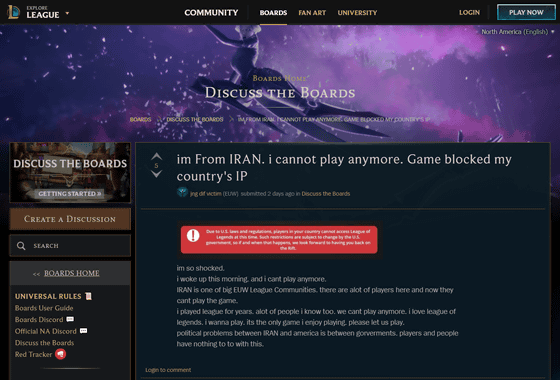 At the time of writing the United States bans the game sanctions apply only to Iran and Syria. However, when the United States enters into a state of conflict with other countries, the possibility of imposing a similar game ban on sanctions is quite conceivable.

The League of Legends, like many free games, has an in-game charging factor that is clearly an important factor in making money through the game. However, because this in-game billing factor is definitely considered a form of trade, 'we need to comply with the (US government) sanctions (the game side),' Dot Esports notes.


in Game, Posted by logu_ii