New standard 'PCI Express 6.0' announced that maximum transfer rate is doubled by 256GB / s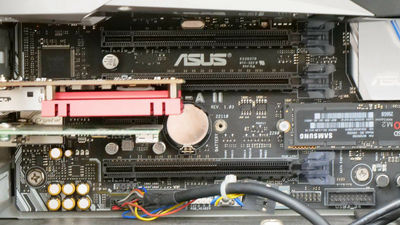 by
Trending Topics 2019
Following the
completion of the development of 'PCI Express 5.0',
PCI-SIG, which is conducting information exchange and specification of PCI standards, announced '
PCI Express 6.0
' (PCIe 6.0), which is the next generation standard. Did. PCIe 6.0 has doubled its bandwidth and increased transfer speed while maintaining backward compatibility following PCIe 5.0, and is scheduled for completion in 2021.
PCI-SIG Announces Upcoming PCI Express® 6.0 Specification to Reach 64 GT / s | Business Wire
https://www.businesswire.com/news/home/20190618005945/en/PCI-SIG%C2%AE-Announces-Upcoming-PCI-Express%C2%AE-6.0-Specification
PCI Express Bandwidth to Be Doubled Again: PCIe 6.0 Announced, Spec to Land in 2021
https://www.anandtech.com/show/14559/pci-express-bandwidth-to-be-doubled-again-pcie-60-announced-spec-to-land-in-2021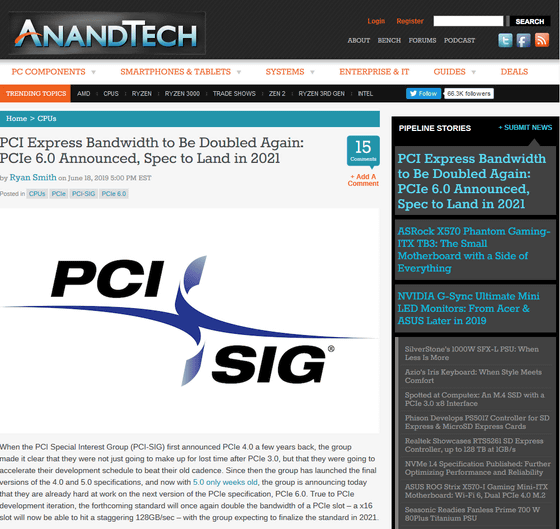 This was clarified in '
PCI-SIG Developers Conference 2019
' held on June
18-19, 2019
.
This is a graph of the evolution of bandwidth since 1992. Thin blue is a baseline that doubles the figure every three years based on the PCI standard '0.13 GB / s' of 1992. Dark blue indicates the performance of the actual PCI standard, which supports PCIe 1.0 to x16 lanes.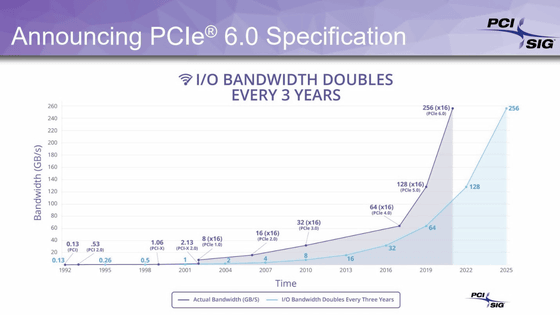 With PCIe 6.0, the low bit rate is twice that of PCIe 5.0, and 64 GT / s (giga transfer per second) is achieved when x16 lanes are connected. The transfer rate is up to 256GB / s in both directions.

According to the PCI-SIG, hardware vendors are seeking more bandwidth, so the standard is moving ahead to speed it up. The PCIe 6.0 standard is expected to be completed in 2021.