Twitter's official 'Twitter app for Mac' revives, Apple's 'Project Catalyst' is immediately successful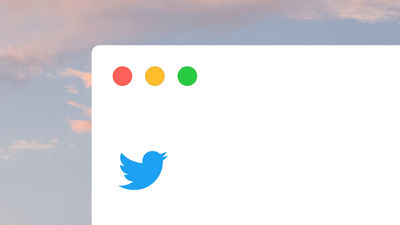 In the developer conference ' WWDC 2019 ' held in June 2019, Apple announced ' macOS Catalina ', the latest version of the OS for Mac. Among them, Apple has announced ' Project Catalyst ' that will be able to create Mac applications and iOS applications with a single code, but it is clear that this will quickly revive the official Twitter app for Macs It has become

Twitter for Mac is coming back!
https://blog.twitter.com/engineering/en_us/topics/insights/2019/twitter-for-mac-is-coming-back.html


Twitter is thrilled to announce we are bringing the Twitter for iPad experience to the Mac!

The all new Twitter for Mac will be in development this summer in preparation for an early launch on macOS 10.15 Catalina. Pic.twitter.com/Q13OUMRgjt

— Twitter Support (@TwitterSupport) June 3, 2019


The 'Project Catalyst' announced by Apple is to be able to easily build applications for iOS, iPad and Mac with the same code. Until now, developers had to develop iOS and Mac apps separately, but with the advent of Project Catalyst, it is now possible to easily create applications for different platforms with the same code.

Using this Project Catalyst, we clarified that we are creating the official Twitter app for Mac from the official app provided by Twitter official for iOS. On the official blog, Twitter notes that 'Project Catalyst is excited to be able to bring Twitter back to the Mac based on existing iOS code.' By developing an official Mac app based on the shared code, Twitter can add the unique features of Mac apps in addition to the existing iPad user experience while maintaining maintenance efficiency. .

The visual of the official app that Twitter is developing is also published.
I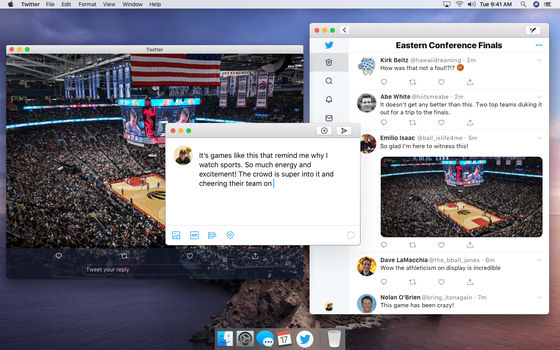 Twitter is a Mac apps 'Twitter for Mac,' according to the official in February 2018 end , and the user had been and recommended to make use of Twitter from the browser. Twitter explains why the Twitter for Mac service has ended, 'supporting two separate code bases, Twitter for iOS and Twitter for Mac, is no longer possible.' However, with the advent of Project Catalyst, we can now support applications with the same code base, so Twitter can once again provide the official app for the Mac.

According to Twitter, 'supporting key Mac-specific behavior on iOS code will allow us to maintain equivalent functionality between iOS and Mac applications with relatively low long-term maintenance costs.' We are pleased to be able to maintain low maintenance costs while delivering apps on different platforms with Project Catalyst.

It should be noted that Twitter is 'one of the most avid users of Mac users on Twitter', so it has the same functionality as the official Twitter app provided for other platforms for Mac, and 'an amazing new feature.' We plan to provide a completely new native app that combines Among the upcoming features are resizable windows with dynamic content, support for multiple windows, native notifications, drag and drop, and keyboard support.