'Google Chrome 76' Flash movement is moving forward even further, paiwall evasion in secret mode also evolved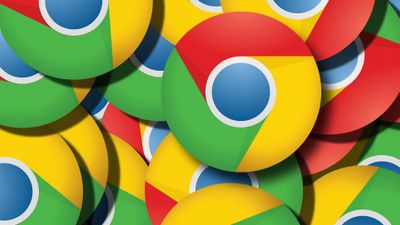 by geralt

The beta version of Google Chrome 76 , the latest version of Google Chrome, a web browser developed by Google, was released on June 13, 2019. While Chrome has been pushing for the elimination of Adobe Flash for many years, Chrome 76 has made further progress in eliminating Flash, and it is reported that all Flash on the browser is turned off by default.

Chromium Blog: Chrome 76 Beta: dark mode, payments, new PWA features and more
https://blog.chromium.org/2019/06/chrome-76-beta-dark-mode-payments-new.html

Chrome 76 beta blocks Flash by default, stops Incognito detection, lets sites auto-enable dark modes, more-9to5Google
https://9to5google.com/20019/06/13/google-chrome-76-beta/

Google Chrome 76 beta makes it harder to use Flash, easier to dodge paywalls-The Verge
https://www.theverge.com/2019/6/13/18678388/google-chrome-76-beta-dark-mode-incognito-flash-paywall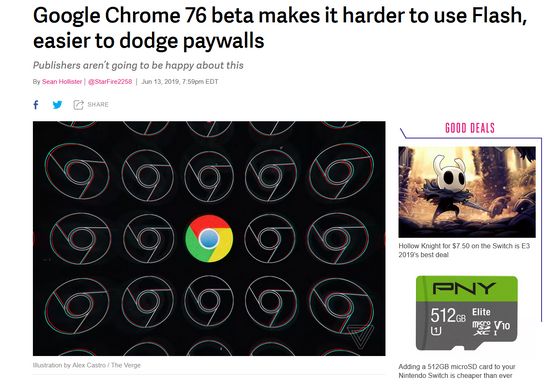 Flash was once prospering on the Internet as a standard for handling movies and games, but in recent years it has been rapidly ending its role, and Adobe, the developer, also developed Adobe Flash Player at the end of 2020. I will finish distribution. In order to eliminate such Flash, browsers such as Chrome have defaulted the procedure 'Ask the user whether or not to execute Flash', and succeeded in significantly reducing the Flash utilization rate .

Chrome strongly supports HTML5, which is faster and safer than Flash, and reduces battery consumption, and has been moving ahead with the move to replace Flash with HTML5. Under such circumstances, the beta version of Chrome 76 is set to automatically block all Flash on the browser by default, and it is further advanced from the stage of asking the user whether or not to execute Flash. Of.

The default is to block all Flash, but ask the user whether to execute Flash from 'Settings'-'Privacy and Security'-'Site settings'-'Flash' in Chrome. It seems that you can turn on the procedure.




In addition, the pay wall measures evolved with Chrome 76. Web media imposes a limit on the number of articles that can be read free of charge like '3 articles per month' for users, and if they want to read more articles, they may be invited to perform a monthly charge. There is. The media side has detected that websites use secret mode so that users can not use the browser's secret mode or private mode to fool the number of free subscriptions. However, Chrome 76 has implemented measures to make private mode detection unavailable, making it easier to avoid paywalls.

In addition, Chrome 76 has further improved the dark mode that is compatible with Mac with Chrome 73 . If the web developer prepares the 'Dark mode version' of his site beforehand, when the user is browsing the page in the dark mode of Chrome, it switches to the dark mode version display prepared automatically. It can be done.

At the time of writing, only the beta version of Chrome 76 has been released, and the stable version is scheduled to be released on July 30, 2019.