We ate little by little in soup stock Tokyo curry pub 'YELLOW' using 40 kinds of spices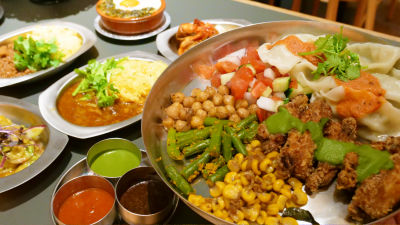 A soup specialty store,
Soup Stock Tokyo,
will open a curry iza '
YELLOW
' to enjoy more than 40 kinds of spices with food and liquor from July 17, 2019 (Mon) on Grand Front Osaka. Even though it is a curry restaurant, it is unique that you can enjoy various tastes in a tavern-like small plate dish, but it also has a unique service called 'Ogoribito' that can be covered by other customers if it has a hit mark on the plate. Since I had the opportunity to go to the store before the opening, I have been checking carefully what kind of restaurant there is.
Curry Tavern 'YELLOW', which travels at the dining table, opens at Grand Front Osaka on Monday, 17 June 2019
(PDF file) http://www.smiles.co.jp/press/201904_yellow.pdf
Curry Tavern 'YELLOW' (Yellow), which travels at the dining table, will open in Grand Front Osaka on June 17, 2019 (Monday).
https://www.yeeellow.com/
YELLOW's address is 4-20, Otokucho, Kita-ku, Osaka, Osaka, the first floor of the Grand Front Osaka Minamikan.
Arrive at Grand Front Osaka.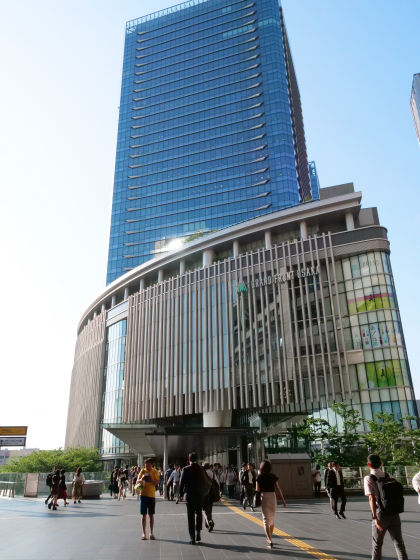 The shop was located on the first floor of the South Building, facing the road.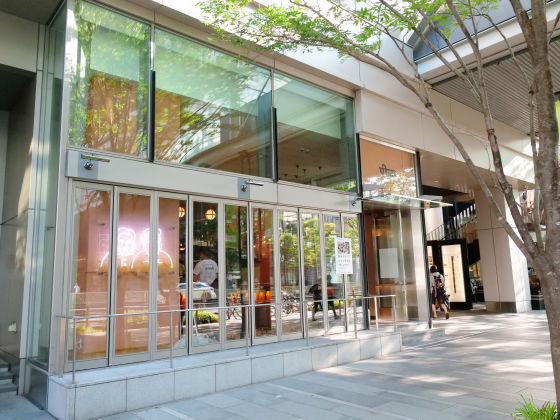 If you go inside quickly ...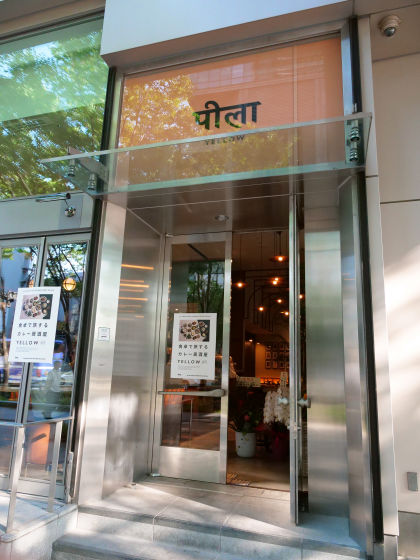 It looks like a sunny cafe like curry tavern like this.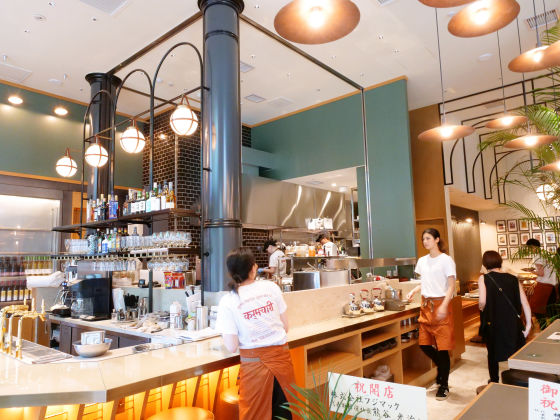 Because there is a counter seat, even one person is OK.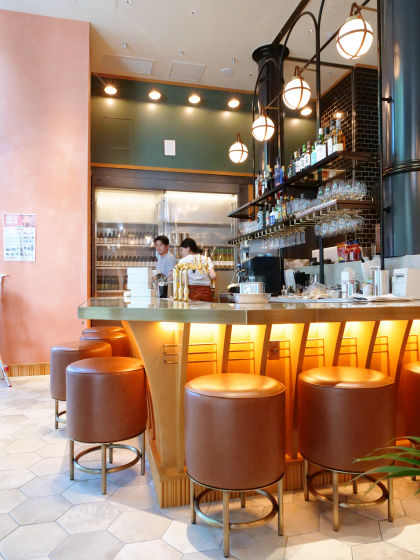 There is also a beer server for a pub.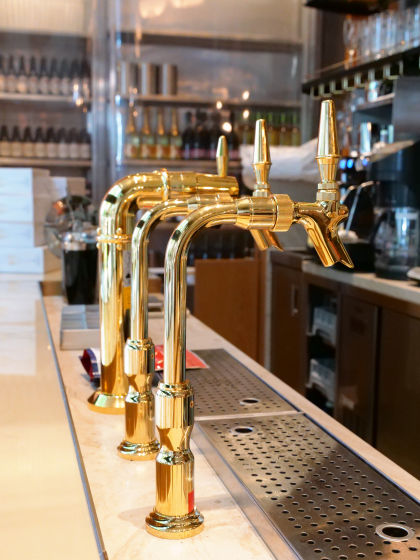 Table seats were spreading behind the shop. There are 45 seats in the entire store.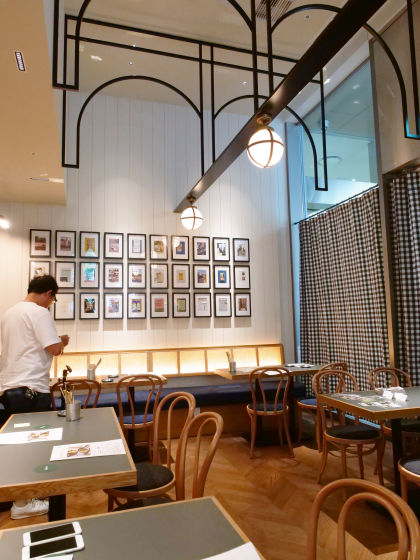 I was guided to the table at once ...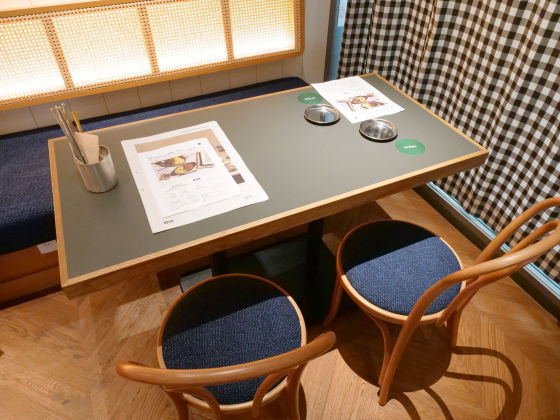 It looks like this when you open the menu. The menu is summarized in a total of three pages: a two-page spread page and a one-page back page, and small dishes were lined up with photos.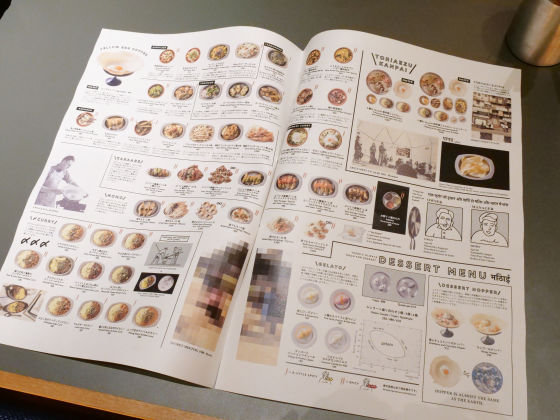 It's like an app menu like an appetizer, a grilled dish, a fried dish ...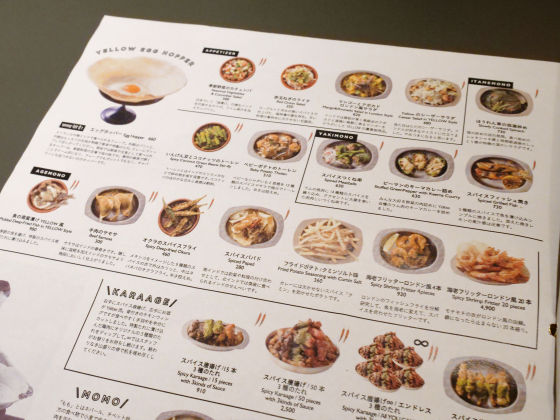 11 kinds of 'bowl curry'. Curry is uniformly 500 yen and can be eaten with one coin.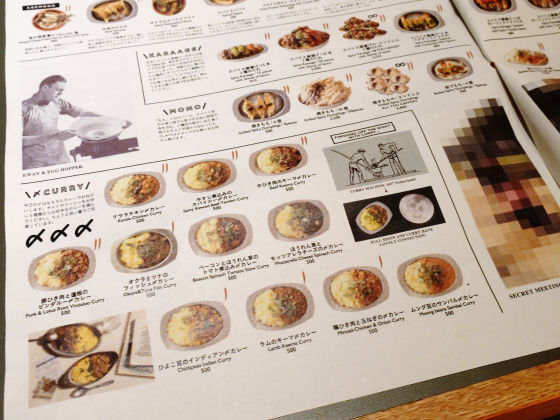 For the set menu called 'Tomorrow toast', '9 kinds of YELLOW toast platter and salmon curry' is 3500 yen, and '11 types of YELLOW toast platter and salmon curry and gelato' is 4500 yen.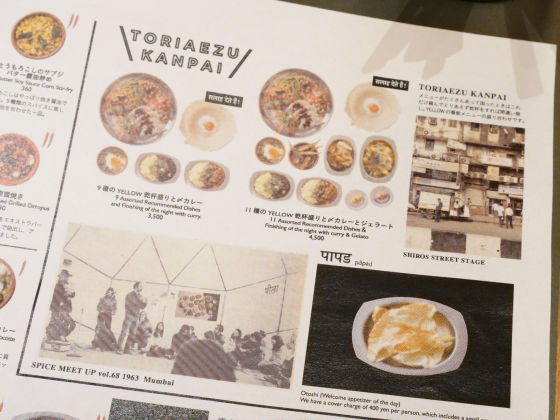 Drinks were divided into beer, cocktails, wine, non-alcoholic cocktails and soft drinks.



We chose '11 kinds of YELLOW toast platter and salmon curry and gelato' this time. Even if it is a small dish, it's quite like it's a big deal, so if you share it with two people, it will be a bit more, if it's four people it will be a bit too short.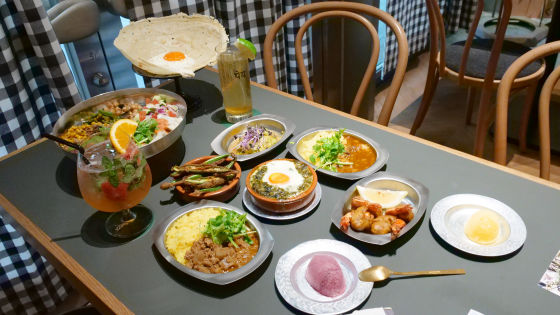 This set is a set of a large plate and a small side dish, where various side dishes are concentrated. The size of the platter is this much in comparison with the 123.8 mm total length of the iPhone SE.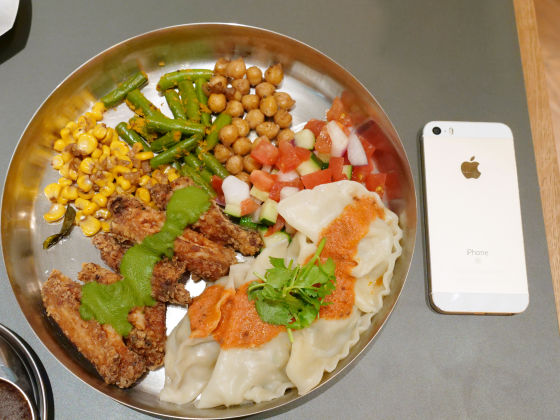 The size of the small plate is like this, and as the name is '〆 Curry', the curry is not too large and the size is exquisite as a dish.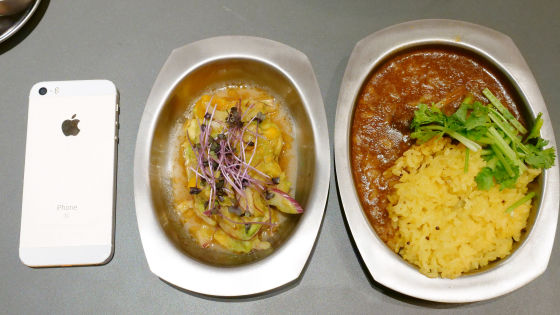 First of all, from one of the two types of curry, 'spicy salmon curry with beef stew' (500 yen). Pakchi is served on turmeric rice curry.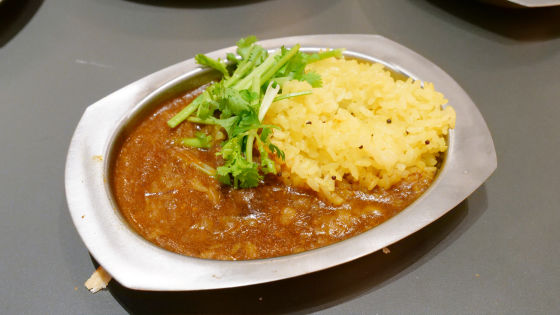 A domestic beef streak that has been simmered for a long time is a product that condenses the umami that melts in the toro ~ and the mouth.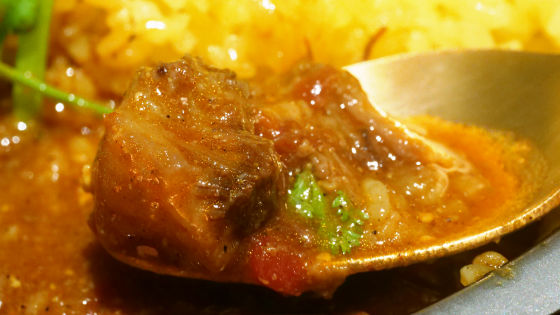 It also has a spicy taste, but it may also be called tomato-based, and it is a delicate taste of Japanese taste where the stock of Soup Stock Tokyo can be felt firmly. The pain is slightly delayed, but if the pain is not good, it seems to be able to be eaten without any problems.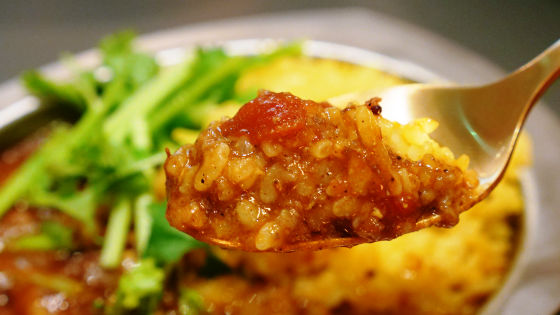 The other type of curry is 'Bindaru salmon curry with ground pork and lotus root' (500 yen)



Unlike beef streak curry, it is an oriental curry that spreads the flavor of fennel in the mouth when you eat a bite. The blend of fine spices seems to be a trade secret, but the Chinese spices are used, and there was also a peculiar stimulation that the mouth was clean like a flower bud. The same spice curry, but depending on the product, the main spice is different, so you can feel the spread of taste and aroma.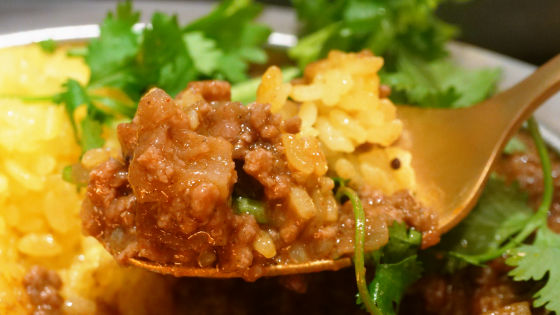 Then, to the platter where various side dishes are gathered. At first it's not so hot ... so I chose something like fried chicken like this.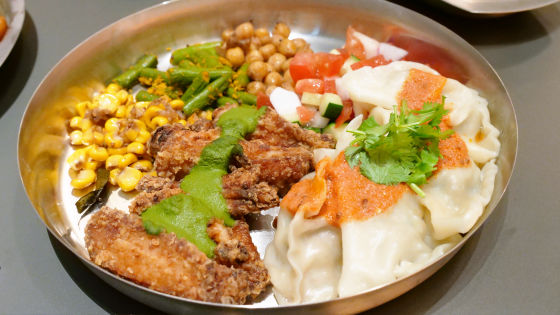 When you eat a bit of 'spiced deep-fried', the refreshing flavor of mint flavor and sourness spreads from the sauce, and if you sip your tongue and mouth saying 'delicious ...', it will be 'painful' like a sudden brain-toning. It was attacked. The source is surprisingly exciting despite the non-violent green color, and sweat has spouted from various places. However, this pachymint sauce is addictive and it tastes like it keeps eating while thinking that it is painful.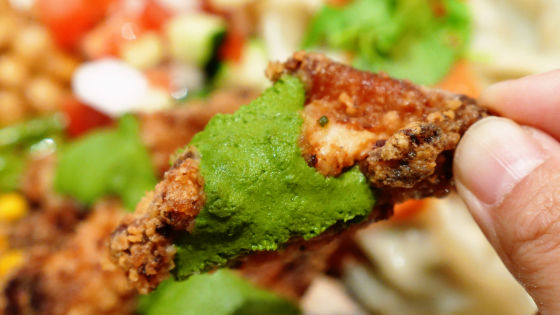 I said 'What kind of mouth-friendly thing ...!' And put 'Seasonal Vegetable Kachumba' in my mouth. This is like pickled pickles, and the lime juice is refreshing and has become a much-needed rest.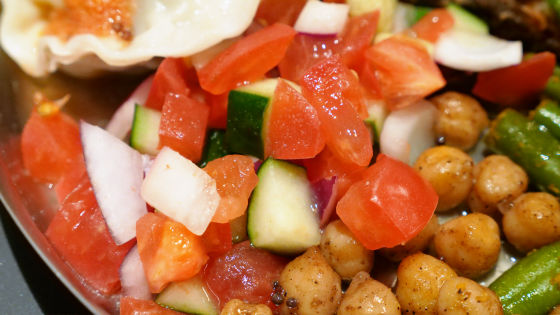 When I try to eat 'Samurai Temo' with red sauce in a little calmed place ...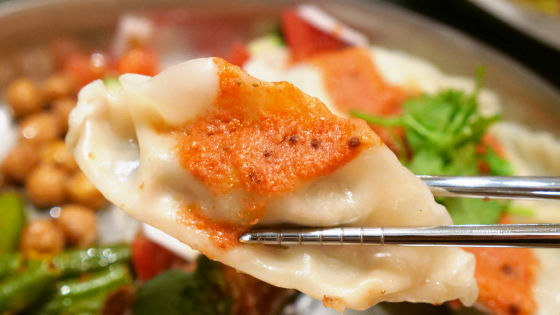 The red sauce is garlic tomato set, which is surprisingly hot. Because there is a lot of pacchi in the peach, the finish is unbearable to enthusiast.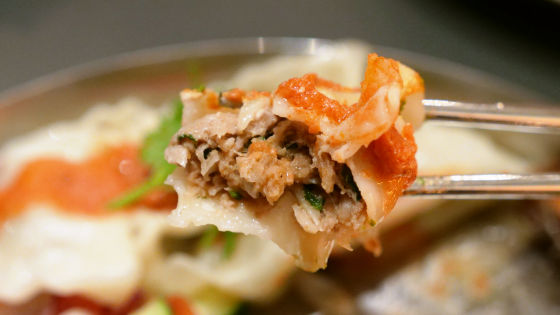 If you order three kinds of substitute (200 yen), you can enjoy the variation of the taste even more. In the front is a tamarind sauce, on the left is a garlic tomato sauce that was on the thigh, and on the right hand side is a pachymint sauce that was on the fried chicken.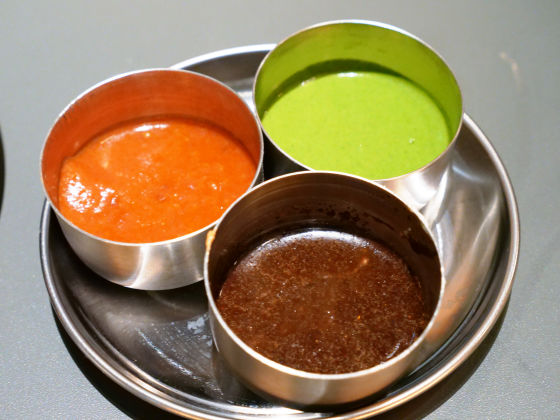 Tamarind
is a sour and sweet fruit, which is similar to the plum-dried atmosphere in Japan. It is nice that the hot pepper spreads in the depths of sweetness and sweetness like Worcester sauce when it is eaten with tamarind sauce with peach.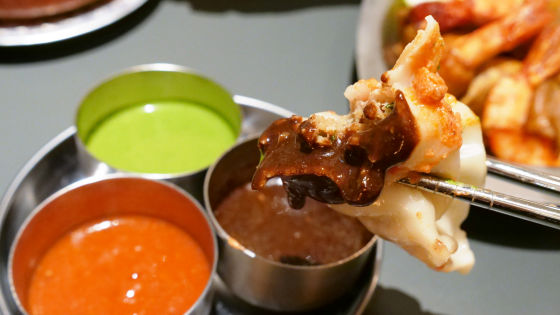 The flavor of the spice is soft from the stir-fry side dishes such as chickpea, corn zabuji, green beans and coconut, and tollen.



In addition, the deep-fried chicken in the large plate, you can choose the sauce from pacchiminto garlic tomato tamarind, you can also order for 50 bottles · 2500 yen like this. In addition, it is also possible to order infinitely as 'spiced fried chicken // endless' (5,555 yen) in the manner of Wanko soba.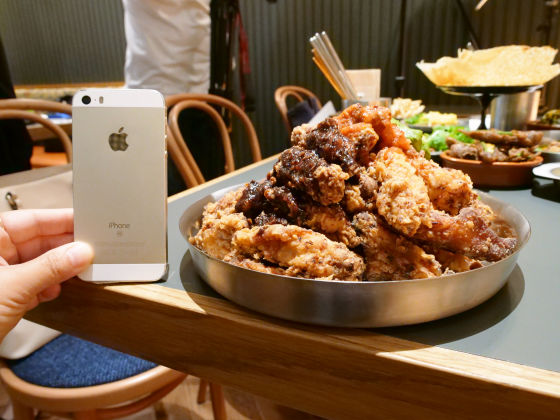 And the highlight of YELLOW is 'Egg Hopper' (660 yen). Hopper is a crepe eaten in Sri Lanka and South India. It is an appearance on the platform with height.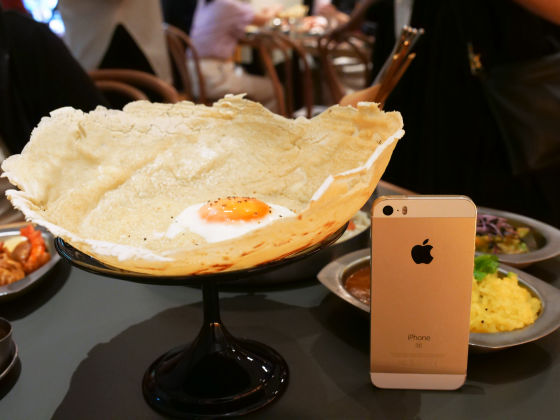 It has a gentle sweet taste and a slight coconut flavor. I would like to continue eating as a snack, though ...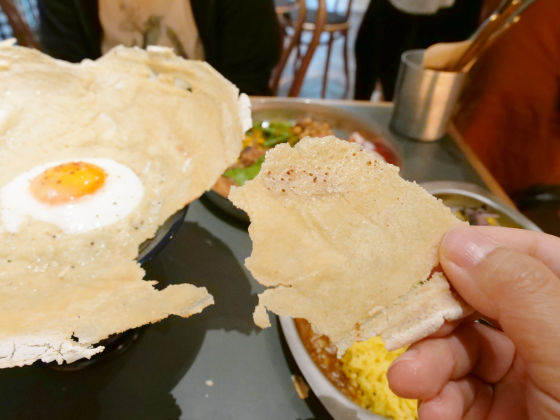 It is even better if you add egg yolk in the middle.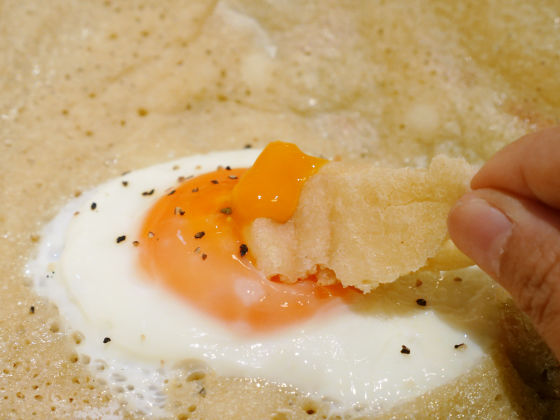 Since YELLOW curry is divided into 'soybean curry' and 'souvenir curry', I put the hopper on a spinach curry 'cocot curry with spinach and eggs' (¥ 630). Cocot curry is curry but modest, has thick eggs and is compatible with the hopper. And as the name suggests, it was a taste that the hand was stretched as a snack.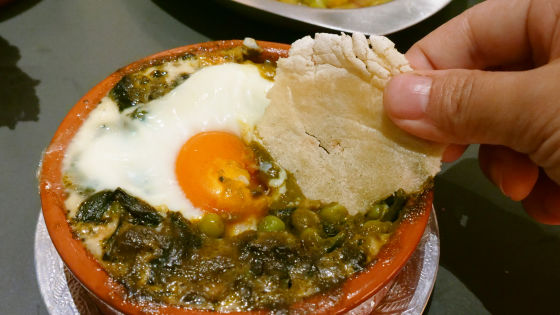 Then, to 'mango and avocado London style salad' (820 yen).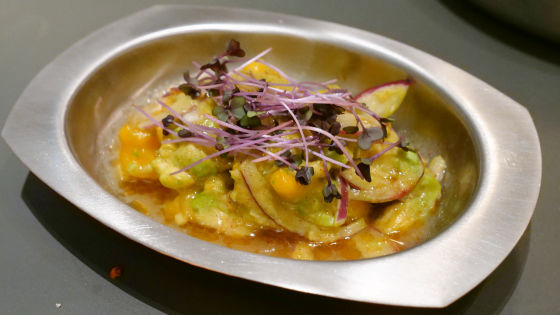 The sweetness of mango and the smooth texture of avocado combine to make it look like a dessert, but it also has a salad-like appearance with the addition of red onion pickles. It was refreshing when the spicy food continued.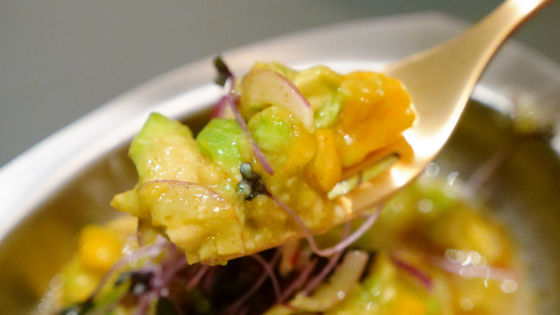 'Okra spice fry' (460 yen) is also provided in a small-sized dish.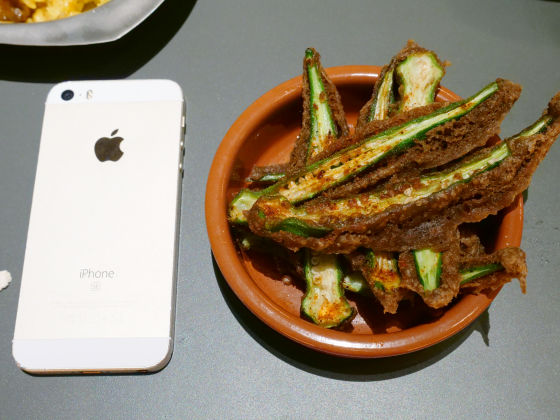 The okra made with the '9 kinds of spices inspired by Mexico' is salty and has a different spice aroma from curry and zabuji. The hotness was modest and it had an exotic sweet smell like cinnamon.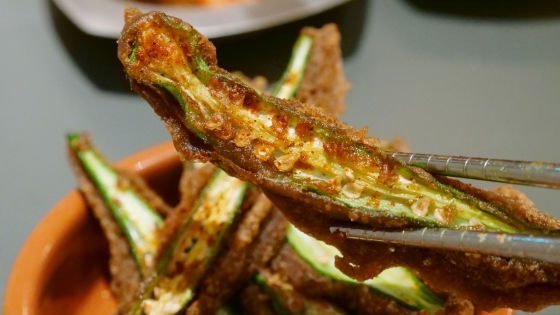 This was especially good with garlic tomatoes.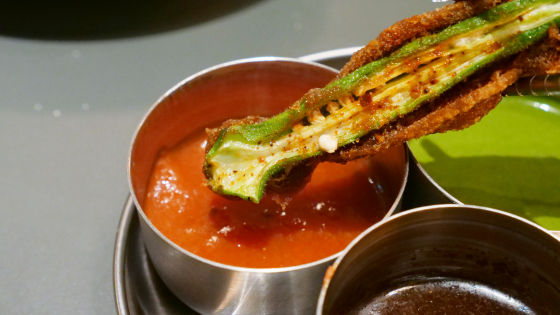 'Shrimp fritter London style 4' (930 yen) is the same fried food, but it is completely different from okra, and it smells like Tandoori chicken that 'The India!' Is felt.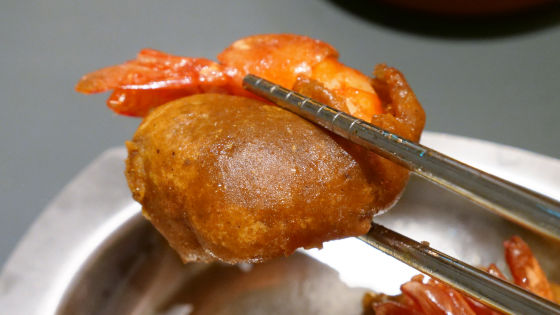 For drinks, choose Strawberry Mojito (720 yen). It is a rum cocktail using fruits, mint, basil and strawberry, pickled with four spices. It's a rum cocktail and it's not too sweet, so it's delicious. It was a fruity cocktail, where loose strawberries sometimes jumped into my mouth.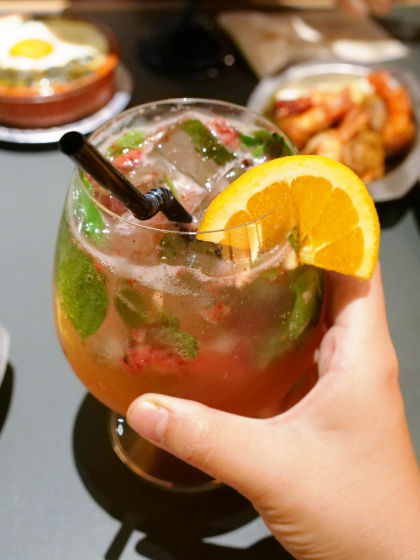 In addition, spice highball (550 yen) is liquor that coriander and black pepper entered. Thanks to the spice, the whiskey whistle disappears and the ease of drinking has increased.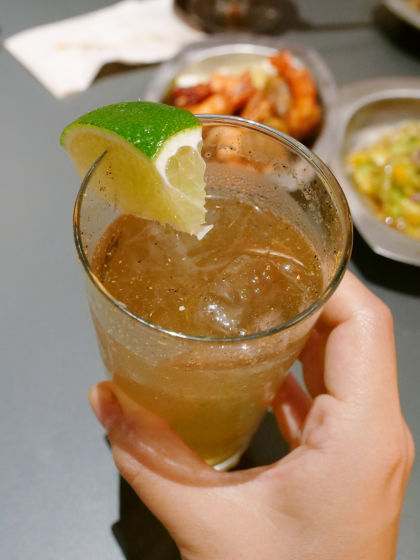 Two kinds of gelato were provided for dessert. The front side is rosemary and the back is mango and passion liqueur.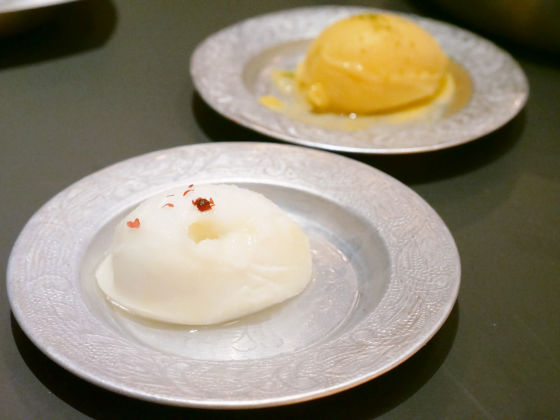 Sudachi and rosemary are sour and sour, but with the addition of a rosemary scent for a gentle mouthfeel.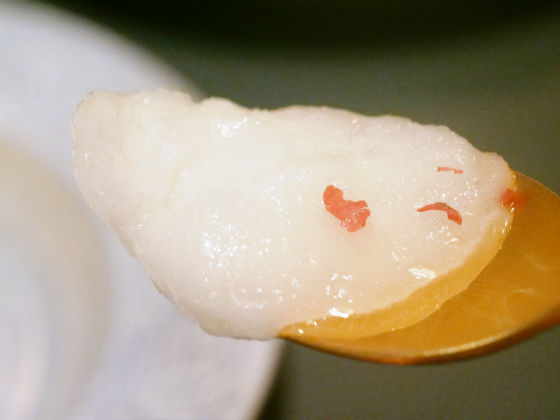 The mango and passion liqueur gelato have a gorgeous scent of grapevine topped on it. There was little stimulation unique to the yam, and there was a sense of unity despite the unknown combination across the borders of mango and yam.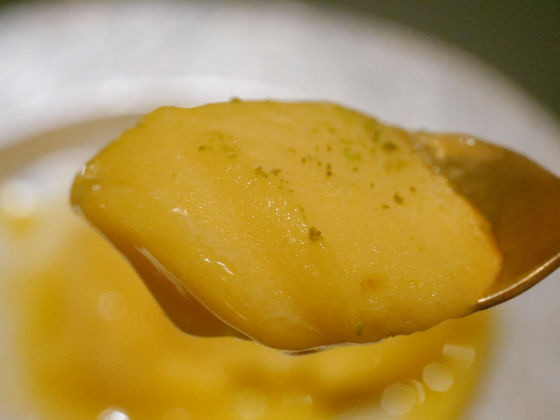 The clerk recommended a golden drink combining milk and turmeric. The golden drink (450 yen) with star anise was a kind of sweet hot drink, with a slight spice aroma in slightly sweet milk. When you drink it, you will relax to such an extent that you want to sleep as it is.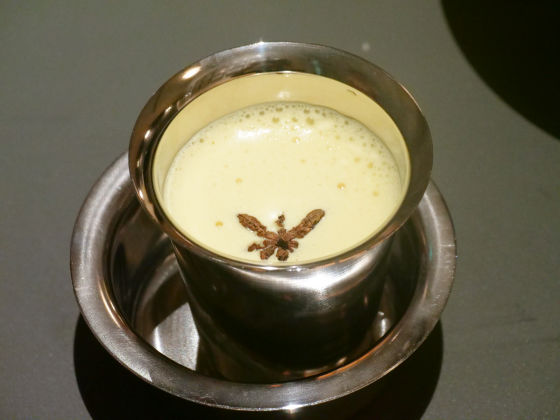 ◆ Lunch menu
The above is the evening dinner menu, but YELLOW also offers a lunch menu. There are three options for curry and soup: 'the cube of curry' (1280 yen) and 'the square of curry' (1100 yen) to choose two types of lunch.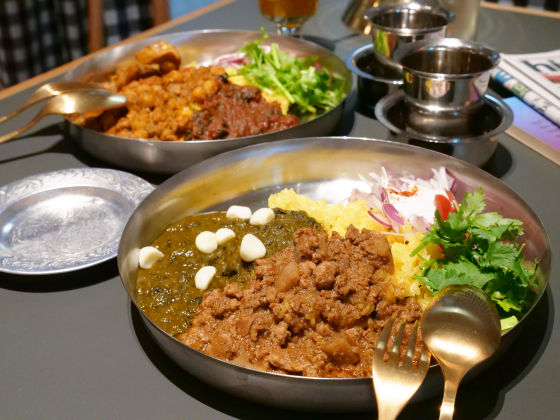 Below is the square of curry. A large platter is served with turmeric rice and salad, pakchi and two types of curry.



The curry of the day was 'Bondaroo curry with ground pork and lotus root' and 'Curry with spinach and mozzarella cheese'.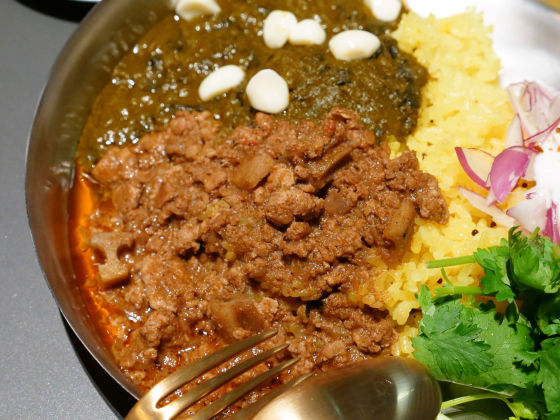 Curry's cube is like this. Kerala chicken curry, chickpea and minced chicken curry, bacon and spinach tomato stew curry are included.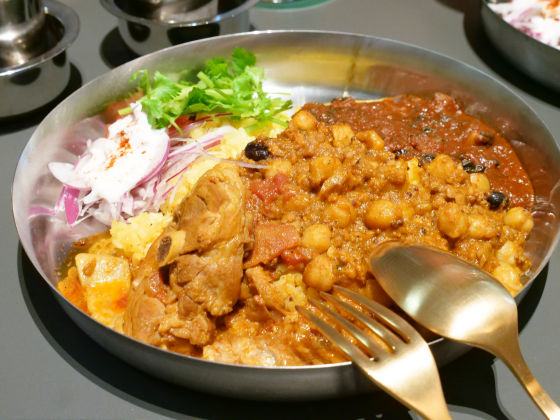 Set can choose soup or drink. The soup for this day's set was 'Masala Bich Soise' and 'Pumpkin Soup'.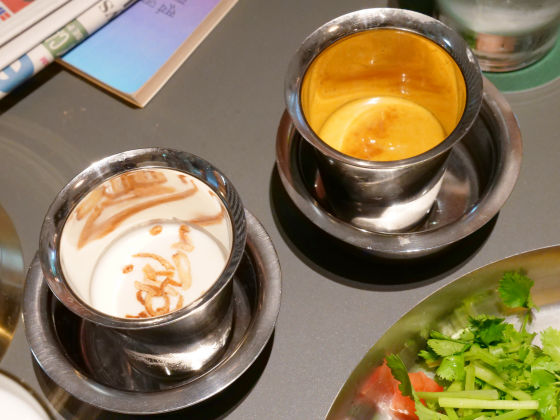 By the way, these two on the outside of the shop and on the sticker instead of the shop card are the 42-year-old British EWAN on the left and the 26-year-old Japanese SHIRO on the right. It seems to be a place where you can see foreign travelers.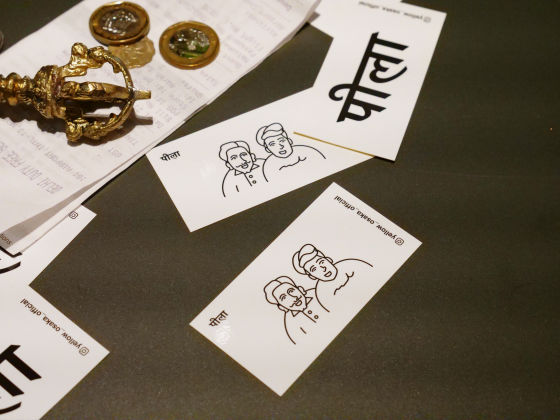 A wall of pictures and memories of India, a place of memories for two people, on the wall.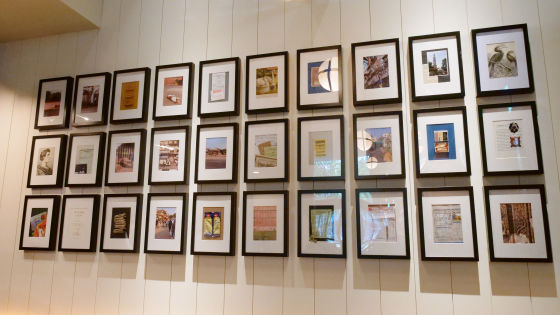 And, the plate of the shop has one with a logo and one with two illustrations, and the person who came out with a "per" plate with two illustrations is the other table in the store It's possible to nominate a customer and to manage the accounting of that person. In addition, since this accounting is borne by the shop YELLOW, the person who has been covered is lucky, and the person who made it is not at risk and feels like 'I did a good job!' It's a mechanism that can be a daunting exchange.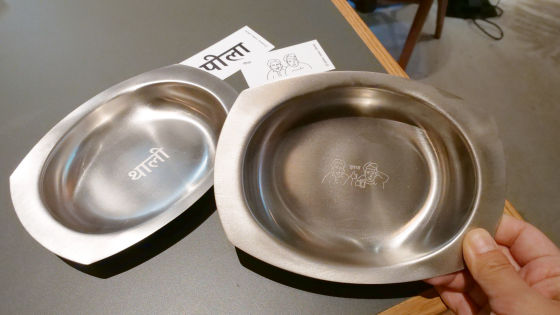 YELLOW's ethnic lovers have made it possible to 'eat little by little' in places where it is difficult to try various tastes because there is a large amount of 1 dish and 1 dish of authentic Indian and Sri Lankan restaurants Is a nice shop. Because the flavor of the spice which becomes the leading part differs depending on the food, and everything from appetizers to desserts to drinks is so full of spices, there is a surprise that 'spice is so diverse!' It should be done.

YELLOW is open from 11:00 to 23:00 and lunch is from 11:00 to 17:00 and dinner is from 17:00 to 23:00.