A talk is about a movie that talks about 'data dominance' by Deepfaked Facebook creator Zuckerberg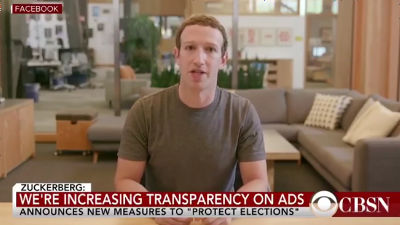 The situation that ' AI makes faceplate technology and make 'fake porno of famous actress'' happens at the end of 2017, 'If this deep fake technology is to be abused, it will tell the truth and the truth on the Internet Would not be impossible? " Under these circumstances, Facebook's Mark Zuckerberg CEO has created a deep-fake episode that appeals in the news, 'Imagine a single man controlling people's data.'

Deepfake video on Mark Zuckerberg surfaces on Instagram-Business Insider
https://www.businessinsider.com/deepfake-video-mark-zuckerberg-instagram-2019-6

Facebook 's Fake Video Policies-VICE
https://www.vice.com/en_us/article/ywyxex/deepfake-of-mark-zuckerberg-facebook-fake-video-policy

You can see how the CEO of Zuckerberg talks about the news in the following movie:



Here's what Mr. Zuckerberg says:

Imagine this for a second: One man, with total control of billions of people's stolen data, all their secrets, their lives, their futures. I owe it all to Spectre. Specter shown me that whoever controls the data, controls the future.

(Imagine just a bit. The secret of the people, their lives, their futures, etc. The data is completely stolen, and that one man can control that data. I am grateful to Spectre. It showed that the person who controls controls the future)

The movie was co-produced by artists Bill Posters and Daniel C. Howe , and advertising company Canny. 'Spectre,' Fake CEO Zuckerberg mentioned in the movie, is one of the exhibitions held at the UK event ' Sheffield Doc / Fes '. That's why Fake's Zuckerberg CEO was released in this Spectre.

The movie released at Spectre is not only the deep fake of ザ ッ カーバーグー CEO, Kim Kardashian who works as an actress and a model ...



Actor Morgan Freeman



There is also a Trump Presidential Edition.



Canny engineers cut out a 21-second segment from the original 7-minute movie released in 2017 to train Zuckerberg CEO's Deep Fake, and after training the algorithm, the face and voice of CEO Zuckerberg match Reorganized the frame to do so. Canny founder Ben-Ami says that the training time required to create a 20-45 second scene is 12-24 hours.

The created movie is unnatural in that there is a slight deviation between voice and mouth movement, but the nature, blinks and gestures of movement are just the real CEO of Zuckerberg.

In addition, although the telop is used to make it look like news, since the character 'CBSN' is included here, the US broadcast station CBS has asked Facebook to delete the movie. Meanwhile, the Instagram spokesman said, 'We treat this content the same way as a false alarm on Instagram. If we judge that a third party fact checker is a false alarm, we will use 'Explore' or a hashtag. I will filter the page and so on. '

in Note, Posted by logq_fa