A function has been added to notify Google maps that they can 'fall the shortest route' and prevent taxi rips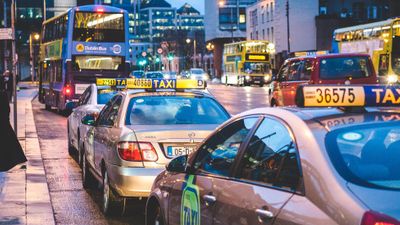 by on
xay
In Japan, there is almost no chance of getting hit by taking a taxi, but when traveling abroad etc., the local taxi driver has intentionally traveled to the destination and the person who has been charged with the taxi fee higher than originally required There should be. It is reported that the function to avoid such a taxi rip is installed in Google map.
Google Maps tests a new alert for when your taxi goes off route
https://www.xda-developers.com/google-maps-taxi-goes-off-route/
Google Maps will tell you if your taxi driver is off course to rack up a higher fare – BGR
https://bgr.com/2019/06/10/google-maps-features-off-route-alerts-will-make-taxi-rides-safer/
There are a lot of people who use Google map route search when driving their own cars. Aamir Siddiqui, a senior editor at
XDA Developers
, a community site for developers, has added a new 'Off Route Alert' feature to Google Maps that is useful when you're in a taxi without driving. I found that.
The off-route alert feature discovered by Siddiqui sends notifications when the user is more than 500 meters away from the shortest route selected on Google Maps. When traveling through an unfamiliar place when traveling abroad etc., it is quite difficult for a taxi driver to notice that he has traveled to his destination. However, if you get into a taxi and at the same time search for a route from your current location to your destination on Google Maps and turn off the off-route alert function, you can immediately notice if the driver turns around intentionally for a crash. .
Normally, Google Map Route Search will re-search routes when you get out of the way. However, if the off-route alert function is turned on, it only conveys the fact that the road is 'rounder than it should otherwise' without automatically re-searching the route when Google Map gets out of the regular route. It seems to me.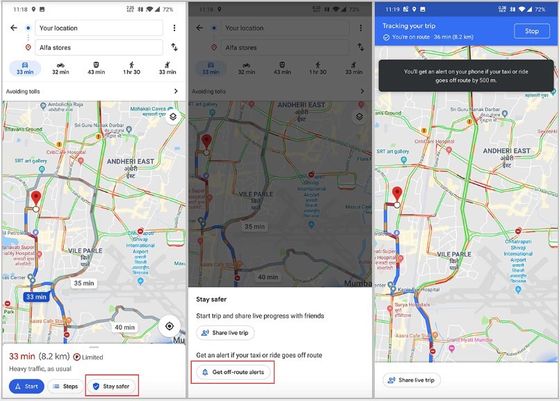 If you receive an off-route alert, the taxi driver can be alerted to the driver trying to bluff by asking, 'It seems to be a roundabout than the original path, is it okay?' . If you say that 'this time, because the original way is crowded', you can also check if the way is really crowded on Google Maps.

At the time of writing, the off-route alert function is available only in India. In anticipation of the huge market in India, Google has implemented the world's first improvement in Google maps that show travel times and fares for
motorcycle taxis as
well as public transport, for the first time in India. The off-route alert feature discovered this time is also seen as one of Google's moves focusing on India.

by Devanath