I tried to taste the 'New Yorker 1 kg Ultra Cheese' tasting review, a world of 3832 kcal calories, with a total weight of 1 kg of cheese breaking and flowing out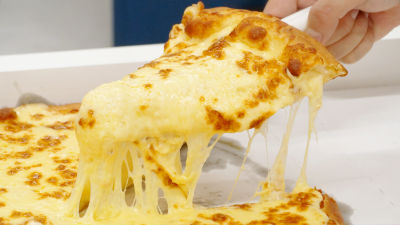 ' New Yorker 1 kg Ultra Cheese ' of impact that mozzarella cheese of 1 kg in total weight was on pizza dough of 40 cm in diameter appears for two weeks from June 11, 2019. I actually ordered and experienced a world view with a total of 3832 kcal without a word of diet.

New Yorker 1 kg Ultra Cheese
https://www.dominos.jp/topics/190610_1 kg

According to the official , the amount of 1 kg of cheese is about this amount. Eight cups make up 1 kg, but one piece of pizza is eight pieces, so if you consume one piece, you will drink one cup of cheese.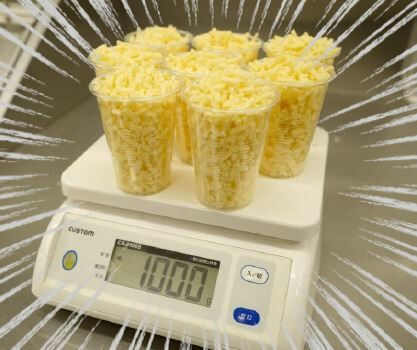 New Yorker 1 kilo Ultra Cheese arrives from Domino Pizza.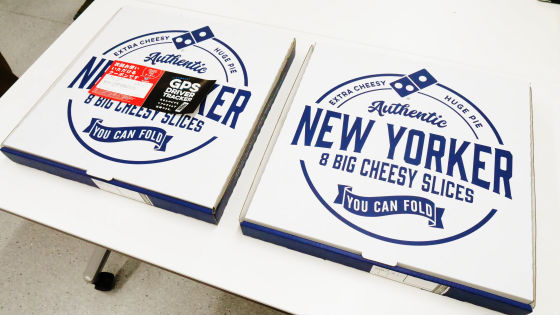 I ordered ' Quatro cheese steak New Yorker ' of the same New Yorker series this time as well.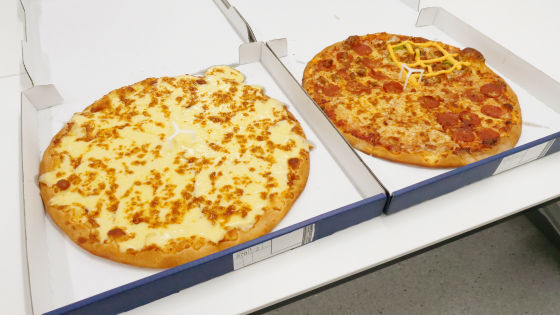 This is about 40cm diameter New Yorker 1 kg Ultra Cheese compared to the 123.8mm iPhone SE. The calorie is 478 kcal per piece, so it is a calculation of 3824 kcal with 8 pieces per sheet, but according to the official it is 3832 kcal per sheet.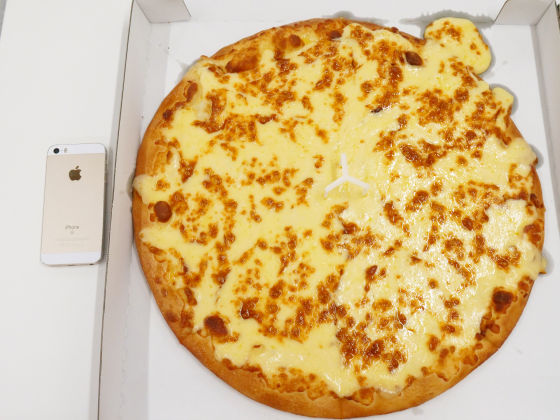 When the pizza arrived, the cheese had already broken and overflowed. In 2018, a total of approximately 320 g of Domino Pizza original cheese and mozzarella cheese, " Ultra Sheng 4 ×! Cheese ", which is 4 times the usual amount, has appeared, but this time the amount of cheese is further tripled. In other words, 12 times compared to the usual amount ....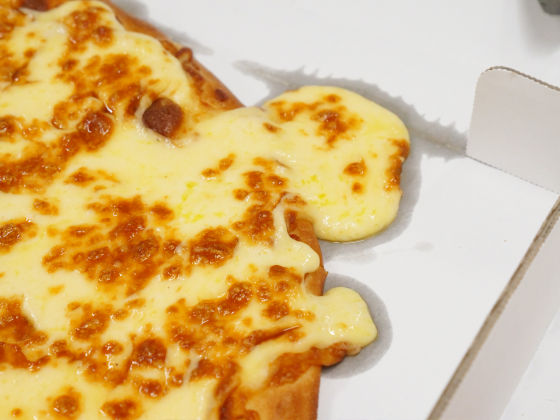 I try to lift with the server, but I can not lift it easily ...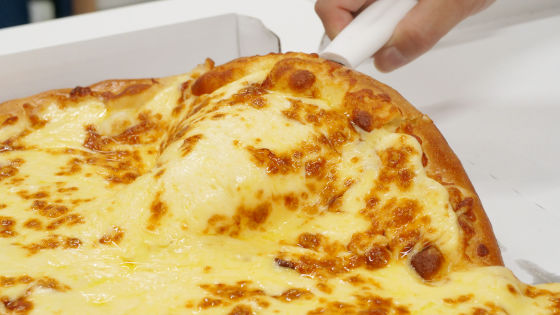 If you put a lot of effort, Motchii and cheese will be drawn, and the scene of the cheese rubber great delight will unfold.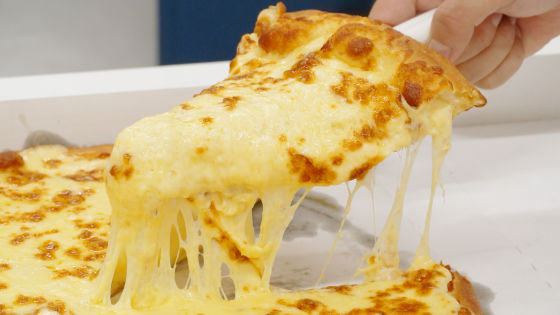 You can see the picture of the pizza where the word 'sea of cheese' is appropriate by looking at the following movie.

'New Yorker 1 kg Ultra Cheese' with a total weight of 1 kg of cheese breaking and flowing-YouTube


The weight of the cheese is too heavy and one piece can not be lifted with one hand.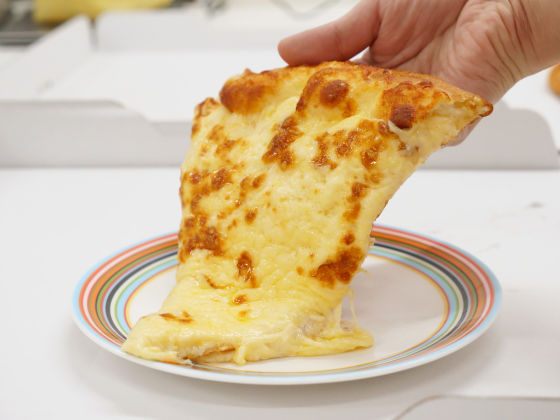 So do you eat it round like this ...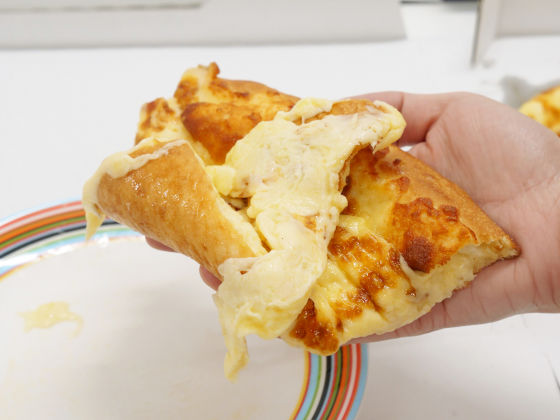 I was forced to use a fork. I tried eating it, and it tasted sour, sour, and rich in the mouth, and I felt like I was just 'chewing cheese,' but the smell and sweetness of the dough wheat gradually began to spread.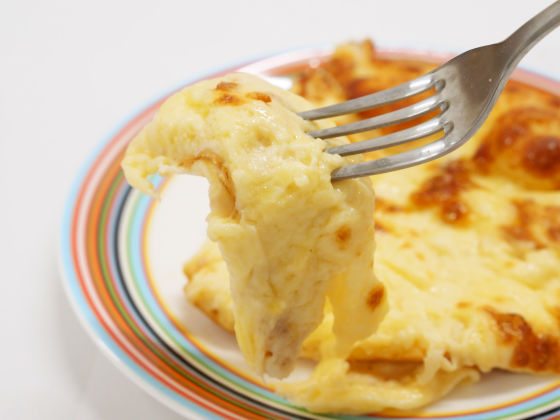 However, since nothing other than dough and cheese can be felt, this is closer to cheese nang than pizza? There was also a feeling. Due to the large size per piece and the taste of cheese, even one piece can satisfy 100% cheese lust.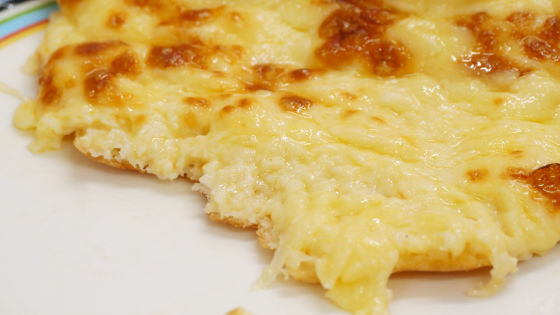 Quattro Cheese Steak New Yorker has four flavors of 'Big Cheese', 'Big Pepperoni & Sausage', 'Big Philly Cheese Steak' and 'Big Pepperoni'.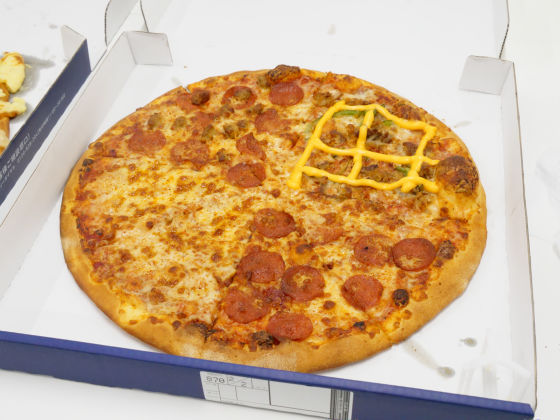 The point is 'rich cheese' is the point of big cheese , but the amount of cheese used is smaller than ultra cheese, so it can be held with one hand. Even in terms of the amount of cheese, and the taste of the tomato is firm, after eating New Yorker 1 kg Ultra Cheese, it is a taste that I would like to say, 'That's why we talk about cheese love at this level ...'.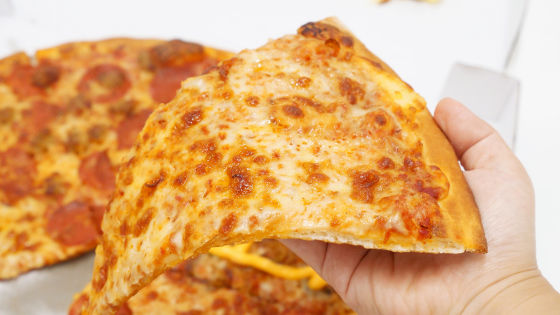 In addition, New Yorker 1 kg Ultra cheese is 4,000 yen after tax for delivery. The period is from June 10 (Mon) to 23 (Sun), 2019.