The movie 'Promare' stage greetings report that told Masato Tsuji 'I was such a crazy anime'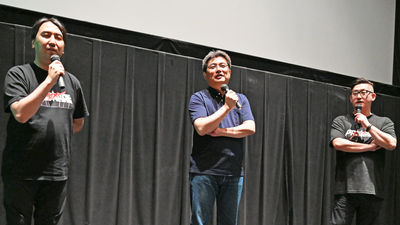 The stage greeting of the movie '
Promare
', which is on the
market
from May 24th, 2019, was held at
Toho
Cinemas Namba
. The supervision and was on stage
now stone Hiroyuki
-san, the character design and the gradient Boy
Shigeto Koyama
-san, creative director
Wakabayashi Hiromi
's. In 'Promea', this was the first stage greeting after the screening, and a talk in which the contents of 'D part', which were hardly mentioned in the pre-publication, was in depth.
Movie 'Puremare' Official Site 5/24 (Fri) Nationwide Road Show
https://promare-movie.com/
Mr. Wakabayashi, Mr. Imaishi, Mr. Koyama from the left. On the day before the stage greetings, the talk was held for four hours in '
TRIGGER NIGHT XX ~ World flames, Namba incomplete combustion ~ If I don't burn, I can't do that
' ' It was shaken that 'a thick story' and 'it's compressed as much as a movie' and it became a talk according to it.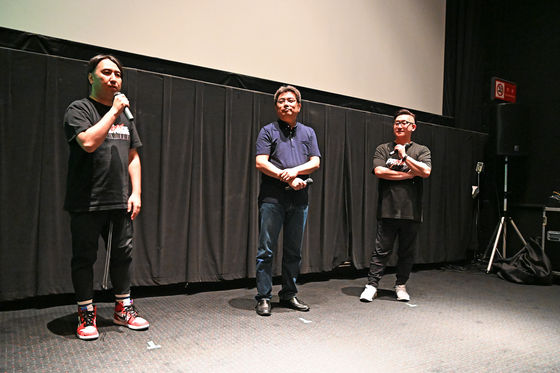 Advertising producer Takeshi Kase (hereinafter referred to as Kase):
First of all, I hope you can tell us how the work called 'Promea' started.

Director ・ Hiroyuki Imaishi (hereinafter, Imaishi):
As I'm talking a lot more, I compressed it, and after '
Kill la Kill
' was over, it turned out that 'The next is a movie.' I tried to compress (laughs)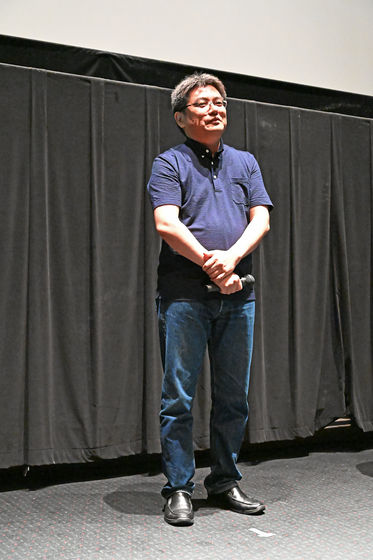 Kase:
Too much compression (laughs) It was the launch of this member. Including Mr. Nakajima.

Now stone:
Well, Mr. Koyama also started from the beginning.

Character Design Koyama Shiget (hereinafter, Koyama):
After 'Kill la Kill' was over, I was doing other works, but Waka (Wakabayashi-san) and Imaishi-san called me 'Let's eat food' and 'I will do it next time' 'I will do it at all' I told you that. I was told that it was a character design, and I thought that it would be better if I didn't do it because there were a lot of excellent animators on the trigger, but it was that there was an aim, 'I would do it.'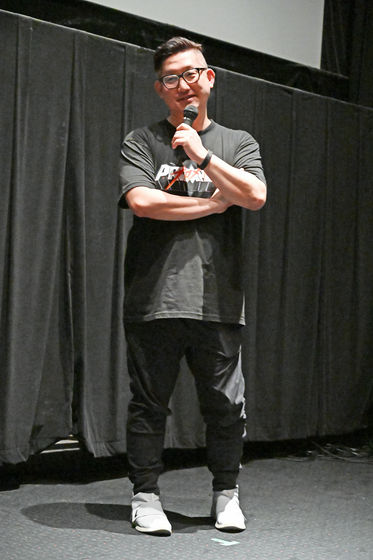 Now stone:
The premise was that there was a large amount of CG, so I wanted a design that could handle both. Koyama-san said that the difficulty is high with a normal animator.

Kase:
It is often said that design and color design have a different approach from regular animation.

Now stone:
Along with 'CG Ariki', I was aiming to 'do with color tress'. In order to connect CG, drawing and background expression seamlessly, drawing was drawn to CG, CG was drawn to drawing and the final form was made. That's why it was the color that I was quite stuck with. It is new that it unified by something different from the usual usage.

Koyama:
It was big that I did not want to use the cloudy color.

Kase:
Triangular and square motifs often appear in movies, but who did you think of that?

Koyama:
That is Mr. Stone now.

Now stone:
Well, I used to go with geometric patterns. Also, in order to achieve consistency and unification of drawing, CG and background expression, I decided and decided the design motif for each power. Then the design gets set a little earlier. 'Don't do anything cool' is dangerous and I will continue to seek forever, but 'A cool thing in a triangle' is also aimed at achieving unification.

Kase:
Has your design style been set in the early stages?

Hiromi Wakabayashi, Creative Director (Wakabayashi):
I agree. The Japanese staff are good at real expressions that are often found in current animations, but this time I wanted to attack in design, so I put overseas staff on the landscape of the town and the triangles and quadrangles that came out earlier, and carried out concept design We have made a style by repeating meetings in skype and so on.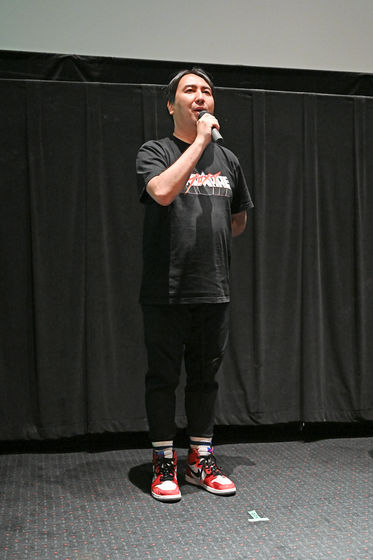 Kase:
As I say, I thought it was finished in a good way. I think you may not even see this expression in this kind of animation. The actors and trigger familiar voice actors have been appointed for the cast. Have you tried to use an actor, what is your impression of trying to finish recording?

Now stone:
You're already watching it, but ... 堺, wasn't it funny?

(Laughter at the venue)

Now stone:
I think that you can understand that this person is funny! I asked Ms. Ms. expecting such a duality, and I also made such a design, but after the dubbing, 'Eh !?' 'This way of breaking is good,' he said.

Wakabayashi:
It was beyond your imagination.

Now stone:
The unusual look of Clay was a little more funny at the character design stage. But because I heard that voice, this is a face, I was drawn to a pretty face that was not good enough to go a little more.

Wakabayashi:
Some of my works are different in terms of face design, etc., after being given a voice. The actor's play is so powerful that they fit in there. As for Ms. Ms., I designed it to some extent, but I was over it.

Now stone:
When I saw the trial, I happened to be Mr. Aoi next door, but I was told that it was such a crazy anime. I was puzzled at that time, but I thought it would be nice to return 'No, your play was quite crazy.'

Koyama:
We heard that Ms. Sang said that Ms. Ishi is crazy now, and we thought it was good. Mr. Tsuji is now told that Mr. Stone's crazy (laughs)

Wakabayashi:
Mr. Sakura Ayane also said that when I was making an audio dubbing, I was smiling and listening to a story, but when I made a work I saw a crazy side, so I could say that there was a side close to Mr. Ryo. It is far from the image of the person.

Kase:
In the interview, Tatsumi-san is more crazy than the main story I imagined at the time of dubbing, and you are told that it will be such a work, and 'It's a pervert in a good sense,' he said.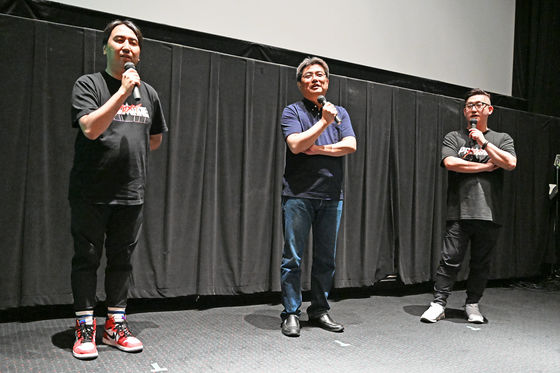 Koyama:
I think that the staff in the studio did not know what more than half would be like when I was making it. As for the look of the screen, I think I did not know it while drawing a picture.

Now stone:
It has always been told 'I don't know what the correct answer is' in the field. The color of the flame is also temporary if it is normal. 'If you think it's going to be red or yellow, then that pink and green pattern!'

Koyama:
'Is this all right?' (Lol)

Now stone:
It says, 'No, I'm fine with this.'

Koyama:
There is a scene where Bill is burning at the beginning and the flame of the burnish winds, but when I was looking at the rush, I pointed out that 'Here's the color, I made a mistake.' Hm. Because everyone is pink. Because I remember the color, I can say 'Pink here is wrong'.

Now stone:
'It's right here, but I'm just wrong here,' it's all pink (laughs), but there's a little difference in pink.

Koyama:
Everyone may have been troubled there.

Kase:
It is quite different from the usual TV anime scene, isn't it?

Now stone:
As I was working on the TV series, I made a look at the first episode, thinking 'Oh, this kind of work', but because the film is like delivering the first episode and the final episode at the same time, from the staff Then I finished making it without knowing what kind of anime.

Kase:
Even in the position of advertising, the thing that I showed to the storyboard etc. and imagined, the thing that came up on the way and the finished product, 'Ah, this will be'. In a good sense, I thought, 'I am far away.' In particular, Clay's face, which I mentioned earlier, is what happens.

Now stone:
Quite well, although the original picture man also played, it passed through as it is.

Kase:
Please tell me if you have been working for six years and have struggled here.

Now stone:
It was great that sharing among staff was difficult. It was awful because I had to process huge things while only I and Koyama knew the correct answer. The color tress which I wanted to do most was hard. It is a routine work until I draw a line drawing, but when coloring, the schedule is pressing down as it is the last process. That's where I'll catch up with it, but it takes about three times the normal color painting process.

Kase:
It is amazing to triple

Now stone:
It usually takes two nights and three nights to work on one night, and at the end of the day the schedule will be tough. It's all my fault (laughs), but it was tough, but I think it's a screen that I have done.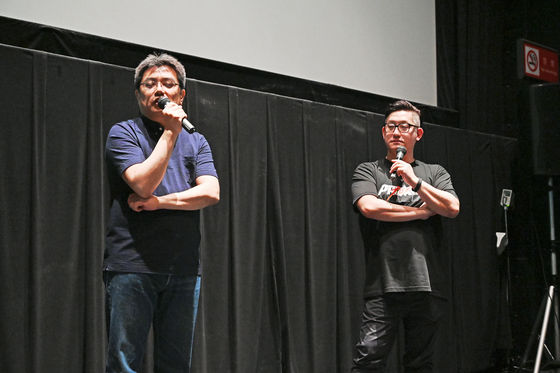 Koyama:
The part is exactly the same. It was tough, but I will soon forget it (laughs), so it was fun including that. It may be the most fun work I've ever done. It was the most stressful thing that I moved in the middle (laughs)

Wakabayashi:
Since I was working on the main part while doing the publicity with Kase and others, do you say that one month of the climax is a hell (laughs), but you have to do the main part as well, but feature in various places As I am being asked to supervise articles and texts, Kase-san says, 'Wakabayashi-san, please go back as soon as you have a page.' ', While pointing out the outrageous condition ....

Kase:
I have about 80 manuscripts that I have to check this time, and I will send it to Mr. Ishikawa now via Wakabayashi, but if there is something that has stopped at Wakabayashi, 'Wakabayashi, When it is said, 'It is not completed, but is it OK?' Is returned and 'No, it is ...' (lol)

Wakabayashi:
'Have 10 cuts now ...' (laughs), it was not hard, but it was hard.

Koyama:
It is also held between me and young people, and when asked for a copyright illustration, 'The quality of the main movie is lowered, is it all right?'

Wakabayashi:
There was an incredible tug of war.

Kase:
In that way the main story is well up in this way ... Is this Wakabayashi-san amazing?

Wakabayashi:
No, everyone worked hard. These three, especially, can not compromise.

Koyama:
It was an unforgettable April (laughs)

Wakabayashi:
It looks like a movie title (laughs)

Koyama:
It is said that even the sleeping time is managed by production.

Wakabayashi:
I can be angry at the progress of production when I go to bed.

Koyama:
'I'm going to go home after two hours now, Mr. Ishikawa, so how many hours should I come?'

Now stone:
I can sleep so much today (laughs)

Kase:
Wakabayashi is the easiest to catch at around 5 o'clock.

Wakabayashi:
That time was mail time, I was treated like a demon. Well, it's a film that I understand.

Kase:
This time, the
music is also popular, but
Mr. Sawano's play and the song of superfly. What kind of order was it?
Now stone:
At first I was asking for an insert song to put in the battle scene in the first half, but the one that came up was a song called 'Awakening' which is now in the middle. As I was asked to load a story theme, it was a theme of emotion that got close to Rio, so I switched the place I would like to use for Rio's runaway scene. I use it three times in detail because it's a great picture and addicting way. I think I got a great song.
Wakabayashi:
It is said that he is doing it one more time, though it is very well-familiar, and it's full scale without cutting from Rio's revival scene.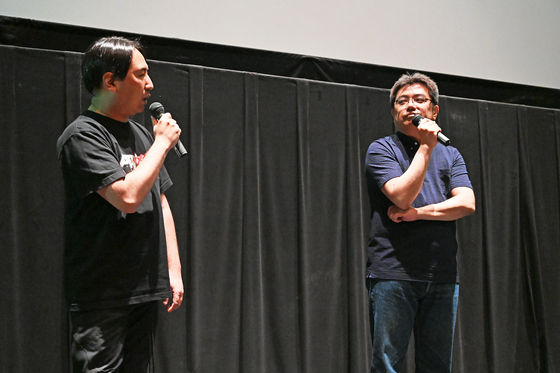 Kase:
The sound is drawn to the musical bar all the time along with the music of Mr. Sawano.

Wakabayashi:
Mr. Sawano-san, a song that fits in Garo and Rio just came up, it was easy to put it as this, and it was easy to set up the character.

Kase:
Thanks to you, the soundtrack has been sold out and restocked, and it is causing trouble for those who want to buy it.

Wakabayashi:
As for the jacket, I would like to meet with Mr. Ichiko-san and Koyama-san who designed the main logo, and make a jacket that is quite difficult.

Koyama:
In combination with the case, what will be one picture.

Wakabayashi:
The case is transparent and the board is seen through. It is an unusual design that becomes a fluorescent color poster drawn by Mr. Koyama when the liner is extended.

Kase:
It's a D-part robot battle that I haven't mentioned much in publicity, but when is the concept of that robot or special move?

Now stone:
His special move is probably at the time of fix of the script. It was written as 'Emergency Beam' and I thought 'Wow' (laughs)

Wakabayashi:
What is it?

Now stone:
The scenario says 'Building will be on the ground' and 'This can be done as it is' (laughs)

Wakabayashi:
At first 'open beam' is a bit overkill? I thought, but if Ms. Aoi played, it would seem like it was like a serious seriousness, or this would be more than a gag, and if I thought that it was a good balance, Mr. Ishima at the end of the main story 'plan 'I was not there, but I want to put in the letter.'

Koyama:
'The character is stuck' and so on.

Wakabayashi:
The cooling beam freezes the letters and puts in fine play.

Kase:
At first, when I heard it by sound, I thought that 'Kaikon' was 'repentance', and 'Because it would be a beam that kills and regrets'.

Koyama:
That's good, it's two sick inside. It feels like 'I will regret when I open my evil eyes.'

(Laughter at the venue)

Wakabayashi:
After all that is the sense of Mr. Nakajima.

Kase:
How was Robo set?

Now stone:
Robo's existence itself should have been quite early in the planning. How big is it?

Koyama:
It was decided to put out a robot from the beginning, and I was talking about trying to become a robot on the way and like 'what are we looking at?' However, since it is the character that the design priority is high anyway, I was told that I will design the robot when the character is over.

Kase:
Oh, it was a reward.

Koyama:
That's right. The producer, Tsutomu, says, 'It's not the case when you're playing with a robot. Anyway please end the character. When finished, Koyama-san and Mr. Imaishi-san can both draw the robot'.

Wakabayashi:
There was a worth to be created from the character, and because I had teamed up with the burnish armor in the beginning, it is finally that Rio de Gallon itself is an armor created by Rio in the burnish armor development system.

Koyama:
It was designed by Rio for Garo, and has a design that allows lines to go like a firefighter.

Wakabayashi:
That design is said to have Rio put it for Garo.

Koyama:
When I read the impression of the fans, there is a voice saying 'I want a Matt Tecker and it is not like making a Rio de Gallon', but in fact the shape of the eye-catcher is an orange bar inside the Matt Tecker. There is, but it is the same as its form.

Now stone:
Rio, I really saw it.

Koyama:
It's a good girl.

Now stone:
'What you like is this forgery, I know everything.'

Koyama:
I will do it silently. After that, make a horny face (lol)

Now stone:
It's a great answer.

Kase:
The card with the 'Garo Hen' serial code of the previous day is distributed as the first admission privilege, and the 'Rio Hen' will be distributed from June 7th. What kind of story is Rio edition?

Now stone:
Both were on the day before, and Garo Hen is the first day Garro was assigned to the burning rescue. The Rio edition depicts what happened when you first encountered Gera and Mace.

Koyama:
Although Gera and Mace are taller and stronger, why is a thin boy becoming a boss?

Wakabayashi:
It will be even more interesting if you continue to see it from Garo. It is a time series called Garo Hen, Rio Hen, and Main Hen.

Koyama:
To get the Rio edition card to see it in that order, you can not go there three times.

Now stone:
I think that we will be more excited if there is everyone's support. 'Rio Hen' is also thank you by all means.

The movie 'Promea' has been
acclaimed on
Friday, 24 May 2019. As featured in the stage greetings, a serial card with a serial code of a completely new anime 'Garo Hen' depicting the first day that the main character Garo was assigned to burning rescue is being distributed as the first entry privilege So, the card distribution of the second edition 'Rio Hen' will start from June 7 (Fri).
What kind of action scene is unfolded is partly published on YouTube. As you can experience this many times the power of the screen size and the good sound equipment when you look in the cinema, please see the end of the battle in the cinema.
The original theater animation 'Promare' main part opening action production of TRIGGER production YouTube ban, 'Matoi Tecker' imposing-GIGAZINE