Subway 'fresh salad chicken' tasting review where healthy salad chicken and crispy vegetables are tasted with fresh sourness of lemon in Seto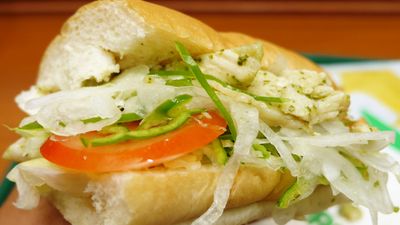 ' Refreshing salad chicken ' that Subway has been offering since Wednesday, May 15, 2019 uses only a low calorie and high protein
salad chicken
and plenty of vegetables and a source of Setouchi lemon, reducing the calorie to only 302 kcal It's a sandwich. When I actually ate it, I finished it with a healthy sandwich that I would like to recommend to people with a lack of vegetables that can feel the coolness that is perfect for a hot summer.
Fresh salad chicken │ Subway campaign information │ Subway official site
https://www.subway.co.jp/campaign/saladchicken/
Arrive at the subway.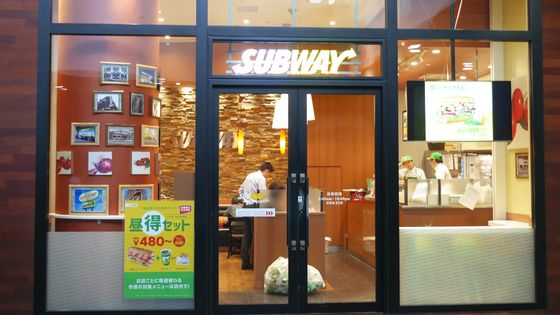 'Refreshing salad chicken' was appealing to the panel of the shop, so order immediately. The bread is white without roasting, and all the toppings are as recommended.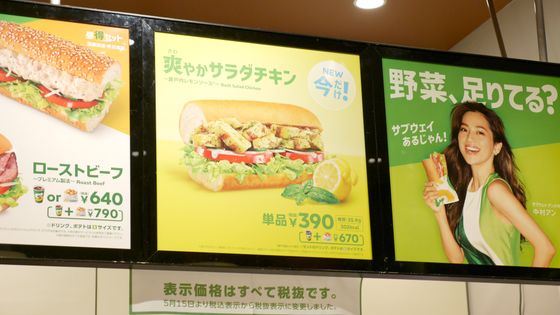 Refreshing salad chicken (including tax 421 yen) is like this, and plenty of salad chicken is sanded so that it may spill out between the bread.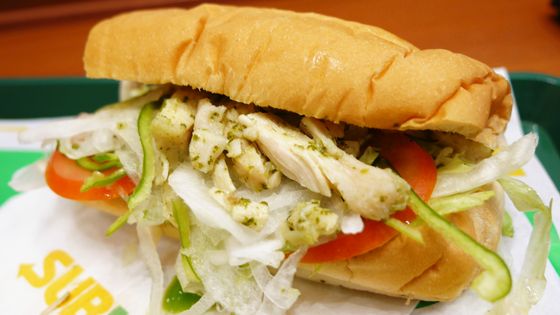 The ingredients are salad chicken and onion, tomato, green pepper, lettuce. Salad chicken is finely cut so it is easy to eat.



In addition to the Setouchi lemon sauce, the salad chicken also had basil.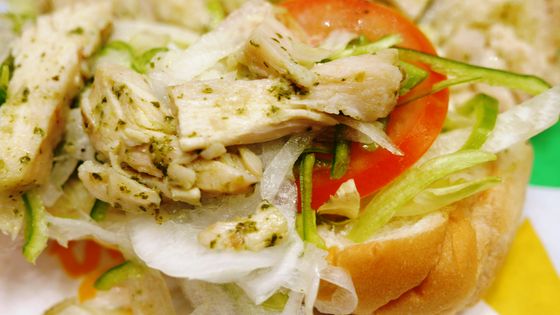 I actually feel the sour taste of lemon when I actually eat it, but it is not so stimulating that I am eating it in the way, and I work as an accent. The contrast between the crispness of onions and lettuce and the elasticity of the salad chicken is fun, giving you the feeling that you are eating vegetables right now. On the other hand, it contains a lot of vegetables, so it has a lot of water, and the light taste of salad chicken is combined with it, and the taste is quite refreshing. It's perfect for eating in the hot summer, but if you like the heavy seasoning you may need to adjust the topping and dressing. Also, be careful if you do not roast bread, as it will make the bread very soft and crumbled by moisture.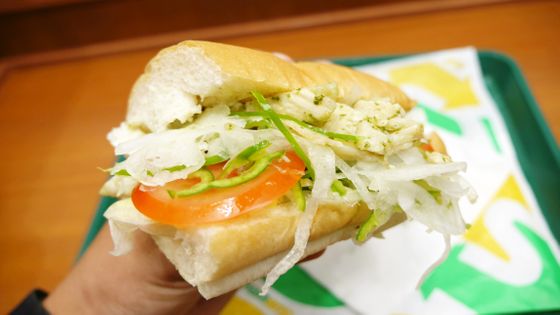 Refreshing salad chicken is available for a limited time from Wednesday, May 15, 2019 at branch stores nationwide.