Lenovo plans to release a PC with a folding display, a movie of touching the real thing being released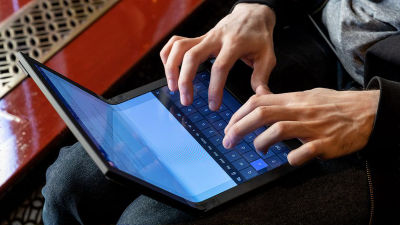 The competition for folding smartphones such as Samsung, Huawei and Xiaomi is overheated, but Lenovo has announced a new notebook computer with a folding display . Completed as a ThinkPad X1 brand, this PC is still at the prototype stage, and although it does not yet have detailed information such as its name and specs, it can be clearly seen from the actual movie that it is an ambitious terminal.

Lenovo shows off the world's first foldable PC-The Verge

https://www.theverge.com/circuitbreaker/2019/5/13/1853732/lenovo-foldable-pc-thinkpad-x1-prototype-hands-on-folding-screen
Lenovo shows off a folding-screen laptop, coming some time in 2020 | Ars Technica
https://arstechnica.com/gadgets/2019/05/lenovo-shows-off-a-folding-screen-laptop-coming-some-time-in-2020/
The following movie will give you a closer look at the prototype.
Lenovo's foldable PC hands-on: this was inevitable-YouTube
The Verge editor,
Chaim Gartenberg
, has a new PC from Lenovo.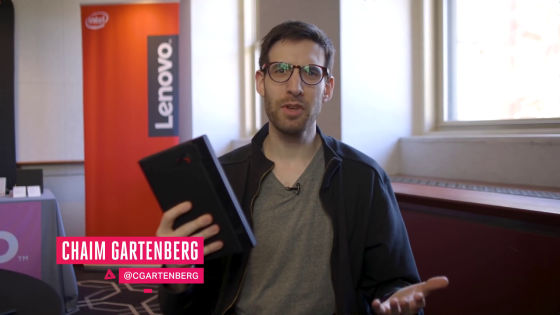 When I open this new PC which is folded like a book ...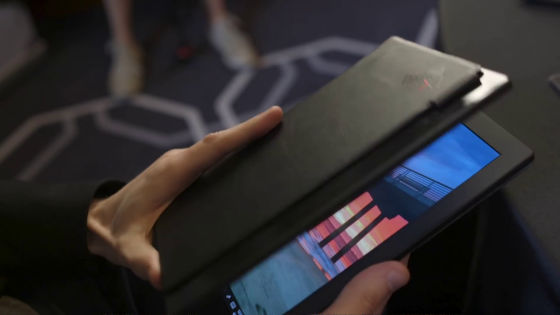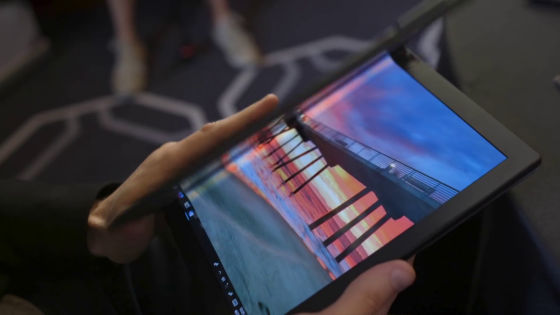 The entire surface of the terminal was a display. I hardly know the middle folds and so on.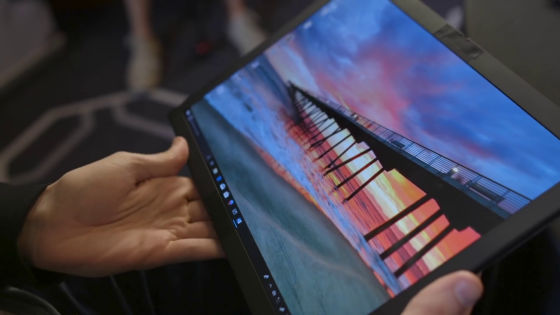 This PC is a ThinkPad X1 brand and has a cover with the ThinkPad X1 logo.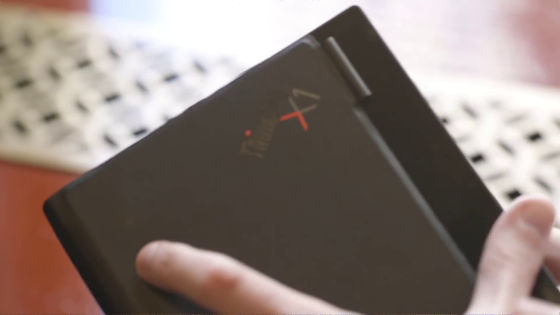 The new PC is not a tablet or smartphone, but is treated as a 'notebook PC.' When folded in half, you can use it as a laptop computer with the keyboard that appears at the bottom of the screen.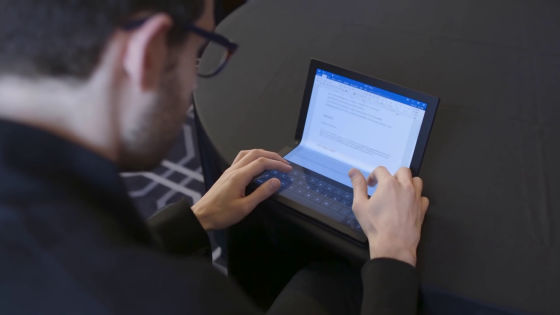 Even in the bent state, the crease does not come out clearly, and it can be seen that it is in a seamless state where the curve is drawn. Gartenberg says, 'I'm frankly cool,' 'The folding screen may use some kind of technology beyond gimmicks,' said the impression that it actually collapsed.



However, on the other hand, it is said that 'there is an angle that is clearly difficult to see' depending on the angle. This area is expected to be improved in the future.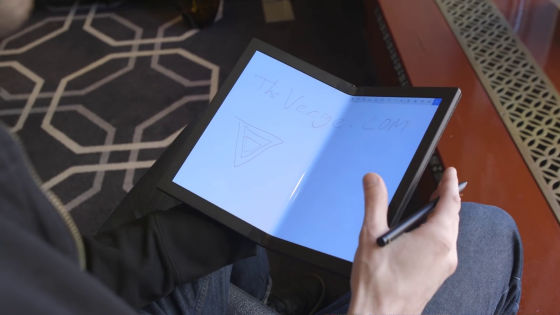 If you use the keyboard of the external connection, you can use the entire screen as a PC display. The display itself is a 13.3 inch 1920 × 1440 LG OLED display.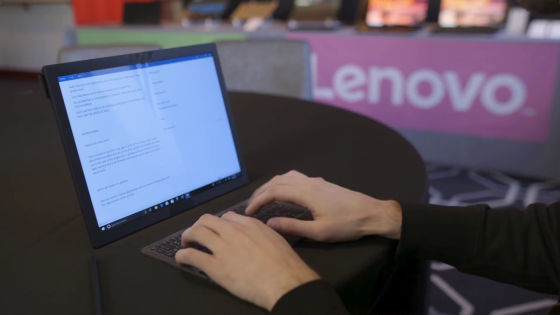 The sample machine was equipped with Windows 10, but this is just an interim one. Microsoft is rumored to be developing a reduced-function operating system for folding devices, and such software may be available at launch.



Although two USB Type-C ports are installed, the SD card slot and the earphone jack were not found in the prototype. However, the final version is supposed to have a SIM card slot etc.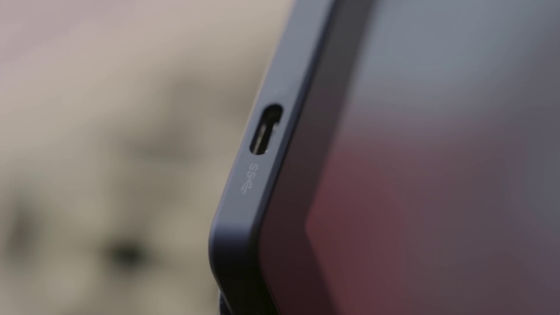 The 13-inch terminal can also be used as a display for watching movies when set up ...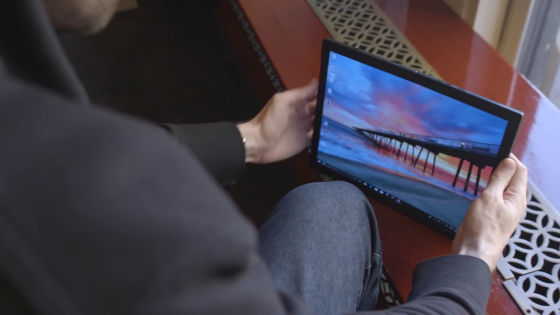 When using as a tablet, flatten it on the desk.



And you can use it as a laptop computer at your knees.



In addition, because it supports the Wacom stylus, you can also draw.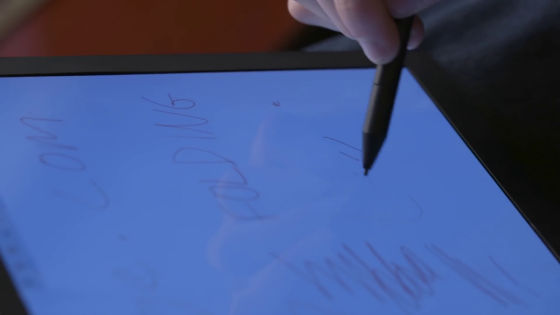 The top half of the screen can be used as a PC while the bottom half can be used as a note.



The new PC is not a tablet or a smartphone, but positioned as a 'PC'. Many companies have adopted a strategy to 'increase the size of smartphones', but Lenovo is a strategy to 'decrease the size of PCs' in the opposite direction.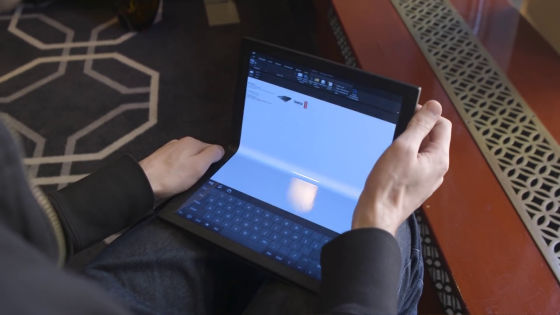 Samsung's first foldable smartphone ' Galaxy Fold ' has been postponed for release due to many reports from the media that the terminal for review is 'broken', but the new PC of Lenovo also has similar issues. It is said that the test on the movement of the hinge has been doubled to prevent breakage.