Report that the display was damaged on the day you got Samsung's first foldable smartphone 'Galaxy Fold'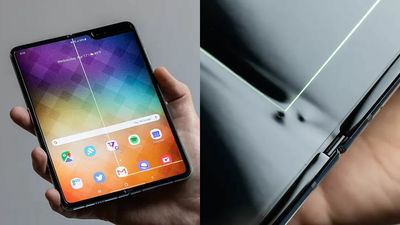 The foldable smartphone '
Galaxy Fold
', which can be opened and closed like the book released by Samsung in February 2019, is a fairly expensive terminal with a body price of $ 1980 (approximately 220,000 yen). It is scheduled to be released in the United States in the second quarter of 2019, but there is a succession of reports that 'the display has been damaged on the day of getting it' from media personnel who acquired and reviewed the terminal ahead of time. You
My Samsung Galaxy Fold screen broke after just a day-The Verge
https://www.theverge.com/2019/4/17/18411510/samsung-galaxy-fold-broken-screen-debris-dust-hinge-flexible-bulge
Galaxy Fold is a foldable smartphone with a 7.3-inch display when opened and a 4.6-inch display when closed. As we adopt display 50% thinner than conventional smartphone, it becomes slim size at the time of folding. The folds are also connected seamlessly and you can open up to 3 apps simultaneously. It uses a 64-bit 8-core processor with 7 nm process, and has 12GB of RAM (memory) and 512GB of flash storage, all of which are monster-class terminals.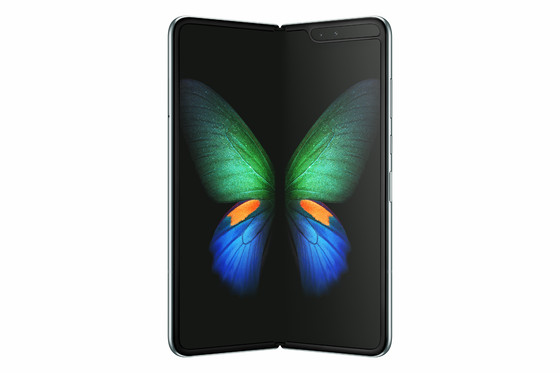 Before the launch of such Galaxy Fold, Samsung has distributed Galaxy Fold for review for media, and the foreign media The Verge's Dieter Born, who received it, said, 'It was damaged on the second day after receiving the review terminal. 'I have reported that.'

The damage that Mr. Bourne discovered is a 'small bulge' found in the folded part of Galaxy Fold. This bulge slightly distorted the screen, and I felt that I could feel the bulge firmly when I touched it with my finger. Galaxy Fold's folding mechanism mounted a hinge at the fold, which turned out to seem to move the display up, says Mr. Bone, 'Guest is more like a piece of debris than a lint. 'Stiff thing' was felt. There is a possibility that something else is pushing up the display, but it has not been dismantled, so it is not clear what the cause is.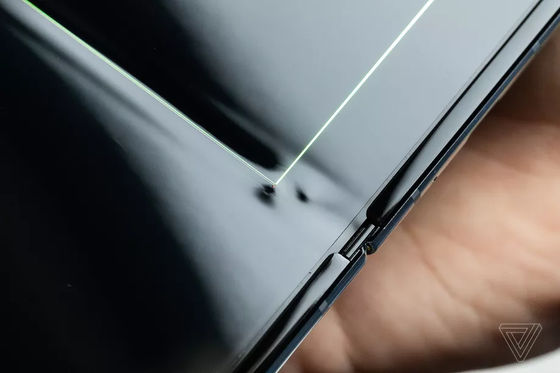 The unfortunate thing is that The Verge's reviewer has pushed this bulge into force. As a result, it seems that white lines have entered the OLED (organic EL) display starting from the swelling part.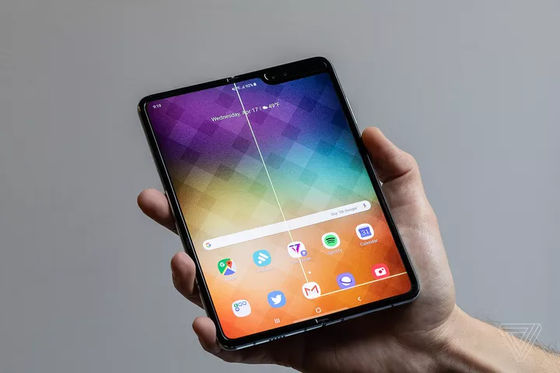 It looks like this from another angle. You can see that the bulge has disappeared, but instead, a white line has been inserted even when the display is off.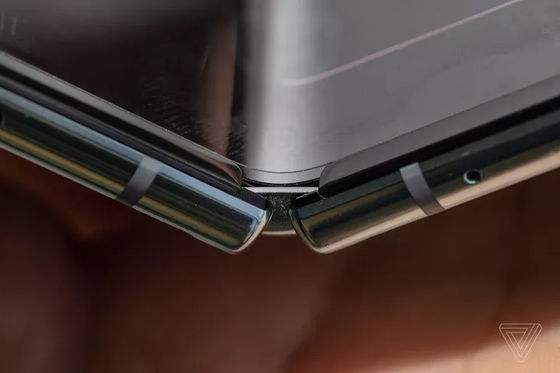 'I have not treated the terminal badly. I just opened and closed the hinge and put it in my pocket, and I did what I would do with a regular smartphone. Paste a small piece of clay on the back of the terminal. Filming, but this is an act that is also carried out on other smartphones, "commented.

Mr. Bourne said, 'probably part of this clay got into the terminal from the hinge,' guessing the cause of the failure. Or there is a possibility that something got in from another gap or that the hinge itself may be broken, and it is pointed out that the cause of the failure is a breakage from the folding mechanism of unknown one. Mr. Bourne emphasizes that 'I only use it in the usual way.'

Although there have been worries that expensive smartphones may be damaged on the day of purchase, or MacBook keyboards may be damaged, it is another story that 'the display of the terminal that costs about 220,000 yen is damaged' It seems like Mr. Bourne. Overseas media The Verge seems to have immediately contacted Samsung to make a statement, but at the time of writing the article was not getting a response. However, Galaxy Fold for review is said to have been sent new one soon.

And the surprise is that it is not only Mr. Bourne that reports 'Gallery Fold for review has been broken in one day'. Steve Kovaci, a technology writer for CNBC, has tweeted that 'I used it for one day ...' and reported that the Galaxy Fold's left display blinked and flickered. .

After one day of use ... pic.twitter.com/VjDlJI45C9

— Steve Kovach (@stevekovach) April 17, 2019


'With two days, the review terminal of Galaxy Fold has been completely broken and unusable,' said Mark Gurman of Bloomberg. Gurman's terminal seems to be completely dead on the left display, and half on the right display.

Screen On My The Galaxy Fold Review Unit Is Completely Broken And Unusable Just Two Days In. Hard To Know If This Is Widespread Or Not. Pic.Twitter.Com/G0OHj3DQHw

— Mark Gurman (@markgurman) April 17, 2019


Gurman's Galaxy Fold has been found to be damaged because the protective sheet layer that should not be removed has been peeled off.

Samsung says you are not supposed to remove it. I removed it, not knowing you're not supposed to (consumers won't know either.) It appeared removable in the left corner, so Took It Off I. I Believe This Contributed To The Problem. Pic.Twitter.Com/fU646D2zpY

— Mark Gurman (@markgurman) April 17, 2019


Marques Brownlee, who is posting a technology review movie, also said that the display was broken by peeling off the protective sheet layer that should not be peeled off like Gurman.

PSA: There is a layer that appears to be a screen protector on the Galaxy Fold's display. It's not a screen protector.

I got this far peeling it off before the display spazzed and blacked out. Started over with a replacement. Pic.twitter.com/ZhEG2Bqulr

— Marques Brownlee (@MKBHD) April 17, 2019


The main part of the package on the back of the Galaxy Fold says, 'The main screen has a special protective layer. It is not possible to peel off this protective layer or stick something else onto the main screen. It is written that "it is a cause of", and that the protection layer can not be peeled off. However, Gurman points out that 'consumers do not notice such a statement.'

Dear future #GalaxyFold owners, I know I always say 'No one ever read the instructions' ... PLEASE READ THIS ONE !!!

(This is the wrap over the screen of the Galaxy Fold) pic.twitter.com/LuQPRfDZIE

— Des (@askdes) April 17, 2019


Apart from this, it is pointed out that the display of Galaxy Fold is easily damaged. In the review terminal already handled by The Verge, several pits have been found on the display. The indent is small enough to be unnoticeable, but it's a scratch that comes from Galaxy Fold's display, which has a built-in screen protector called a "polymer layer".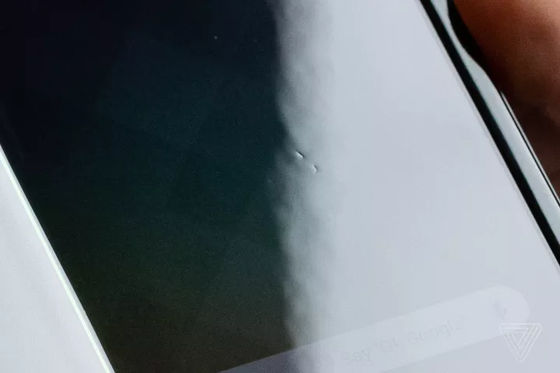 Terminals with moving parts will have more causes of failure than those without moving parts. Therefore, it is clear that you have to handle it more carefully than a terminal without moving parts. This time, until he discovered a small bulge, it was said that Galaxy Fold thought to be 'more robust than expected,' and that the structure of the hinge was also considered to be very solid. However, the display has been damaged and it has been forced to change its rating significantly.

・ Continuing
Samsung mentions that the display of folding smartphone 'Galaxy Fold' is broken by haste-GIGAZINE