Interview with Yu Omatsu producer who produced the festival movie 'Pandora and Akbi' that Pandora came to play from Monst in the world of Tatsunoko pro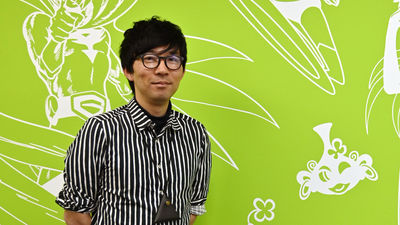 Known for its many masterpiece animations, a long-established anime studio named Tatsunoko Pro has launched a new animation label ' BAKKEN RECORD ', which has been established for over half a century. Was sent as a first step work is the yawn of a Pandora's 'Monster Strike,' 'The Genie Family' is to co-star 'Pandora and yawning.'

Why have you started to launch a new label now? Then I heard that Yutaka Omatsu, the producer of 'BAKKEN RECORD', talks about an extraordinary festival movie being born.

Movie 'Pandora and Akbi' XFLAG × Original animation by Tatsunoko Production
https://dora-bi.com/

GIGAZINE (hereinafter, G):
The animation production of this work is not 'Tatsunoko pro' but a credit called 'AKKEN RECORD' which is a new animation label. Is a yawn-chan Source source ' The Genie Family ' and, Doronjo come out ' Yatterman ', new but the place as ' KING OF PRISM Tatsunoko, which has worked on a wide variety of works such as' (Kinpuri) is, founding What is the position of a new label that will change credit notation, which will be made beyond the 55th anniversary?

Omatsu:
There are two reasons for launching a new label. I am the third year since I came to Tatsunoko Pro with a call from the current president. At that time, looking back at the works for the past 10 years, I have created great works such as Kimply, but from the perspective of the production department I have an impression that 'I'm stagnating a little bit' so I want to get rid of them There is one.

G:
Yes.

Omatsu:
The other is that it is important to protect the glorious old IP as an animation studio, but it is also very important to make new ones. However, when trying to make new things, the name 'Tatsunoko Pro' is too great and too heavy. Then, when I talked with the president saying 'I want to do a new label in order to work on new things after being released from the name Tatsunoko Pro,' he said, 'It's not good. Let's be a kind of post Tatsunoko Pro.' . Of course I will do old IP works as well, but on the other hand I would like to do new attempts with various young staff. The new label 'BAKKEN RECORD' is, for me, 'I want to create a culture of a new company.'

G:
Oh, I see.

Omatsu:
Where things are going well at anime companies, each has its own culture. Some companies like PAWORKS and Kyoto Animation, who are sitting away from Tokyo, are slowly raising people, and Tatsunoko Production is near Production IG , which comes out of Tatsunoko and has high quality. There is also a place that makes carefully the work. I am also from IG, and I strongly feel that a good company has culture and colors. Tatsunoko Pro is a long-established store that has reached the 55th anniversary in 2017, but I think that there is a substitute, and now I feel like "achromatic and transparent" in many ways. One more time against that, I would like to make something like 'a culture as a studio' properly. The way of thinking about manufacturing, the way of thinking of the employment of staff, the situation of manufacturing including digital drawing, how to do with a desk when it is a detail, what to do with a chair, to what kind of place comprehensively renewed in various senses I thought that was not. When it came to that, I wanted to make it clear that I would like to appeal to the user that the name is new and 'I'm doing something new like this', so I decided to go on a new label.

G:
Certainly ... Because there are many famous works, 'What's like' is added before 'Hachion Great Demon King's Tatsunoko Pro' and 'Yatterman's Tatsunoko Pro'.

Omatsu:
That's right. The akbi of Haktion Daimaoh will appear in this 'Pandora and akbi', and it may be thrust as 'a character from the old IP but it is a new label', but I'm from the new label Tatsunoko Pro There is a feeling that I sent out a love letter for. I will do a new label, but with the work of a great senior person, I will put out a variety of characters, how would our young staff interpret it like this? When.

G:
I see. And I was born, it was this festive film.

Omatsu:
It's a fancy feeling up to here (laughs). As Mr. XFLAG says, 'Please do something like' Pandora has come to play in the world of Tatsunoko pro '', so it is sweet to me. After all the old work is '© Tatsunoko pro', so it is easy to do. It was thanks to the rule that the old-fashioned animation was 'a company created by some works', but at Tatsunoko Pro there were many such works, and I thought that it was an asset to use various things again.

G:
It means that you have a lot of works that you can actually put out when you want to put out characters from this work.

Omatsu:
That's really it. However, with this number, there is also a work that I have been embarrassingly never seen as a young staff, including me.

G:
I'm worried because there are too many works (laughs). When it comes to the work before it is born, there is not a good chance to see it without re-broadcasting ...

Omatsu:
So I asked the staff who was very familiar with the past works to join, and we all consulted. This time, various characters have appeared, but from the beginning I did not categorize "I'll put out this character of this work," but "If you want to make such a character image, who would you like to match the character of Tatsunoko Pro? We went in order of 'ro'.

G:
That was the order.

Omatsu:
A lot of ideas came out, and I decided on a story like 'Let's make it that character' 'No, I don't know all the works?' I tried to put it together a little, but it is quite a number of characters when including the mob.

G:
If you look at the theater, it feels like 'Ah, there are guys out there'.

Omatsu:
Some characters say that only one cut is out, but I think that if you look at it, you will understand. If such points are also interesting. .

G:
As " Infini-T Force ", which was the 55th anniversary of Tatsunoko Production's 55th anniversary, has been released by Tashnoko Four Heroes, and it has been decided that it will be like "Let's show off the enemy Blyking boss". I thought I was wondering.

We know in 3 minutes! 'Infini-T Force' TV series introduction video-YouTube


Omatsu:
It was decided smoothly like 'A boss? After that, it is feeling like ' Mach GoGoGo ' from ' Mach GoGoGo ' to ' Matsu Gogo Go ' and 'Yatterman' to 'Doronjo', thinking about Pandora which is the leading role. There are places like Akbi and Doronjo like our two big female characters, so it may be interesting that the two selling children appear in the same work.

G:
'Infini-T Force' is understood that 'Tatsunoko pro's hero will perform together', but this time together is ' Monster Strike ', a character from a completely different company. It seems quite unusual that such a collaboration work will become a theater animation, but how did this kind of project come about?

Omatsu:
'Monster Strike' is a well-collaborated game, isn't it? Therefore, when we asked 'Do you want to collaborate?', It is a form that you received a talk from XFLAG saying 'we are making animation, so we are not going to join in animation'. One of the few projects I made was 'Pandora and Akbi.'

G:
Certainly, Monst has an image that is exciting in collaboration. However, although animation has its own line, there are a distribution version and a movie version on YouTube, it is not a work that is collaborating like a game, so it is unlikely that it will come out like this form of work. It was

Episode 1 'This is the Beginning Strike!' [Monst Anime Official]-YouTube


Omatsu:
That's right. I am thankful that it is a collaboration with the really selling Pandora.

G:
From the earlier point of view, it did not mean that the story went on to say "collaborate with Pandora", but did you mean "let's get to Pandora?" While talking?

Omatsu:
Pandora is also active in animation, and I thought that it was easy to understand the character, that it was the 'Pandora's Box' and would become the material of the story. It is a form that you have received if you ask by nomination.

G:
There was an episode that the Pandora's box would have been difficult to open in the delivery version. Even in this work, Pandora's box is a trigger, but is there any connection between animations?

The last episode 'The Pandora's Box' [Monst anime official]-YouTube


Omatsu:
I did not think there. Of course, I showed you the animation of Monst, but conversely, I thought it would be better to do it individually, so as not to be pulled by strangeness.

G:
So, this work is in the form of 'Pandora came to a world with Tatsunoko characters', and it is different from Monst's animation.

Omatsu:
It was very grateful that Mr. XFLAG told me that way. However, Pandora is a good seller, so I was worried about it (laughs), but I was able to do it without any stress, considering it in various ways.

G:
The connection between Pandora and Akbi was as natural as it was originally a combination.

Omatsu:
It was great that each other's sense of age was close. However, I think that these two people are not very compatible with each other as a buddy. Because it's not a blur and a crack.

G:
(Lol)

Omatsu:
It's blurred and blurred. If it is true, it is basic to draw with contrast if it is a buddy. However, I realized that there was no contrast, and I thought that it would be a breakthrough. When I tried it, there were some difficult parts, but the affinity when two people lined up was very good, and I wanted to make use of this mood. Therefore, it doesn't really hold true if they are too blurry each other, so let Pandora have a little 'sense of elder sister', and it's blurry and blurry, but it's a bit blurry like a tsukkomi or 'tsukkomi' It is not, but Pandora plays the part about 'Tsukomi Element'.

G:
So, the catch copy is not 'convex (deco x boko) combi' but 'convex (deco x deco) combi'.

Omatsu:
I think this is a good catch phrase.

G:
'Convex' is a moment when you look at the package is like 'What are you talking about?' It's not a feeling of being addicted to each other by making up for the parts that are uneven and lacking each other, but it's a nice combination, though the places where they are sticking out collide with each other (laughs). The message that Omatsu producer sent to the official site was the word that the export was 'A strong wind is blowing in the anime industry now,' but that wind is a tailwind, a headwind Is it?

Omatsu:
I think this has two elements. There are production with clothes and production without clothes. As you know, making with clothes is about making money if it is easy to understand. The format of "selling DVDs and Blu-ray", which has been a business model for the past 10 years, has collapsed considerably, and the Chinese market and the delivery system have come to substitute for it. So I think that 'wind' is that a lot of different capital came in so far. It depends on what kind of partner we are partnering with or what kind of vision we share, but it is one of the 'winds' that there has been a major change in production.

On the other hand, 'digitalization' is coming in production without clothes. If you don't know how to make anime much, maybe you might be thinking, 'I'm not using paper anymore and may not be completely digitized,' but in practice it is still almost always Is the world of paper and pencils. I think that is good at all. It's a useful tool, and if it's easy to draw, that would be fine. On the other hand, the video industry can not but face 4K and 8K. That is another big 'wind'. Even if I do 4K, I think that the problem of 'is it good with the current look?' And 'is it 4K with this look and meaning?' In order to cope with such a problem, I think that digitalization can not be avoided. However, the animation industry is not always in line, so there are places where it is difficult.

These two ideas have a concept of a tailwind, and there is also a concept that they are very headwinds. I think that I want to somehow support that, I try a lot about how to make, and I have been trying various ways of association with new clients. The label name 'BAKKEN RECORD' is a ski jump and it means the longest hitless distance of the jump platform, so I think I want to fly well.

G:
I see. How far is it going on with regard to digitization?

Omatsu:
Tatsunoko Pro has been working on digitization before I came, but there are still many challenges, and there is a digital part in this work, but it is not a case that can be made entirely in digital. It would have been nice if I could do it full digital, but it is honest that I have not made team formation well. However, young children are coming out so much that I feel that the theme is 'making with young power' rather than 'digitalization' in the production of this work.

I think digital native children probably have something different from what we think. Even in Tatsunoko Pro, the first training is on paper and then on digital. Although this work has not been reached yet, "new something" is added to the animation when children like "despite having paper experience but digital native" begin to make real full digital works. I feel that it is coming. So the bottom up of the staff is really important. I am looking forward to what kind of expressions are born when they become core.

G:
Do you have a feeling that you are doing this time and that a pretty good power has come out?

Omatsu:
I think that's already over. General director Okira Kei Right is also his second year.

G:
Yeah! ?

Omatsu:
After all, I draw a very good design, and there are also two girls in the second year, but I think that they are also good at all. It is really amazing to say, 'Do you draw such a soft picture in the second year!'

G:
The second year is a pretty early impression.

Omatsu:
I think this depends on the way of thinking of the studio. For example, ufotable- san or Production IG-san, there are places where you can do video stuffing. In the interview with ufotable Mr. Kondo, who has been published in the New Type, ufotable says it's important for me to have a career as a video, saying that the third year people who are being inspected for videos are saying, 'This generation is very promising.' I thought it was being done. It's a really important vision of education to spend years working on videos. On the other hand, we honestly said that there weren't so many core staff members, and we thought that we could not make something new and powerful like this one, unless we were to bottom up young children early. However, the character design was won by a contest with veterans added.

G:
Great!

Omatsu:
To be honest, there was a bit of anxious part about putting the second year's child on the main. But after all, it was a very attractive picture, and XFLAG also said, 'I want to go with this picture,' so let's make a bet. So I tried to do it, and while I was working on it, I was able to grow steadily.

This time, there are a lot of sales in the film, for example, as Soga, the director, is the first to direct film and television, I would like you to see the first time as a director as the first director,
The shooting director is done by my favorite artist Shinichi Igarashi, and the shooting is also very good. I have had a relationship with Mr. Takeda of the art company Bamboo from the time of 'Ghost in the Shell: S.A.C.' I have also worked on 'Cup Noodle' CM, but this art is also design and wonderful . And after all Okura-kun's character. I think these are the 'charm points' of this time.

G:
It is surprising that Mr. Okura is in his second year. Speaking of character design, although it was the image in which the person who was loaded with a career in the original painting was in charge, it is also great that it won by competition.

Omatsu:
In terms of design, there is a sense that 'order of seniority' is not the same. 'It is good as an original picture' and 'it can do a good character design' may be different. So, if I could draw a really attractive design, I always thought that I should do it for many years. However, I think that there are various resistances that a young child does suddenly when it is an animation company with a thick layer. In our case, this part worked in the right direction.

G:
That's not just because it was a new label, but because it was a company called Tatsunoko Pro.

Omatsu:
That's right, it's because Tatsunoko Pro. Also, I thought that I wanted a young, lively person to pop out when making this work. It may be a voice actor or a staff member, and I just want someone to come out. In that sense, Okura-kun and the young children of the original drawings came out to be a producer, and I was very grateful. When it came to girls in the second year, there were also things like 'Who did this draw?', 'It's their children', 'Really !? Good!' At the same time, in the flashy action part, the veteran power is also used, and there is also a part that 'If you have a career there, you can control it well anyway', so it is not a work with many highlights as an illustration. I think.

G:
I see. It looks like a work that youth and veterans turned well as two wheels.

Omatsu:
That's right. For example, director Matsumoto Satoshi also took charge of cutting quite a lot. He is an animator of a fierce horse in the first place. At that time, I was available during the preparation of the movie, so I was able to get in touch with the original at the right time. That night of night, that 'Nazo monster' has been doing a fire-blowing cut for a long time, and Okura-kun's see it and give each other stimulation that they are 'why amazing'. Also, the animator who draws a great action named Ryusuke Sakamoto also has an extremely fast hand and is getting up at a great speed. I think such a place was also a stimulus for Okura-kuns. The lively work of the young children and the skills developed by the veterans have come together.

G:
Matsumoto also was included.

Omatsu:
Yes. The horse is coming out because the first part is a western film, but it is clear that the horse can not draw that much. But Mr. Matsumoto draws very well. The layout was good too and it was very helpful.

G:
I hear that animals are hard. It was drawn to the horse.

Omatsu:
I thought that it would be because I can not draw unless the Brisking boss is riding on a horse or a really good person. It was really lucky that Mr. Matsumoto did it. Of course, we also calculate the staff work in various ways, but when a good work is born, there is a kind of 'Kamikaze blows' or a person like 'the god of time' comes to enliven the work. This time, I felt that I was blessed with such a chance or that there was a revelation.

G:
As a producer, what kind of difference was there between what you supposed to be like this and what you actually came up with?

Omatsu:
I was going on at all. I think this main visual is very good. I think that the main visuals of anime often do not go well. That's why the main visual is difficult. However, I think that this picture worked very well in the softness of the composition, the character arrangement, and the color. I'm not self-sponsoring, but based on how to put this letter, I think it's not quite a visual that appeals so well. If you look only at this, I think he has done a really great job.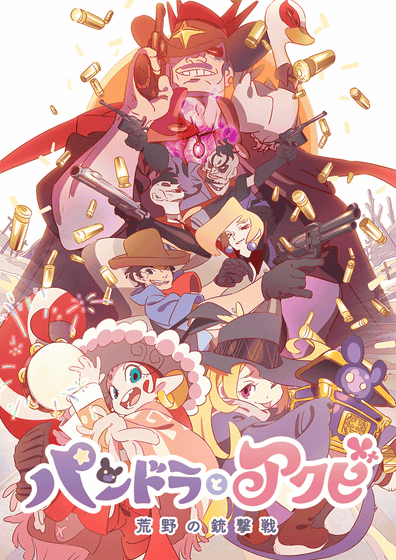 G:
Is this also Okura-san drawn?

Omatsu:
Yes. However, Kojima-san of color design made various adjustments, so it is a visual created with everyone's power, including Okura-kun.

G:
It is also good that the picture is based on the "Nazo monster" of the latter part, where everyone is close.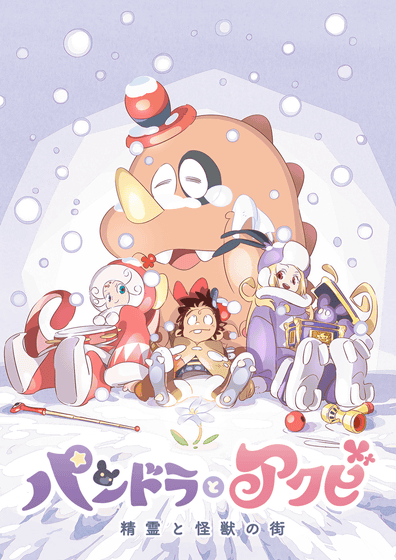 Omatsu:
There aren't very many characters that have such faces as "Nazo monster" or Kantaka (laughs) Everyone said that it was fun to draw. After all, I think that animation is almost all silhouette. In the case of 'Doginess Gael', the main character, Hiroshi, was wearing glasses on his head, and the heroine, Kyoko-chan, had flowers on it, and it looked like a manga. The original 'Nazo monster' was a work of the 1960s, and now we have a feeling that it's a warm old days or 'I'm going to have anime'. I struggled to match the size of the body, but I thought that it was a good point of animation that that monster and human being can coexist.

Also, the character is very charming. It's fun from the time of after recording because it's like 'dado' or 'day' in the end. Of course it is important to think about how to make it with the current trend, but when looking back at a glance, it is a feeling that you were touched on what kind of ideas the predecessors made with what ideas Did.

G:
In the end, Pandora is not losing with Dora (laughs). Didn't ARROKO become a place where unusual characters gathered?

Omatsu:
As for 'Dora', Yui Ogura of Pandora, 'Pandora, I say more' Doradora, 'but this time is all right?', So compared with the animation of Monst And 'Dora' may be less (lol)

G:
As Mr. Oomatsu mentioned earlier, he was first at Production IG, and then came to Tatsunoko Pro via A-1 Pictures, but the episode of the first producer at IG, PAWORKS It is touched by
the talk
of
Mr. Horikawa and Mr. Ishikawa
published on the site of ....
Omatsu:
There are still photos of the cello player. It is always said 'Can you play the cello?' (Laughs)
G:
That's it. Mr. Ishikawa talked about Mr. Omatsu, 'It's amazing because there is no experience with the producer in charge,' as 'I thought that it was about turning a TV series to grow a production producer.' Was Mr. Omatsu aiming for an animation producer from the beginning?
Omatsu:
There is no such thing at all. I wanted to go into the anime industry because I was making anime since I was in university, so I wanted to do it, but since it was a super job glacial period, there are places where I would go. It feels like I've jumped into the anime industry for the time being. Under the direction of
Kenji Kamiyama, I am
going to work on the production of the 'Ghost in the Shell: SAC,' and I was very lucky from Mr. Ishikawa, 'I want to grow this as a producer in the future'. Therefore, it became a story of 'write the script first' and I decided to write a script with the Assassination Commander SAC 2nd GIG.
As
Mr.
Oshii
was supervised, I would plot a book to Mr. Oshii and Mr. Kamiyama's book reading. It was a very frightening and outrageous job, but it was a great experience. And by doing the '
BLOOD THE LAST VAMPIRE
' TV series (
BLOOD +
) in the frame of Sat 6 that was exciting at the time, I was called and I was called 'Producer doing'. There is a sense that I did it without knowing anything scary now, without preparing my mind. In retrospect, I think that I could have done a lot more, but it is probably because I was young at that time, I might have got over the 50 originals.
G:
It is one year.
Omatsu:
It might be possible even now, but at that time it was like "being alive for BLOOD +" and "thinking only about BLOOD +". Maruyama-san from MBS and Ochikoshi-san from aniplex are all young and I think it was youth that was done together. I think I was lucky in various ways. After 4 years of production, I became a producer without experience at the desk. Although there are parts that have suffered from that, I was able to let me do various things thanks to your selection.
At A-1 Pictures
, I was indebted for 10 years from the start of the company, and I was able to experience 'when the company starts up' and 'when I make the scene'.
If I notice that I am over 40, I can not blame anyone anymore and I think I can not make any excuses. There are two strong winds just before, an animator environment, and I have not waited. It's not the case that you are complaining that 'the industry is bad' or 'no, where's the bad', so anyway, at the same time creating a new label and starting on the problem, I'm thinking of 'save the whole industry' It is not, but I think that within the reach of the eye, we must create an environment where everyone can work with peace of mind.
G:
It's hard work to make a work and think about the whole environment to produce it, too.
Omatsu:
Well, I feel like it's all connected to one. I really don't want to do managerial work (laughs), and I have a desire to do only work planning and making books, but I think I'll have to do it because it's connected. Tatsunoko Production is a 55-year-old studio, but it is also a very young studio, and there are many young people in the production, so I have to work hard as well.
G:
That's where you can fly with the 'BAKKEN RECORD' created there.
Omatsu:
The interesting part of the jumping competition is that it is not just about flying away. You also have to be able to fly beautifully because you can see the flying style and the landing posture as well. I think that it is good if I can do it with the image of 'fly beautifully in the distance'.
G:
First of all, the first jump is 'Pandora and Akbi'.
Omatsu:
I think it has become a wide-ranging piece of work that can be seen by many people, young and old. You can hear a man's voice like 'it's hard to get in alone' because it's a pretty visual, but it's a work that I'm proud to have been able to feature the part of Tatsunoko pro's humanity without so much concern, so that anyone can empathize As it is a story, it would be nice if you could visit us.
G:
Thank you very much.
Omatsu:
Thank you.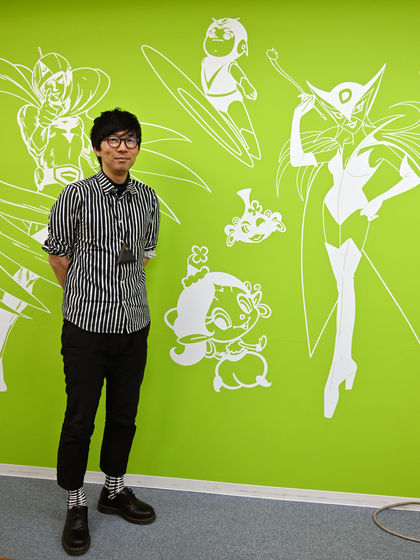 In commemoration of the movie release, we are carrying out a campaign that you can get a present by following the 'Pandora and Akbi' official Twitter account and RTing the target tweets.

This is 'all cast cast hand-drawn sign colored paper set'

【Target of RT】
★ RT campaign just before the release date ★
The first campaign launched just before the movie '

# Pandora and Akbi ' is released!

We will present 'all cast cast hand-painted signature colored paper set' to one person by lottery (* д д * *)

Apply & follow this account & RT!

【RT period: 4/2 (Tue) to 4/30 (Tue)】

Don't miss this opportunity ♪ pic.twitter.com/0nNr1Ycm59 — [Official] movie "Pandora and Akbi" "4/5 released" (@anime_dorabi) April 2, 2019


And, Okura Kei Right's drawing original QUO card 3 types set (for 9000 yen)

【Target of RT】
★ RT campaign just before the release date ★
The third part of the campaign ' Pandora and Akbi ' just before the movie ' # Pandora and Akbi ' is launched

Super luxurious! Okura Kei Right's draw down 'Original QUO Card x 3 types set' for 9000 yen will be presented to 5 people by lottery!

Apply & follow this account & RT!

【RT period: 4/4 (Thu) to 4/30 (Tue)】

April 5th nationwide release sequentially! Pic.twitter.com/hRSfuvzdi9

— [Official] movie "Pandora and Akbi" "4/5 released" (@anime_dorabi) April 4, 2019


From April 19th (Friday), it will also be decided to distribute the sticker set as the second admission bonus. The illustration is by Suzuka Yoshida, who worked on character design for 'Abbevi-chan' and 'Abi Girl'.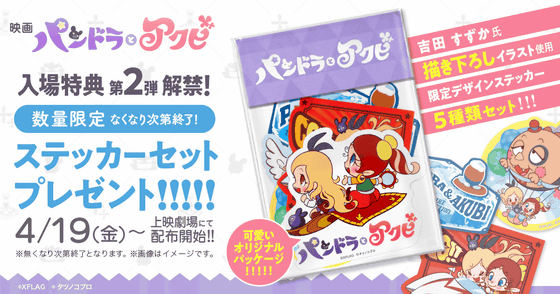 ◆ 'Pandora and Akbi' work information
·cast
Pandora: Yui Ogura
Akbi: Amagi Sally

The first part 'gun battle of the wilderness'
Louise (Donjo): Yuko Kaida
Takeshi Mifune: Hiroyuki Yoshino
Brighting boss: Masao Amada

Part 2 'The City of Spirits and Monsters'
Kangta: Tamura Shinshin
Monster of Nazo: Masashi Ehara
Winter Spirit: Kenjiro Tsuda

·staff
Original: XFLAG Tatsunoko Pro
Director: Soga
Character design / general director: Hirokura Okura
Art Director: Takeda Keisuke
Art setting: Takatsuki / Tamura Seiki
Cinematographer: Shin Igarashi
Color design: Yuko Koshiba
Editor: Tomoki Nagasaka
Music: Takahiro Obata
Music production: Toms Music
Sound director: Atsushi Tanaka
Sound production: Sonildo
Theme song: Shiggy Jr. 'DAYS' (Victor Entertainment)
Animation production: BAKKEN RECORD
Distribution: Kadokawa ANIMATION
Production: XFLAG
© XFLAG © Tatsunoko Pro