I tried eating 'Raspberry milk toast', a collaboration menu of Salaves and Kushimoto, who eat crispy outside with plenty of thick toast over fluffy toast, and one other kind in the inside.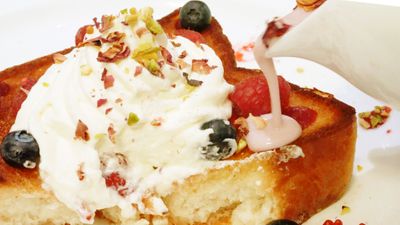 ' Raspberry milk toast ' and ' mango milk toast ' which were created by collaborating dessert restaurant '
Salaves
', which is also described as 'The Queen of Breakfast in New York', and high-end bread specialty store '
Sakimoto-
' For a limited time from January 1st, it has appeared in Salaves Osaka Limited. What kind of taste is the collaboration menu with raspberry milk and mango milk fully covered by making a toasted signboard menu 'Kotobuki' milk butter 'bread' with honey and crisps with plenty of Hokkaido milk and butter thoroughly mixed with raspberry milk and mango milk As I was interested, I went to the Saraves Osaka store and ate it.
Collaboration menu 'Raspberry milk toast' 'mango milk toast' with high-class bread specialty store 'Kushimoto' | Sarabeth's 'New York's breakfast queen'-Salaves official site
http://sarabethsrestaurants.jp/news/en/2592
The Salaves Osaka store
is located on the basement floor of Lucua
Eire
. The address is '
3-1-3 Umeda, Kita-ku, Osaka City, Osaka Prefecture, LUCUA Ele B1F
'.
Arrive at the Salaves Osaka store.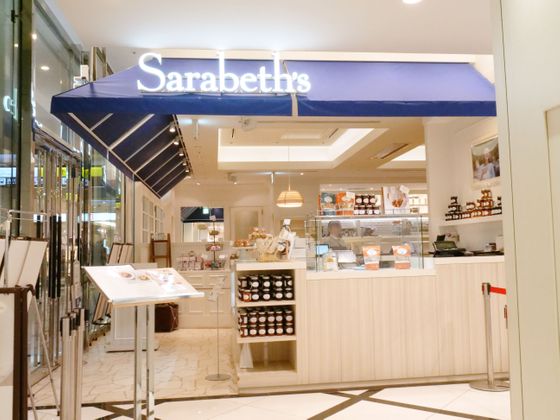 When I looked at the menu at the seat guided by the clerk, there was a guidance of the store-limited collaboration menu. We will order two kinds of collaboration menus and a standard toast of Salaves for comparison.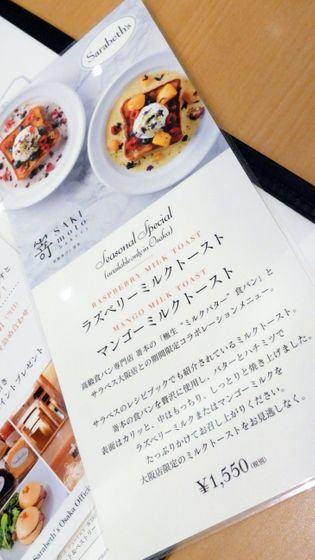 In about 15 minutes after ordering, 'Raspberry milk toast' 'mango milk toast' of tax-included 1,674 yen and basic toast 'fluffy french toast' of tax-included 1,350 yen were carried.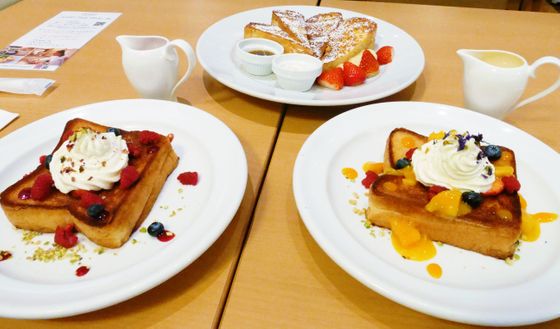 Toasts raspberry and blueberry studded with plenty of whipped cream on top of the cut strawberries. The cream was topped with dried pistachio and rose flowers that had been crushed.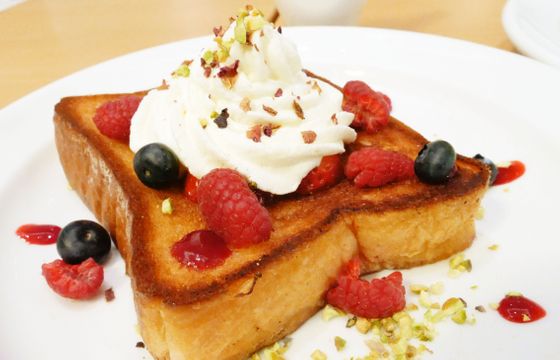 From toast, the fragrant smell of toasted bread and the sweet smell of honey are all over it.



It's like this compared to the size of the toast with the iPhone XR about 15 cm long.



Raspberry milk is to be put on your own just before eating. Dried flowers also floated on the milk.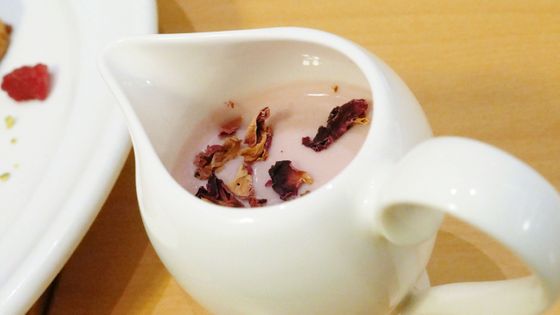 According to the staff who carried it, it is recommended that you taste the crispy toast without pouring milk, so I will try to eat it with a knife. The outside is coated with moderately burnt honey and has a crispy texture. And while the inside was moist and sticky, natural sweetness spread in the mouth along with an exquisite texture that softly and lightly melts on the tongue.



Next I will eat with raspberry milk.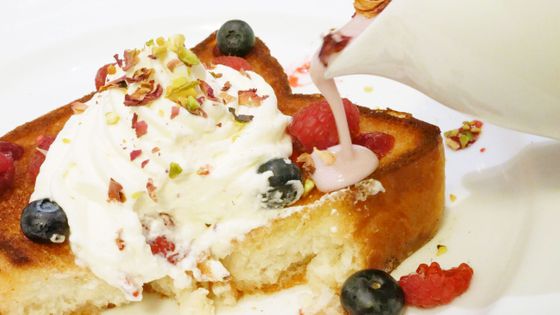 Cut toast with raspberry milk moist and cut into bite sizes with a knife ...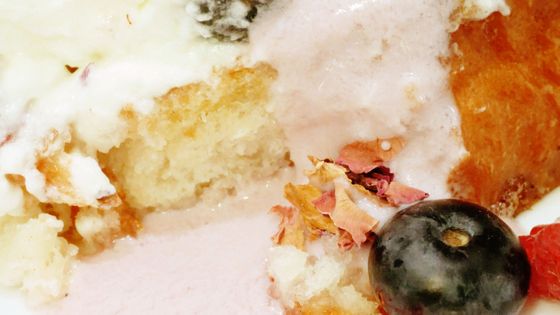 I will try it. Then, while maintaining the crispy and soft texture that was the same as the first bite, it was full of rich and rich sweet and sour flavor like raspberry milk cream.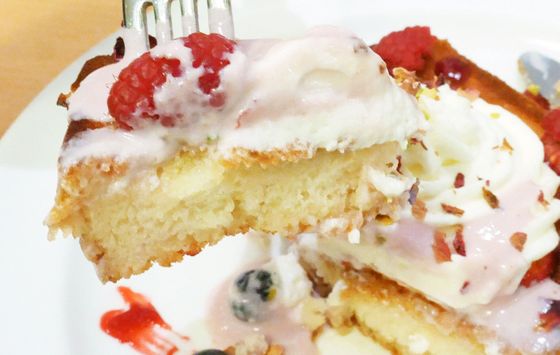 The viscosity of the milk is adjusted so that the toast is not sticky, and when all the remaining milk is added, while enjoying the richness and sweetness of raspberry milk and whipped cream, I was able to enjoy the texture of toast until the last bite.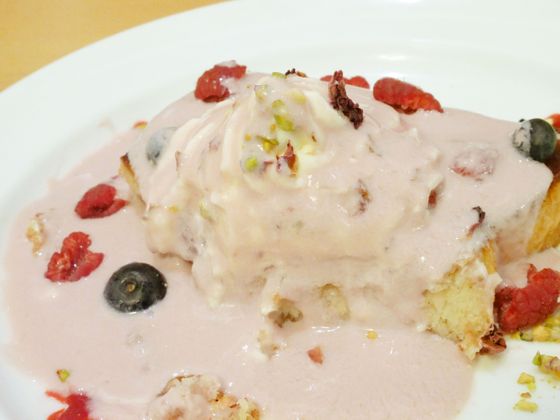 Next, when you look at 'mango milk toast', you can see that raspberry and blueberry are used as well as 'raspberry milk toast' and that mango flesh with mango sauce is also on board.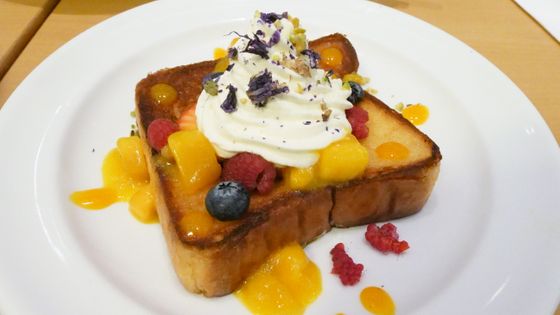 Whipped cream is topped with dried pistachio and
mallow
dried flowers.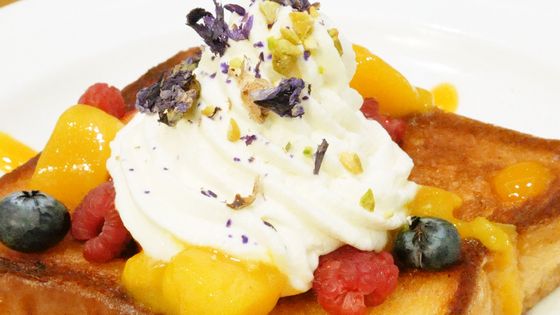 Pistachio also floats on mango milk.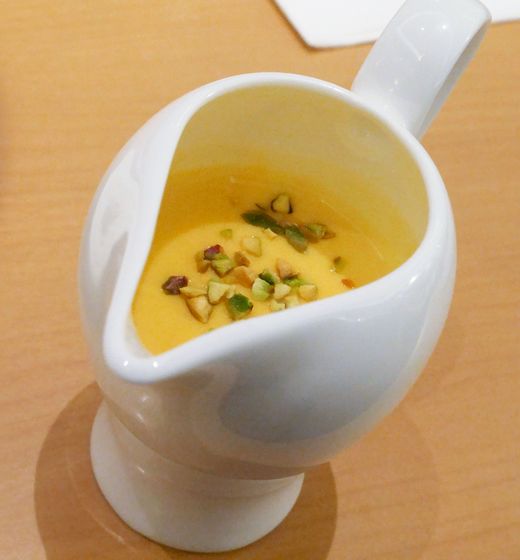 I'll make some milk.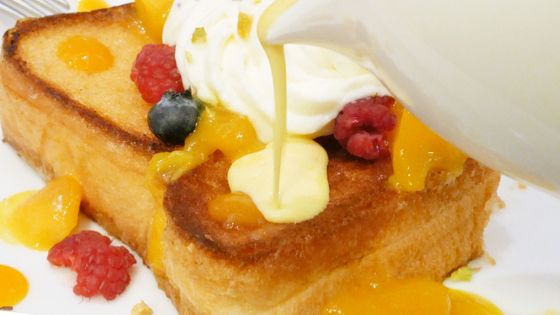 When I ate a bite, the mango's sweet and sour aroma and sweetness brought out the richness of the milk. 'Raspberry milk toast' had the flavor of raspberry in the milk and the sweet and sour taste of the topping raspberry flesh accentuated with the milk, while 'mango milk toast' had the sweetness of mango milk and mango flesh Melting sweetness makes the taste of milk more concentrated, and it is finished to eat like parfait.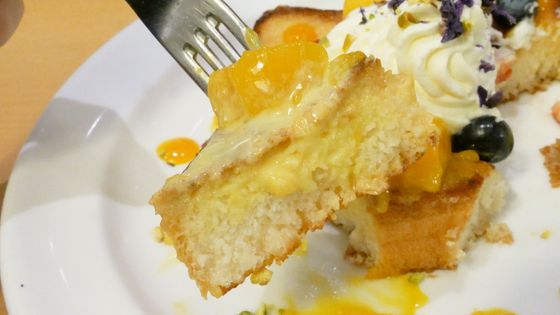 Lastly, I would like to eat the salaves toast 'Fluffy French Toast', which I ordered for comparison with the collaboration menu.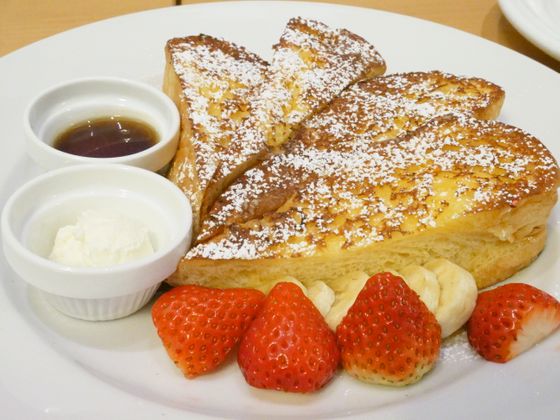 When it is eaten with maple syrup, it does not have much crispiness like 'milk toast' and a smooth and moist texture is felt strongly. If you want to enjoy a soft and light texture while crunchy but not 'whichever better', you can enjoy the collaboration menu 'milk toast', and those who like the odious bread dough 'fluffy french toast' etc. It is good to order the Salaves standard menu.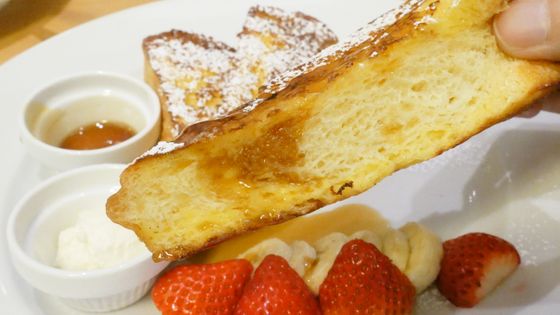 'Raspberry milk toast' and 'mango milk toast' are sold for a limited time from April 1 to June 30, 2019, and both are priced at 1,674 yen including tax. The store handling is limited collaboration only for Salaves Osaka store.