I shot the large air point Niagara of Atami Sea Fireworks Display with 4K 60 P using 'GoPro HERO 7 Black'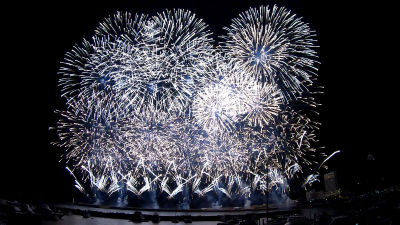 Fireworks event is held more than 15 times a year at Atami Onsen, which is one of Japan's leading hot spring resorts. At the fireworks display on March 31, 2019, a special event "a performance of eight fireworks companies in Shizuoka Prefecture" will be seen to commemorate the
Shizuoka Destination Campaign,
which will be held from April 1. So, this time, I will report the state of Atami Sea Fireworks Display and the test shooting 'What happens if I shoot the fireworks display with
GoPro HERO7 Black
'.
Atami sea fireworks display
https://www.atamispa.com/hanabi/
Place is Atami water park of Atami Bay.
Below is a video of the Great Air Niagara of Atami Sea Fireworks Display taken with shooting mode 4K60P of 'GoPro HERO7 Black'.
I shot the large air point Niagara of Atami Sea Fireworks Festival with 4K 60P using 'GoPro HERO 7 Black'-YouTube
Arrive at Atami water park.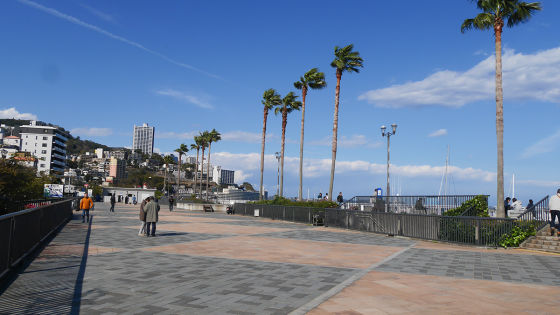 You can see fireworks from the walkways and stairs along the Gulf Coast.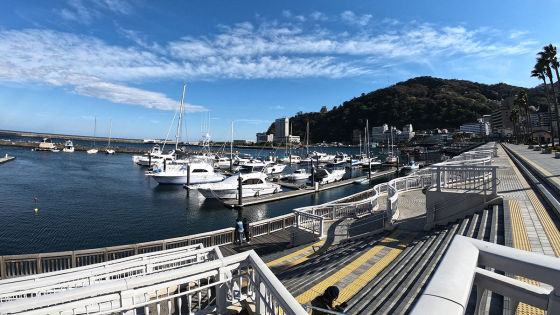 Although it is slightly away from the launch site, fireworks can be seen from the beach.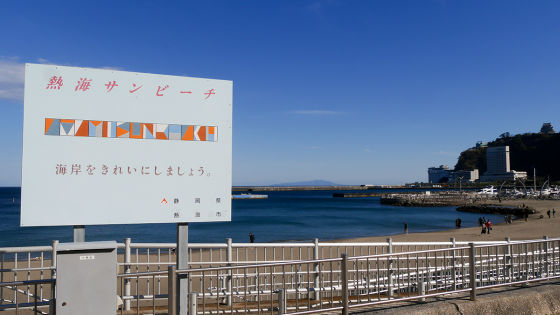 I went to the tourist information center in search of materials for fireworks display.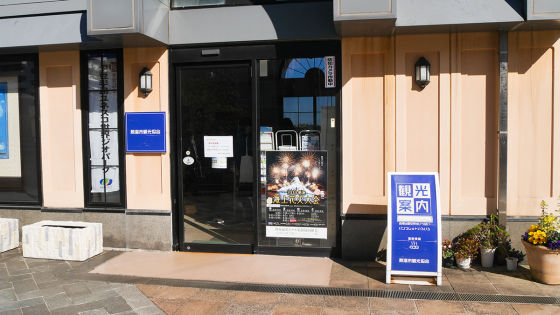 Discover the brochure. This year's first fireworks display in 2019, a special program will be held featuring a fireworks show that brings together eight fireworks companies in Shizuoka Prefecture.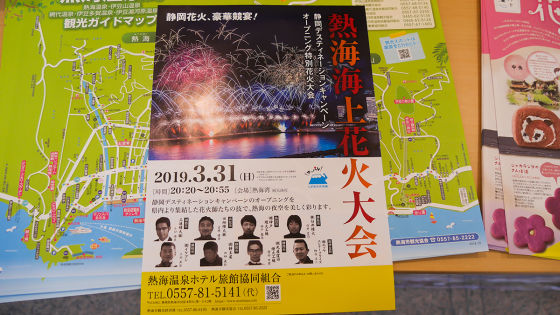 After deciding where to shoot, just wait for the fireworks display to begin.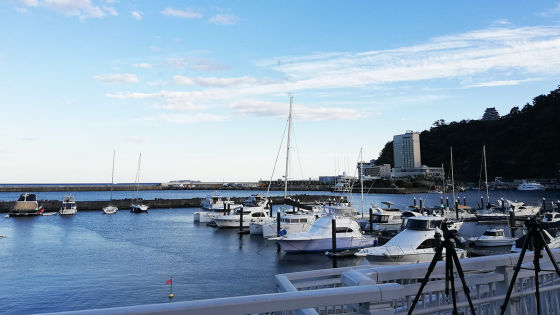 At 8:20 pm, fireworks will be launched at the same time with the end of the countdown of fireworks start.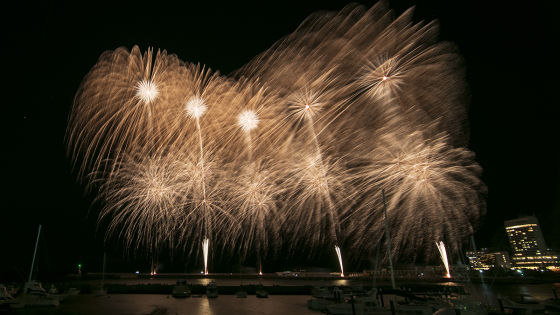 At the opening fireworks, various fireworks were launched for about 8 minutes.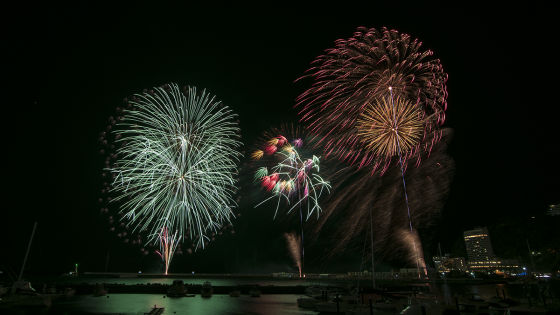 Next is the special program 'Large Competition of Shizuoka Fireworks'. There are rare occasions that fireworks companies in Shizuoka Prefecture gather in one fireworks display, and it is a project I was looking forward to. The configuration is that each company's No. 5 ball (about 15 cm in diameter) has 5 shots and No. 7 ball (about 21 cm in diameter) has 1 shot, and after the announcement announcement of each company, the fireworks will be launched. The photo shows the No. 7 ball of each company, 'The Night Sky Corsage' of
Hosoya Enterprise Co.
,
Ltd.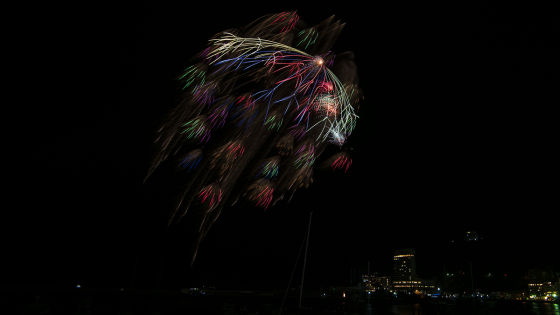 Hikariya Kubota Smoke Plant, Inc. 'Assembling Guided Double-Heated Chrysanthemum'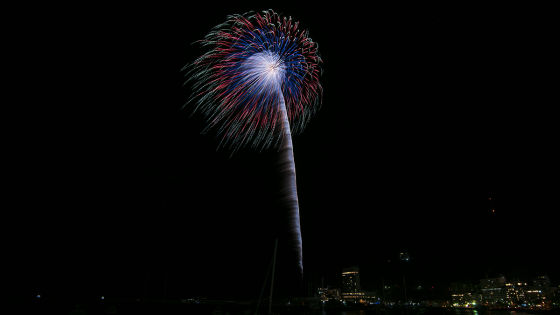 Shizutamaya Co., Ltd. 'sex male green peony bellflower Sazanami'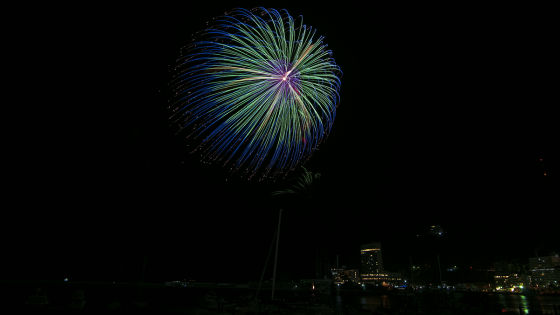 Usui Smoke Co., Ltd. 'Attack with Lead on Change Change Chrysanthemum Ring'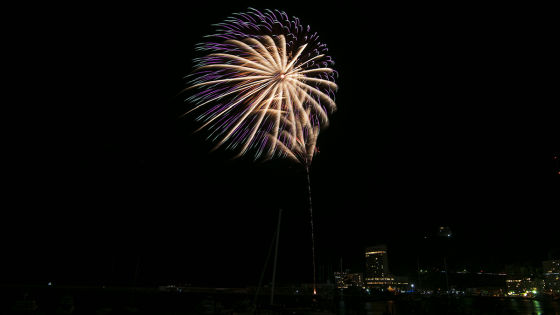 Kobe Smoke Plant Co., Ltd.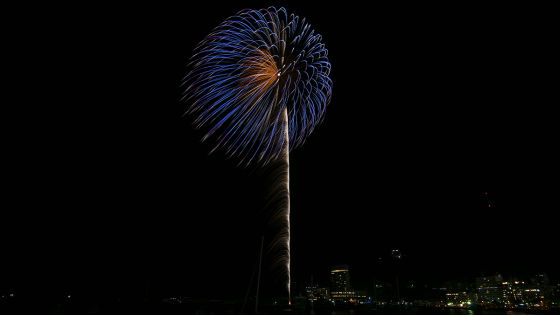 Tabata Smoke Fire Co., Ltd.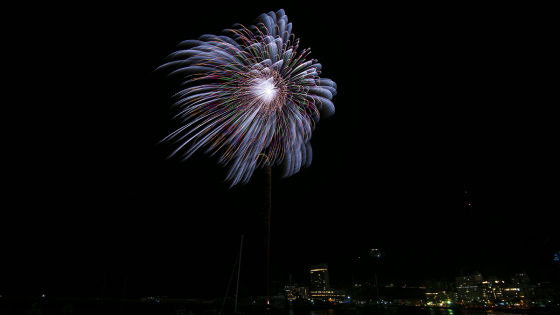 Three distant smoke company
'Kira core atelier peony'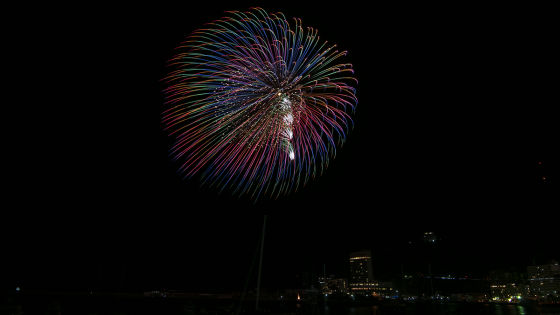 Iken
'Hachiman mirror'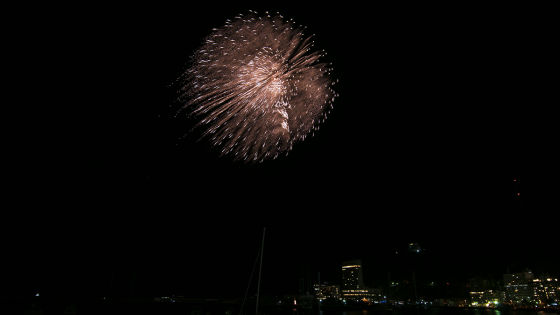 Next is Digital Star Mine. The launch of the entire fireworks display is in charge of Ikebun Co., Ltd., and the programmed continuous launch effect by PC control is called 'Digital Star Mine'.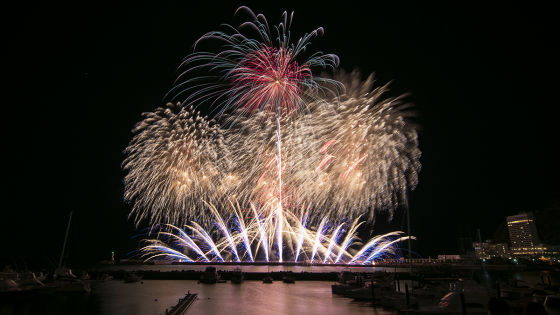 At the end, a spring-like cherry-colored fireworks were launched.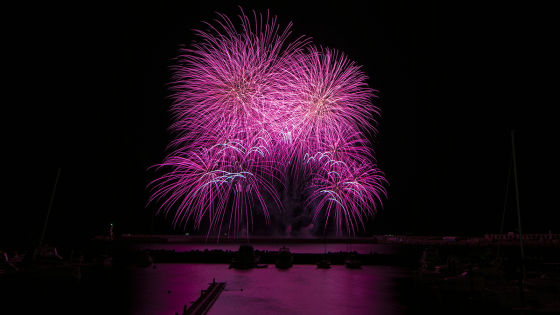 Then the message fireworks that were not on the program were launched. You can apply for up to 5 groups each at a limited time for people staying at the Atami Onsen facility.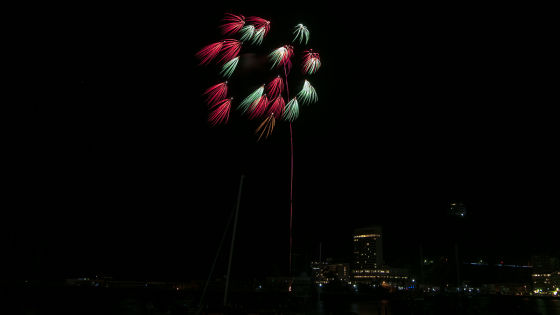 It will be the program before finale. 'Flower dance' to match Sakura Festival held in Atami Castle.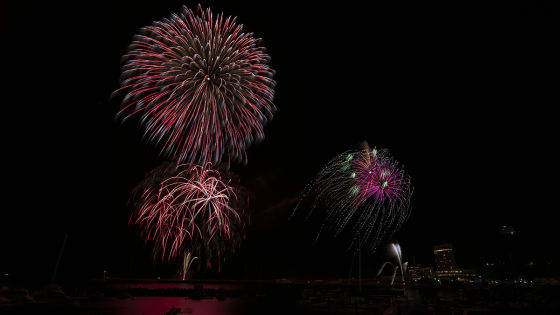 Finally it is a wide star mine called finale 'large air Niagara'. This time, I also shot a large aerial Niagara in
conjunction with
the
GoPro HERO7 Black
test.
The settings are 4K resolution, 60FPS, wide angle, Protune on, shutter 1/60, white balance 3200K, ISO minimum 100, ISO maximum 800, high quality, color GoPro, RAW audio off, microphone stereo. The equipment is fixed to a tripod. Videos uploaded to YouTube are re-encoded by combining and cutting back and forth with video editing software. Processing such as color and voice is not performed.
I shot the large air point Niagara of Atami Sea Fireworks Festival with 4K 60P using 'GoPro HERO 7 Black'-YouTube
I tried to further cut out the video of the dark scene from the video. The noise that occurs when ISO is increased is hardly seen in the night sky or the shadow of a structure, and the black-looking area is a very thankful feature for fireworks photography called black. In this situation, the ISO upper limit may be raised one step further to 1600.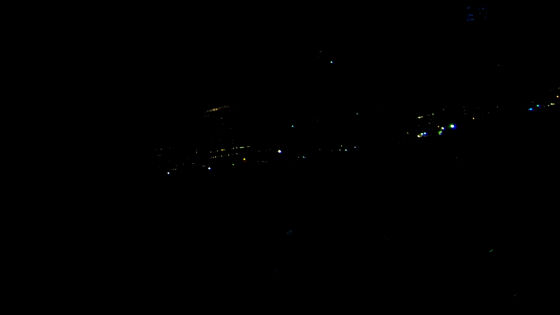 From the beginning of the fireworks rise ... ...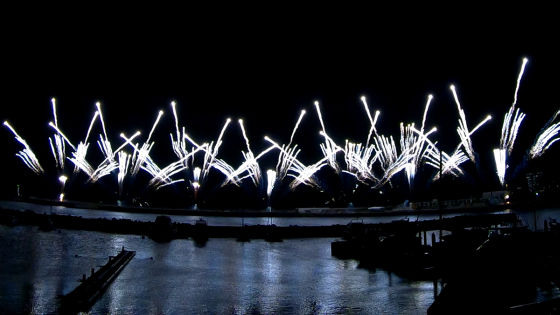 Even in situations where the amount of light is increasing, it seems that ISO adjustment is being performed smoothly without extreme white spots etc. The function that can specify the lower and upper limits of ISO is very convenient. As for the sound, the announcement at the beginning of the song sounds clear, and even when the fireworks explode, the sound breaks down. Although it is an action camera, it was the result of the test 'I can use it for fireworks photography'.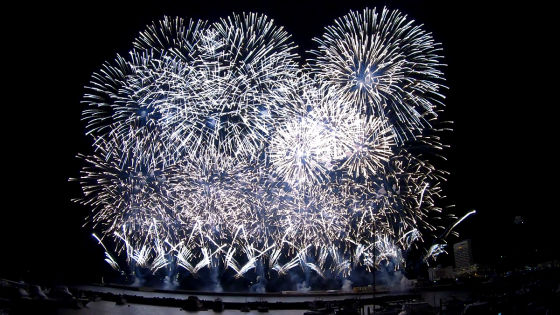 On this day, the wind was strong and it was fireworks watching in chilly weather. It is recommended to make a plan according to the stay when going to see the Atami Sea Fireworks Display, as you can warm your body immediately and stay tired if you stay at Atami Onsen.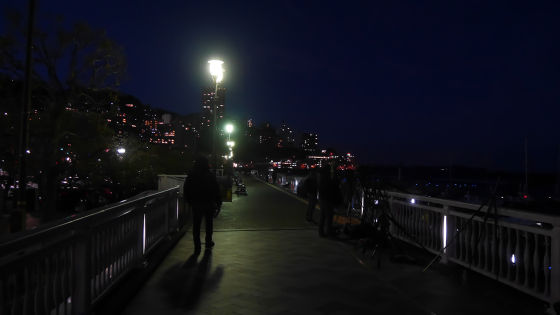 The schedule of Atami Sea Fireworks Festival in 2019 is as follows.

Spring: April 20-May 11-May 26-June 16-June 29
Summer: July 26th July 30th August 5th August 8th August 18th August 23rd August 30th
Fall: September 16
Winter: December 8-December 15