We have eaten '31 Super Chocolate Mint' with plenty of exhilarating feeling that increased the sense of mint of chocolate mint with '34 super chocolate mint'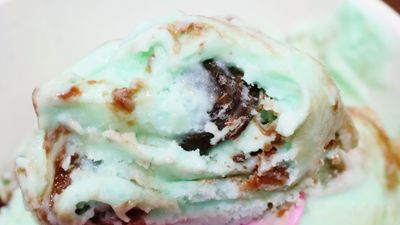 Thirty-one ice cream 'in honor of the end of that 2019 years from March 31, 2019 (Sunday) until April 25, 2019 (Thursday)
GOOD-BYE 2019 campaign
has been carried out.' As it is said that ice cream '
31 super chocolate mint
' of
mint sashiku
has appeared according to this campaign, we have actually tasted the flavor to decorate the last of the year of 20.
Super COOOOOL mint worthy to decorate the end of the year 2013! | Topics | [BR Thirty One Ice Cream]
https://www.31ice.co.jp/contents/topics/190319_01.html
Arrived at Thirty One Ice Cream.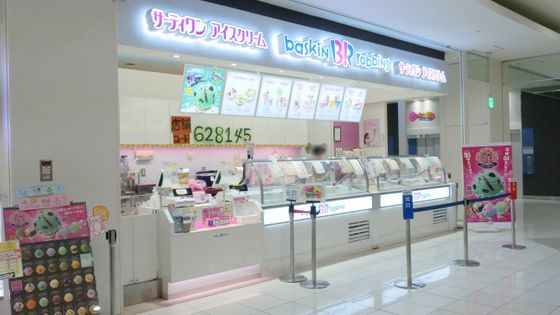 'Flavour you want to eat in FY2013', including 31 super chocolate mints, was appealing in stores.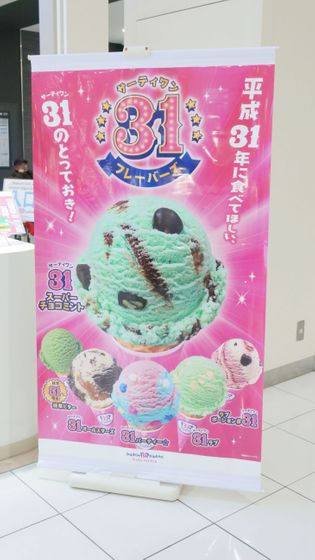 'Good-bye Heisei 31 Campaign' has a total of four different campaigns held in turn for each period, and for the period until April 4th, 2019, the account of the Thirty-One application user is free every day for 3,131 people Was held.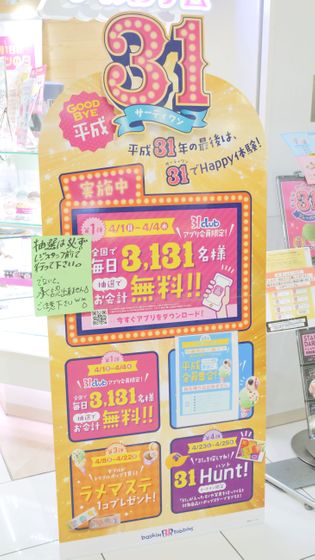 This is ' 31 Super Chocolate Mint '. Price of single regular size is tax-included 390 yen, but the price may change depending on the store. There is a small regular king size, and a cone cup waffle cone can be selected. I ordered a regular size cup this time.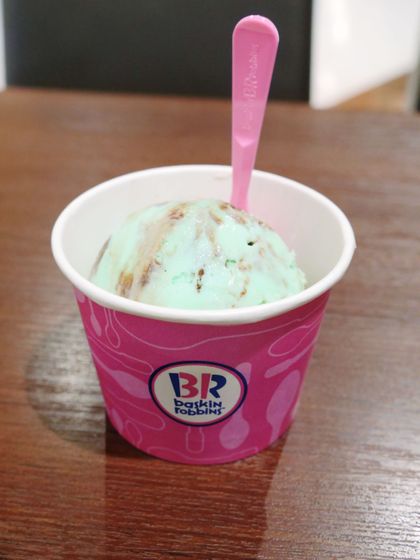 31 Super chocolate mint looks like regular chocolate mint, but the chocolate layer is 'choco mint flavored ribbon', and it is said that mint flavor is added to regular chocolate. When you bring your face closer, the scent of mint will drift.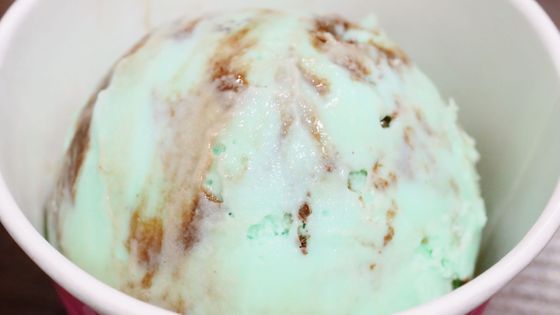 When I ate it, the mouth was full with a clear taste of mint. 31 Super Chocolate Mint is not a sour sensation, but it is an ice cream that you can enjoy the fresh taste of mint. Of course, not only the flavor of mint but also the sweetness of soggy chocolate was felt. If the usual chocolate mint is 'fusion of chocolate and mint', 31 Super Chocolate Mint has a mint flavor that is so great that 'mint is the basis and chocolate sometimes feels as an accent'.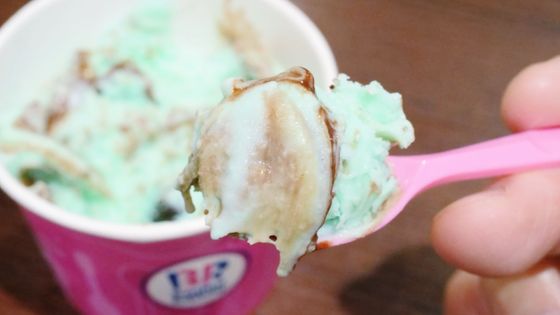 Inside is a 'sweet with mint'. When I ate it, it became solid chocolate and added an accent to the texture.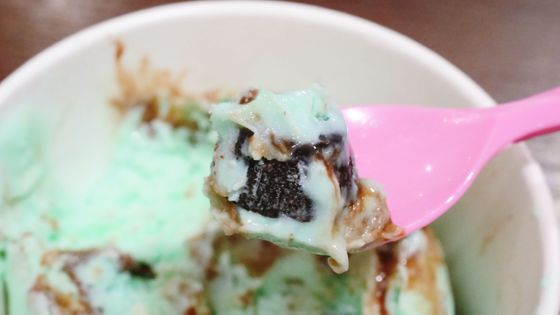 '31 Super Chocolate Mint' has been offered for a limited time from March 31, 2019 at Thirty One Ice Cream in the whole country, but it is said that it will end as soon as it disappears, so hurry if you want to feel the taste of Heisei last May be better.