I tried to cook 2 items of 'Chicken Ramen x Gudetama' which turns the chicken ramen egg into a bowl.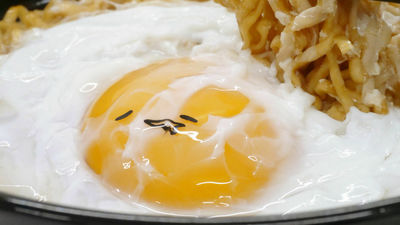 Chicken Ramen x Gudetama
, a collaboration of
Chicken Ramen
and Gudotto's character '
Gudetama
' familiar with the chick character 'Hick-chan', appeared in late March 2019 You It comes with an 'Eco Deco To Be Eaten', which transforms eggs on chicken ramen into special occasions, and a campaign is also held in which the completed photos are uploaded and limited items are displayed.
Gudetama × Chicken Ramen | Nissin Chicken Ramen
https://www.chickenramen.jp/special/gudechicki/
The target products of 'Chicken Ramen x Gudetama' are two types: 'Chicken Ramen' and the Chicken Ramen Taste 'Yakisoba'.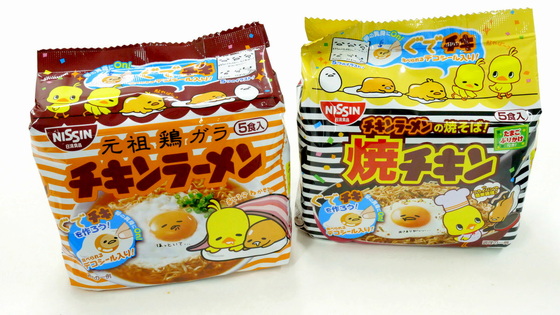 It is a familiar chicken noodle package but ...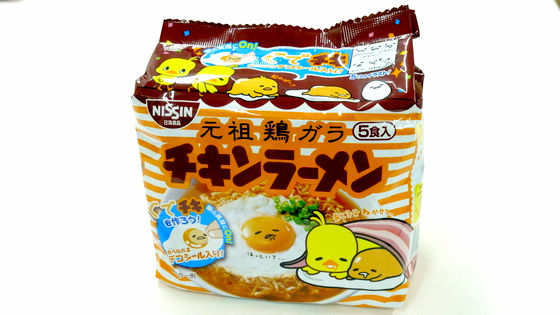 It has been printed that the chicks are sluggishly friendly. In addition, it is egg specification that is placed on top of chicken ramen.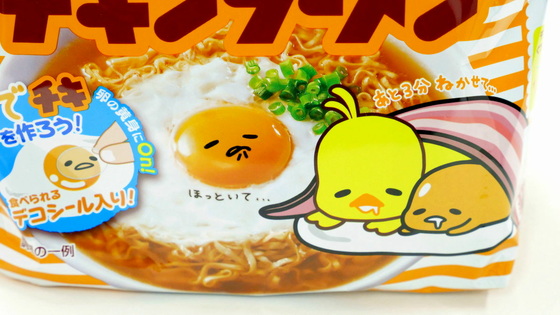 The top of the package looks like this.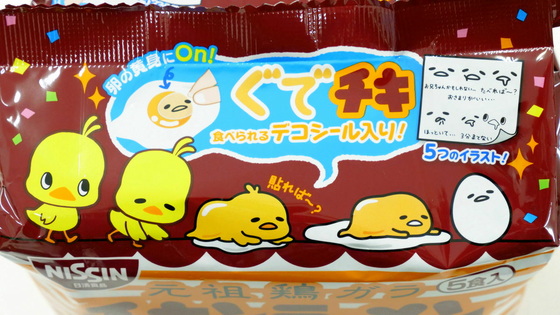 There is a component display on the back. Chicken ramen itself is exactly the same as normal one.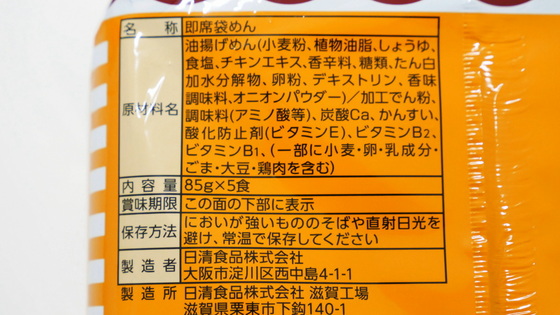 The ingredients of the deco seal that transforms eggs from time to time are like this.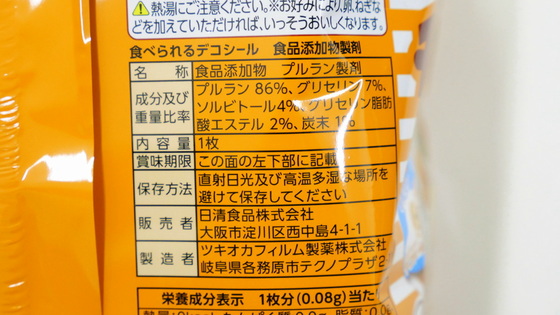 There are 5 chicken ramen and Deco seal inside.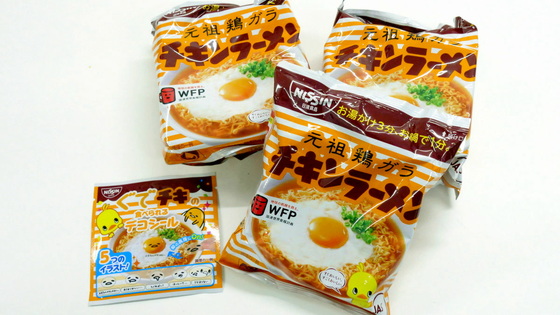 Deco seal contains 5 dishes and 5 different expressions.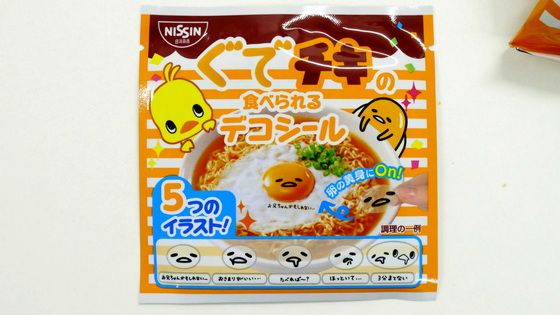 There was a description of how to make Gudetama Chicken Ramen on the back.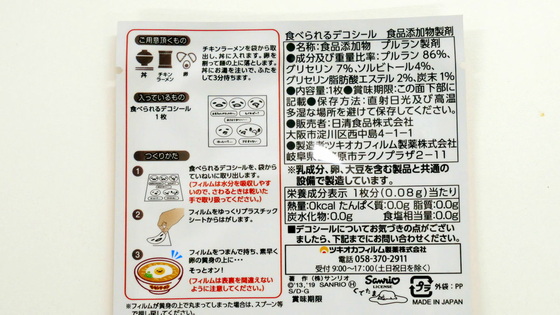 First of all, put chicken ramen in the bowl ...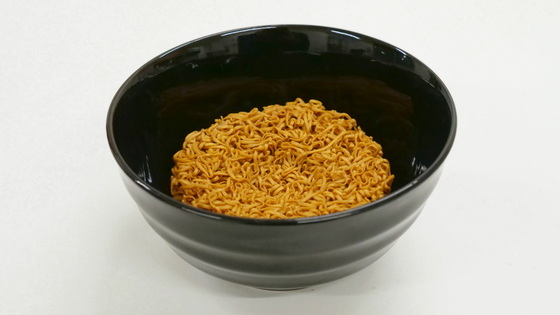 Drop the egg in the 'pocket pocket' of the part which dented a little.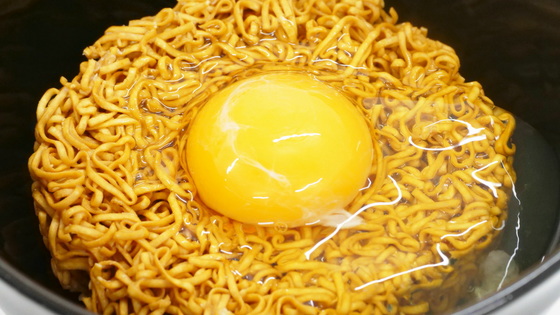 If you cook in hot water with honburi, pour 400 ml of hot water. At this time, it is officially advised that you can make a '
Shirotama
' like a commercial or a package by pouring it while letting the white water hit directly.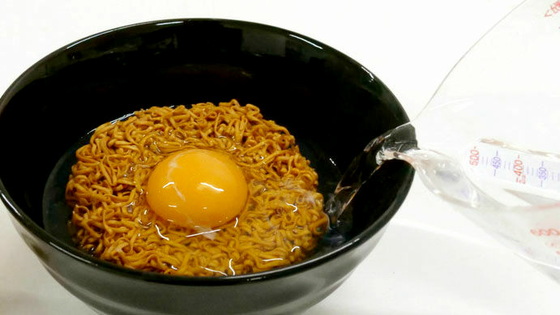 Wait 3 minutes for a lap ...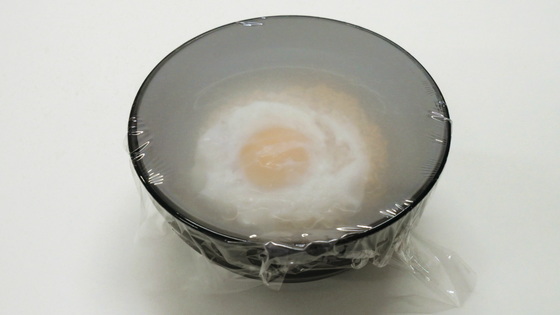 The familiar chicken ramen is completed.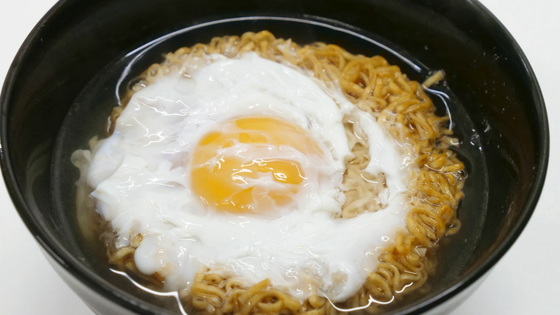 The contents of 'Eco food which can be eaten' look like this. As it is only lightly attached to thin film, it needs to be careful because it is likely to come off when removed from the package.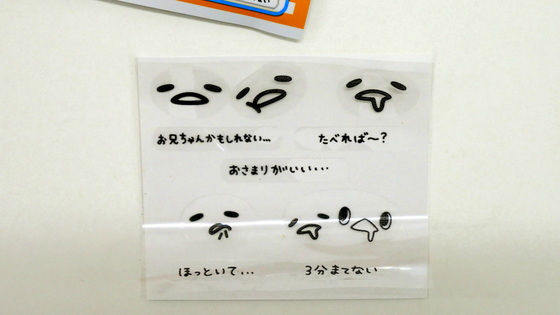 Gently remove it from the backing and quickly lay it on the egg.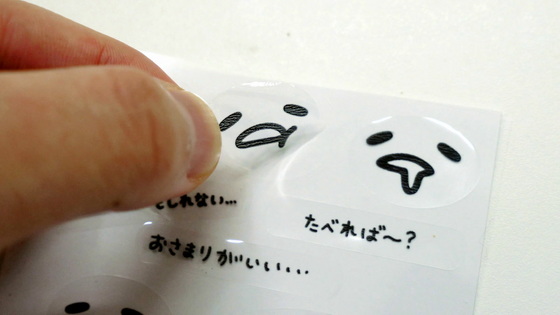 I was able to paste it like this.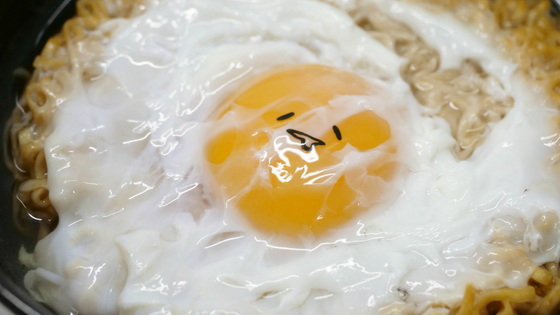 It's easy to stick on hand and it's easy to miss, so it's a good idea to pinch it with a hash.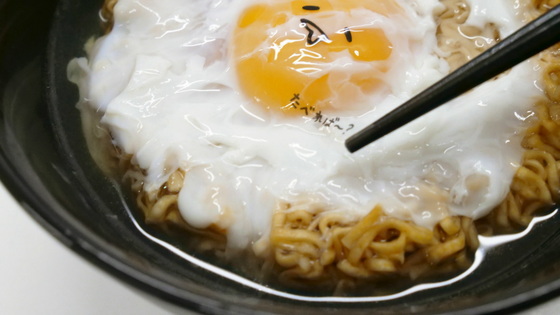 If you eat chicken ramen while watching the egg of gudetama specification, your mind will be healed.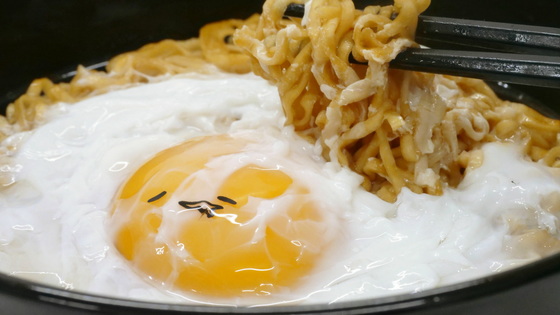 Another collaboration package 'Yaki Chicken' was also in the Gudetama specification.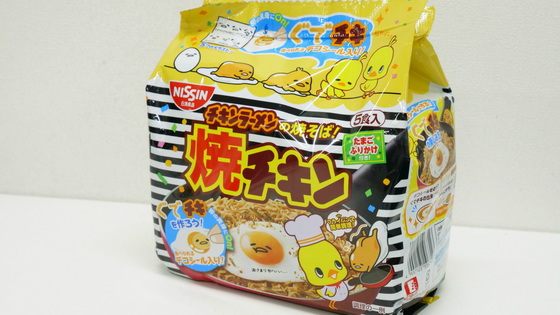 Here, cooking with a frying pan is essential.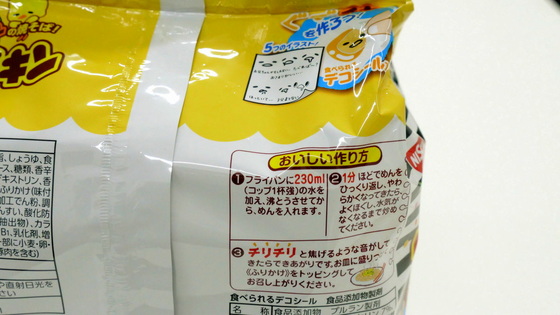 The raw material of 'Yaki Chicken' looks like this.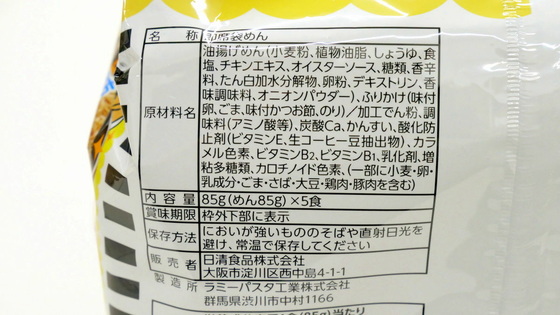 This is also a set of five meals and Deco seals, like Chicken Ramen.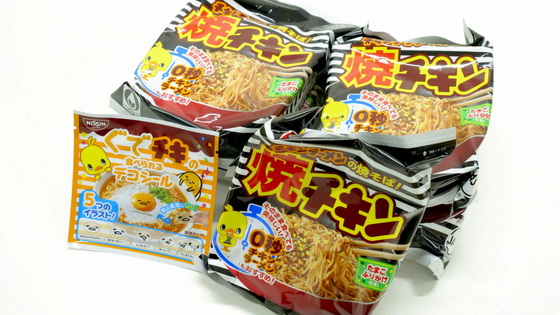 In addition to instant noodles, "Yaki Chicken" also includes "Ogama Sprinkling," which is cooked after cooking.



Put 230 ml of water in a frying pan and wait until it boils.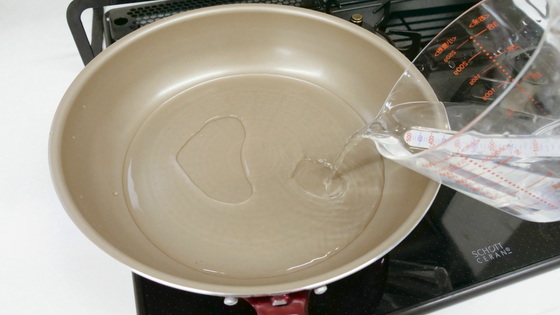 After boiling, add noodles.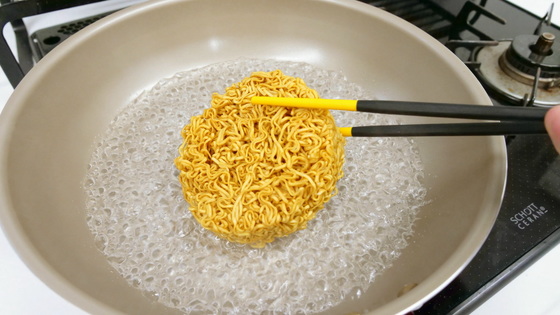 After about a minute, turn it over.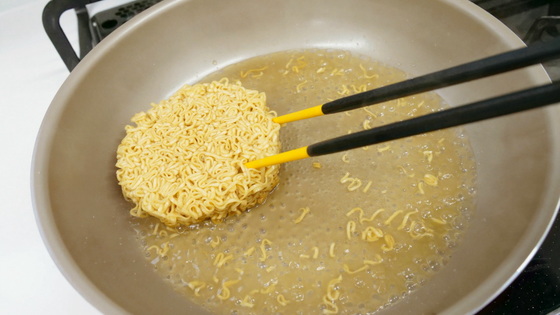 When it gets softer, I'll loosen the whole ...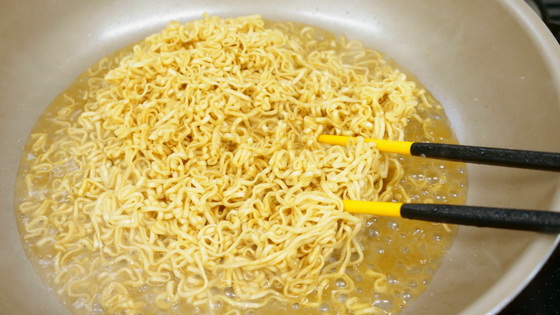 The cooking is complete when the water is gone and you hear a burning noise.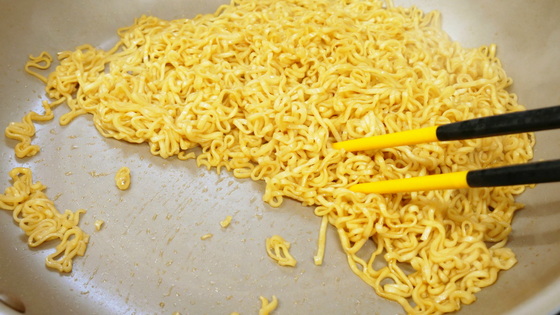 Once served on a plate, topped with egg sprinkles and finished.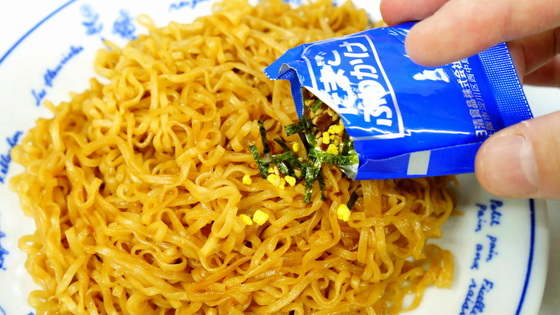 You can usually eat it deliciously as it is, but this time we will put on a fried egg because it is a collaboration with nagaretama ...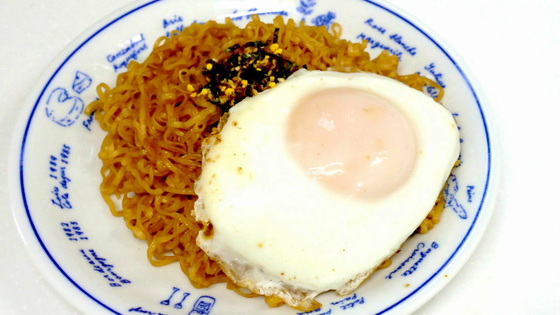 Occasional transformation with deko seal.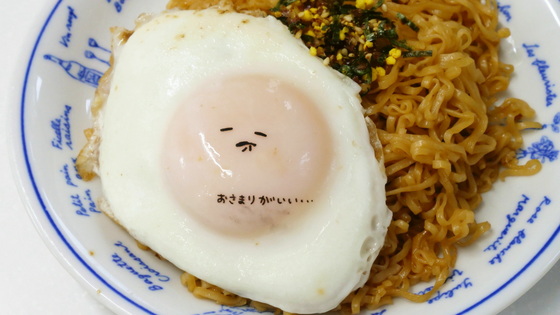 'Yaki chicken' is Yakisoba which is soaked in the taste of chicken ramen instead of sauce, and the taste of sprinkle is accented. It has a slightly darker taste, but you can enjoy the mild taste associated with eggs.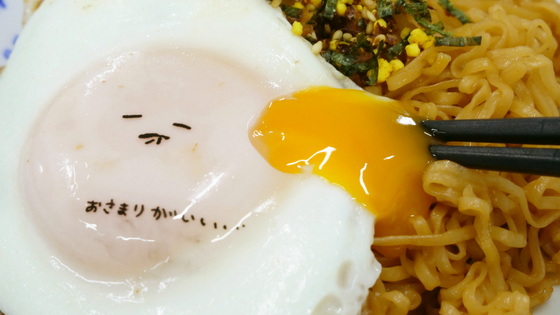 Take a picture by putting 'decoable to eat' on egg yolks with 'chicken ramen' and 'grilled chicken' and taking a picture with ' # dechiki ' hashtag and posting it on Twitter, 'with original lid' You can apply for a campaign that wins the 'Bonburi'.

I thought that I was absolutely conscious of Gudetama I came to see him so much # Chiki # Gudetama # Chicken Ramen # Chick-chan pic.twitter.com/Q55UV9r1ox

— Chicken Ramen Chick (@nissin_hiyoko) March 25, 2019