It is reported that a popular game distributor who earns over 100 million yen personally for the advertising of games appears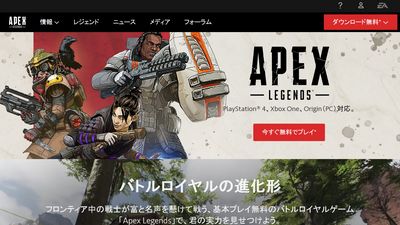 " Apex Legends ", a basic battle game free of charge, has received tremendous attention from the entire game community as soon as it was delivered in early February, and has won over 10 million players in just 72 hours from delivery . . About the promotion of Apex Legends, which can be said to have cut off the best start dash, such as the many e-sports teams that have already decided to enter Apex Legends, one million dollars (about 110 million dollars) to popular game distributor Ninja It is reported that a fee has been paid.

Top gamer 'Ninja' made $ 1 million to promote EA's 'Apex Legends' launch: source | Reuters
https://www.reuters.com/article/us-electronic-arts-apexlegends/top-gamer-ninja-made-1-million-to-promote-eas-apex-legends-launch-source-idUSKBN1QU2AC

Twitch streamer Ninja reportedly earned $ 1 million for promoting Apex Legends launch-The Verge
https://www.theverge.com/2019/3/13/18264366/ninja-ea-apex-legends-1-million-dollars-promoted-stream-fortnite-sponsorships

Electronic Arts (EA) , a major US video game company, is reportedly paying a promotion fee to game distributors who work with Twitch, a game distribution platform, to promote Apex Legends, a new game. You Advertising with the influencer on the net was successful, and Apex Legends succeeded in acquiring 50 million users in a month from delivery.

Especially popular among game distributors, Ninja has 13.6 million people on game distribution platform Twitch, more than 4 million people on Twitter, and 13.2 million people on Instagram, and its advertising effectiveness is very large. It is believed to be. "EA has paid Ninja about $ 1 million in promotional fees," a Reuters source said.

Although EA and Ninja did not comment on the details of the contract, instead of focusing on TV advertising etc., we changed the promotion strategy to use a highly influential online distributor for advertising. Seems to be true. Besides Ninja, well-known game distributors such as Shroud and CouRage play immediately after the release of Apex Legends, resulting in appealing Apex Legends to many Internet users.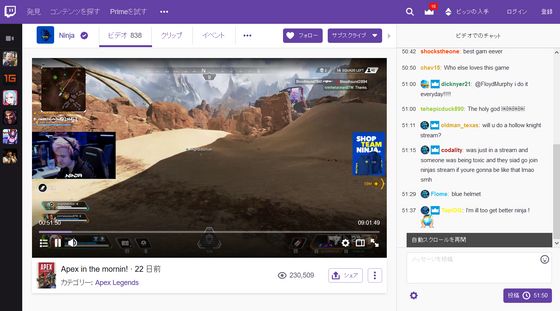 With EA's share price rising by 16% and about $ 4 billion (about 440 billion yen) in just three days since the release of Apex Legends, advertising with a game distributor has been a huge success. "If anyone interested in the game wanted to create a day that could not escape Apex Legends," said Drew McCoy, an EA producer, with fans across the world. It is said that it was a goal from the beginning to appeal to game lovers all over the world through game distributors.

"We were able to appeal Apex Legends to the world because there are popular game distributors everywhere in the world, including Europe, South America, North America, Korea, and Japan," said McCoy.
in Game, Posted by log1h_ik