Facebook abuses a phone number in a form not intended by the user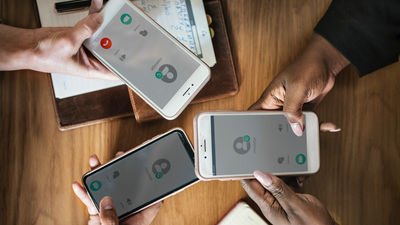 by rawpixel

Facebook has frequently been criticized for handling personal information since one case where user data of 50 million people was illegally used . Such Facebook was criticized as "It is using the user's telephone number for the target advertisement", but it is receiving additional criticism that it is "misusing it even in a form not intended by the user" newly.

Facebook Doubles Down On Misusing Your Phone Number | Electronic Frontier Foundation
https://www.eff.org/deeplinks/2019/03/facebook-doubles-down-misusing-your-phone-number

In order to improve security of account using Facebook on 2 element authentication and to have warning of new login information for your own account, the user needs to link his / her phone number with account information. It has been revealed that Facebook uses this phone number for targeted advertisement, and many criticisms have gathered against it.

The Electronic Frontier Foundation (EFF) has launched a project called " Fix It Already " seeking consumer privacy protection and security enhancement for nine services provided by major IT companies, among which "Facebook is a user I'd like to return my phone number to its original location "from the end of February 2019.

Facebook should should leave your phone number where you put it - Fix It Already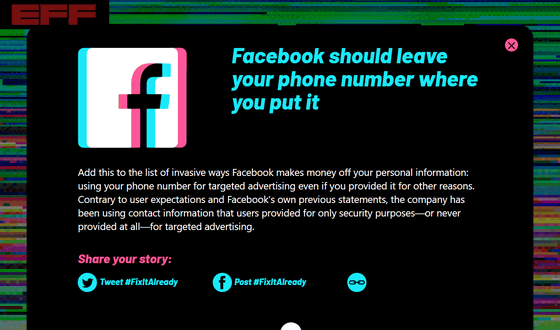 In addition to these criticisms, EFF points out that Facebook is exploiting the user's phone number information in another way. How Facebook tries to exploit phone number information is that "phone number that the user provided for two-factor authentication" can be used as "information for searching for other users" on the service I was designing it. In other words, EFF asserts that the phone number you have registered to improve the security of your account is used for another purpose.

In " Privacy setting of Facebook", "Search and contact settings" → "People who can search me by using a phone number" can search for their own account by telephone number as "Everyone" "Friends of Friends" You can choose from three of "Friends". However, EFF pointed out, "You can not completely exclude the option to search accounts by phone number".




"Over the years Facebook has claimed that adding a phone number with two factor authentication is only for security but still it is possible to search users from phone numbers and disable it There is no way to point out "There are users who point out.

Now it can be searched and there there is no way to disable that. Pic.twitter.com/zpYhuwADMS

- Jeremy Burge ???????? (@ jeremyburge) March 1, 2019

Nothing has been pointed out now that Facebook has problems with search function by phone number . Following the scandal by Cambridge Analytica , Facebook shows a policy of modifying the use of personal information in April 2018.

Mr. Zuckerberg suggests that the majority of 2 billion Facebook users may have acquired some personal information - GIGAZINE



As a result, at the time of article creation, other users can not directly enter the phone number on the search bar to find a profile of a specific individual on Facebook. However, "other methods, for example, someone such as when you upload to Facebook your contact information from their mobile phone" instead in, the Facebook spokesman and it is possible to look for the user from the telephone number story It is. Regarding this, EFF also said that even with the method of "entering a phone number directly into the search bar of Facebook", "by uploading a phone number from a contact and searching for a user" It is possible to find a specific account "is not changed" is written.

It was in the summer of 2018 that Facebook began asking users to enable two-factor authentication. More people are using new security features, and at the same time the number of users who wonder how to handle Facebook phone numbers is also increasing. Facebook has stopped seeking registration of a phone number to validate two-factor authentication in May 2018, but it still points out that two-factor authentication remains the most convenient option for many users There is also.

The way users use their phone numbers on Facebook is extensive and contrary to users' expectations and security best practices, it can be said that users have published phone numbers registered for two-factor authentication to advertisers and every Facebook user And that. EFF points out that Facebook has to fix this before more people are at risk.