I ate 'Wild Sumimi nakayaki Suki Bowl' finished in a sukiyaki style with sesame-grilled garlic sauce and soup with nearly 1 kg beef and tofu at the legendary bowleston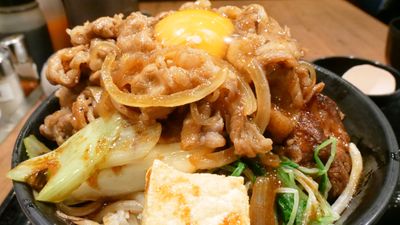 Legendary suta- noodle shop is offering " Wild Sumigi Yaki Suki Rice Bowl " seasoned with sukiyaki style "Sota Don" from the signboard menu from February 28, 2019. A total weight of 800 g, including beef, baked tofu and long onion seasoned with hidden garlic sauce sauce, is plentifully wildly served. I've eaten it with a legendary sushi baron shop, what kind of taste it is.

【Limited Time】 2/28 (Thu) Release ★ "Wild Sumigi Yaki Suki Bowl" | Legendary Sota Bon noodle / Specialty Bowl of Shop 【Official Site】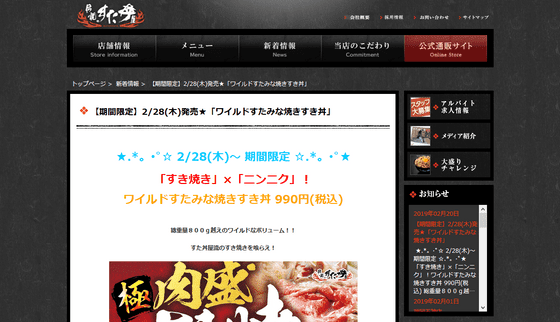 Arrived in the legendary yata-noodle shop.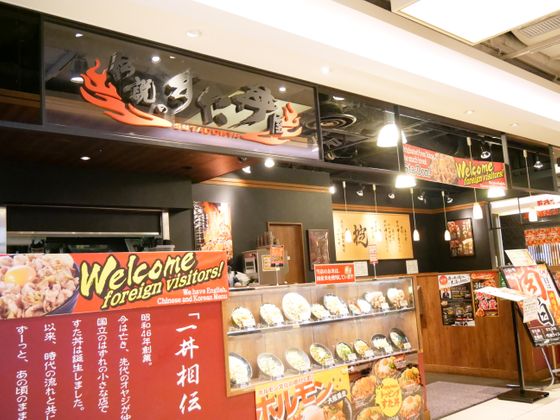 In the Legendary Suta-Tonmaru, " Meat Day Campaign " to increase meat free of charge on the 29th of every month is carried out. The campaign will be held on February 28 without the 29th. Also, at some stores, "Wild Sumino naked oaki rice bowl" was also subject to the campaign, and it was also targeted at stores visited this time.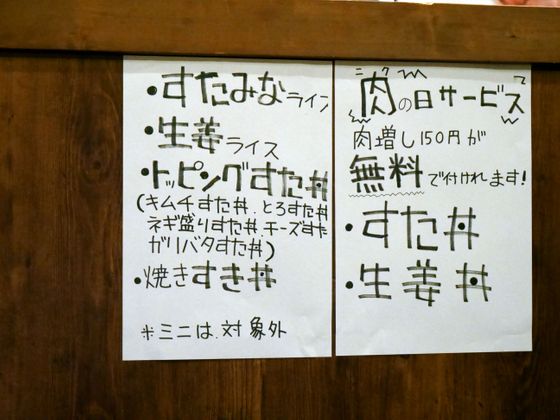 I ordered orders ("990 yen including tax") of "Wild Sumino naked Suki Bowl" in meat increment. There are also set dishes with the same price, but the difference from "Baked Suki Don" is the difference whether the ingredients are on a bowl or served on a plate.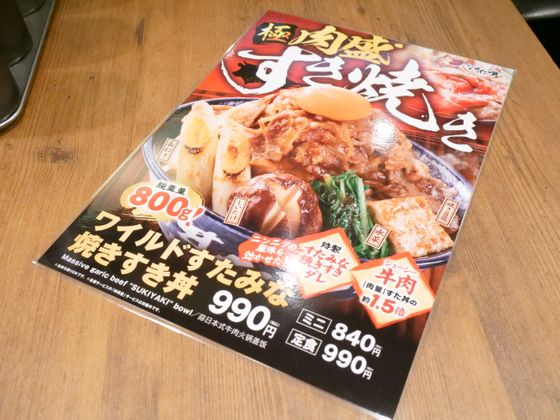 About 15 minutes after ordering, the plum of "Wild Sumino nakayaki Suki rice" arrived. The scent of garlic sauce rises along with steam from the bowl. Eggs and miso soup followed the set.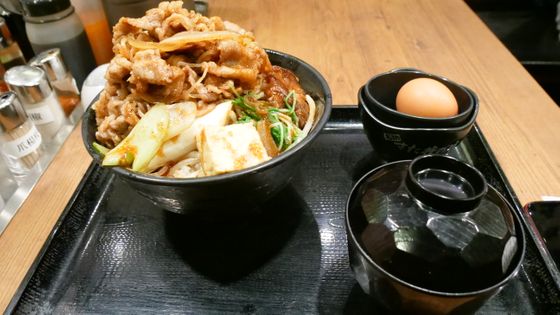 The most eye-catching beef boasts 1.5 times as much meat as usual "Suta-don". The amount of meat is increasing in meat increment campaign.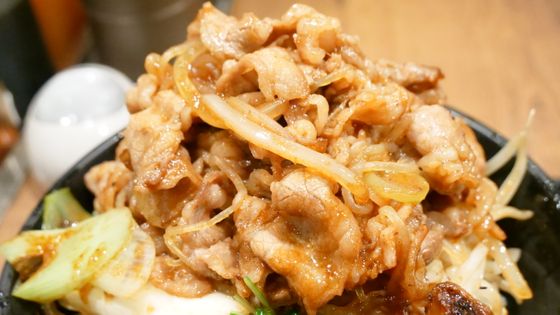 Compared to a bowl with an iPhone XR whose long side is about 15 cm, it looks like this.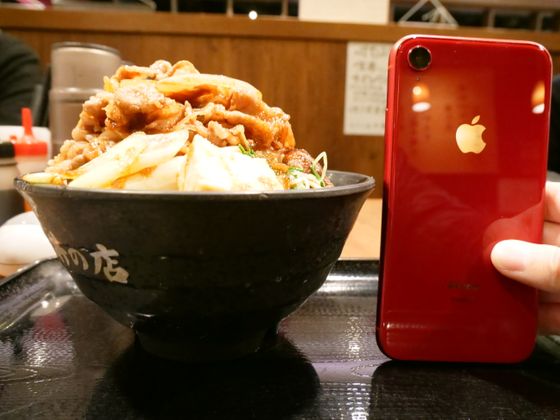 As soon as we break the topping raw eggs and eat it.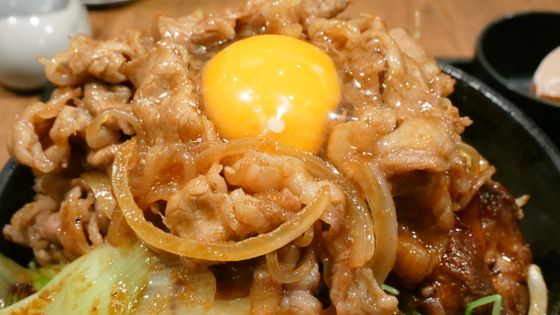 When jamming the beef entangled with the egg, juicy gravy and thick fat overflows from soft soft fiber like melting. To the rich flavor of flesh and melted grease, garlic soy sauce Dale, sweet and sweet garlic smell was effective and got matched well.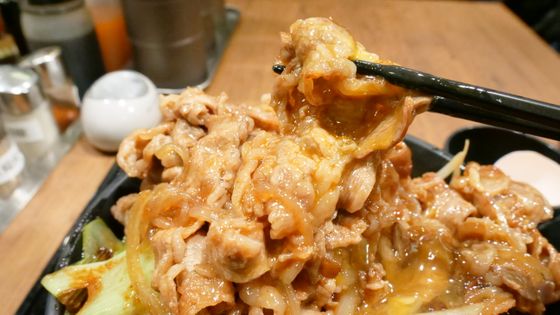 Baked tofu is soaked in the taste, and you can feel the taste and fragrance of soybeans firmly.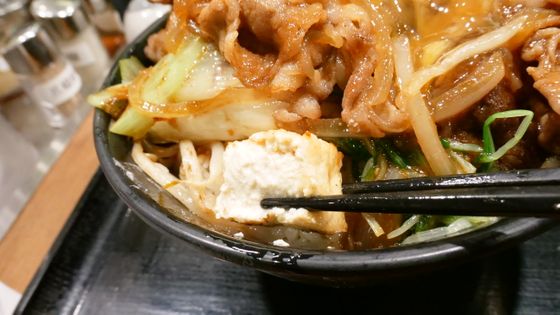 If you eat a long onion that took in a lot of declaration, you will feel sweetness of a long onion jumping out with hot juice.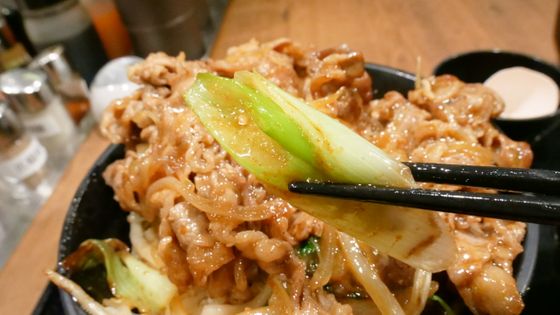 The thick shiitake mushroom was clogged with delicious dashi and it was a juicy texture.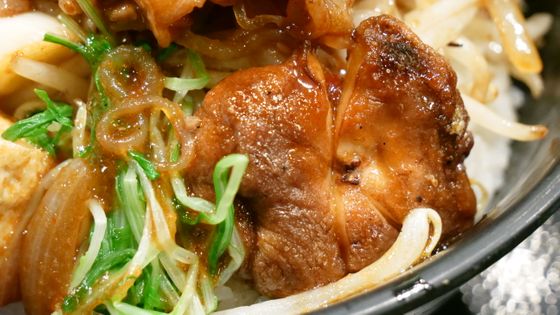 "Wild Sumino nakayaki Suki Rice Bowl" is offered at the Legendary Boniton of the Legend from February 28, 2019, and the price is 990 yen including tax. However, please note that we do not deal with Nakano Shinbashi store · Mr. ~ Mr.'s store · Diversity Tokyo · Plaza store · Ario Hashimoto store.