Interview with Staff members of Production Company · White Group working on the work with Director Goro Taniguchi to make 'Revisions' a new masterpiece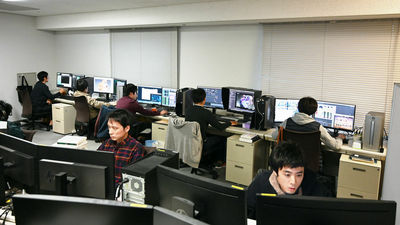 In charge of animation production of animation " revisions revisions ", it is a white group that has produced the movie " Eternal 0 " " STAND BY ME Doraemon ".

Kazuya Ide and Kazuhiko Takahashi, director of photography, talk to Omori Maiko of animator Mr. Kazuya Ide , how the white group got to participate in this work and what kind of work is done on site staff I was asked.

Interview with Director · Goro Taniguchi and CG director · Takashi Hirakawa is here.

SF anime "revisions revisiones" director, Goro Taniguchi & CG director · Takayoshi Hirakawa interview - drawing animation of a boys and girls who cast on the battle carrying humanity in the future world - GIGAZINE



GIGAZINE (hereinafter, G):
First of all, please tell me what kind of position you are in 'revisions revisions'.

White group Kazuya Ide Producer (hereinafter Inoue):
I am a producer and animator producer of the project itself. Since "revisions revisions" is original this time, I entered the original work, entered the committee, I was looking at both the committee and the production and was controlling. Director Taniguchi was talking about the schedule, but he was turning it together. Takahashi is "photography director". Proper of the white group, it is a mid-level staff at home. Ochiai is the second year and is an animator. "Revisions Revisions" is getting sticky and animated.

Mr. Ochiai from the left, Mr. Takahashi, Mr. Ide.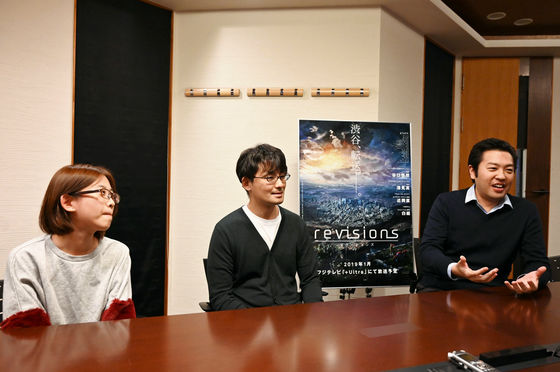 G:
In the news release at the time of "revisions revisions" announcement "When I made Shibuya's town in CG, I carefully thought about how far I would break in battle scenes, put emphasis on the drama of how people go back to modern times In order to express how each character in various positions such as students, officials, etc. live, expressions and acting are made especially by putting special emphasis on them ", but I was answering, How about "how much will you destroy"?

Ide:
As was also the case with Mr. Taniguchi's story, to be honest, there are parts that I am doing while thinking about cost (laugh). Since it is CG, I have to make it as a model, but since I have to make two "pieces to break" each, I first consulted with CG director Hirakawa as to where to break. Another important thing is about the scrambled intersection in Shibuya. I think that it is an "icon" that is understood as a major place in Japan when people in the world saw it, but as it is still Shibuya because there is a signboard silhouette, it is a plain place to mark notation, but in the main place I'm asking if I can use no voice. ...... That premise is "can I break it?" (Laugh)

From the third episode, the park which was destroyed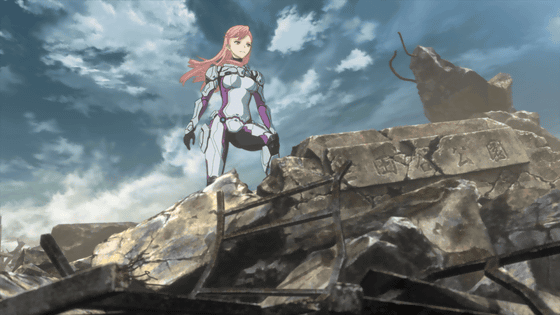 G:
It looks like a monster movie (lol)

Ide:
Before making a work yet, what kind of story is before it is opened, I can not say a fine thing, but, "I will destroy Shibuya, but can I use a signboard?" (Laugh). So I got OK from several places. There was also a place I told you to say OK, but in consultation with HIRAKAWA it is concluded that "If you do not break it after all, it is not good", there are cases that it was unfortunately was not good.

G:
It is a troubling place.

Ide:
Since there are aspects of action, we have considered considerably about "breaking".

G:
What kind of form did Mr. Takahashi decide to participate in the work? Does a producer say "Do you want to try it?"

Ide:
We made an offer after considering Hirakawa 's opinion, as to whom it would be best for anyone to do as a team.

G:
Have you ever had any difficulties trying to take a picture director at "revisions revisions"?

Photographer · Kazuhiko Takahashi (Takahashi):
We changed the structure considerably from the form of Celluque CG production which we had done so far including TV anime " Eetatama " and previous game deals involved.

G:
Is "mechanism"?

Takahashi:
It is how to add shadows and how to enter wrinkles. I was helping not only shooting and effects but also the rig, so I changed the structure of writing and so on. Until now, first of all it did not have "wrinkle entering" first, but this time it is like putting wrinkles or drawing "drawing shadows" from the lighting so far, like shadows drawn by hand It is a part that expresses it. It changed so many things so it was hard to put together (laugh)

From the fifth episode, Mary Mary running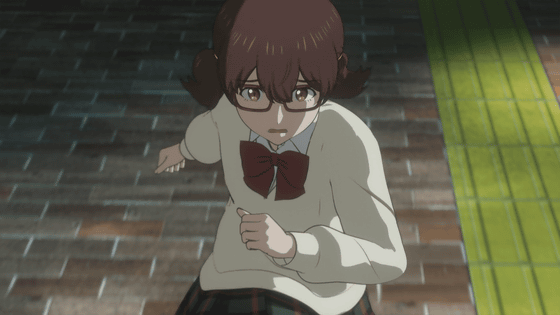 G:
(Haha) Next, Mr. Ochiai, what kind of activities did you do specifically as an animator?

Animator · Maiko Ochiai (Ochiai):
Specifically, "Animator's job is to make a character move and let the character act." In "revisions revisions", individual characters of robot, characteristic enemy character, high school student and officials, etc. are strongly individualized in how to move, sharing points within the team about how to make personality stand out It was. Although it is CG, in order to make a part that remains firmly visible, everyone puts emphasis on acting and giving out individuality while considering from 1.

SDS (Shibuya · Defense · Service) ", which is unique from a number of individuals, from the previous public cut of the eighth episode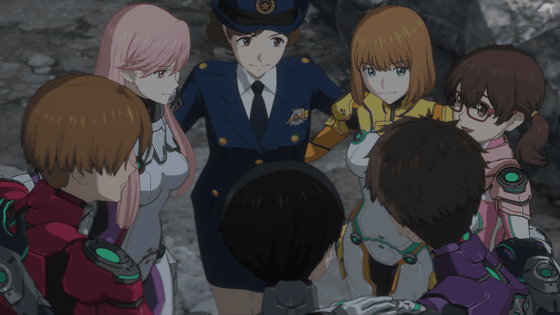 G:
This time it was that there was a part made by motion capture and a part to attach movement by handwork, which was the main?

Ochiai:
From the first episode to the first half of the 5th to 6th episodes, we used some motion capture as the foundation. We animator also let me go to the place where actor is photographing and learn that Director Taniguchi will act like this in this way. In the beginning, I was trying to figure out how to make a break between movement of character of animation which is different from life etc with real life and live performance, but in the latter half, battle scenes and characters As the scene which made personality stand out was continued, I put emphasis on constructing acting in a form which clearly made the decision positively by deciding pose positively from determined movement with noises . In the first half and the second half, the taste of animation gradually evolved, or learned the advantages of motion capture while working, it became possible to use properly where it can only be done by hand. Our animators also used their own motion capture suits, they became actors, recorded motions and had various experiences. I think that you can see the evolution of the animation which took both the good points when you see until the 12th episode.

Ochiai & Photographer - Ms. Takahashi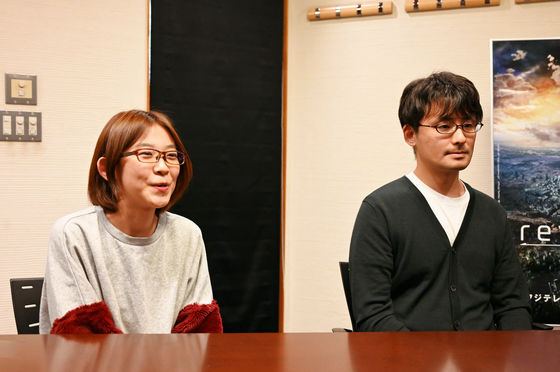 Ide:
...... It was an answer of 100 points that would make it impossible to know who was the producer (all lol)

G:
Mr. Ide's business card is "Deputy General Manager, New Content Business Division".

Ide:
White group does not do original IP so much, but this new contents business department is a department saying "let's make original IP". There is a background that CG animation is now having a great demand and that such works are increasing. The deputy general manager is a business division system, so it's almost like writing about it (laugh), I am a producer with a great white group.

G:
Mr. Ide is involved in the planning of "revisions revisions" from what stage?

Ide:
It is from the beginning. When I got a voice from Mr. Owa, Mr. Slow Curve , there was a draft, and I had him enter from the story making.

G:
I also attended screenwriting meetings, and so on.

Ide:
Basically, it all came out. From the viewpoint of the schedule, in response to the director directing to the committee that the production says "this can not be done", I will consult with Mr. Taniguchi and can not do it as it is, so I will do this, " I think it is a nice thing to be able to put together.

G:
"Revisions Revisions" is a work with Netflix distribution as well, so when the first episode is broadcast, it means that all the stories have been completed. Is it a perfect schedule feeling?

Ide:
Even at the time of holding the box of V edition of the last episode, everything worked hard as planned.

G:
Were you making it, was it on schedule as well? Or did you adjust well while adjusting on the way?

Ide:
It is adjusting. Even inside the company I giggis ... ....

(All lol)

G:
Giggis (haha)

Ide:
In the case of hand-drawn animation, for example, it seems that the series of steps of "After laying out, ordering the background, the original picture has ended, spreading to the exercise" is a sequential process. So it is easy to follow what task is stopped. However, in the case of CG, although there is an order of the main frame, the process goes back and forth between sections, or progresses at the same time. Then, we will always talk about what section team will be absorbing schedule for that work that is behind schedule. Although there is a way of our team's way of doing.

G:
Did something happen to Mr. Takahashi's place?

Takahashi:
There was quite a lot.

(All lol)

G:
It is probably the best place to eat.

Takahashi: That's right from the usual point.

(All lol)

Takahashi:
This time, everyone was strongly motivated and there were many things I wanted to do, so there were many sticks to the limit.

Ide:
Because white people are people doing whatever they like image production, there are quite a lot of things such as "I want to finish up my own cut as far as possible". Hirakawa is the leader (laugh). In order to stick to the end, Hirakawa and production, each section leader and I tried to make good things until the end of the story while talking like "I can drop off" forever. What is "what can you do to compromise what, what can you drop" and "how much can you drop off here" and how to make balance that can be balanced among limited resources such as "I want to show here well, but here it will be fine" Would you like to go? Since the TV animation is long, such adjustment will be noticeable also on a budgetary basis. This time I can grow as a team, I think that it was good in that respect.

It was such a feeling inside the white group's studio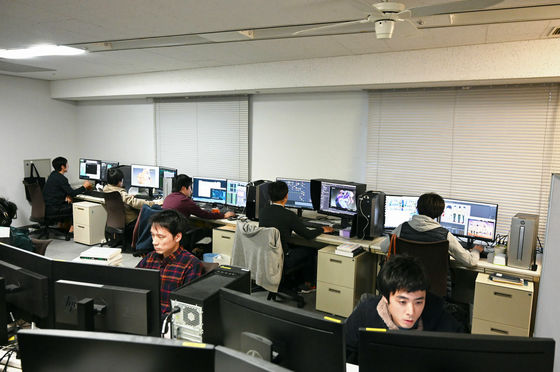 G:
In the story of motion capture, Mr. Taniguchi said that the lunch was good, but the budget in those places is also firm ... ....?

Ide:
I did not have that kind of awareness, as my budget was being prepared to say the production. A story about the box lunch has come out and it seems to be somewhat strange, but I think it is standard (lol)

G:
Although it is said that the manner of entrance of staff was different by doing a completely original new work, how was the selection of staff done?

Ide:
The white group is "team system", and producers are well-defined fields of their specialty. For example, Yamazaki Takahi's movie has two producers who are playing with two people. There are also producers who are mainly in charge of commercials etc. In the case of our team, the producer is me, so I decided "I will do this work this time". Of course, there may be helpers coming from other teams.

G:
How was your reaction when I told you to do "revisions revisions"?

Ide:
When collecting section leaders including Takahashi and saying "I will do this", because they do not appear on everyone, they make it a scene (lol)

G:
(Lol)

Takahashi:
I did not say "ya!" Indeed, but I thought that it looked very interesting (lol)

Ide:
My team creates many original works and does not do much with famous original works and so I do not know what originally is originally from the beginning, so I guess that it will definitely be such a reaction.

G:
Because it is Director Taniguchi, is not it a feeling like "Wa!"?

Ide:
Of course there are people who delight. Although it is said that it likes animation, there may be that there are people of type "Disney like" like Ochiai. Even for TV animation fans, the name "white group" does not stick very much. I mention "eternal 0" as a masterpiece, but since I am aiming for the name to penetrate the fans who are watching TV animation as animation production studio like A - 1 Pictures and Bonds , Taniguchi I think that "revisions revisions" which formed a team with a director should be a new masterpiece work.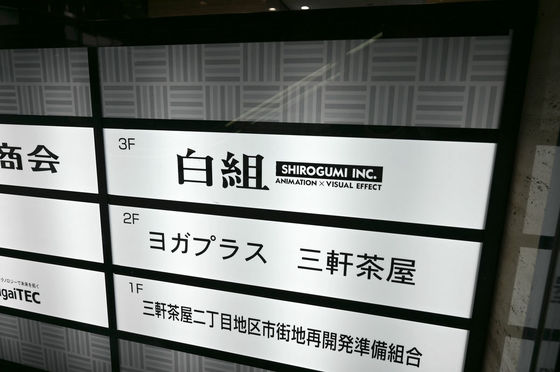 G:
I think that there is a different struggle from the scene if it is the producer's position. What was the most impressive episode, such as when you gathered at the Production Committee, did you have any difficulties?

Ide:
Although it is because it is original, it was hard for the screenplay to be quite unlikely to become the final draft. We have to make model data which becomes asset, but as long as we do not know what is going out, we do not know the total quantity, so the schedule is not decided. Better as a committee, as is the writer. However, as the standing position of the production producer, "I will not end unless I make further talks". Therefore, Director Taniguchi told me when I was going to read this book, "I will become a compilation of one episode any more." The wonderful aspect of Director Taniguchi is that there is such consciousness to the schedule. It was a very encouraging place as an animation producer.

G:
I see. How was the voice from the scene over the schedule?

Ide:
Through work creation, there was always a conflicting atmosphere, and there were times when I heard an angry stamp. There is always thing to do.

G:
Will it be confusing about quality?

Ide:
I really do not want to talk about "You must finish it rather than pursue quality improvement", but at some point it is something you have to say as a person managing the schedule. "Well, where will you drop it?" Because it is a site where you can talk with creators in both good and bad meanings, as a result, in a discussion. I do not want to scrape this scene, but I wonder if I should scrape it, or I want to cut down missile bonbons.

Ochiai:
Oh ... ....

G:
Is there anything stuck as if you drop this place when it comes to the battle with the deadline?

Takahashi:
Because I wanted to put live-action-like elements, I put a lot of depth of field, or blur, but it was serious. It is a place with a shallower depth of field than originally, and blurring when things come in front.

Ide:
Mr. Taniguchi and Hirakawa also said, but I'm particular about live-action elements rather than ordinary animation, so I would like to draw attention there.

G:
Have you felt like that also Oshima-san?

Ide:
Ochiai had a character named "Nicholas" like a stuffed doll at full time. Because it seems to like Disney, "Well, you can love cute mascot characters" (laugh)

Ochiai:
Nicholas is a character that appeared from 4 episodes, but since it is a character like a stuffed doll, it has completely different taste from other characters. So, I started off from what kind of style it was, but since there was a lot of expressions "Can be hand-drawn but difficult with CG", there was also a story like "Nicolas should do with hand-drawn" That's right. I wanted to do Nicolas' CG animation by all means, so I tried putting in the scene where I introduce myself in the scene where I introduce myself, putting in actions that are not in the storyboard, I crammed what I think "this is cute". I heard that Mr. Hirakawa saw that he decided to go with CG after hearing it from then on, I thought it was good to stick with it. Until the last episode Although there were cuts which I had consulted with the leader of the animation team as to whether "I can do this kind of movement with CG", I was able to spare the place where I was delegated. Even inside the company, I talked about "You can look more cute this way." For example, it is not pretty enough to turn your face all the time.

In the lower left, Nicholas is sitting with a crisp face.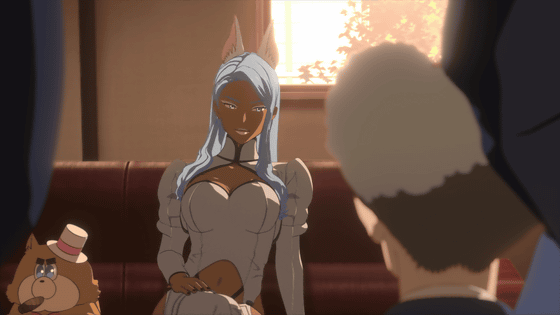 G:
What kind of ingenuity did you do?

Ochiai:
I talked with Rigger directly and said "I want to transform it like this" or "I want this to be like a morph because it is not cute like this if it is made to Aori here", concretely interacted. From the beginning the rig was updated with the update being done, but since the usage of the rig is completely different from other characters, first let me use the rig with me and another senior, and inside the company "like rig I will use "I think that this pose of this cut is cute" I gave an opinion to concrete cut. By doing so, Nicolas kept cute through all the story and worked hard to the last to make it a glowing character in the work.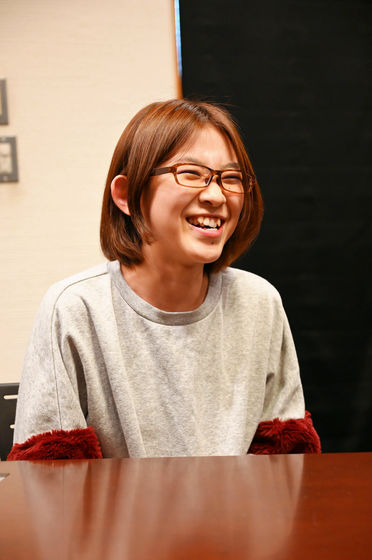 G:
Then, Nicholas does not use motion capture, right?

Ochiai:
I do not use it. Besides, because it is too beautiful with CG, I was conscious of making delicate facial expressions more like other characters (lol) on purpose or deliberately making me look ugly.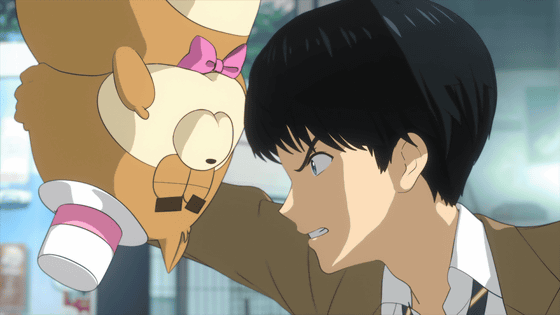 G:
I thought that Nicolas' movement was nothing fancy, but it was actually stiff. Until the end, I would like to focus on including Nicolas. Thank you for talking with us today.

To Ide producer, along with Slow Curve 's Orihara Toshiaki producer working together from the time of the project planning, we also talked about early story talks and stories about animation in the first place. The content will also be posted after this.

[to be continued]