Map software 'MapFan.net' ends service on March 31, 2020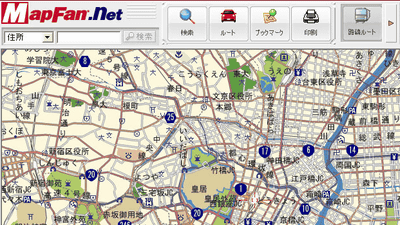 " MapFan.net " provided by Increment P Co., Ltd. as a map software for PC was announced that service will be terminated on Tuesday, March 31, 2020 .

2019.02.26 Notice of service termination - Map software MapFan.net (Map fan, dot · net)
https://www.mapfan.net/news/index.html#190226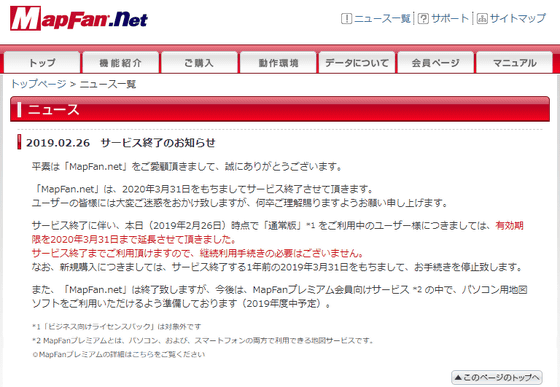 "MapFan.net" is a paid map software provided by Increment P which is a subsidiary of Pioneer and which carries out business on maps since January 2001. It is a software version of MapFan Web, a map service for the Internet that began service in July 1997, and it can be scaled in 14 steps. In the route search, arrival time can be divided in case of walking movement, bicycle movement and car movement.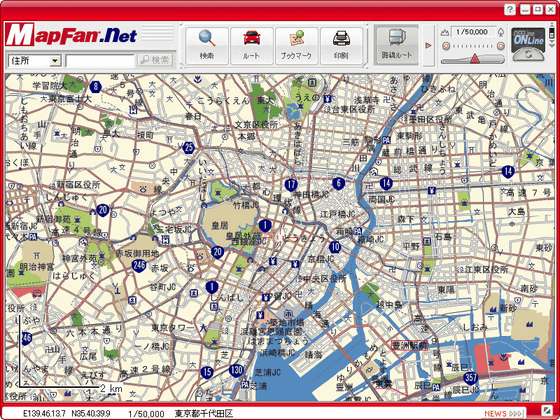 The monthly updated map information reflects not only the opening of the road but also the opening, closing, and relocation of landmarks, public facilities, commercial facilities, etc. Convenience stores, fast food shops, gas stations, It was a user-friendly map because marks are used and high visibility, but it was announced that the service will be terminated on Tuesday, March 31, 2020.

With the termination, as of February 26, 2019 (Tue), users who are using the regular version excluding the license pack for business will be extended until the end of the service, so it will not be necessary to continue the procedure about. In addition, new purchase will be suspended on 31st March (Sun) of 2019 one year prior to service termination.

Although it will terminate the service as "MapFan.net", it is expected to be available for PC map service for the map search site " MapFan " premium member during FY 2019, and it is a MapFan premium member If you have it, you should be able to continue using the same map service as ever.