A popular horror game touches Pooh neta contraindicated and buys the anger of Chinese users and is removed from Steam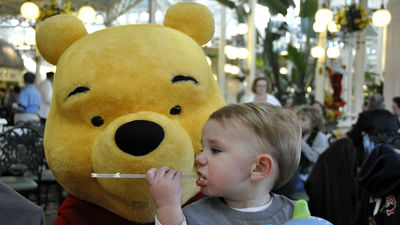 by Charles Starrett

The Horror game released by Red Candle Games, Taiwanese game developer, " Devil of Desire " is a popular game that received a high rating of 9.8 from IGN of game media, and on Steam of PC game sales platform in a few days after release Thousands of highly rated reviews were gathered. However, due to a certain element hidden in the game, the evaluation has gone through, voices of anger from Chinese users gather, and eventually they are deleted from Steam.

Chinese users review - bomb Steam horror hit Devotion over Xi Jinping Winnie the Pooh meme reference • Eurogamer.net
https://www.eurogamer.net/articles/2019-02-23-chinese-users-review-bomb-steam-horror-hit-devotion-over-xi-jinping-winnie-the-pooh-moron-meme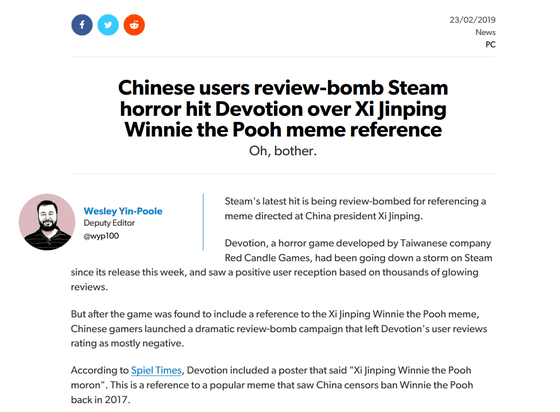 "Resurrection Devotion" is a horror game set in Taiwan in the 1980s, released by Taiwanese game developer, Red Candle Games on February 19, 2019. That being a game from Taiwan, in China, "a domestic wonderful game appeared!" Became a big topic. The following movie is a play movie of "refund Devotion", you can see well what kind of atmosphere horror game you are finished.

【Return】 ___ 0 ___ ___ 0 ___ ___ 0 ___ ___ 0 ___ ___ 0


Had been hidden in the such "Kaegan Devotion", it was toying Easter Egg as "similar to Winnie the Pooh" and Xi Jinping Jintao of China. Spiel Times According to the, the marks affixed to the wall of the game is so written as "Xi Jinping Pooh idiot" in red letters.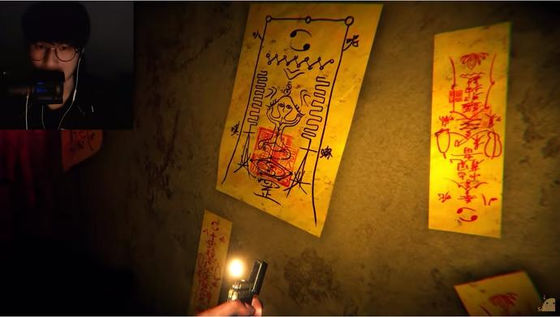 Find the message "Xi Jinping Pooh" hidden Taiwan in the 1980s to the topic of the game, which was to stage "Kaegan Devotion" Https://T.Co/K8WvqajkIr Pic.Twitter.Com/DHFH526OLQ

- Sensitivity ???? ️ (@ Abalamindo) February 22, 2019

In China has been policed strict topics related to Winnie the Pooh on the Internet from 2017, "Xi Jinping = Winnie the Pooh" relatively widely completely comedian that tinkering with neta from the China of the Internet, known on the Internet that It was erased by ... ...

"Xi Jinping = Winnie the Pooh" comedian that tinkering with story from being in that "does not exist" - GIGAZINE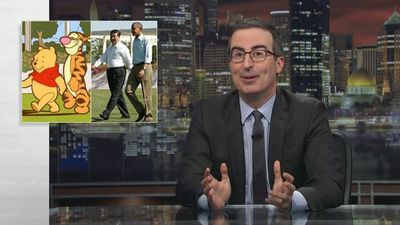 In the first place live-action version Winnie the Pooh "Pooh and I became an adult" has been banned in China.

Winnie the Pooh's first live-action movie "Pooh and Adult I" banned in China - GIGAZINE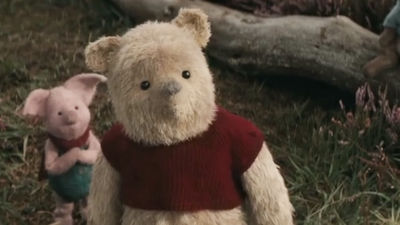 The "refund Devotion" which touched the taboo on the Internet like that, will receive a low-rated storm from the Chinese user as if the high evaluation until the discovery of Easter egg is a lie. Still 40% of the evaluation on Steam is a positive comment, so you can see how many people the game was highly appreciated.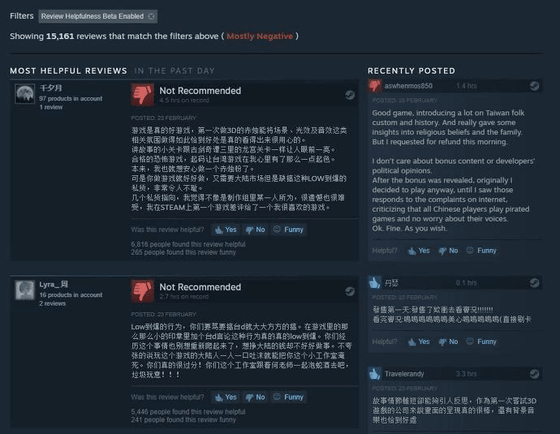 Following this, Red Candle Games, the developer of "Return Devetion" officially apologized and on Steam "Teams often included an Internet slang that is prevalent at the time when making prototypes. Version As this slang was not correctly deleted due to the synchronization problem, this case has happened.This is a pure accident and we have no intention of causing harm or causing hatred.Problem The object was fixed in the evening of February 21. This case shows that the project management of Red Candle Games is not functioning well.The Red Candle Games has room for improvement as a game company. We apologize in good faith to all players for what we have caused.Red Candle Games is the art of this time It has issued a statement that it "assumes full responsibility for the Teriaru incident. After that, in a separate statement later, "I explained that I have overlooked the slang because each one was forced to develop."

Devotion :: Art Material Statement



More than 6300 comments have been received from the user against this apology, and most of it is a critical comment from Chinese users. However, inside, "Before Chinese find Easter egg: this domestic game is wonderful, after Chinese find Easter egg: fucking in Taiwan!" Until a problem is found "a wonderful domestic game Although it praised as "it appeared!", After coming to a problem there was also a comment like a derangement of the rapid change of the Chinese who criticized as "a fucking game made in Taiwan". In addition, it is pointed out that 9,000 users requested refund of the game after the discovery of Easter eggs.

On the Game Forum's ResetEra , "This incident may give the Chinese government a perfect excuse for blocking Steam in China, and worse, deliver all the games of Red Candles Game to Steam and stopping becomes might and forcing to ", China is concerned about the possibility to strengthen again the regulation of the game through this incident voice There is also.

Also, "In the Chinese community" Refund Devotion "gained explosive popularity, most distributors played the game and millions of people saw play of the game.The game was made worldwide also attracted praise from the media, also became a topic of topics on China's social network. initially, many users had made a positive feedback. However, in a game forum Xi Jinping Jintao and Pooh As screenshots on Mr. san began to circle, more people gained the attention that "the game succeeded in ridiculing the Chinese and Chinese KMT supporters." In addition, Red Candle Games When the founder's social media account is found, the anger of Chinese users will explode more, because Red "The founder of Candle Games has a political view to support Taiwan independence and has done quite a few political postings."

In response to this situation, Red Candle Games will terminate the contract with the publisher Indievent and Winking Entertainment who invested the funds. As mentioned above, all the losses are said to be borne by Red Candle Games, and it seems that the contract with the Chinese publisher Coconut Island Games who was in charge of publishing at the previous work "return school - Detention-" was terminated.

In addition, on March 1, 2018, "Nintendo Switch version" was also delivered "return school - Destention-", criminal comment is rushing on Steam's sales page in response to the "swift Devotion" sweep.

Nintendo Switch | Download Purchase | Refund - Detention-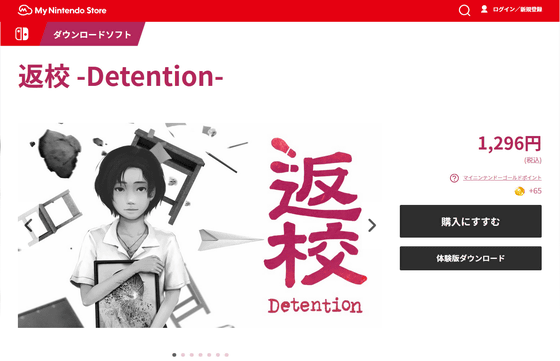 However, in the end "Refund Devotion" has been deleted from Steam.

Popular Horror Game Removed From Steam After Chinese Players Say It Insults China
https://kotaku.com/popular-horror-game-removed-from-steam-after-chinese-pl-1832881001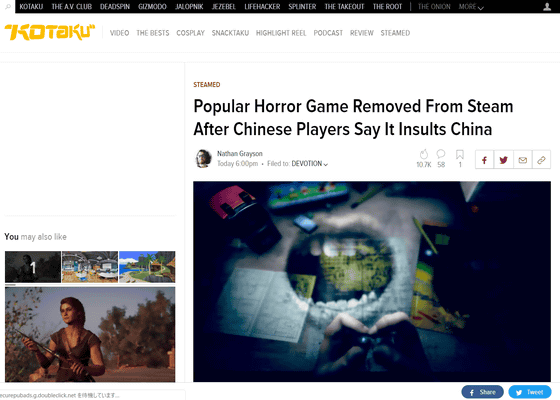 On the afternoon of February 25, 2019 in local time, the "refund Devotion" page on Steam was deleted, you can no longer purchase games from areas other than China. From the YouTube channel of Red Candle Games, "Movie related to" Fun Devotion "has also been deleted. Although overseas game media Kotaku seems to have requested explanation for both Steam's management entity Valve and Red Candle Games, there is no reply at the time of article creation.

Since a bug that caused an unexpected crash was found on the Steam community, a comment from the developer that temporarily deleted "return application Devotion" from Steam is posted.

About the Store Page :: Devotion General Message Board