'Pleasure seeking' has close syndrome ratio now Director Ishiyoshi Ishi Nakajima interview about original new movie theater 'Promer' to Kazuki Nakajima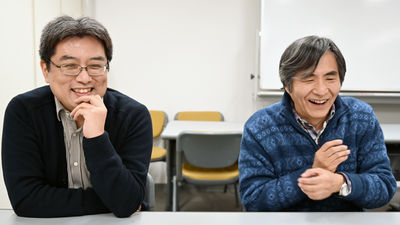 The original theater animation " Promore " sent by Tago Tengen Toppa Gurren Lagann "Kirurakiru", a director now known as Yoshiyuki Ishihara and Screenplay Nakajima Kazuki. The hot fight of the race manipulating flame "Verniss" and the high maneuvering life-saving fire brigade against "burnishing" "burning rescue" is drawn.

Now I got an opportunity to hear a story directly with Mr. Ishiro and Mr. Nakajima about how this work was produced and what kind of point I am committed to, so I have bumped into questions.

Movie 'Promer' Official Site
https://promare-movie.com/

Movie 'Promer' 2nd PV Production: TRIGGER (released nationwide in May) - YouTube


GIGAZINE (hereinafter, G):
I was asked to read the scenario and the storyboard of the work beforehand when asking for a story this time, but it was not concretely drawn that who drew anywhere in the picture storyboard. Is this right now, Ishinori is in charge of A part?

Director of 'Promer' · Yoshiyuki Ishiro (now, now Stone):
I think that all the A part is drawn by me.

G:
As I drew and noticed to Nori, I feel like I do not know what it is drawn as it goes to the second half ... ...

Rock now:
It is almost always like that (laugh)

G:
Did you draw this in order from the beginning of Part A?

Rock now:
This time I did an irregular way of drawing. Once I drew it through the rough continuation to the end, made a provisional after-recording roll based on that, I verified that "I will inflate here, I will scrape here" and then I made a fair copy. It was about 1 or 2 years ago, but the paintings that I drew at that time are left occasionally (lol) There is something that has been completely clinched and what left fluffy.

"Promer" Screenplay - Kazuki Nakajima (Nakajima) :
As a matter of fact, the scenario was already raised at the time of rough continuation, but after having made a rough continuation, we consulted "What shall I do?" And put hands on "Episodes and serifs should be reorganized in this way" It was.

G:
Indeed, if you first write a script, that is not the end.

Nakashima:
All the time, serifs are being touched down to the limit.

G:
How did you decide which part of the storyboard should be drawn by anyone?

Rock now:
Because I painted a rough, there was a foundation, but since I did not have enough time to put together the change points so that the clinups and animators could make cuts, I got them to help a familiar person who knows selfishly. That is the reason why Otsuka, our company president, also organizes a storyboard.

G:
I see. When I saw the picture storyboard, I thought that the picture will change with the roll.

Rock now:
I already change the place. It is quite irregular.

G:
This time, which of the two did you decide to make such a story "Promer" is the idea which two of you came out?

Nakashima:
"Fire" is from me. I said "I will make it ×××××" quite early on.

G:
I see. In the interview with the web animation style that the two people received at the start of the "Tengen Toppa Gurren Lagann" broadcasting, now the reason why the stone called out to Mr. Nakajima "Re: Cutie Honey" is a fun part and the root part is also synchronized It was said that the rate was abnormally high. What is the point of "root part"?

Rock now:
I think that "Where do you want pleasure?" The type of pleasure I am seeking is close.

Nakashima:
In short, it means "What do you think is interesting?" Even without explaining too much about each other, "It's funny right?" Can be shared sensuously, the story is early. For example, when saying, "I think meat is delicious" If you are a person who likes vegetables and you have never eaten meat you can say "Such a hard thing is tasty? I do not know?" But if you like meat you can do with "Yeah, meat is fine". That's what it is.

Rock now:
"Daringly, hard meat is good, is not it?", That kind of place will fit.

G:
If this "Promare" is what, what part did you get along with that part?

Nakashima:
Rather, I had a hard time this time.

G:
Even though such two people were "struggling"?

Nakashima:
It was really hard to get here. It is customary, but this person breaks when my script comes to the completion document. It is "Tengen Toppa Gurren Lagann", but "Kirakiru", so if you think that you can talk about 1 episode 2, break it!

G:
Break! (Lol)

Nakashima:
"This is not it!" (Laugh) First of all, there is "This is not this!" So, this time I tried out it by myself saying "This is not it!"

(All lol)

Nakashima:
If that is the case, "It's still not !!" is further broken.

G:
In addition (lol)

Nakashima:
I had a lot of such things, so I had a hard time. Thinking of thinking about how to do their own likelihood while thinking that "I want to do something not ever" because it is the 3rd work with a tag and the theater work is the first time, when I shake to what I do not do, I guess it is not like it. "... I was worried about where to place their motivation this time.

G:
What was the reason why Mr. Ishiro now broke that it was "not even this"? What did not you like?

Rock now:
Well ...

Nakashima:
I remember being broken, but I forgot to break it!

(All lol)

Nakashima:
It was somewhat strange that the setting of the hero was too complicated and it was a little far away to fit in 2 hours. If I do not make it more simple, I can not do what I want to do in two hours. So, I thought about the direction I did not do before, but I guess that's not the case. Because there are things that you can understand by making it to some extent. I think that it is ...?

G:
Is this Nakajima 's expectation roughly the same?

Rock now:
From me, the rotation speed of Mr. Nakajima's head is abnormally early, things will advance at 5 times or 6 times faster than I am. So, before I make a conclusion, it comes to shape and comes out. It is amazing in itself, and with a considerable quality, "Even if you can do it as it is, you can do it as it is," about it has gone up, but because of its concrete form, you can make a cool judgment. However, if this comes up at the timing of "I have to start drawing from tomorrow", I have no other choice but to continue.

Nakashima:
That's why I thought. "In order not to repair, you should not hand it off to the limit!"

(All lol)

Rock now:
That's the way the animator does it, you know, if you rush up to the limit, the drawing director can not fix it.

(All lol)

G:
Director Ishiro Ishiro, who received a question similarly in an interview with an animated style , "I was thinking about the director's image of the ideal series that I had imagined," Ishiro Ishiro said, "I am far from ideal, I wanted to go with a stance like "I will not paint!", But I answer. Did you get closer to the ideal supervisor this time?

Rock now:
No, not at all.

Nakashima:
Is this still the ideal supervisor?

Rock now:
That is it as it is .... I was the first to make one original movie from the beginning to the end, this is the first time, because the order of the work and the game are completely different from the TV, I knew with the head but I could not do it at all It is said that ... .... I do not want to hear such a story before watching a movie.

Nakashima:
That's why the film is getting really nice as I had a hard time doing it!

(All lol)

G:
Mr. Ishiro had previously distributed doujinshi at committee. That is what gathered the works that were drawn in college days.

Rock now:
Although some have redrawed them after graduation, most of them are from the school days.

G:
I was surprised that this comic was very good, why did not you become a manga artist?

Rock now:
Rather, I drew that and thought "I can not become a manga artist". There is no "talk" and "theme".

Nakashima:
Oh, that's picturesque pleasure.

Rock now:
I have pleasures of "painting" and "directing", there is a thing called "It is like this with this flow," but there is not much to say "What I want to say". There is only "fun as entertainment", and there is nothing like "What does it mean?" Since I was majoring in video at university, I was doing video college at the university, so I made something based on the theme, but when I actually make it from my theme, it tends to become plain. When I start drawing, this time it is "It's fun just drawing this cool picture" and my hands will stop without going to the theme. I felt a sense of it.

Nakashima:
But it is terrible to be able to judge it as a student.

G:
True, it is.

Rock now:
Although it is hard to become an animator from a manga artist if I say something strange, I thought that the possibility of becoming a manga artist from an animator is sweet because students are a lot like previous examples.

Nakashima:
Because Hayao Miyazaki's drawing "Nausicaa of the Valley of the Wind".

Rock now:
Well, if it's the other way around, it is not good if Mr. Otomo Katsuhiro is so terrible.

Nakashima:
No, no, Tezuka Osamu is a teacher.

Rock now:
Tezuka! That is impossible! (Lol)

(All lol)

G:
Next, I would like to talk to Mr. Nakajima, but there is no sense of incongruity in the scripts and scenarios that I read as letters, but there are cases in which incongruity will come out when reading aloud . In the case of Nakajima's screenplay, including this "Promer", when I read it aloud, I hear smoothly without any discomfort at all, is this something conscious? Or because I am working on a theater, can you write it like nature like this?

Nakashima:
Again, this is because he wrote forty (40) years what a person plays out aloud. I play it in my head and write it with a good rhythm.

G:
It's rhythm.

Nakashima:
Yes, I write with rhythm, sound instead of letter.

G:
When I read it with letters, what I felt like "Why are these lines like this?", It was refreshing "I see. I saw that I started writing theater when I was a high school student, but have you been aware of the rhythm from that time already?

Nakashima:
Well, I wrote it with my own rhythm.

G:
Mr. Nakajima used to say in the column of AERA dot. Series, "When writing a historical drama, it is time to write down words like" What is being squeezed "or" Let's attack enemy's hideouts " But "Soboru" is a short form of "sabotage" and "hideout" stands for "agitating point. " It is written in German and English, so it is not suitable for historical dramas. " It was. Also in this work, is there a word that warned in this way?

Nakashima:
What I always do is say that if you translate what you are talking in English, you will change maximisms to Japanese-style things, so people with a katakana name says "If pheasants are not sounding you will not be struck" Even if it is said that the person himself knows the adage and does not say it, but if it is replaced with Japanese it is being replaced by that it will be appropriate, and it is said that he creates the theory in myself . I think it against the rules created inside of me. If you are going to do a historical drama with a "new sensibility line", you should avoid avoiding "Saboru" which was given to the example earlier, but if it is content on the gag, there is also an ant. Even if the writer think hard, it is like feeling that the actor fights with possession of some sorts that it is the end if you put Katakana in ad-lib.

G:
About the writing schedule also in the series column, about the writing schedule since becoming a screenwriter's specialist " Up until now, I went to work in the daytime and wrote the manuscript at night, so I tend to stay up late at night, generally going to bed at about 5 AM , I got up and went to work around 10 am to 11 o'clock When I quit the company, I thought that I should get up early and get up early, but I just worked at the current pace and I go to bed. It will be around 5 to 6 o'clock. "It is around noon that it happens, of course. " Is it still a similar time schedule?

Nakashima:
It is a little earlier now, I slept at 2-3 o'clock and I get up around 9 o'clock - 10 o'clock.

G:
It is said that deadlines are to be fairly kept, but is something special done to protect?

Nakashima:
This is a personality thing anymore, and I'm just "keeping the deadline because I do not die." When I break the deadline, I come to the stomach thinking that I bother the surrounding people. Therefore, I am keeping the deadline that it is better to keep the deadline as much as I am feeling troubled. Because I will be crushed.

G:
Since it says "I have to abide by the deadline" here and there, I thought why I wrote so much.

Nakashima:
As for me, when I am asleep I only see the contents that "I can not go somewhere but I have trouble getting up."

Rock now:
I am quite against that. Because the deadline is a way of breaking the truth .... The waist becomes heavy year after year, and I repeat the same mistake many times.

Nakashima:
After all it is important that you are important, how about living to take care. There are two patterns of writers who are rising editors, and the type of "I've encountered such awful eyes as I have encountered such terrible eyes" and the type that "You know the circumstances, but behind you A lot of people are waiting, OK, we will protect the deadline properly. " I am the latter.

G:
Until Mr. Nakajima quit his magazine, I was wearing two pairs of stitches between the editor and the screenwriter for 28 years, but why was it able to be compatible for such a long period of time?

Nakashima:
People can not walk without two legs.

(All lol)

G:
Say good things!

Nakashima:
There is nothing inside, but I thought "Is it so?" (Laugh) I wanted to do both. Since I was a junior high school student, I wanted to do editorial, and I met a theater when I was a high school student, so the dream of becoming an editor was ahead. The work of the company was also interesting, I was doing the work I wanted to do. On top of that, the play is a hobby. Time for you to do mahjong, drink alcohol, dance ballroom and climb mountains was a time to write a script for me.

G:
That is how it continued. Finally, please give me a message for "promée" release.

Rock now:
This time for all ages, I am making it as a straight action movie, so I hope you enjoy it with confidence.

Nakashima:
Although it is a pleasant work quickly for all ages, the edge is upright, and hooks are made because there are hidden tastes in various places for those who like this. I think that it is a total settlement of ourselves and it is also a work of "decisive battle" which makes a new start, so please enjoy it.

G:
Thank you for today.

Please look forward to publishing "Promare" as to what kind of original theater work this tag produced.

In addition, on March 2, 2019 (Saturday), the "Oshika Cinema Festival Animation Carnival" is scheduled to hold a special talk show for "Proméa" with Kazuki Nakajima and Creative Producer / TRIGGER creative producer / Hiromu Wakabayashi In addition, even at AnimeJapan 2019, since 14:50 on Sunday, March 24, 2019, Mr. Ishiro Ishiyoshi, Mr. Kazuki Nakajima (screenwriter), Ms. Ayayon Sakura (role of Aina David), Toru Inada Since the stage event of the stage will be held, check it out.

In addition, Mr. Kazuki Nakajima worked on the screenplay, 2019 Theater Company ☆ Sense Line 39 Entertainment · Spring Performance "Inoue Kabuki" Shimane Yoshitsune Underworld Song "(Shomei Yoshitsune singing song)」 was published in March 8, 2019 Performances will be held in Kanazawa, Matsumoto, Tokyo and Fukuoka, starting with the Osaka performance starting the day (Friday). Nakajima Kazuki Screenplay, It is a complete new work for a long time as "Inoue Kabuki" of Honenori directorial director, so those who do not stop loving the taste of Mr. Nakajima are also necessary checks.