What is 'Apex Legends' who won over 10 million players in just three days from delivery?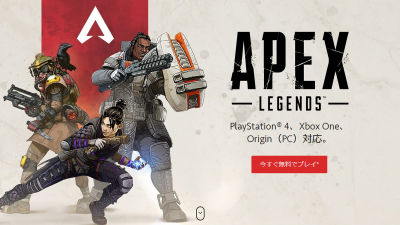 " Apex Legends " is the fact that more than 10 million players participated in just 72 hours (3 days) from the delivery, and the number of simultaneous connections also exceeded 1 million. It is a basic play free battle royal game, and it corresponds to PlayStation 4 · Xbox One · PC (Origin) at the time of article creation. Respawn Entertainment of "Titan Fall" series is in charge of development, attention is gathered because it is the same popular battle royal game as PUBG and Fort Knight in recent years.

Apex Legends - Evolution of Battle Royale - Free distribution on PS4, Xbox One, PC
https://www.ea.com/en-us/games/apex-legends/news

A Message from Vince Zampella on Apex Legends
https://www.ea.com/games/apex-legends/news/apex-legends-10-million-players

"Apex Legends" is a battle royal game of the setting that legendary warriors (legends) having unique personality, merit and ability will fight with wealth and fame. The stage of the game is based on the world of "Titan Fall", and it is quite understandable if you look at the following official trailer to see what kind of distinctive legends will fight using their abilities. The point that unique character designers include the essence that makes me feel a little Japanese is also a point.

Apex Legends Official Launch Trailer - YouTube


In the following trailer, you can see the actual gameplay screen and the characteristics of each legend.

Apex Legends Gameplay Trailer - YouTube


Vince Zampella, CEO of Developer Respawn Entertainment, reports that he was able to win 10 million users on his Twitter in just 3 days.

???? x 10,000,000
So amazed @ PlayApex hit 10 million in 72 hours. # ApexLegends https://t.co/rZmOgNnwhF pic.twitter.com/j68PYHMAfM

- Vince Zampella (@ Vince Zampella) February 7, 2019

The time it took Fort Knight of the same battle royal game to win 10 million users was 2 weeks.

In two weeks since we've launched, over 10 million of you have played Battle Royale. We can not say thank you enough. Https://t.co/v39jBGe9qd pic.twitter.com/pkC7fhdl4K

- Fortnite (@ FortniteGame) October 11, 2017

Zampella said in an official blog of Apex Legends, "We understood that it is dangerous to steer the game under development to this direction (battle royal game) and launch it as a basic free play "It says that releasing Apex Legends as a basic play free battle royal game was a risky thing. Still, the reason why Apex Legends made the basic play free battle royal game, "We fell in love with Apex Legends and wanted other people to play," he says.

Overseas media The Verge expresses "It seems to combine overwatch core gameplay and characters with battle royal games like Fort Knight and PUBG."

Apex Legends is a battle royal game where up to 60 players fight in teams of three people. Normally, it is essential to cooperate with colleagues in voice chat with these types of games, but Apex Legends seems to be characterized by not requiring voice chatting . For example, at the start of the battle, the player can select where to get off the map in the same way as other battle royal games, but since one of the team members is given a decision right at random, We are able to prevent situations such as teams falling apart from each other.

Also, by sending a notification like sonar during play, it is possible to inform your teammates about 'weapon found' or 'enemy discovery', so this makes it easy for friends without voice chat It is said that it is possible to communicate with.

When you play the PC version of Apex Legends who got 10 million users in 3 days from delivery, the required operating environment and recommended operating environment are as follows.

◆ Required operating environment
OS: Windows 7 64-bit edition
CPU: Intel Core i3-6300 3.8 GHz / AMD FX-4350 4.2 GHz
RAM: 6 GB
GPU: NVIDIA GeForce GT 640 / Radeon HD 7700
GPU RAM: 1 GB
Storage: Free space of 30 GB or more

Recommended operating environment
OS: Windows 7 64-bit edition
CPU: Intel i5 3570T and equivalent
RAM: 8 GB
GPU: Nvidia GeForce GTX 970 / AMD Radeon R 9 290
GPU RAM: 8 GB
Storage: Free space of 30 GB or more

The success reason for Fort Knight who is immovable as a battle royal game is that it is basic free and can be played on various platforms, but what kind of platform will Apex Legends correspond to in the future , and it does not correspond to an article creating point cross play attention to whether the correspondence of the will when the time is where gather.