'What is the difference between iPhone XR and iPhone XS?' From overseas technology media to design and invisible parts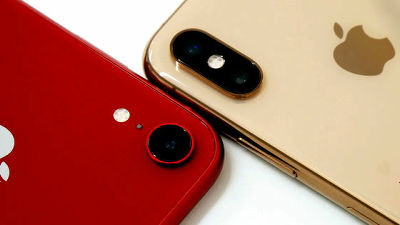 "An iPhone XR " that was released in October 2018 and reviewed by GIGAZINE was reviewed by AnandTech , an overseas technology media, and summarizes "What is the difference between iPhone XS and iPhone XR?"

The Apple iPhone XR Review: A Different Display Leads To Brilliant Battery Life
https://www.anandtech.com/show/13912/the-apple-iphone-xr-review-brilliant-battery-life

About iPhone XR AnandTech says, "It is obvious that we are aiming for low-cost products to replace the high-end iPhone XS, which is our flagship product." And, as mentioned above, iPhone XR is a different size from iPhone XS and XS Max, it is not a product aimed at becoming "either substitute", it is made as "model fit between two high-end models" It is interesting that there is.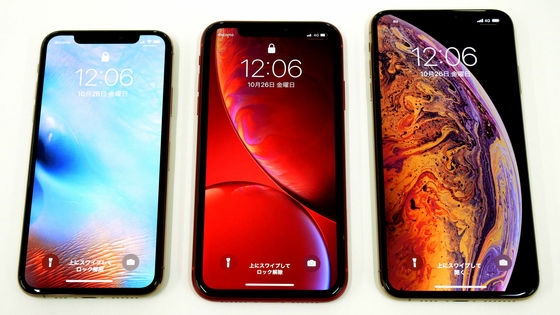 AnandTech reporter Andrei Frumusanu said, "When touching the iPhone XR at Apple's new iPhone announcement event, I felt that the iPhone XR would be the most popular choice among similar generation Apple smartphones" I write it. Indeed, Apple has appealed the strong performance of iPhone XR, " iPhone XR has always kept top sales since launch, " and it is clear from survey data that "iPhone XR that is the best selling on the iPhone" is obvious It is becoming.

Comparing the specifications of the iPhone XR / XS / XS Max called the new iPhone released in 2018, you can see that iPhone XR has specifications very similar to iPhone XS and iPhone XS Max. For example, SoC which is the heart of the iPhone, " A12 Bionic " is carried in every model. All models are now able to benefit from the high performance and high power efficiency of the A12 Bionic, according to AnandTech "It was the new GPU that (" A12 Bionic ") made the biggest leap, Combining with the new 7 nm process brings significant improvements in terms of power efficiency. "

The big difference in specifications is that iPhone XS and XS Max have 4 GB of memory (RAM), whereas iPhone XR employs 3 GB of RAM. In general, it is said that there will be a significant difference if the RAM capacity changes by 1 GB, but in the case of iPhone XR "This difference never becomes a problem," AnandTech.

iPhone - Compare models - Apple (Japan)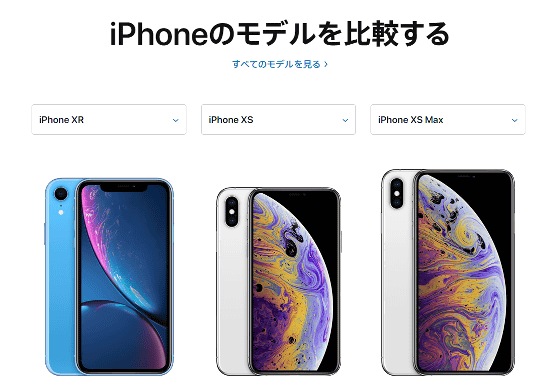 And about the invisible internal hardware, iPhone XR has a subtle difference with iPhone XS / XS Max. According to AnandTech, iPhone XR seems to be inferior to iPhone XS / XS Max in that it provides the same maximum cellular connection speed as iPhone 8. Although iPhone XR seems to correspond to LTE category 16 as modem chip, unlike iPhone XS / XS Max, since it does not correspond to 4 × 4 MIMO, it can only output the connection speed according to LTE category 12 It is said that it is becoming like.

The fact that iPhone XR does not support 4 × 4 MIMO also brings about a difference in appearance between iPhone XR and iPhone XS / XS Max. There is an antenna line for radio waves on the side of the iPhone, but the iPhone XR has fewer antenna lines than the iPhone XS / XS Max, which is related to not supporting 4 × 4 MIMO AnandTech.

You can check the difference in the number of antenna lines of iPhone XR and iPhone XS / XS Max in the following article.

I compare iPhone XR's design to see how it differs from iPhone XS / XS Max - GIGAZINE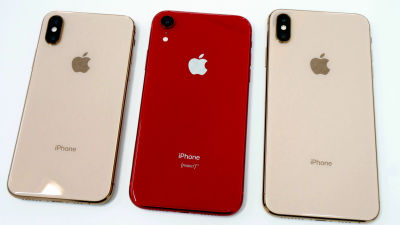 Compared to iPhone XR's design side with iPhone XS / XS Max, "The back of iPhone XR is similar to iPhone 8 than iPhone XS," he said. Actually from iPhone XS, iPhone XR, iPhone XS Max from the left side are arranged like this.



Especially the big difference is that the iPhone XR camera is not a dual lens. The sensor of the main camera on the back is the same 12 megapixel as the iPhone XS / XS Max, but since it is not a dual lens, the angle of view will not change at portrait shooting and so on. Therefore, when using portrait mode with iPhone XR, you need to be closer to the subject than when shooting with iPhone XS / XS Max.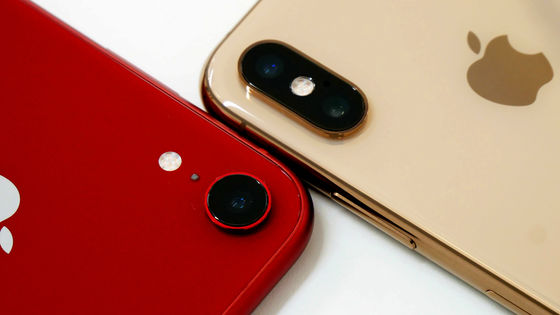 AnandTech It is said that the most obvious difference between iPhone XR and iPhone XS / XS Max is "front display". The display of iPhone XS is 5.8 inches, the resolution is 2436 × 1125, and the iPhone XS Max is equipped with an organic EL display (OLED) of 2688 × 1242 resolution of 6.5 inches. In contrast, the iPhone XR adopts a resolution of 6.1 inches, 1792 × 828, which is lower resolution than iPhone XS and XS Max. The display that we have is "Liquid Retina HD display" liquid crystal display (LCD).

It is difficult for some users to distinguish the difference between OLED and LCD, but "bezel width" is particularly different largely except for resolution. Comparing the bezel width of iPhone XS / XS Max (left) and iPhone XR (right), you can see that the iPhone XR is obviously getting thicker. Since the bezel width of iPhone XR is thicker than the past model other than iPhone XS, AnandTech writes that "I do not think that this is very attractive to smartphones."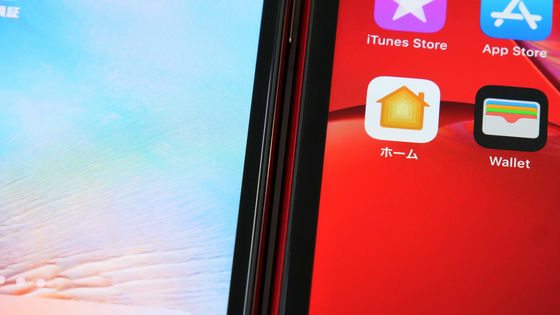 And as another point of discussion, AnandTech lists "size of iPhone XR". Apple set the iPhone XR to an intermediate size between iPhone XS and iPhone XS Max, but "Apple is satisfied with the majority of users avoiding all four sizes (iPhone XS / XS Max / 8/8 Plus) I think that the size of the iPhone XR is at a very good midpoint, "AnandTech wrote.

Also, for the size of 75.7 mm in width and 8.3 mm in thickness, it also says, "It was about 8% thicker than iPhone XS and XS Max, which proved to make subjective difference very much." For example, the iPhone XS Max is 77.4 mm wide and iPhone XR larger than the iPhone XR, but it is thinner than the iPhone XR and it feels easy to hold.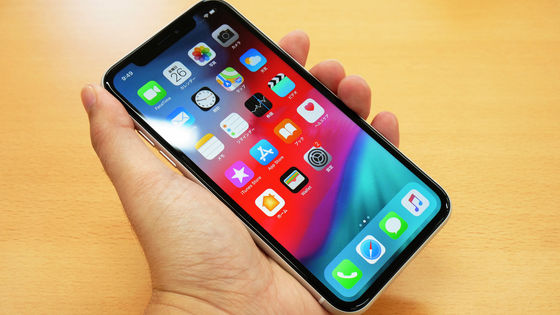 In addition, I pointed out that the weight of the iPhone XR is 194 g, which is a considerably heavy category compared with smartphones of similar size, "One of the things that surprised me more than I expected is that I am ergonomics of the iPhone XR "I did not like that design so much," Frumusanu of AnandTech wrote.

Besides, Mr. Frumusanu points out that it adopts a mat aluminum frame rather than shiny stainless steel like iPhone XS as a good point in the design aspect of the iPhone XR.