I have eaten a new sense of dessert that fused Mitarashi dumplings with Tiramisu at Tiramisu specialty store 'River'


Tiramisu specialty store Ribale, which provides " Tiramisu Dango " which made Tiramisu , a representative of Italian dessert, merged with Japanese food, opened again on February 1, 2019 (Friday). I immediately checked at the store what kind of taste the new sensory sweet which Mitarashi dumplings and tiramisu fused together.

Tiramisu Specialty Store Riverle | Shop List | Whity Umida | Osaka's Underground City
https://whity.osaka-chikagai.jp/shops/detail.php?shopId=364

The address of Riveré is "Osaka prefecture Osaka city Kita-ku Umeda underground shopping street 4-8", inside Whimidemida , next to Afternoon Tea TEAROOM .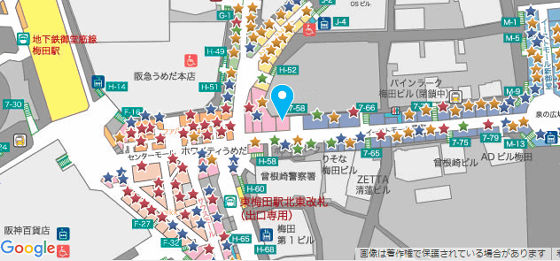 The shop front is like this.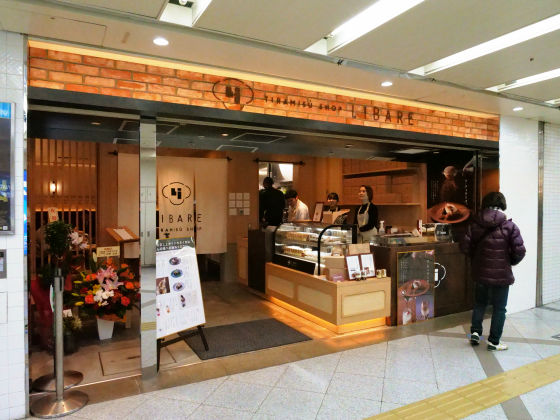 There was a baking machine for Mitarashi dumpling set at the shop front.



The number of seats in the store is 22 seats. Arriving at lunch time, I was immediately taken by the seat.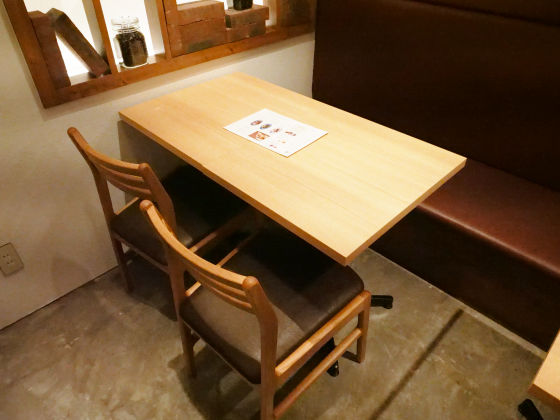 This is a menu.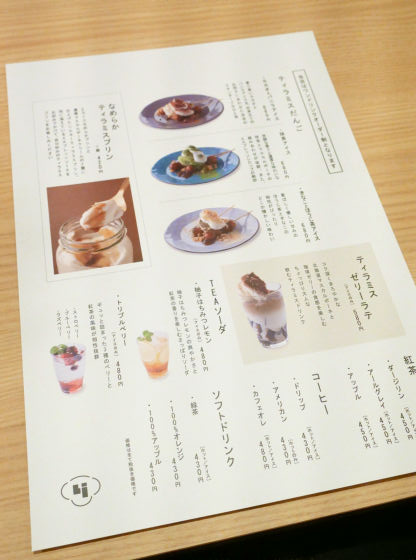 Tiramisu dumpling which is a signboard menu of the shop are "cacao and vanilla ice", "matcha ice" and "kinako and hojiya ice". Both are 680 yen excluding tax.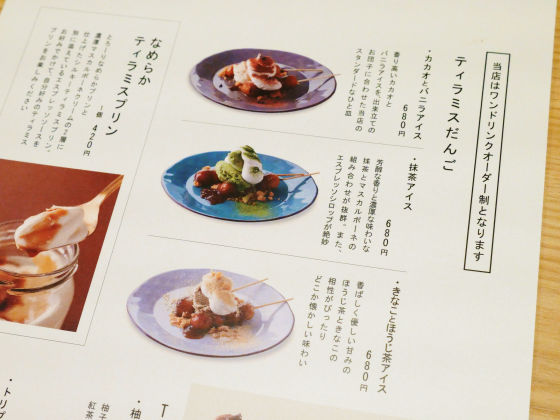 Moreover, "Tiramisu jelly latte" (580 yen without tax) and ... ...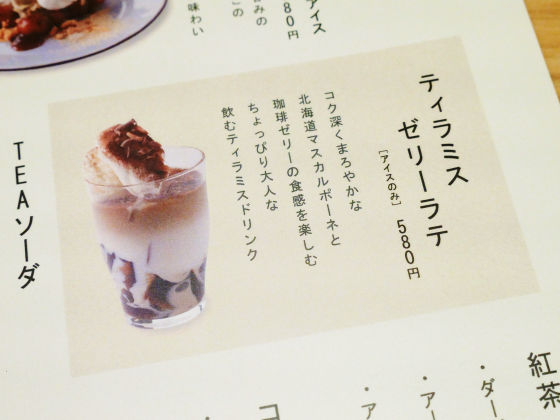 There is also smooth "Tiramisu Pudding" (420 yen without tax) etc.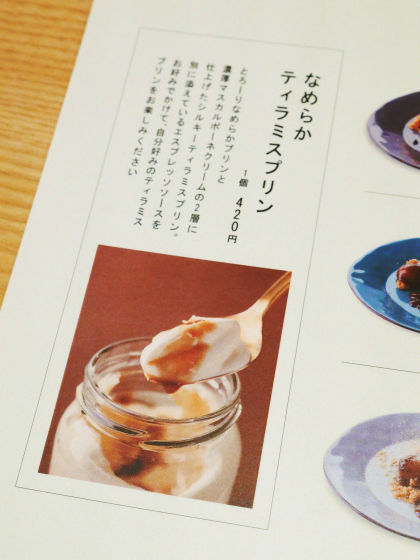 First of all I will eat from Tiramisu Dango's "Cacao and Vanilla Ice" "Matcha Ice".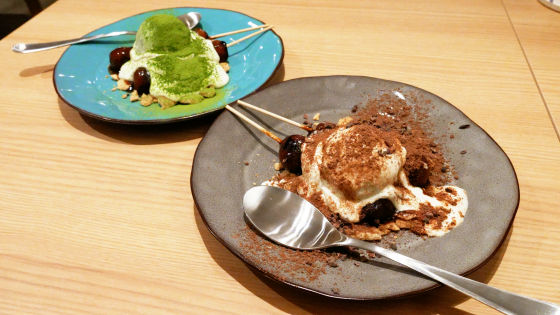 On top of the dish are two dumplings stuck on the skewer and ice cream, mascarpone cheese and so on. The size of the dumplings in a row is about smaller than the iPhone SE with a total length of 123.8 mm.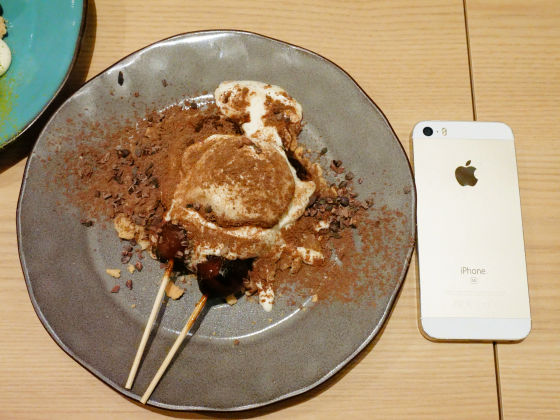 "Cacao and vanilla ice" is a product with vanilla ice, mascarpone cheese, crushed biscuits, cacao powder on top of dumplings. A cacao nib is also sprinkled.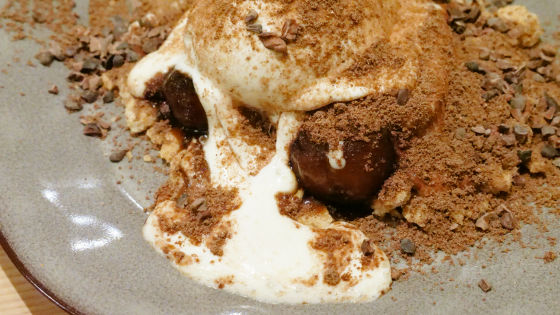 I felt a sweet soy sauce-like taste by fusing Mitarashi dumplings with Tiramisu, but the sauce that was entwined with dumplings was bitter finish on espresso base instead of soy sauce. From the combination of chilli and rich mascarpone, vanilla ice, cacao powder, the taste was closer to Tiramisu rather than Mitarashi dumpling. Sweetness is great due to vanilla ice cream, it's not too sweet and easy to eat.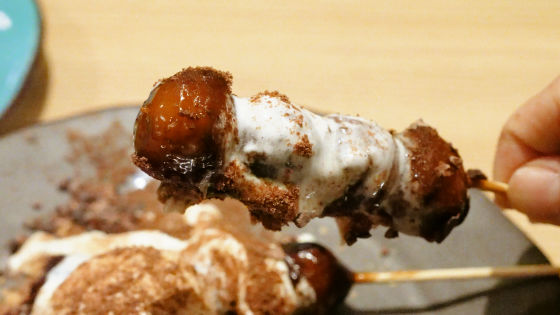 Dumplings with slightly grilled eyes are freshly made and soft. Tiramisu dumplings can be brought home, but this dusty feeling is definitely a place I want you to eat freshly made at stores.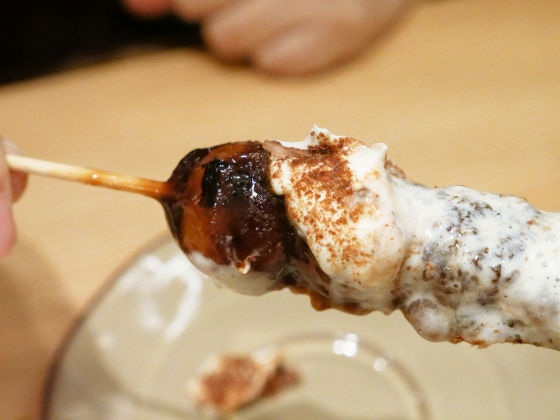 Subsequently, "Matcha ice"



Base dumplings are the same as "cacao and vanilla ice", but the toppings are powdered green tea ice cream, mascarpone cheese, powdered green tea powder and so on.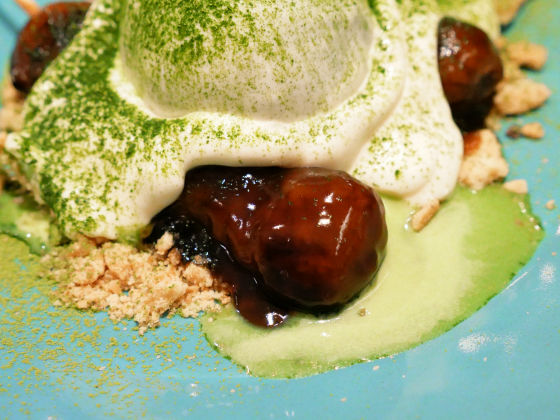 Espresso-based sauces are used for dumplings, but bitter and scent of coffee is not strong, so bitterness and scent of crisp matcha is outstanding. It was the first time to combine Matcha and Mascarpone cheese, but it is very messy, in terms of sweetness and bitterness of bittern, it may be higher than "cacao and vanilla ice". The balance between Japanese and Western was exquisite.



The last is "Kinako with Hojo Tea Ice"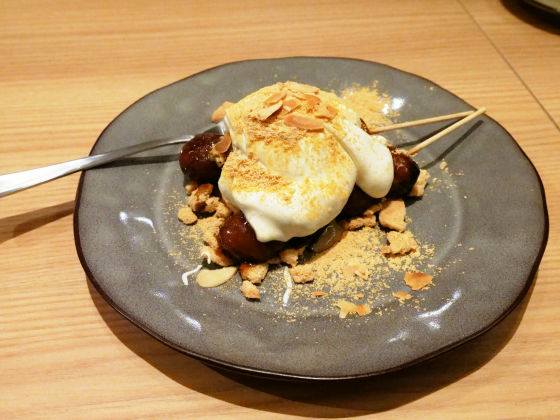 This is a topping such as hojicha ice, almond, crushed biscuits, kinako.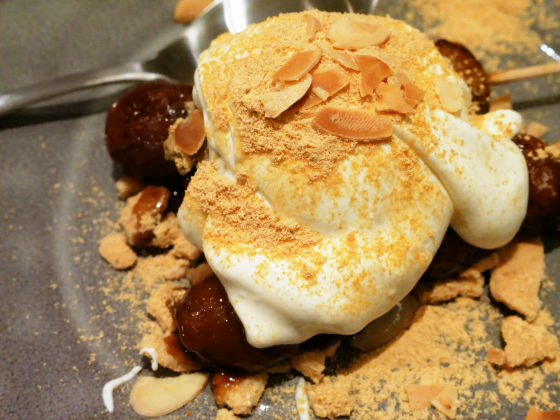 Matcha and cacao had elements of bitterness, but Hojicha and Kinako had fragrance but there was no bitter, so it was the item that felt the most espresso flavor.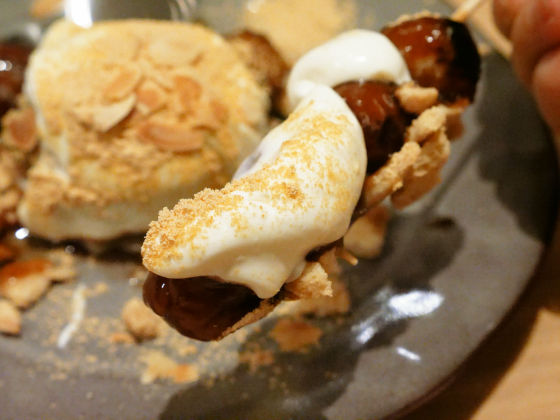 Espresso has been upgraded with friendly sweet hojiya ice, exquisite. "Cacao and vanilla ice" is recommended as a standard taste, "Matcha ice" as a Japanese sweet taste, but if you want to enjoy a relaxed and tender taste, it might be a choice of "Kinako with Hojo Tea Ice".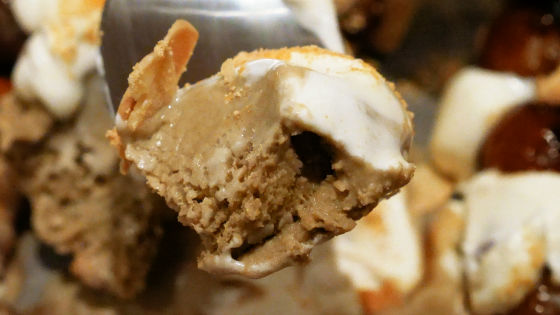 The shop is a one-drink system, but since both Mitarashi dumplings are moderately sweet, they can be used without coffee or tea.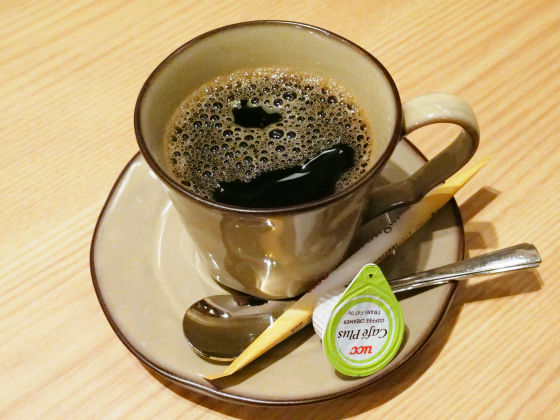 Also order tiramisu jelly latte and tiramisu pudding.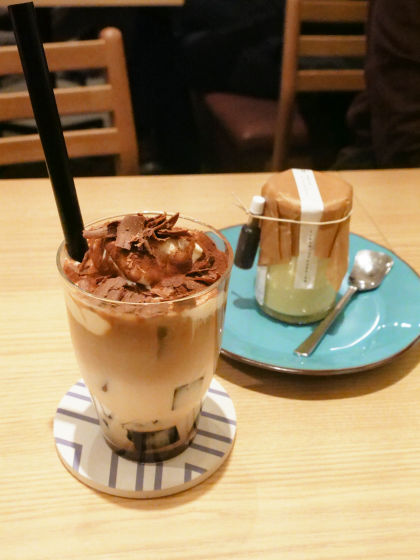 Size looks like this.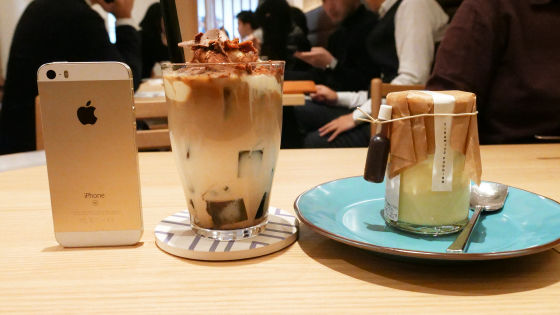 Tiramisu jelly latte is based on ice caffe latte, mascarpone cheese, shaved chocolate etc are scattered in the upper side.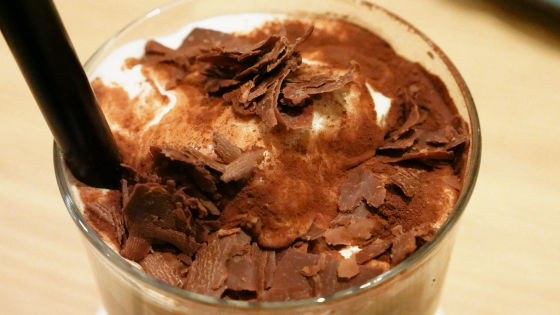 Coffee jelly was collected at the bottom of the glass.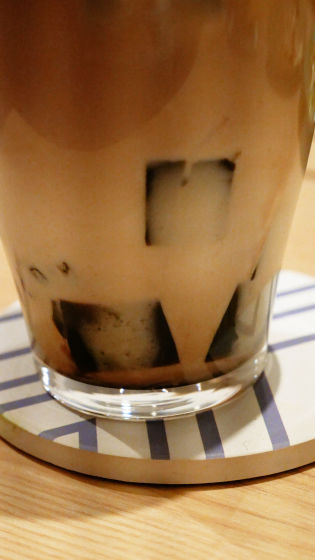 The drink itself is only sweetness of milk. Mascarpone is also very creamy, but there is no sweetness, sprinkled chocolate is sweet accent, Good to eat with coffee jelly. Because it is a refreshing drink contrary to its appearance, it seems likely to be accompanied by sweets.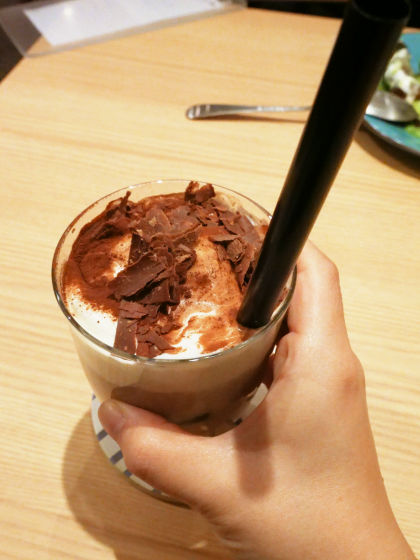 The last is Tiramisu Pudding. A separate source is hooked to the outside of the bottle.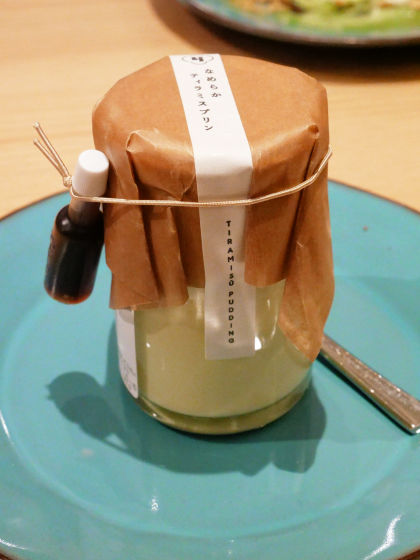 In the seal attached to the bottle the word "rich milk pudding". The raw materials are simple, with milk, concentrated milk, egg, granulated sugar, wine, vanilla beans.



When I opened the bottle, it looked like a pure white pine.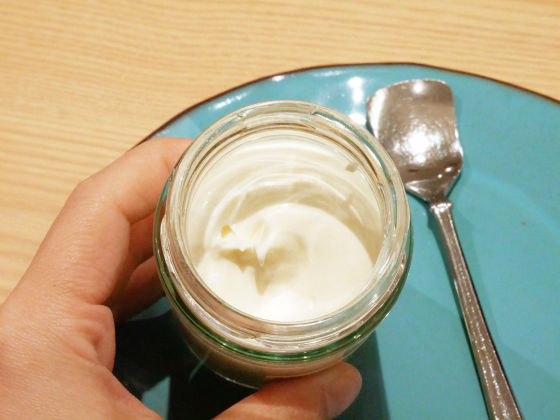 It has a two-layer structure of rich purine and mascarpone, and it is a rich mouthfeel, so even if you eat without sauce it is finished taste.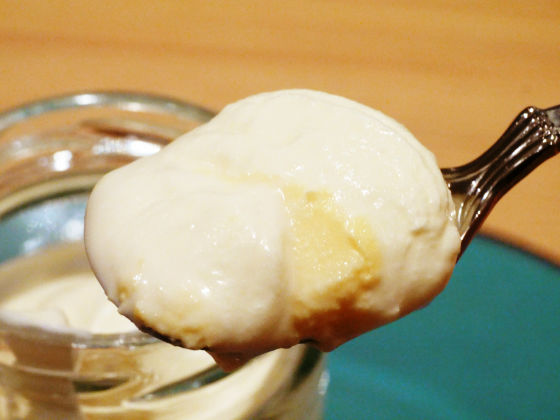 Add another source here ... ...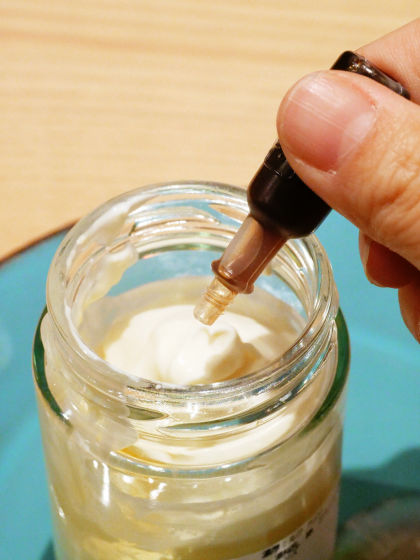 The taste and scent of the coffee was slightly added plus. Overall it is a gentle taste, but the bitter taste of coffee added to the sweetness of milk, you can enjoy the change of taste.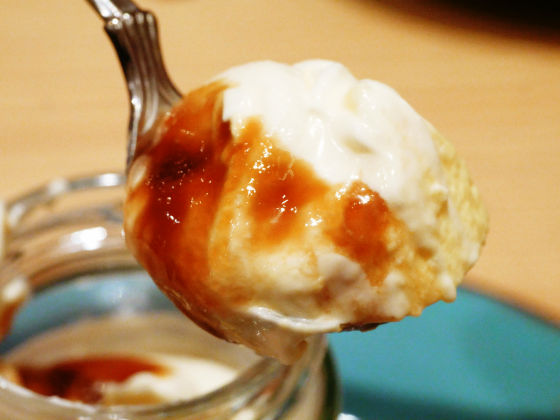 Tiramisu pudding and Mitarashi dumplings can also take home.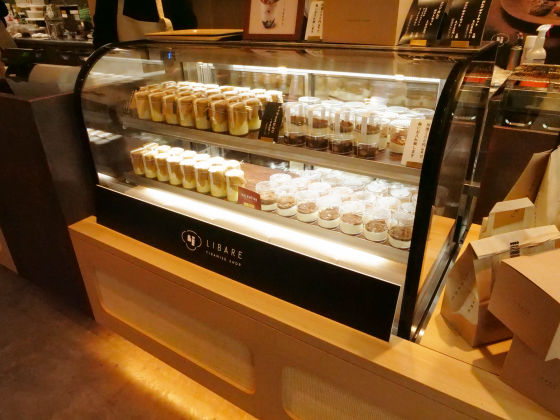 Tiramisu dumpling has become the taste of "cacao and vanilla ice", it was put in a case with the dumplings and sauce separated.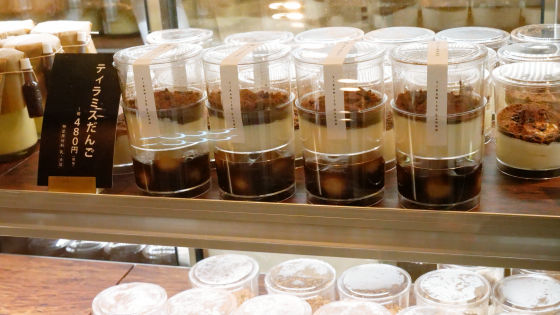 In addition, Riverle is open from 10 o'clock to 22 o'clock and last order is 21:30.