'Full functional GPS application' and an application that only displays fake advertisement and Google map has been downloaded over 50 million times on Google Play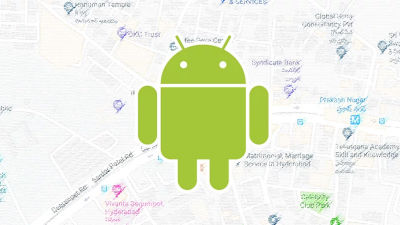 There is more than one application that actually displays advertisements and Google Maps while singing "full function GPS application" on Google Play , an Android application store.

Fake GPS Apps with 50M Installs Just Show Ads and Run Google Maps
https://www.bleepingcomputer.com/news/security/fake-gps-apps-with-50m-installs-just-show-ads-and-run-google-maps/

Lucas Stefanko of ESET, who is researching Android security, discovered the existence of fake GPS application. According to his survey, at least 19 Android apps are fake "full-featured GPS application" and they are urging users to install using other screen shots of other applications.

For example, the following application is an example of a fake GPS application. Screenshots etc. pasted on the page of Google Play are diverted from those of other applications, and when you actually install and use the application, only opening the advertisement and Google map, or using the API It seems to show only the current location of.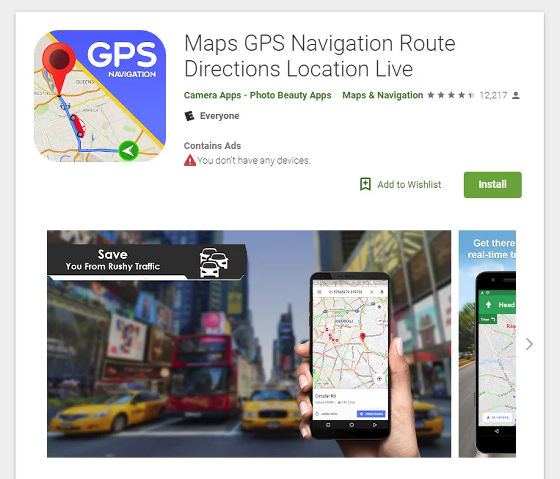 Stefanko actually publishes a movie that actually installs these "fake GPS applications" and uses them. As you can see from the movie embedded in the tweet below, when the application is launched, the advertisement is displayed, followed by "only" where Google Maps is displayed.

They do not have any Navigation technology or know-how, they only misuse Google Maps.

Once user clicks on Drive, Navigate, Route, My Location or other option, Google Maps app is opened.

I reported it month ago. Pic.twitter.com/ZB1j1GsBC8

- Lukas Stefanko (@ LukasStefanko) January 17, 2019

To make matters worse, many of the false GPS applications require access to the user's contacts and the ability to mail or call. It is unthinkable for ordinary GPS applications to request access to contacts.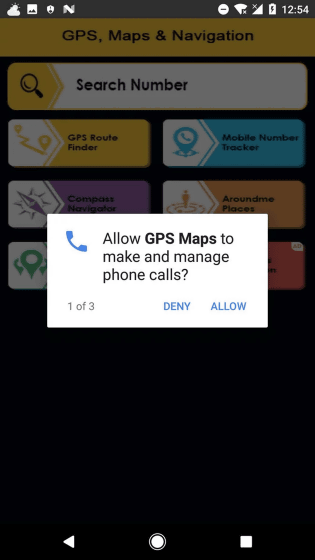 There are many criticizing comments such as "There are too many ads", "It does not work as advertised", "Only to display Google map" in the review column of the false GPS application, but there are also 5 million times Some have been downloaded, thousands of reviews and high praise are gathered.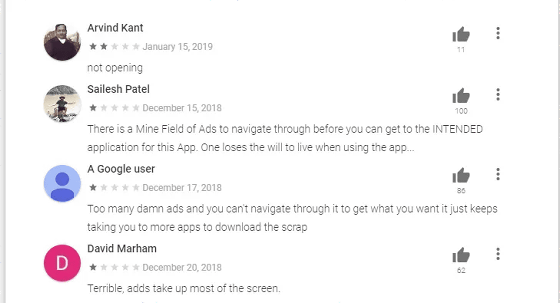 According to Stefanko, using Google Maps or its API to create an application similar to Google Maps may be in violation of the Google Maps Platform terms of service .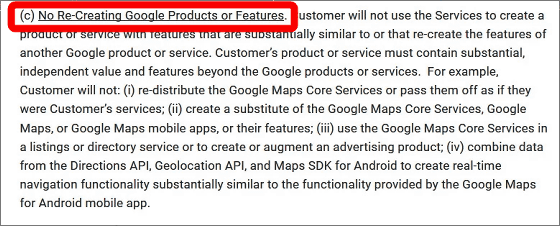 Stefanko has discovered 19 "fake GPS applications" downloaded at least 1 million times or more on Google Play, and the list is as follows.

◆ GPS map, route finder - navigation, route
◆ GPS, map, navigation
◆ GPS Route Finder - GPS, Map, Navigation & Traffic
◆ GPS, Maps, Navigations - Area Calculator
◆ GPS, map, navigation and directions
◆ Map GPS Navigation Travel Directions Free Tracking Application PS Navigation Route Search, Your Location Car navigation
◆ Japan Live World Map - Satellite View Street View
◆ Live earth map and satellite view, GPS tracking
◆ Free GPS map - Navigation
◆ Free GPS navigation, direction, live traffic map
◆ Voice GPS driving directions, GPS navigation, map
◆ GPS Live Street Map and Travel Navigation
◆ GPS street view, navigation and direction map
◆ GPS Satellite Maps
◆ Free GPS, Map, Navigation & Direction
◆ Map and GPS Navigation: Find Your Route
◆ Voice GPS navigation Map driving
◆ Japanese GPS navigation & tracker
◆ GPS voice navigation map, speedometer And compass

The privacy policy and mail address of the application are listed at the bottom of each application's page. Looking at application developers based on these, some people have legitimate websites, but most are created using free web hosting services like Google Sites, Blogspot, Weebly It seems that we have only a simple site. Many of the false GPS applications are developed in Pakistan, India and Germany, and since the same template is used in the privacy policy page, 10 apps were created by only two developers It is also becoming clear. Bleeping Computer says that he contacted the email address associated with the fake GPS application, but at the time of writing the article did not get a reply.

Google wrote in 2015 that "The app has been reviewed before it is published on Google Play ", but as to the current situation that applications that violate policy continue to appear, "Truly review on Google Play I wonder if there is a process, "Bleeping Computer wrote.

To make matters worse, Stefanko has already reported the existence of fake GPS application to Android's security center, but these applications are still available at the time of article creation.