Fort Knight plays a big role as a communication tool, not just a game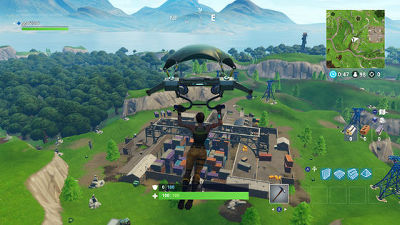 " Fort Knight " of the popular battle royal game which holds more than 200 million players worldwide as of December 2018 is useful not only as a simple game but also as a communication tool for maintaining human relations It is pointed out that overseas media have become.

Fortnite was 2018's most important social network - The Verge
https://www.theverge.com/2018/12/21/18152012/fortnite-was-2018s-most-important-social-network

Tim Sweeney, CEO of Epic Games, the developer of Fort Knight, in 2015 "(Fort Knight) Minecraft and Left 4 Dead with a combination of" talk directly below. After that, when PLAYERUNKNOWN'S BATTLEGROUNDS, a burning role of the battle royal game in 2017, appeared, Fort Knight makes a big success by including the "battle royal" element as soon as possible.

Fort Knight has grown to have more than 200 million registered players worldwide, but not only because it is excellent as a game, but also by changing the way people are online on a daily basis, more and more The Verge pointed out that overseas media The company may have gained users. "Fort Knight is a game, it is also a global living room for millions of people, and it is also a kind of codex that shows how this year's culture has changed."

Fort Knight's influence spread to not only gamers but also people in a wide range of fields, such as actor Ted Dunson lectured on dancing fashionable at Fort Knight.

Ted Danson learning to floss is the only video I'm interested in watching for the rest of the year. Pic.twitter.com/SKTMKZKvM 3

- Justin Kirkland (@ justinkirkland 4) November 16, 2018

"If all of your friends play Fort Knight and it is a story with that topic, you will also choose to play," The Verge points out. In the case of Fort Knight, the point that you can play with computers, stationary game machines, smartphones and any other terminal should also be a big help to develop as a social network incorporating many users.

Also, Mr. Bijan Stephen of The Verge seems to have encountered two children who seemed to be under 9 years of age are talking about Fort Knight's story when lining up in the restroom of the restaurant. They are one of the emotes of Fort night in the hallway, " the loser is the case had been dancing", two people noticed that you are using under the base of Fort Night, the emotes and terminology as a common language Oh, Stephen wrote.

And above all, the game itself Fort Knight keeps enough pleasure and accessibility to win new users, "(Fort Knight was focusing on casual players," The Verge pointed out I will. The verge is convinced that these elements are spectacularly matched and Fort Knight has become popular as a common language among friends or as one of the interchange places on the Internet.



Fort Knight is gaining great support from teenagers mainly, but Stephen says "I regularly play with my friends at Fort Knight". Friends, including Stephen, are scattered around New York and they can not meet regularly, but he seems to have frequent conversations through Fort Knight's in-game voice chat function, "Fort Knight for us It is like an excuse for talking on the phone. "

Living in adults, especially in urban areas, makes us feel strongly about loneliness and alienation. Many people think that all work has been completed at home as more work can be done online. However, it can be said that human beings are losing social interaction little by little by becoming a convenient world where everything is completed in the house. On the other hand, Fort Knight may not foster social interaction, but there are certainly effects that alleviate loneliness and alienation through communication with others.

Mr. Stephen says that he is playing Fort Knight while talking about various things with random people on-line, said, "Although the game may certainly be a ridiculous content, I aim for the last one While fighting, it may be more intimate with the other party, which is very surprising. "
in Game, Posted by logu_ii