I tried to eat 'Sukiyaki Beef Bowl' of 'Sukiya' which was resurrected with two types of red and white, 'White of Shiro Sagaru' and 'Red of a spicy sagari'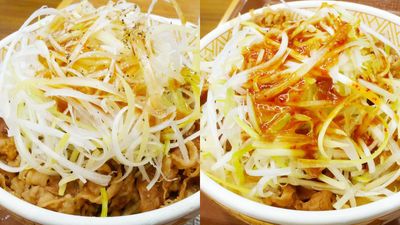 " White grilled beef-on-a-bowl " has appeared on December 19, 2018 in the menu of Sukiya chain which is developing nationwide. "Regular menu from the launch in April 2011 to May 2013" White grilled beef bowl "together with two kinds of" Sukiya original sauce "that can be chosen from" Shiro Sagaru no White "and" Shi Sharuda no Red " As it was said that it was revived for a limited period of time, I went to a house that I liked soon and compared to eat white and red 's white grilled beef bowl.

[Sukiya] "White grass beef-on-a-bowl" 12/19 (Wednesday) Limited time sale from 9: 00 | Sukiya
https://www.sukiya.jp/news/2018/12/20181212.html

【Absolutely Salted Sauce】 White Goose Negi Beef Bowl (Inside) | Sukiya
https://www.sukiya.jp/menu/in/gyudon/105300/index.html

【Delicious hot sauce】 White grilled beef bowl (in-store) | Sukiya
https://www.sukiya.jp/menu/in/gyudon/105400/index.html

That's why I arrived home.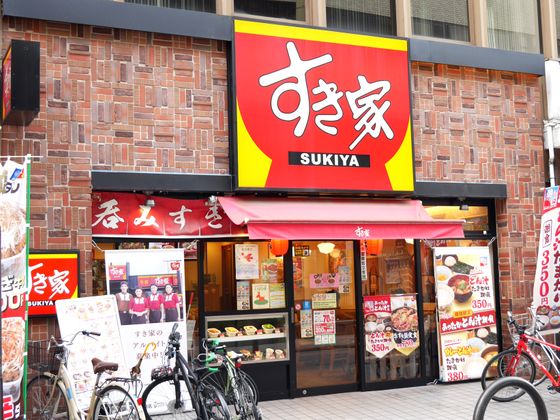 There was no climb or poster in the shop, but when I got on the table, there was a label on the table informing the appearance of a white grilled beef - on - ron.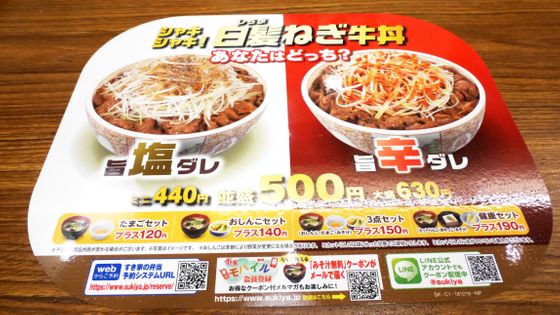 You can also confirm that you can choose "white" and "red" of "gray hair onions" on the menu. In addition to the beef bowl, it is said that there is also a "grilled hair onion pork bowl", but this time we will order two pieces of "Shiro dress" and "Sharp spicy sashimi" at the same time .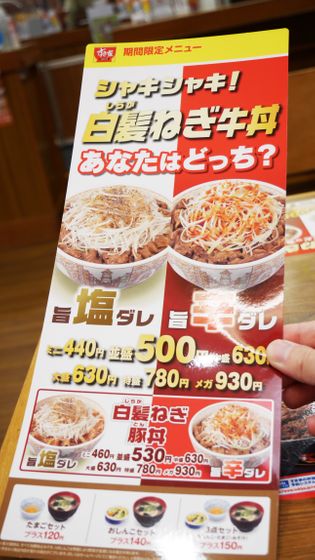 Two types of "white grilled beef bowls" were brought in about one minute from the order. The left is "Shiro Sagaru" and the right is "Short Sake Dale".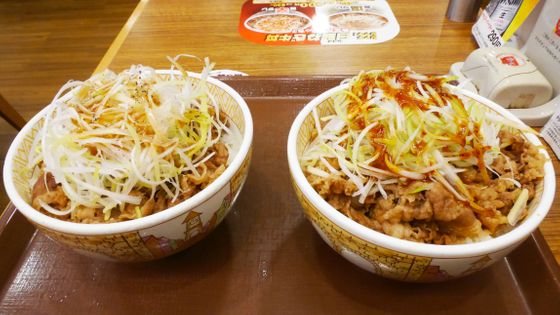 First of all we will eat "Beef Dole" from Beef Rice Bowl. A sliced green onions are served on your beef bowl as much as you can.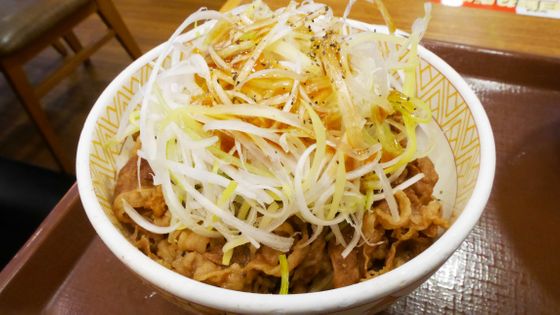 When I tried to eat goat, I felt like a crackle rather than a shakijaki I felt a tooth touching. The fragrance of fresh onion goes through with tongue from mouth to nose, but it is not so intense as to see whether it is exposed to water moderately, it is just a spicy thing.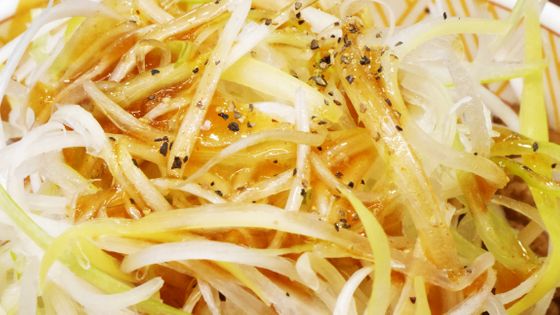 ___ ___ ___ 1 ___ ___ 1 ___ ___ ___ 1 I will follow it and make it a refreshing aftertaste. In addition, spicy of spicy black pepper will taste the taste, so you can taste the taste of beef and the shikiyaki feel of the onion freshly as you eat a lot of mouth, white rice has progressed at the explosion speed.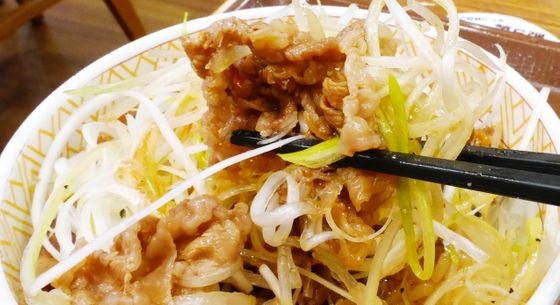 Next, I will eat "Sharp Dare".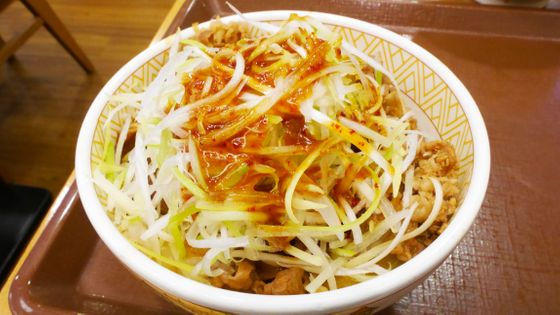 When going to eat with goat and beef, spicy like delicious larceny pierces the tongue, while at the same time astringent similar to peasant (Hoa Jao) tingling numbness the tongue, two kinds of spicy But I will attack the inside of my mouth. Because of this deep hotness, the flavor of the onion is added to increase the depth, so it matches the beef taste while matching without becoming a spicy one color. If the spicy hot flavor wins, the hand will stretch in the water, but if you catch the beef and white rice slowly, you can taste the harmony of the meat's umami and spicy, so salt of "white" Rice was advanced with a slightly different feeling with saga.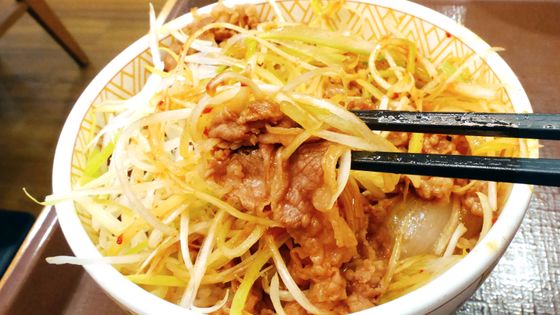 "White grilled beef-on-a-bowl" is a sukiya in the whole country excluding some stores and is offered for a limited time until the end of January 2019, and "prices can be chosen" and " It is 500 yen including tax. In addition to the size, there are 6 types of mini (440 yen including tax), Sheng Sheng (630 yen including tax), Sheng Sheng (630 yen including tax), Shenzhen (780 yen including tax) and Mega (930 yen including tax) It is selectable and it also supports take-away.