The forefront of new modeling made possible by the latest type full-color 3D printer was peeped in at the 'Ultra Modellers' exhibition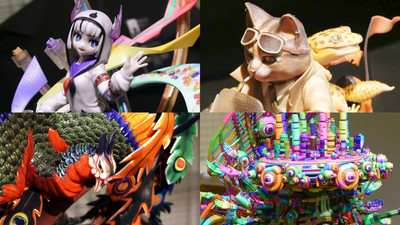 Exhibitions of various works outputted by digital shaping software and the latest full-color 3D printer by creators group " Ultra Modellers " by people who are active in various fields of manufacturing such as artists, lecturers, students, etc. were released in 2018 11 It was held at Osaka Nihonbashi from 23rd to 25th May. The exhibition was realized by collecting 679,000 yen against the target amount of 500,000 yen by cloud funding . I actually went to the venue to see what kind of work was there, and I went out.

3D model researcher group | Ultra Modelers
https://www.ultramodelers.site/

Osaka came to Nihonbashi.


The exhibition was held at the Volks Osaka Showroom's 8th floor.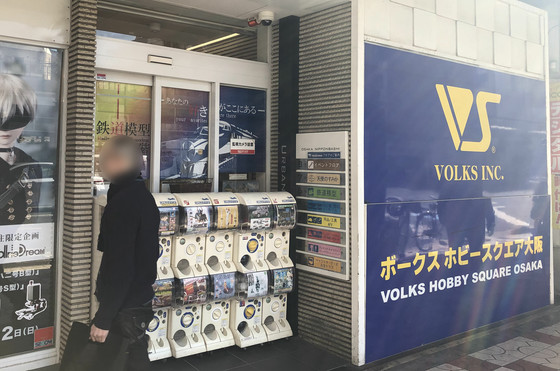 When you rise to 8 F with an elevator, a huge poster greets you.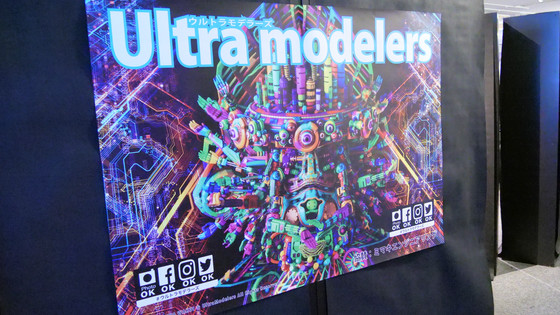 The work is displayed as it is, it is possible to see closely to a fine place firmly. The filming of the work was free, and the person who came to see was shooting with my favorite work with a smartphone Pashapasha.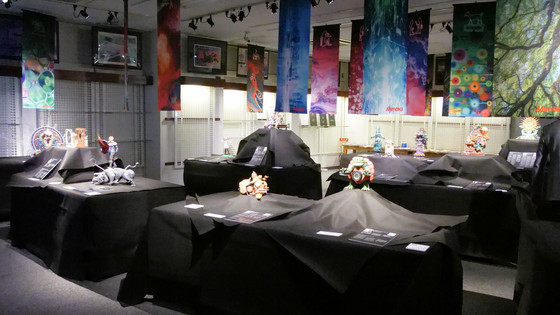 BLESTAR first qualified as an authorized instructor of ZBrush in East Asia Shinichi Wada 's work "Followers of Jungle"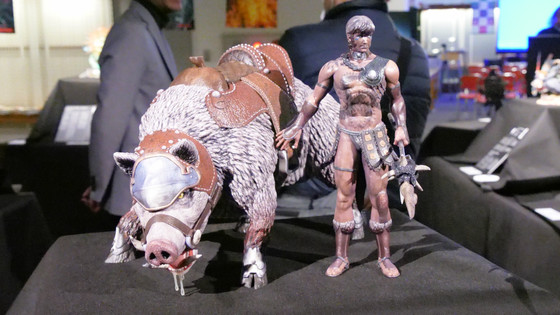 The tracker looks something like this. The tattoo engraved on the excited muscle was not printed afterwards, but it was painted by 3D printer during molding. The body itself is not an assembly of some parts but a single-shot molding with a full color 3D printer.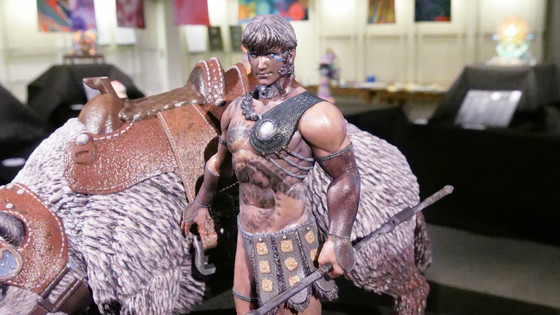 The spear of the tracer is made from the femur bones (roughly horses) of the wild boar, has the climate to inject poisonous poisonous poison, setting to make the prey move easily. I heard that the spear is made by dividing it into three so that it is held with brass wire.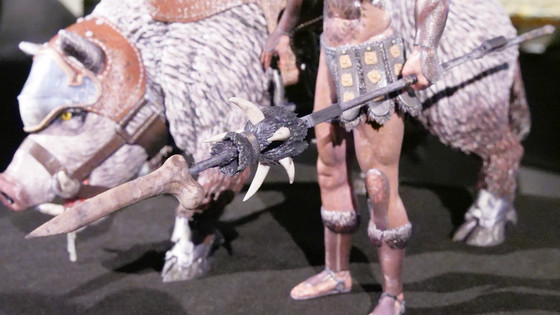 A buddy's wild boar that shows sharp glare while drooling from the mouth. Although the texture of armor (armor) skin and metal is also well expressed, this wild boar is also a one-shot molding with a full color 3D printer.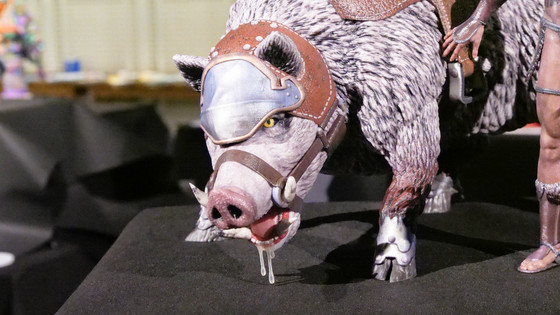 It is the work "Pablo Picasso" by Mr. Oki Yoshimoto. Mr. Yoshimoto majored in oil painting at Kyoto University of Art and Design, but he encountered modeling by ZBrush while studying abroad and after graduating from university in 2018 he is a designer at a hobby maker.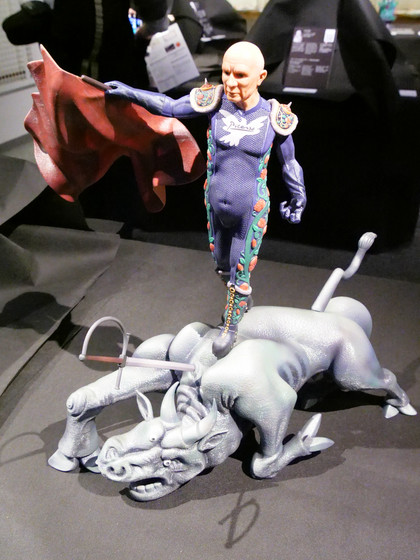 The face of the bullfighter looks exactly like Pablo Picasso , an artist representing the 20th century. Mr. Yoshimoto seemed to design this work inspired from Picasso's work, and said that it was also set as a goal to maximize the ability of full-color 3D printers.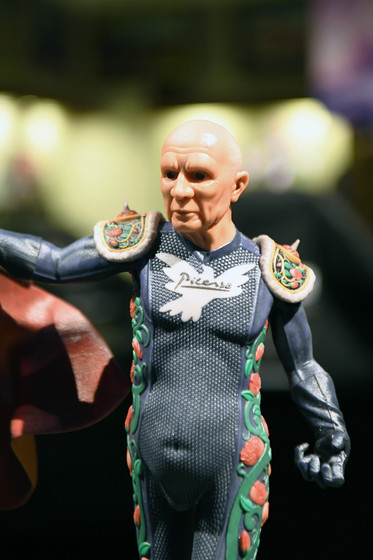 A sword is stuck deeply in a cow being detained in Picasso. The face of the cow distorted by pain was expressed by the technique of Cubism and was designed to remember " Dying BULL ".



Mr. Yoshimoto's work "Happo Godo Phoenix Diagram" is a three-dimensional representation of the masterpiece of Katsushika Hokusai, the late masterpiece of the Iwashimatsuin in Kamikitai-gun, Nagano Prefecture, "The Great Phoenix Chart". Despite the power of not being defeated to the original work, despite being in the corner of the venue, I had a strange presence.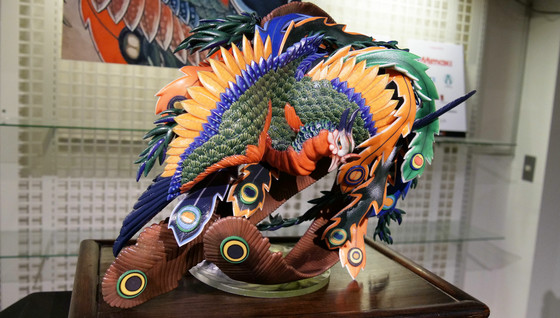 It depicts carefully each piece of feathers. Even though it is said that it was made with a 3D printer, the details are well molded, unbelievably.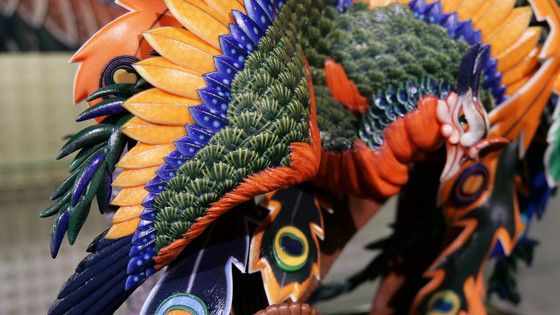 Although the back foot is not drawn in the work of "Great Phoenix Diagram", Mr. Yoshimoto uses powerful imagination and designs a powerful hind leg from the phoenix legend to come to rest in a pure spring, grasping the spring of the spring well It is.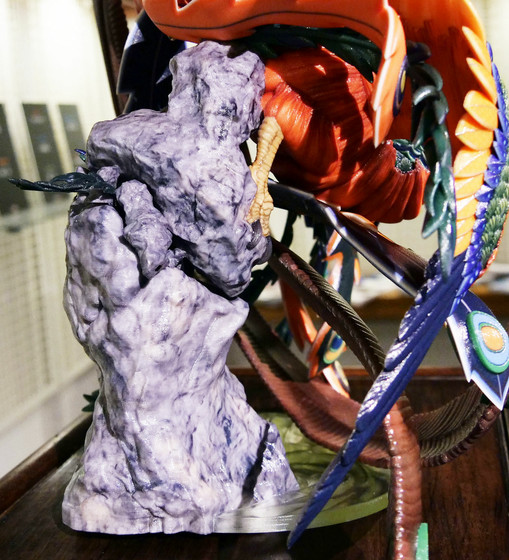 Takehiko Ogami 's work is Ayatsuji Oka (Ayatsujiroki) from " Youkai Girl - Monsga ". It is a character of the same name comic of Mr. Kanzuki Funajima , and I had the illustration drawn down from Mr. himself to make this work.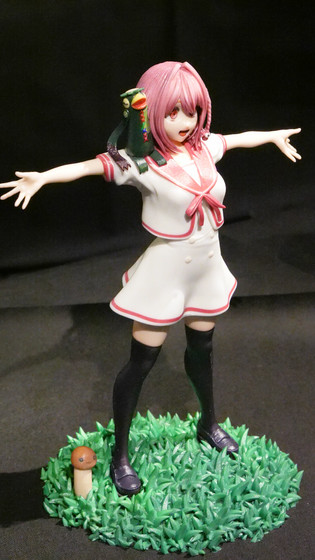 A detailed line of hair and a fine expression of Kappa that is standing on the shoulder are well outputted.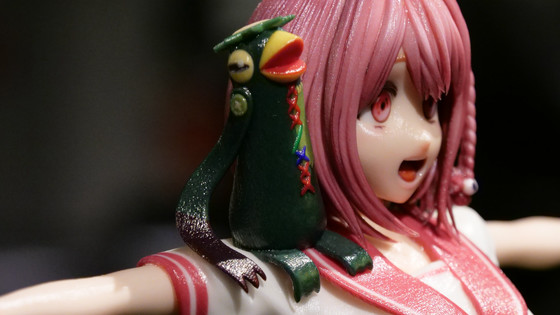 Of course, it is molded firmly inside the skirt. The absence of dividing lines by parts of the body is also a benefit of one-shot molding with a full color 3D printer.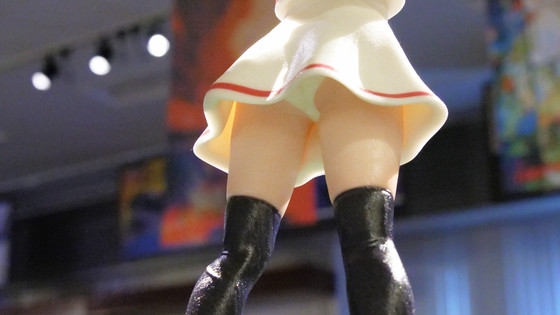 Mushrooms were on the lawn.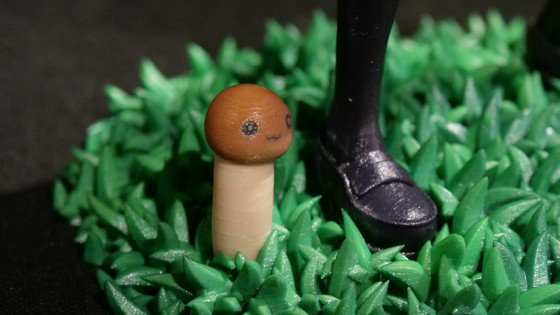 Also the work of Mr. Okami "Arnee" Flower version "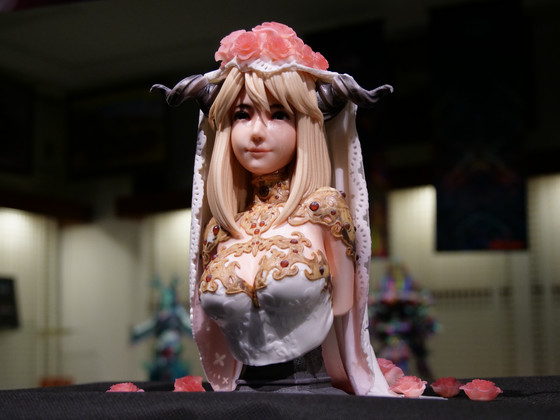 Arnee said that means water buffalo, a splendid horn at the head. Rose flowers are on the head. With a texture that is smooth and delicate like a pottery, even people who see it sigh a sigh.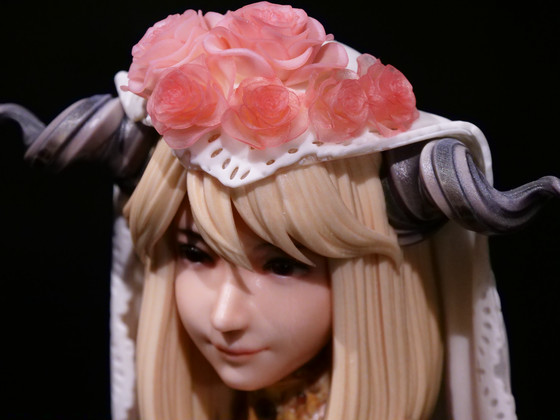 Rose scattered also on veil. It is a pale hue and thinness that I can not think of output by a 3D printer.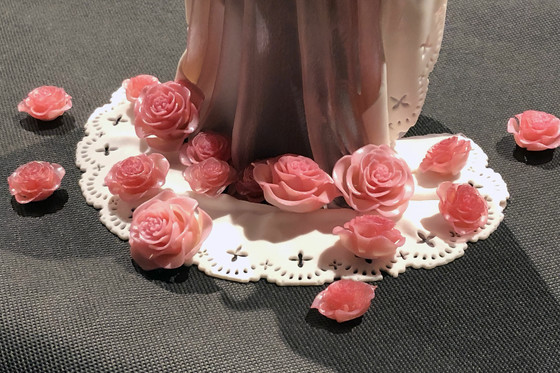 The veil is outputting with clear material to produce a sense of transparency. The skin looks very smooth and smooth.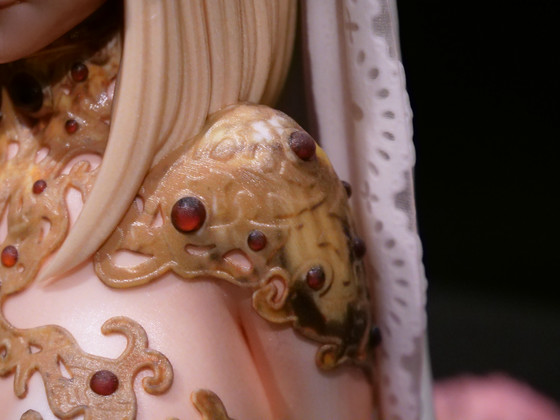 This is "3-Dimensional Impression Zodiac Zen-nyu by Alphonse Mucha" by Ms. Emiko Kamo who continues to work as a freelance designer with self-taught 3DCG. Looking from the front, it looks like a two-dimensional work ... ...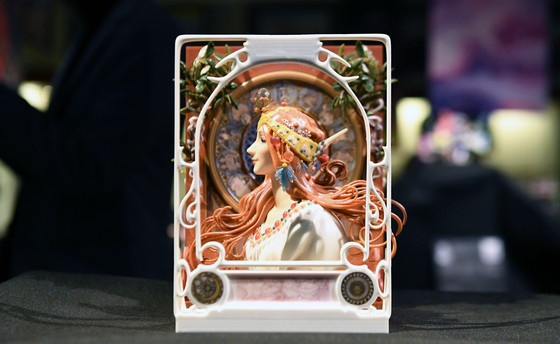 Looking at diagonally is like this. It is a work that has become a three-dimensional structure with frame, woman, background. Flowers and women's hair drawn in the background are also molded in three dimensions.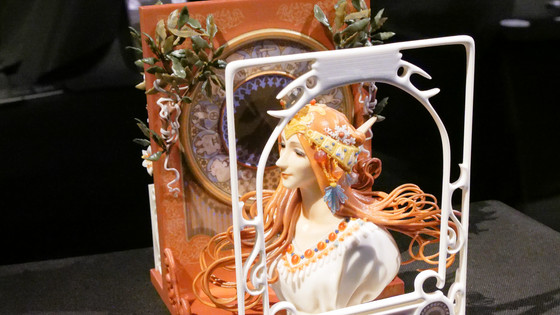 Long eyelashes and hair ornament jewelry and chains are well output. The smile that did not say anything that praised sorrow was not making the prototype by kneading or claying the clay, but after producing the 3DCG model on the PC, it is outputting with the 3D printer.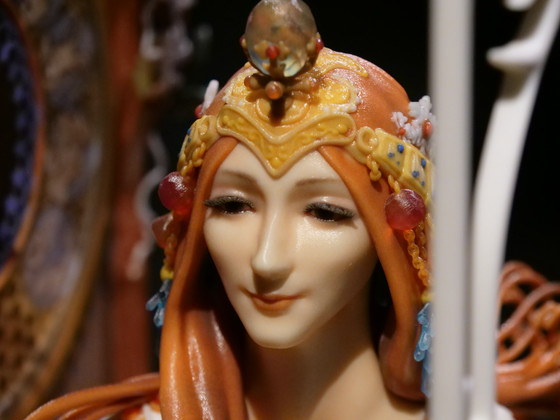 Mr. Cookie of the prototype master who plays an active part in events such as the Wonder Festival "Mr. Tendo". This work is also selected as a wonder showcase in the summer of 2018.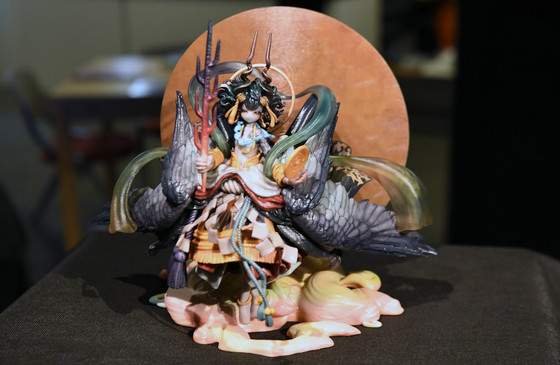 "Mr. Mr. Tendo" is produced based on John Ping 's illustration. Having a copper mirror on the left hand, it is characterized by wings that were densely constructed to detail. Translucent rags climb the majestic and mysterious atmosphere.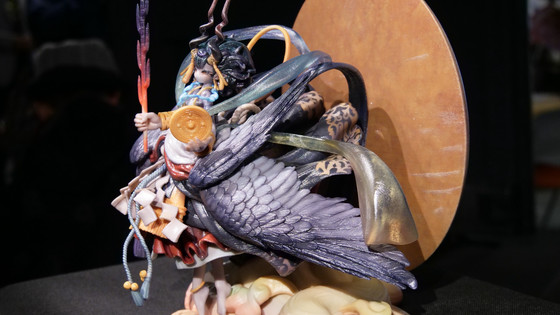 On the right hand is a seven sword . A round board like a full moon carrying on the back ... ...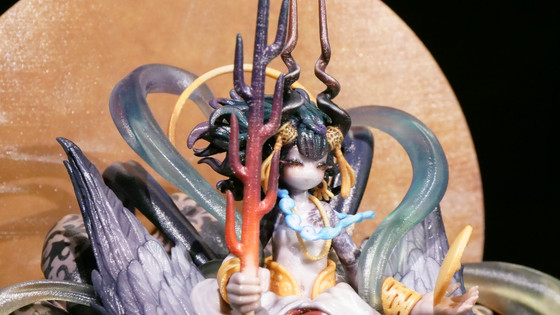 It was the same copper mirror as what I have on my left hand.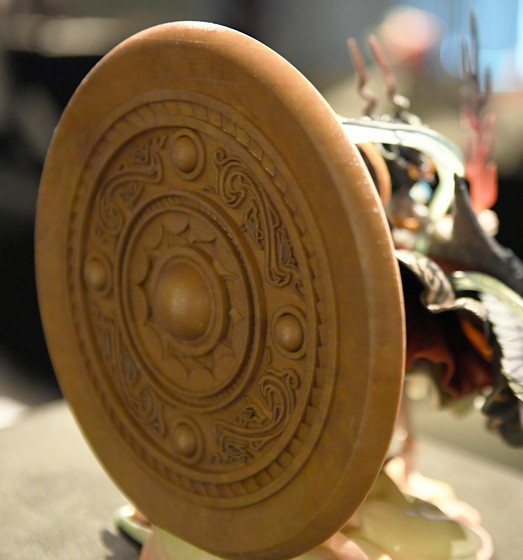 Virtual sculptor (virtual sculptor) "work handed out by Jim, virtual beautiful girls prototype. Jim is also the prototype of the work selected for the wonder showcase in the summer of 2018.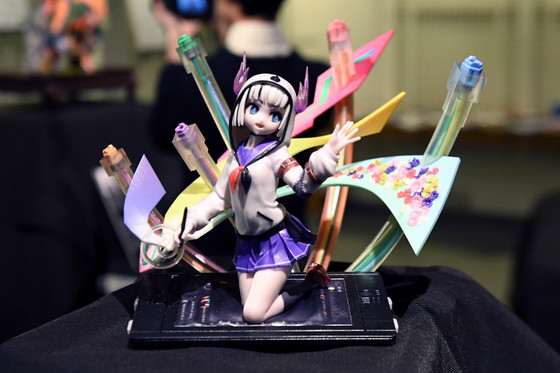 According to Mr. Jim, "We are aiming to break away from creative tying by making ourselves three-dimensional and content." In the background cable, a line passes through in the clear parts, but this is also one-shot with a full color 3D printer, it seems to be the result of feedback of the image that I saw in the virtual world and the feeling I felt.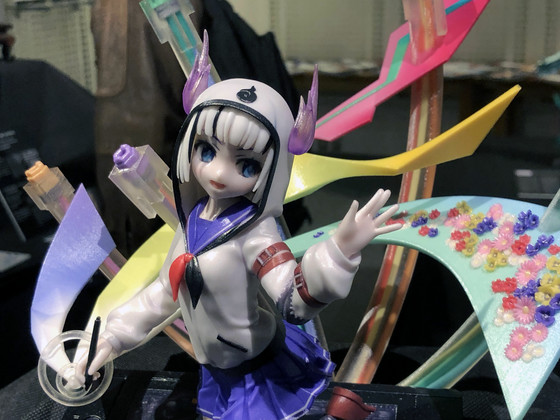 It was Wacom 's liquid crystal pen tablet that wavy at the feet.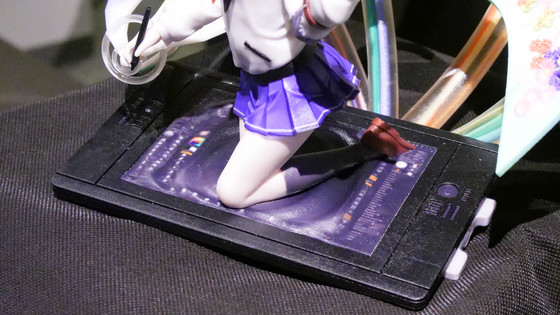 The work "Shin-ka" of firefly corporation's chief creator / printing operator SOMA's work expresses the printing technology that develops with the progress of the day in art.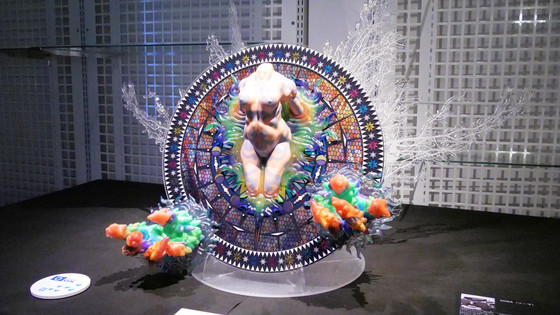 It is a combination of a disguised woman's body with a 3D printer and acrylic engraving and cutting by 3D UV printing and laser processing machine, and the work which the technical ability as a printing operator was mobilized indeed.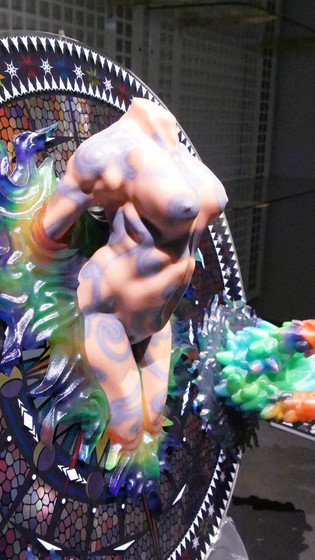 The stained glass part seems to be overprinted for six times in combination with the front and back. Also, it is said that the 3D parts part is made up of three types, parts of only color ink, parts of clear ink only, parts overcoated color ink with clear ink.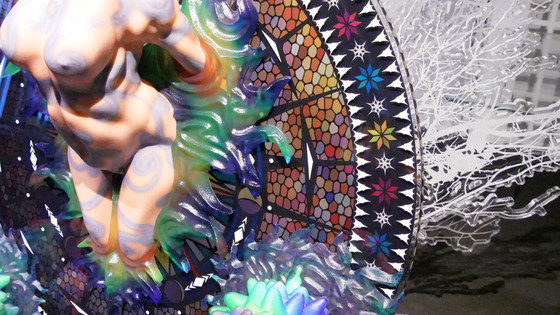 It was impressive especially that the white branches of acrylic developed behind the work were sparkling with spot lighting.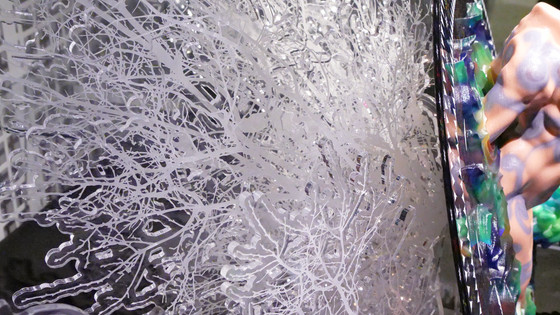 Designers, artists, and Fukui Nobuaki who is qualified as a instructor / master of ZBrushCore officially approved by Pixologic for the first time in the world and is active as a professional lecturer "There is not this space between the world and that world"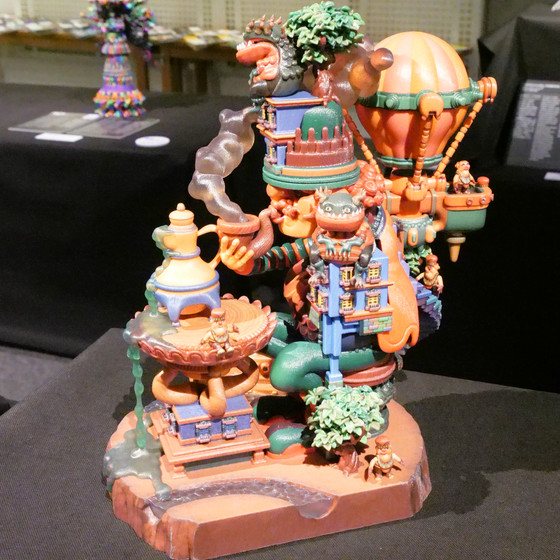 According to Mr. Fukui, he said that he expressed "the world that exists neither in this world nor in the world but also certainly exists and lonely" that is neither here nor there.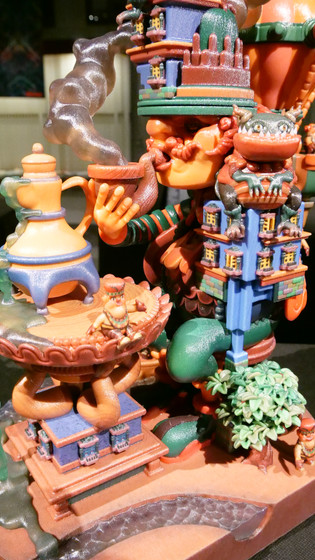 Mr. BLESTAR Mr. Wada stated that "I can see the story from anywhere." Small characters showed various facial expressions and movements in small parts, and it was a work with a strange charm that you can not get tired of watching forever.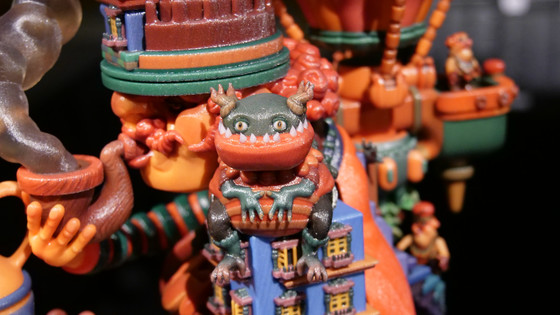 In addition, this work has been completely modeled and painted in ZBrush.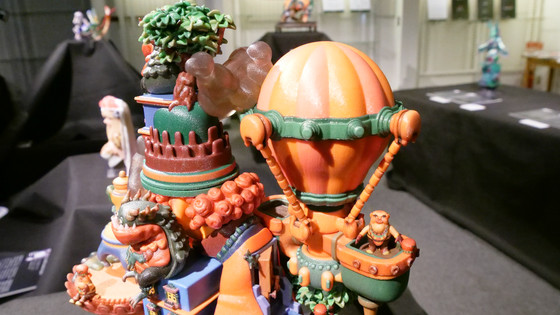 Ring Camera (Ric Camera) by Noriaki Nakano is a pretty monster whose tortoise and camera are united, which is the engraving modeling artist holding an individual brand of accessories "NORWORKS".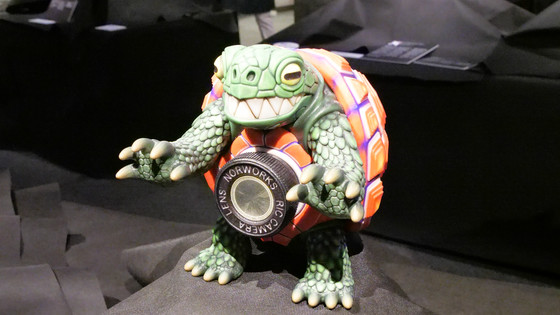 The camera 's viewfinder stuck to the back shell.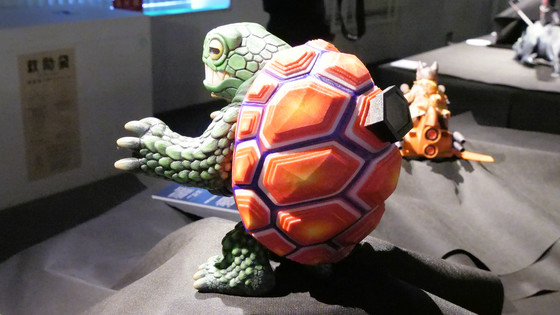 The scales that cover the limbs are said to have been shaped while looking at the tortoise that Mr. Nakano keeps to make it real.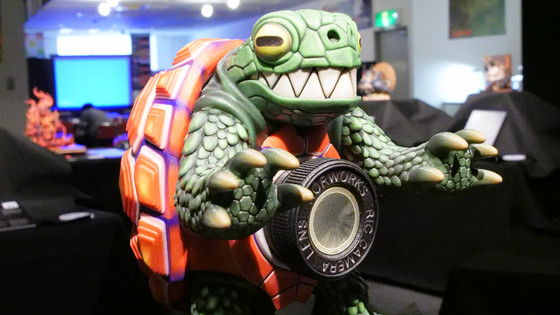 Although it is hard to understand a bit in the image, Mr. Nakano commented, "By making the lens part of the stomach transparent, it made it possible to see the creation of the aperture". According to firefly corporation staff output by the printer, it was said that it was struggling with the tummy clear resin and fitting in the viewfinder.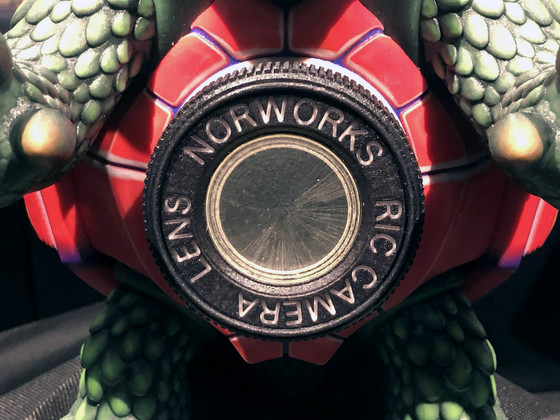 It is Mr. Nakano's work "Hardboiled Cat & Wild Gekko". "In a world where a beast born by DNA manipulation coexists with humans quite commonly," Nico "which is a hit man specializing in murine mafia, and" two people of "Moonlight" of that buddy, A world view like cyber punk is set up.



Design was made by Mr. Yoshioka Satoshi , illustrator who participated in the design of Konami's masterpiece game " Snatcher " " Police Notes ". Nico straddling the mechanical jet bike holds the handle steady with cigarettes in his mouth.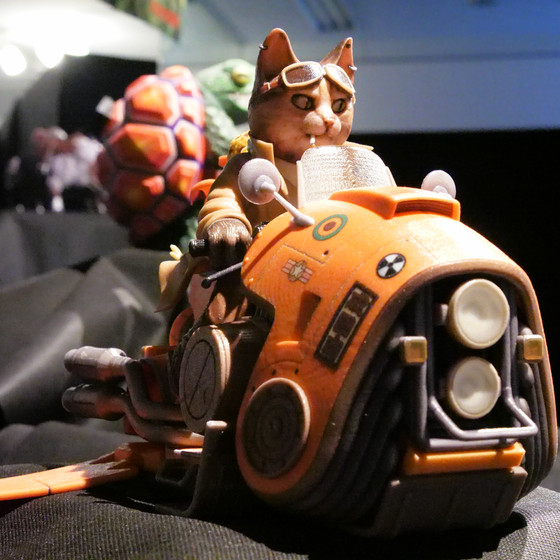 For Nico who decides a cool look, when you are staring at the moonlight with a nihilous smile, I feel like seeing some of these uneven combinations with some work.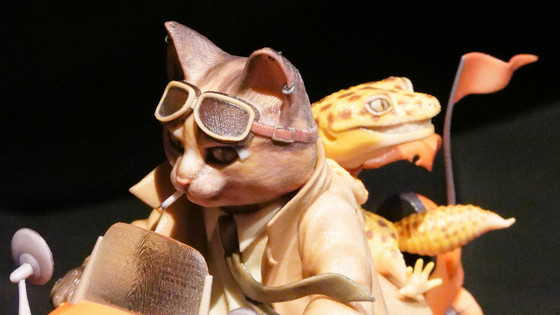 After discovering the same "Narita-san" sticker as the motorcycle that Kaneda's " AKIRA " crosses over, it seems like the moonlight's face is saying "It's too loud for you" I will come.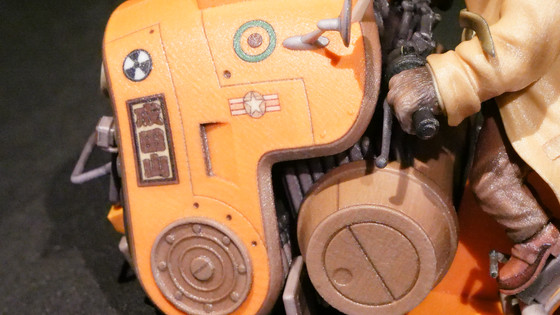 Kazuki Tanioka who is active as a prototype teacher, such as participating in dealerships at the Wonder Festival etc while studying modeling at the university, "Mr. Yoshio Utogawa's third cat cat 's cry three-dimensional figure" is three-dimensionalized Ukiyo-e of Utagawa Yuto Work done. Although it is a big cat's youkai from the distance, ...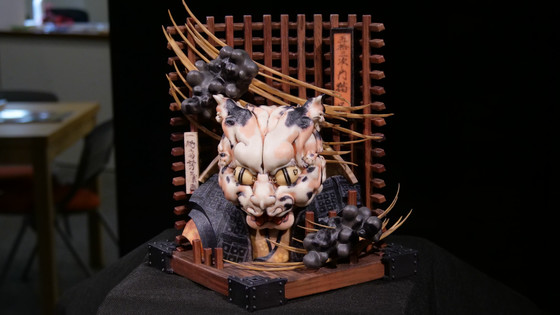 When approaching and looking closely, cats are gathered together and made.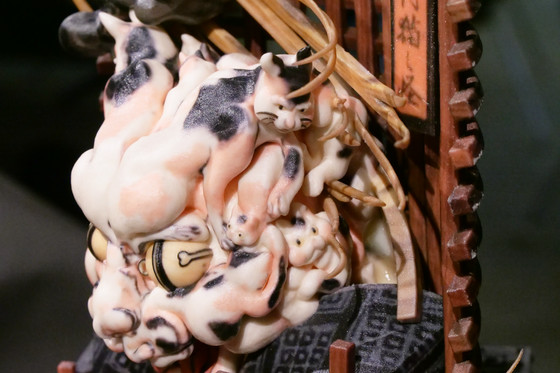 Expressions of cats and taunts of the body are well expressed.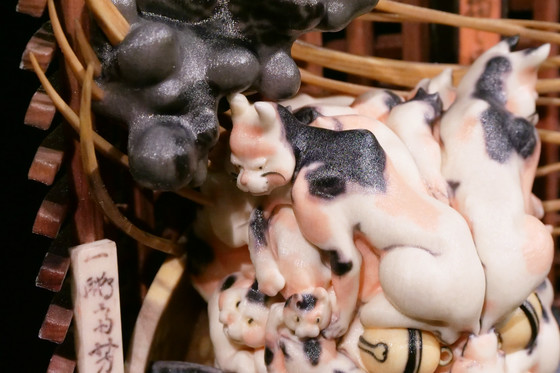 "Sigularity (Singularity)" of Mr. Wakua Kira who is president of the model group "Ultramodelars" is a work that is also widely posted on the flyer of this exhibition. The colorful and mechanical Buddha image surely attracts the attention of the audience.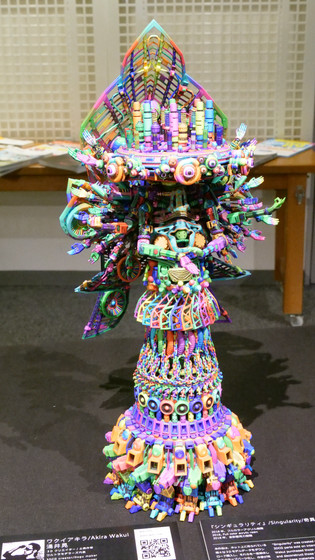 The name "Singularity" is a term expressing the technical singularity that AI may exceed any human being. Mr. Wakui notes singularity 's fear of' AI being beyond humans 'is scary,' and attention to the part that some people look forward to 'looks interesting'. Eventually the dichotomy changed to a contradictory image called "angel and devil", and finally it sublimed to the Bodhisattva statue.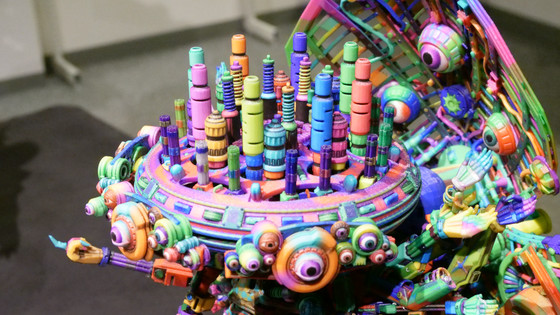 According to Mr. Wakui, he purchased a 3DCG model on the Internet and registered it as a brush, and he said that he made it as if he thought of "What would happen if I made it with emphasis on speed feeling with a collage like feeling?" . Mr. Wakui said that the assembly and disassembly of the plastic model he liked from a young age is the backbone of the creation of the work.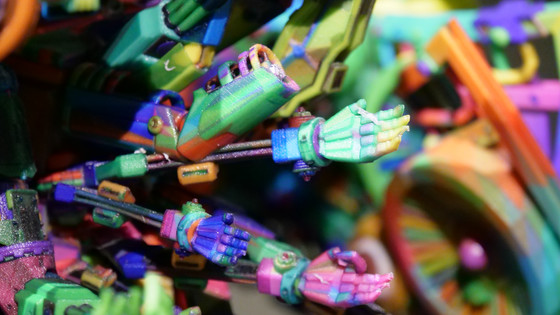 The color was made with poly paint. Anyway, it was a colorful and complicated model with a volume of information that overwhelms what you are seeing.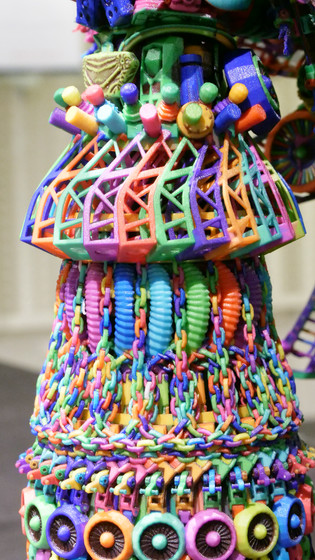 It is "silam Pakhamu" of Takehito Kobayashi who is a freelance "post digital artist" from GONZO, an animation production company and announces CG animation and 3D print work. Mr. Kobayashi seems to make the theme of creation "expression and modeling impossible unless it is a 3D printer".



Kobayashi says, "Colorful 3D printers '3DUJ - 553' can make works differently from SLS printers because there is no need to combine all the parts, so the more realistic CG / I was conscious of the beauty of the line unique to polygon modeling and the density and beauty born by repeated parts. "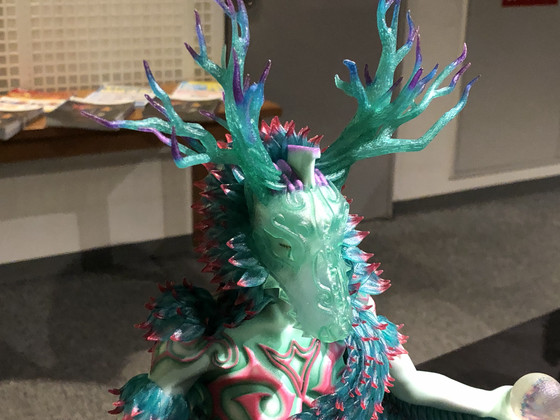 "Silam Pakhamui" is a god of trees of the Ainu race, and Mr. Kobayashi positions it as "works that connect to the future by updating from a contemporary perspective while paying respect to tradition, religion, and customs."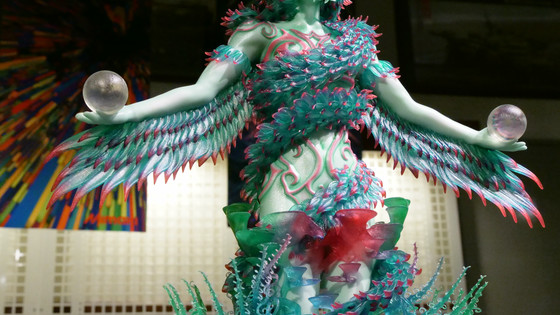 It was a masterpiece swirling around your feet, transparent plants with an atmosphere that seems to start moving at any moment. It is made of transparent clear resin, but it is molded tightly to the narrow part of the tip. Layers peculiar to 3D printers are rarely seen, and it is delicate so that it can not be thought that it was outputted with a 3D printer unless it is told.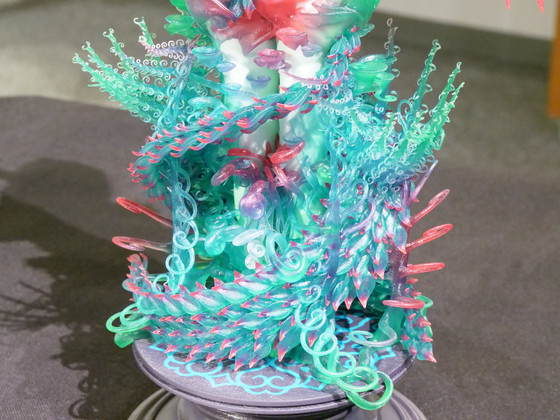 Also the work by Mr. Kobayashi "Fudo Maiden" is the stateless monument with motif of Jomon pottery motif. I feel a tremendous force in a work that melted Melamella and flaming flame movements in an instantaneous form. It is possible with 3DCG modeling and high performance 3D printers, which is difficult to produce with clay.



Kobayashi is a work born from a place where Mr. Kobayashi was inspired as "absolutely not be defeated" by watching a number of wonderful works made by hand when Mr. Kobayashi participated in Winter Festival 2018 winter. In order to emphasize the beauty of the polygon mesh, the head beveled and chamfered the mesh.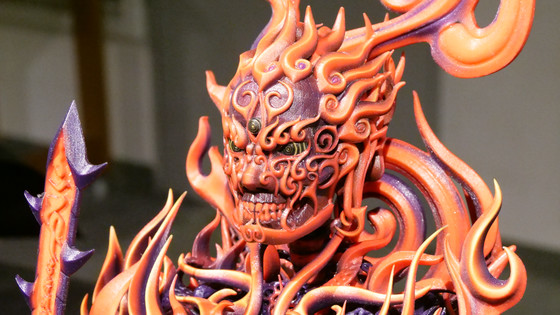 Hold a sword engraved with Sanskrit on the right ... ...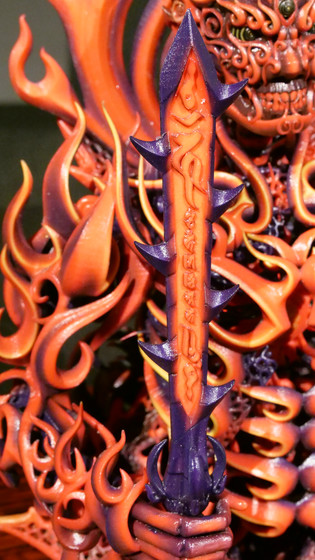 On the left was a collar with a chain connected.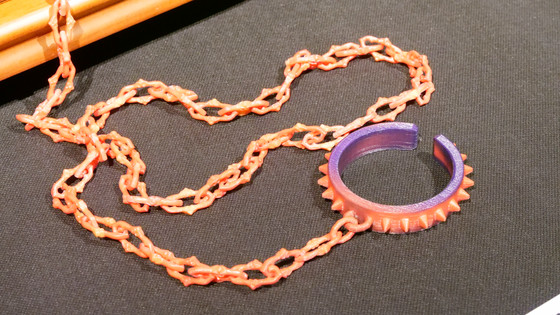 The work "celestal psicodelico - Kakusha final form -" with motif Kakusha - the hero of the animation project "project Kakusha" that Mr. Kobayashi had been creating is an ambitious work made with whole body clear parts.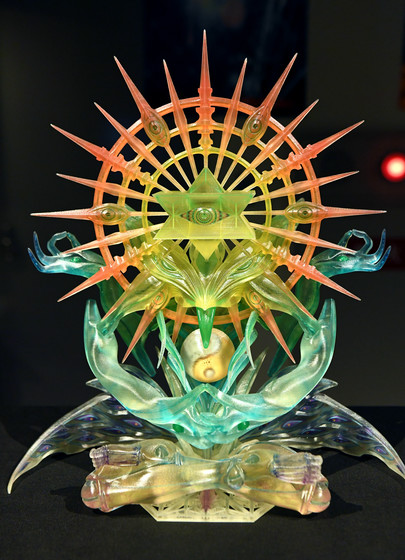 Kakusha is a person who travels to find out the root of the existence reason of himself, and the form which he made is this final form. Huge eyes opening in overlapping transparent pyramids are impressive.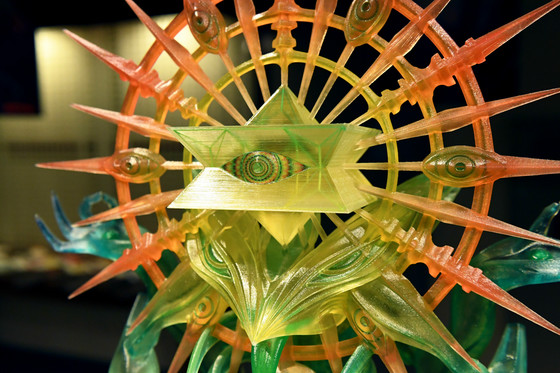 In the abdomen, spheres with the motive Yin and Yang are embedded.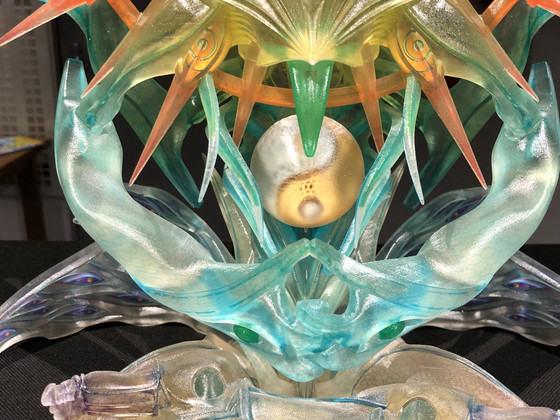 The setting that the path of the nerve passes in the transparent body, it is expressed as if the nerve runs like a capillary to the stitch. The design of printing on the inside, not on the surface, is possible because of the molding with a full color 3D printer.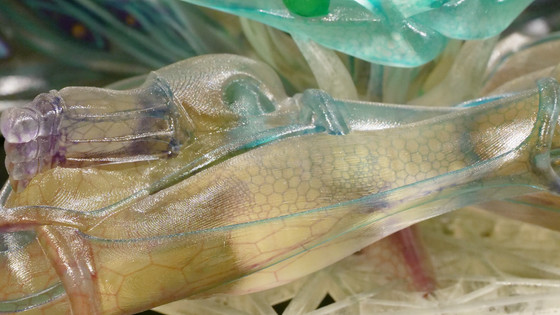 According to Mr. Wakui presided by "Ultra Modellers", he noticed that advanced technology such as high-performance full-color 3D printers and VR · AR has caught up with what the artists want to do. Mr. Wakui who felt that there is a pyramid structure "There is an upper on the way" in the way to pursue improvement of traditional techniques collaborates with various people and companies rather than climbing the endless hierarchy It is said that he fascinated those who complement each other at their specialty. And I thought that I wanted to make "a place of great creation" not only for myself but also for other people, so I started "Ultra Modellers".

Mr. Wakui says, "There are things that people can and can not do, as people Katsushika Hokusai painted the" Great Phoenix figure ", you can borrow someone's hands as if you completed the work with the help of a daughter or a disciple There are interesting things to get involved and people may always be collaborating with others.The person who came to see the exhibition says, "Is this an art or a figure? I think that there is sometimes confusion as to whether it is culture, but I am hoping that something will be overlooked by seeking out in that hesitation. "