A popular indoor sports 'Bouldering' has a profession of 'root setter' that assembles artificial rock walls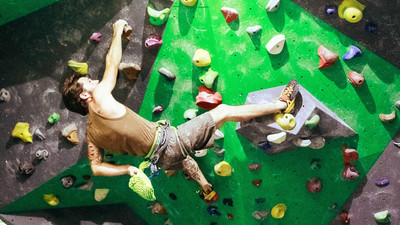 " Bouldering " which climbs natural rocks and artificial rocks with clamping walls secured to the walls with bolts only with minimal tools has attracted attention in recent years as a sports that can be easily started. Outside of foreign media introduces the history of this bouldering and the occupation "root setter" that supports Bouldering.

How the World's Most Difficult Bouldering Problems Get Made | Outside Online
https://www.outsideonline.com/2017711/path-beta-flash-resistance-route-setters

Rock climbing as a recreation became popular in the early 20th century and artificial rock walls were made to climb in the off season as well. The first artificial climbing wall was created in the late 1930s by Mr. Clark Schurman, who served as the chief mountain guide for Rainier Mountain , used 25 feet of granite and concrete in Seattle for practicing climbing It was the first time I made a wall (about 7.6 meters).

The world 's first indoor climbing facility built along the squash court of Leeds University in 1964 was a hand - made mortar and attached to a brick rock which was made into a hard basket. The climbing facility at Leeds University seems to be very popular, but there was a big drawback that "rock can not be changed".

Therefore, in 1985, rock climber François Savigny developed a polyester resin rock that can be detached with bolts, and launched a company called EntrePrises and sold it. With the development of detachable rock with bolts, it has become possible to place infinite rock walls on flat walls rather than faithfully reproducing the inward contours and cracks of the cliffs .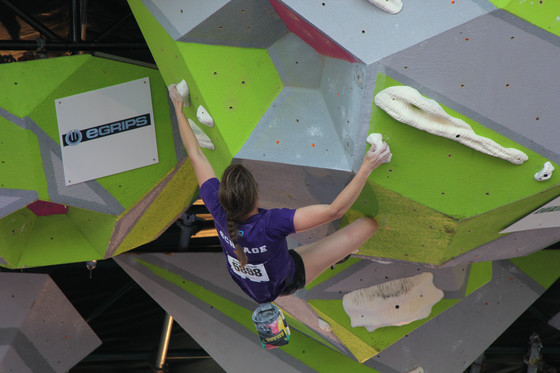 by Eli Christman

Until the 1980s, rock climbing in the gym was treated as "climbing by people who can not go to mountains and rocks as an alternative." But in the 1990s, bouldering in the indoors where you can focus on climbing rocks more purely gained popularity. Among them, the occupation "route setter" designed to design how rocks of climbing walls should be arranged was established.

In the early 2000s, the climbing wall was not only for bouldering but also a canvas of functional art work. In modern times, the route setter marks a specific route with colored tape and sets the difficulty level. The problem of bouldering is classified from the beginner's grade VB to the most difficult grade V 16.

The bouldering route needs to be set long enough for the climber to do the task, but the degree of difficulty is exquisitely adjusted by adjusting the climber's gravity and manipulating the fingertip. Even if it seems easy at first glance, it will be turned down to the bouldering mat flooring underneath if you are distracted.



There are various shapes, sizes, and textures in Bouldering's climbing hold (rock). Louie Anderson, a designer of climbing hold designs over 1000 climbing holds every year, but what he designs is quite different from the old climbing hold with nature's rock characteristics, It is colorful, artistic and ergonomically designed.

In addition, the climbing tool company So Ill of Missouri State has released a fluorescent climbing hold like a baby's face like the image below.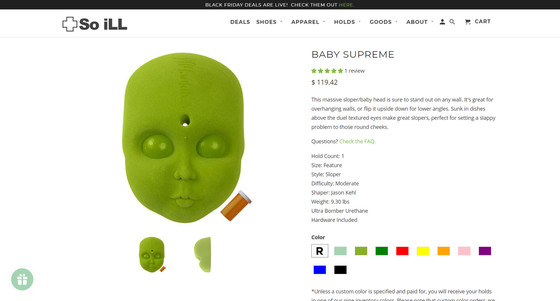 "In many ways outdoor climbing is cramped and boring, because outdoor climbing has the limit of nature, but if it is indoors There is no limit other than technology and human imagination. "

Media dealing with climbing news · According to Climbing Buisiness Journal , there are 365 indoor climbing facilities in the United States in 2016, 29 of which are newly opened within 2016. A wide variety of climbing holds are being released one after another, and at a big gym it is said that they are stocking more than 40,000 climbing holds. The top class route setter that earn 70,000 dollars (about 7.9 million yen) seems to be living like being flying around here and there by being invited from the gym in the whole country, and it seems that it is participating in domestic and international competitions Most professionals do.

Chris Warner, who runs four climbing centers in Maryland and Colorado states, "It is a very good thing to get proper payment for route setters."
in Note, Posted by log1i_yk