'Brain.fm' boosts the brain with music created by AI to enhance concentration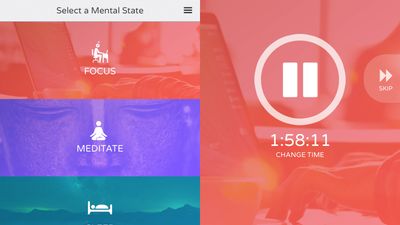 There are a lot of people who are concentrating on something work or studying, listening to music and relaxing environmental sounds to enhance concentration. " Brain.fm " is a service that "you can concentrate by music created by a specially designed AI, you can use it for meditation, relaxation, and sleeping".

Brain.fm
https://home.brain.fm/

Brain.fm: Music for the Brain on the App Store
https://itunes.apple.com/vn/app/brain.fm-music-for-focus-meditation/id1110684238

Brain.fm cooperated not only with AI but also with musicians and composers, he not only made people who are listening to feel good but also created music that can produce deep concentration. It has already been said that over 40 million hours of total worldwide total will be played and the task completion time will be reduced by 39%.

The PC version of Brain.fm has been reviewed by the following article. Previously, the number of sessions that could be used for free was "7 times", but at the time of this article writing, the number of sessions available for free was "5 times".

"Brain.fm" that allows you to customize the sound that leads to sleep as you concentrate up to your personal sensitivity · Relax · GIGAZINE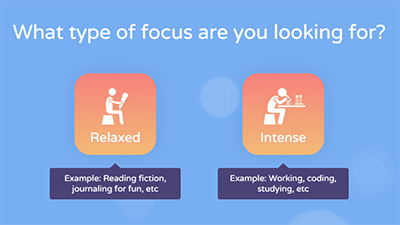 ◆ Mobile version
A new iOS version and Android version is also appearing in Brain.fm. This time I decided to try using the iOS version. First of all, go to the official page from the App Store and tap "Get".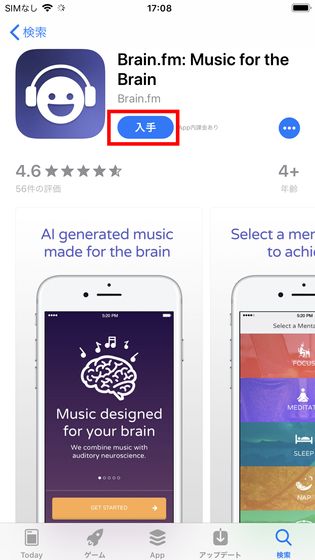 Tap "Install".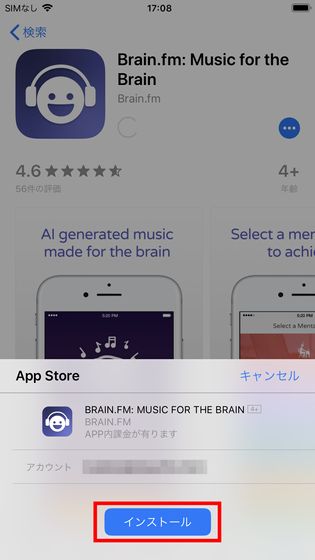 Enter the password and tap "Sign in" to start the installation.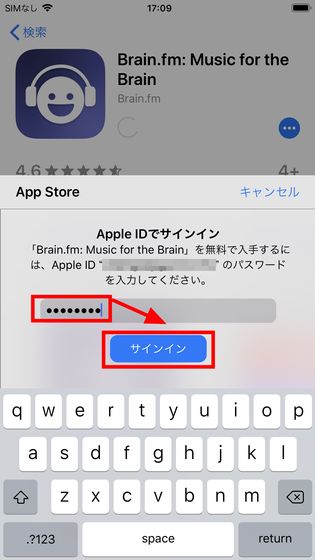 Tap "Open" when installation is completed.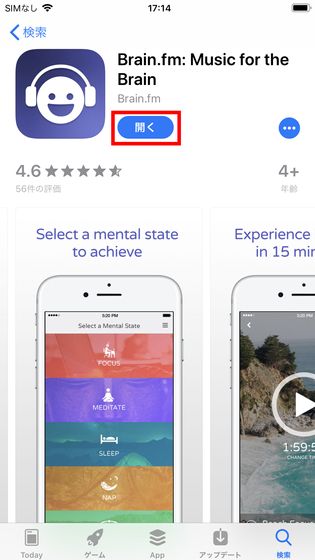 Brain.fm designs the brain by music.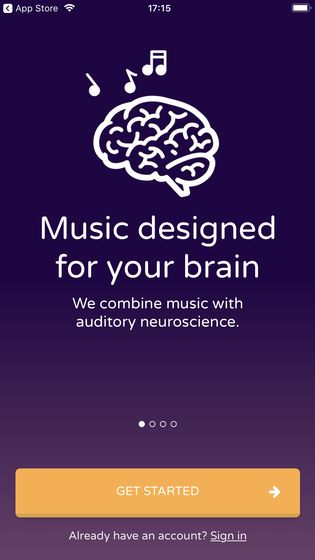 In addition to being able to expect important concentration concentration improvement for work, study, writing of writing and writing ... ....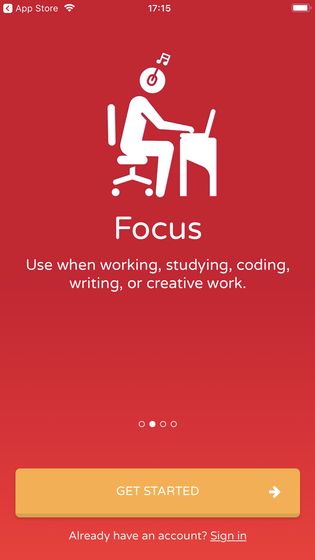 It can also be used for meditation and breaks.



Moreover, it seems that it can be used as sleeping music when taking a nap or at bedtime. Tap "GET STARTED" at the bottom.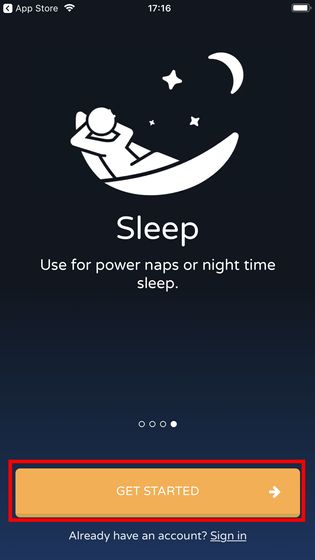 Enter name, e-mail address and password and tap "Start Listening".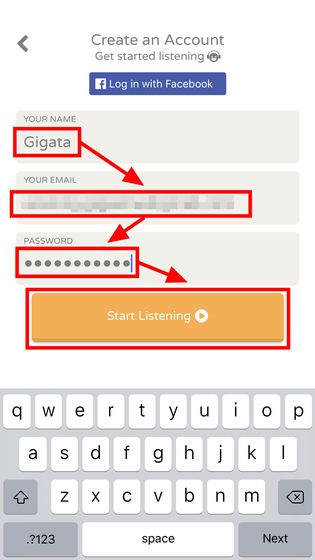 People using Bluetooth earphones and headphones are smoother if you pair them in advance because Brain.fm's music is recommended to listen using headphones or earphones. Tap "NEXT".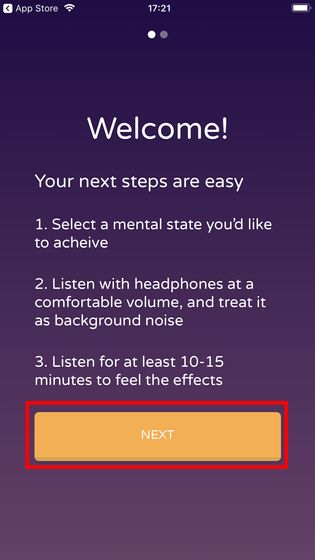 Then you will be asked to agree that your data will be used to receive product information and newsletters from Brain.fm, so check this box to allow it. Tap "LISTEN NOW".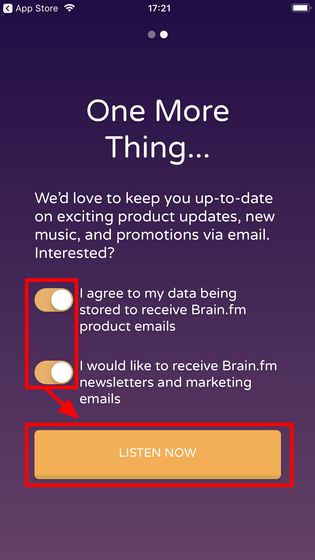 It is possible to listen to Brain.fm music up to "5 times" even when you are not charging. Tap "START LISTENING".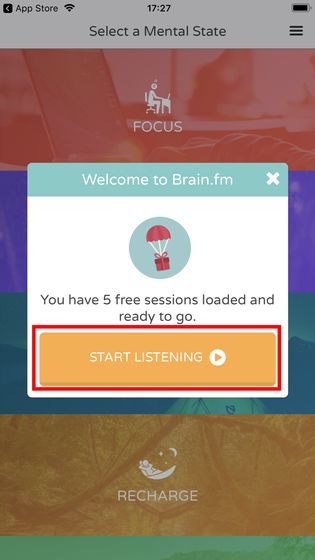 On the home screen, "FOCUS (concentration)" "MEDITATE (meditation)" "SLEEP (sleeping)" "RECHARGE (recharge)" ... according to the purpose of listening to music ... ...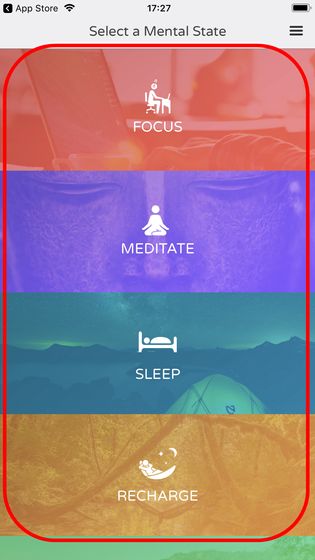 There are five sessions such as "RELAX (relax)".



Try "FOCUS" to try this time.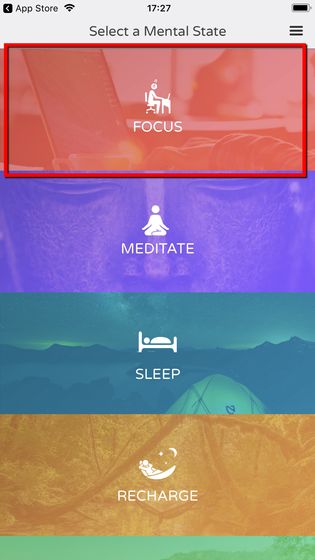 Then, like the movie BGM, which features distinctive bass and rhythmic melodies, the spectacular atmosphere of music has flowed out. It is supposed to be music for focusing on work and learning, and it seems that music is becoming more mind-blowing rather than calming down. In the case of "FOCUS", one session is two hours, and even a free version can listen to a considerable length. Tap the play icon in the middle and the music temporarily stops.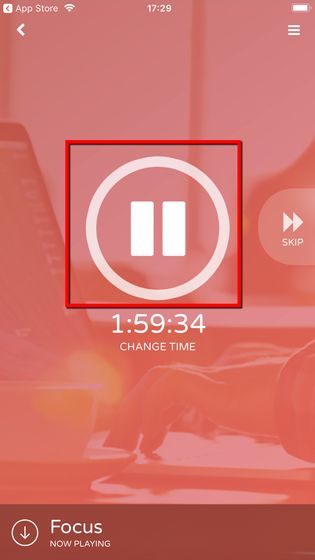 Tap the play icon again to start music as it continues.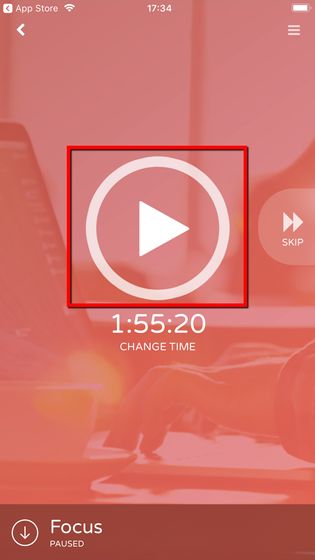 Tap "SKIP" on the right side, another track different from the previous one will flow out.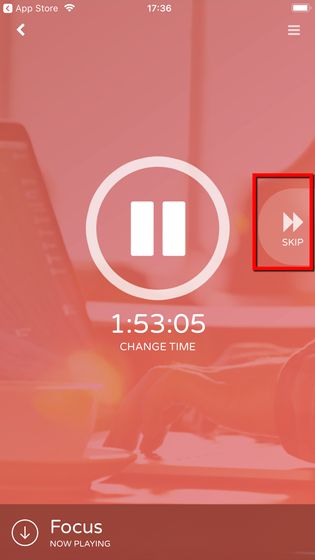 Tap the arrow on the top left to return to the home screen. Care must be taken not to tap accidentally because the number is wasted when ending in the middle of a session.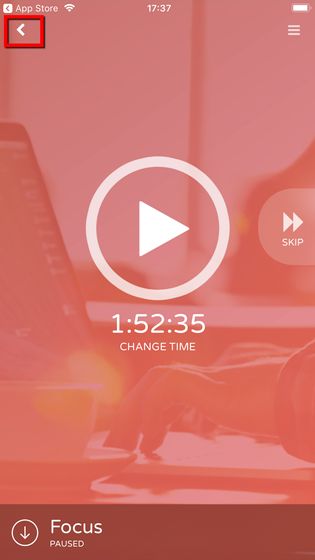 I will ask another session to try. Tap "MEDITATE (meditation)" ...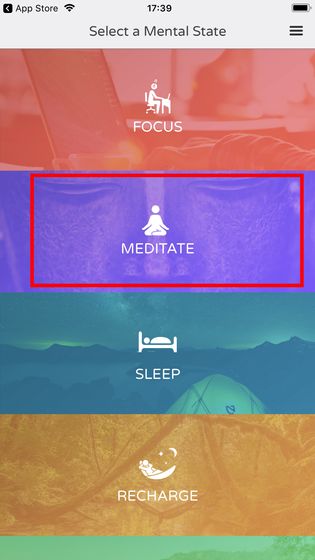 You are asked to choose whether the music playback time is "15 minutes" or "30 minutes". Tap "30 minutes" to try.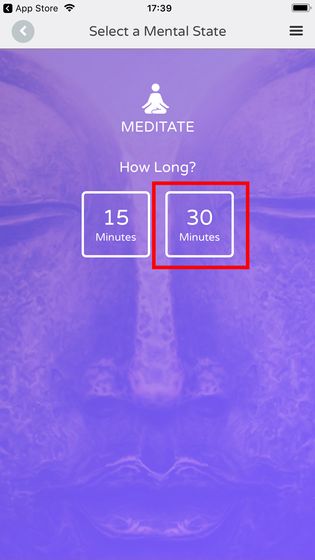 Then, a number of sounds overlapped, and the music mixed with the sound which felt religious atmosphere flowed out. I thought it might be too noisy to meditate, but there is a sense that I can concentrate surprisingly when I close my eyes.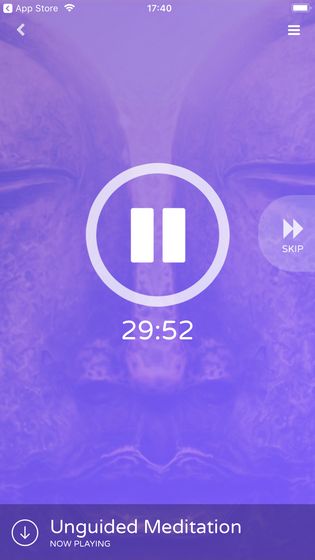 Brain.fm can only do a total of 5 sessions if it is free. If you want to upgrade to a paid version, tap the menu icon at the top right of the application screen ... ...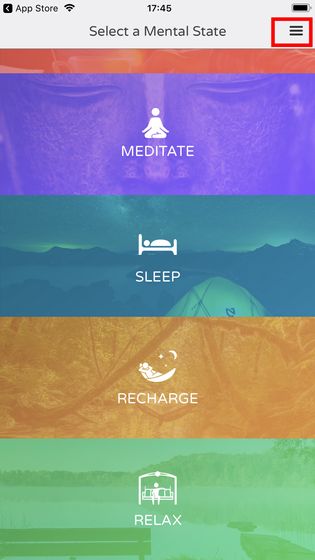 Tap "UPGRADE TO PRO".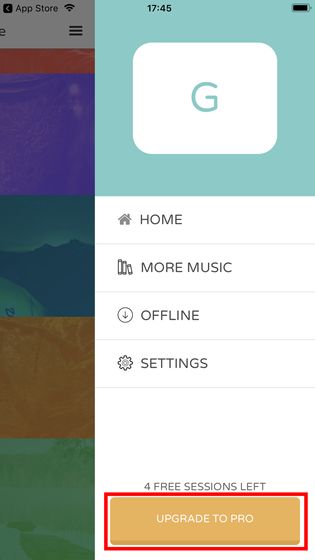 Then, you can choose from three types of paid version courses: "1 month", "3 months" and "1 year". The price is "One month use unlimited course: 6.99 dollars (840 yen)", "All-you-can-eat course of three months: $ 15.99 (1900 yen)" "One year use all course course: $ 49.99 (6000 yen)". If you upgrade to a paid version you can listen to all the music you want and listen to music offline while listening to music.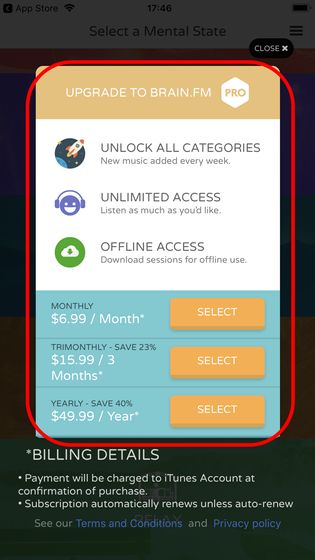 Brain.fm has many music that is perfect for "Working BGM" without vocal or flashy melody line. However, there are individual differences in what kind of music enhances the concentration ability mostly, so if you feel trying a free version first, you may want to upgrade to a paid version I do not.