'I would like the Japanese development team to freely play', I asked developers of Haasstone about the new expansion 'Tenkushita Vudu festival'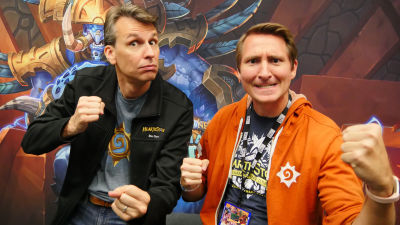 A new extension of Hairstone "The Tenkaichi Voodoo Festival" was announced at Blizzard's game event " BlizzCon 2018 ". While listening to BlizzCon 2018, I asked the hearthstone developers about the charm of "The Tenkuichi Vudu Festival" and Haasstone.

Tenkaichi Vudu Festival - Hearthstone
https://playhearthstone.com/en-us/expansions-adventures/rastakhans-rumble/

Mr. Dave Cossack (left) and Ms. Tim Erskine (right) who responded to the interview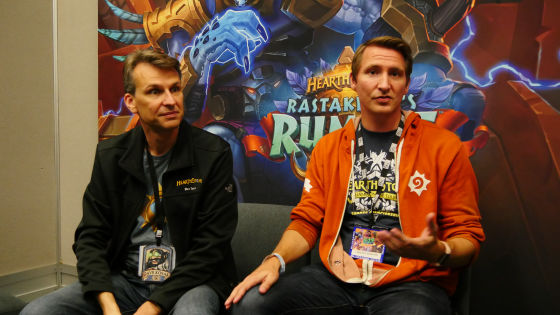 GIGAZINE (hereinafter referred to as "G"):
Please introduce yourself to their simple self.

Dave Cossack (hereinafter referred to as "Dave"):
It is Dave Cossack of Hairstone's lead mission designer. I am mainly in charge of a single player mode tutorial.

Tim Erskine (hereinafter referred to as "Tim"):
It is Tim Erskine who is Senior Producer of Haasstone. We are also in charge of scheduling each team.

Dave:
It is a fundamental role to check if Tim is doing what other team does (laugh)

G:
I think both of you are gamers, but where do you think the goodness of Hairstone as a card game is?

Dave:
You can enjoy it even if you are not a core fans of general card games. Rules are easy to understand and easy to play, I think that the easiest place for beginners to play card games is a good place for Haasstone.

Tim:
I like card games since I was a child and I enjoyed it very much. In the old days I was passionate about the card game's fight to win in the tournament by fighting in the United States (laugh) As you know, the hearthstone is a competitive card game where players compete against each other for victory or defeat It is very charming and pleasant, the image is beautiful, the sound is also elaborate, I love the place where I can do a wonderful card game experience.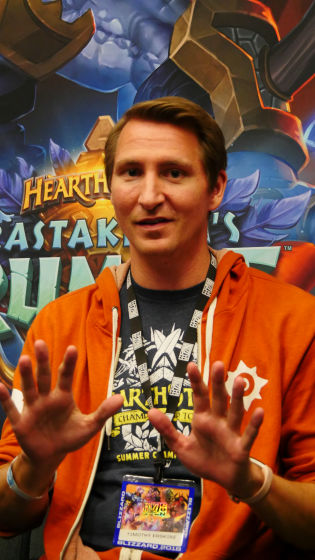 G:
Tim, you are good at Japanese, are not you?

Tim:
Not at all (lol) I understand a bit. It's not fluent (note: it's fluent)

G:
Tim is in charge of localization and he seems to be responsible for localization of the Haas Stone Japanese version, too.

Tim:
Yes. I worked from the beginning to the end for Japanese localization.

G:
Have you had any difficulties with Japanese localization? Did you have any particular circumstances in Japan?

Tim:
The most difficult thing about localization in Japan is voice acting. Because Japanese gamers have high expectations for speech, I had a hard time keeping the quality to meet that expectation. In Japan, there is an excellent culture of games and animation, and the voice actor has been respected very much. It was difficult to find the person who was the voice corresponding to each character, cast it, and keep the value of the game. This is not only that the voice matches the character, it was difficult for the voice actor to have the character's character in the game play well, to have the character embodied.

Dave:
As another aspect, Hairstone is full of humor including jokes, puns and nice phrases. In localization, we leave it to the sensibility of the local team including jokes and the like. They are the ones who know the culture of the country best. For example, what was this new expansion "Rastakhan's Rumble" in Japanese?

G:
It is " Vedu Festival at the Tenkai ".

Dave:
Well, that's a very fun name! Japanese fans should know the meaning well. It is a homage to Dragon Ball. A humorous expression for that country is fun for us as well.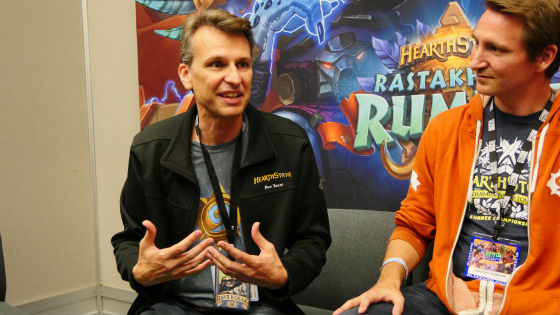 G:
Where the topic of Japanese manga came out, Dave says she likes Rumiko Takahashi of "Ranma 1/2" and "Inuyasha".

Dave:
Yeah! It is a big fan.

G:
Where is the attraction of Takahashi's work?

Dave:
I think that I really express joy and pleasure well. While treating serious things as a theme as well as action, I love the place where the heart is staying. Hairstone's view of the world is the same. It is the same thing that we are going to do with Hearthstone. Even at the Vedu Festival at the end of the year there is a big fight about big characters, but it is a part I like to match seriousness and comicality.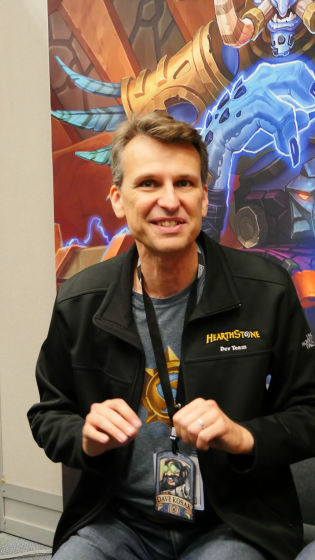 G:
There are more chatting, but please tell me about the new extension "Tenkaichi Vudu festival" as this theme. Please tell us a little more about the view of the world at the Vedu Festival.

Dave:
"Rastakhan's Rumble" is the troll gathered from Azeros in the World of Warcraft world, which are the strongest among the spirits "Lore" they believe? It is an event to fight to decide. Rastakhan's Rumble (fighting king of Rastakan) "is to hold the Vedu Festival at the end of the year. While Rastakan is watching, it will be divided into nine teams to fight. "Nine" by chance, it corresponds to the class of the hearthstone. There is a champion (legend warrior) in each team, a loud event that competes for who is the strongest while joining Roa.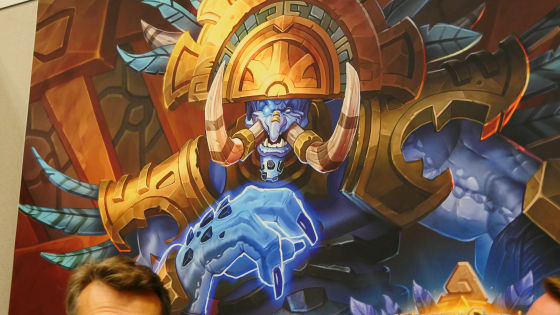 G:
King Rastakan and the champion are easy to imagine, but please tell us a little more about the concept of "lower".

Dave:
In the world of trolls, spirits (primitive gods) that are the objects of faith are called "lower". Loa is a spirit, but sometimes it becomes a shape, and in many cases it will appear as an animal. Each Lore represents a different thing. For example, it is a target of faith of each team, such as "Sai" as a symbol of power if it is a Warrior's class, "Death God" symbolizing death at Priest. Considering this concept was fun for the development team.

G:
Is there such a thing as "the god of eight million in Japan" by many gods? It might be familiar as a Japanese ....

Dave:
Yeah, you are right.

G:
What is "fighting festival"?

Dave:
This single player mode is called "fighting festival", and it is structured to become a young startling troll and win the tournament. At the beginning, you choose which roar you want to fight, fight with other troll teams, each time you win the card enters the deck and becomes stronger.

G:
Several cards have already been announced, which ones are most important? Please tell me which part you like.

Tim:
I am "cannon fire".


Tim:
This randomly gives 3 damage at 6 mana, but if you have a pirate, you can use it again. When the pirates are lined up a lot, cannons are shot out and they are very lively. It is a feeling like "Soudase!" (Japanese).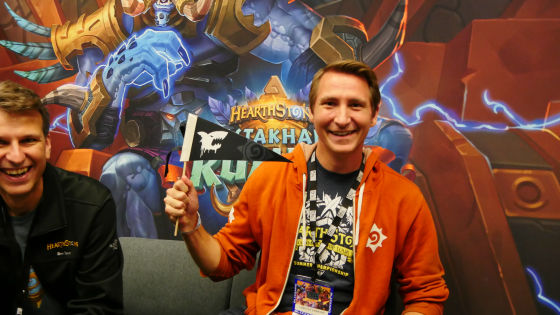 G:
(Lol)

Dave:
My favorite is a card called "Suzurazu". It adopts the overkill called "blood festival" which is a new mechanics.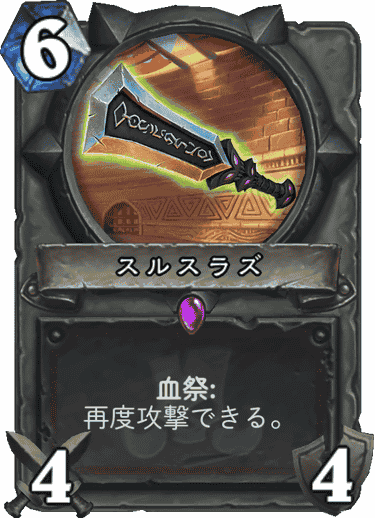 Dave:
The blood festival is an effect that you can attack once again when you give damage more than Minion's physical strength, you can attack many times if you combine Suzurazu with other cards well. This continuous attack matches the theme of the Vedu Festival at the end of the year, and people who are watching also entertain us. Personally I really like it because the crowd can play like excitement.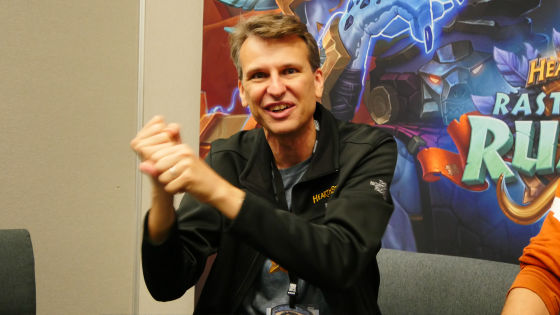 G:
Noisy terms such as "blood festival" and "fighting festival" are adopted. I think that a mismatch with the comical of Herstone is interesting, is this intentional?

Tim:
Regarding the name, I think that there are parts due to localization of Japan, but as I said, the Japanese team is free to translate it. Because the Japanese team knows the history of card game in Japan best. In particular, I have ordered "Do not translate English things directly". Originally the World of Warcraft is a serious game, but the Herstone itself derived from it is an interesting and fun game, each of which has its own view of the world. I think that it is a unique naming that made use of the gap intentionally, on the premise of such World of Warcraft and the world view gap of Hairstone.

G:
Thank you very much for your time today.

Hearthstone
https://playhearthstone.com/en-US/

'Tenkaichi Vudu Festival' trailer | Hearthstone - YouTube