As a fresh cream specialty store 'Milk Cafe' opened in Osaka · Umeda, I have eaten 'Fresh cream apple pie' riding plenty of the ultimate fresh cream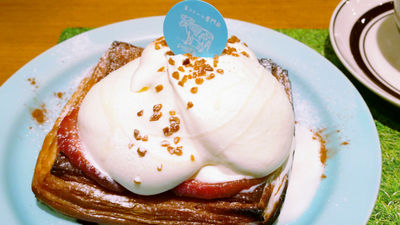 Milk Cafe MILK CAFE specialty shop in Japan opened the Umeda store on November 8, 2018. Upon opening, " Fresh cream apple pie " that matched the ultimate fresh cream with a pie of crispy appeared, and what kind of collaboration plays with crispy pie with special cream 's cream is actually said to be a shop It has been tasted.

Japan's first! Fresh cream specialty shop Milk milk
http://milk-craftcream.com/

The place of the milk cafe Umeda store is located next to Kinokuniya Shoten 1F in Hankyu Sansui Shimbun South Building.


Next to the shop in Kinokuniya, there was a sign of a milk cafe featuring light blue and white stripes under the big man .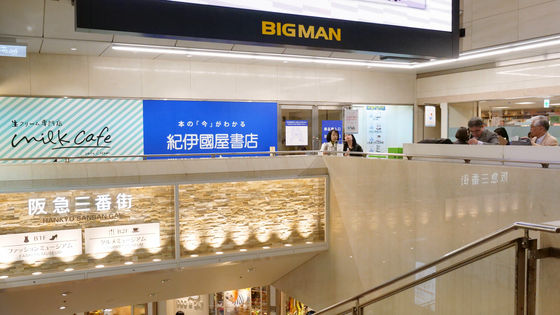 The milk cafe seems to be a shop shaped like a hollow staircase, at the bottom of the big staircase leading to Hankyu Umeda station.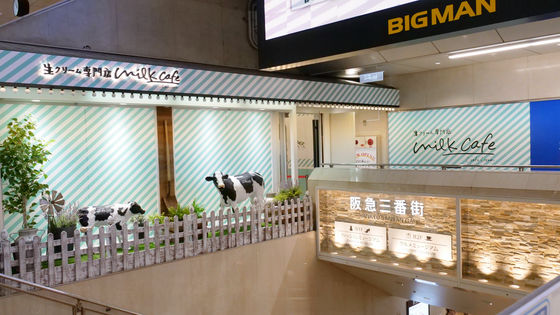 A stand menu is placed in front of the entrance ... ...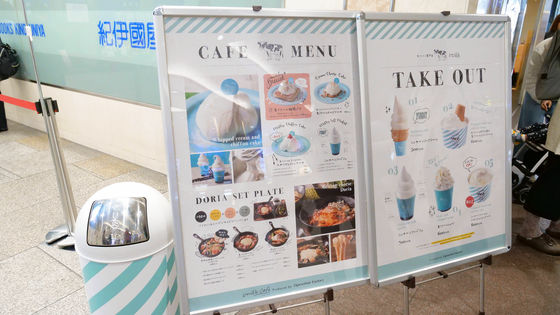 The garbage box placed on the side of the stand menu was also a color ring dedicated to milk cafe.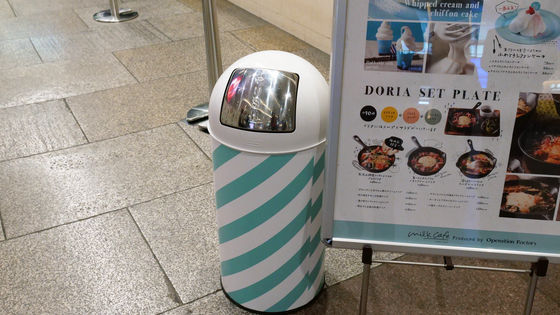 Please wait in line so that they will line up outside the store. Arrived on the open day Thursday, November 8, 2018 was around 11:30 pm, but fortunately the row was short.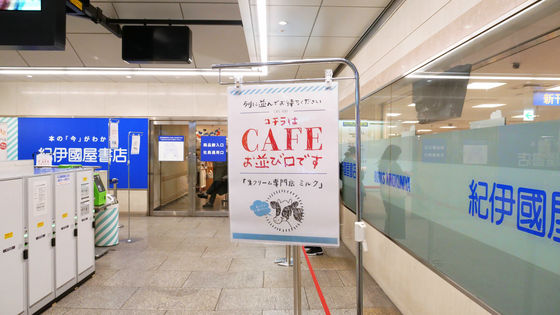 As I entered the shop, the seat was like this. The cream-colored ceiling which makes milk imagined was covered with an artificial ivy arch that reminiscent of a pasture.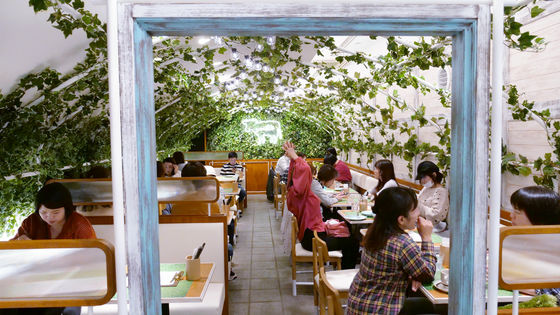 There is a large cow's ornament right next to the entrance gate. The character of 'Fresh cream specialty store Milk Cafe' is stamped on the stomach.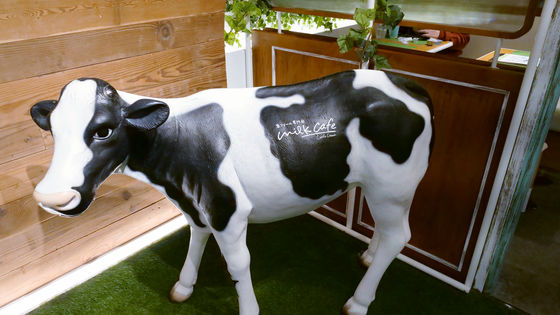 When you sit on the seat it feels like this. Cow made of neon light on the innermost wall illuminates the inside of the shop.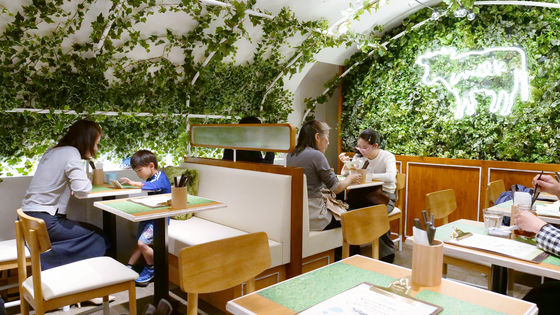 When I look at the menu, I found "Umeida shop limited" fresh cream apple pi "(880 yen including tax). Umeda store is limited in Kansai, Mandarin is a limited menu in the Kanto area.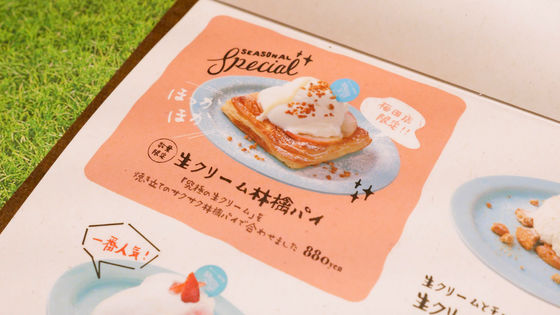 This " Pasta doria with a lot of vegetables and tomato sauce " is also a menu only for Umeda store · Harajuku store, reviewed by GIGAZINE in the past.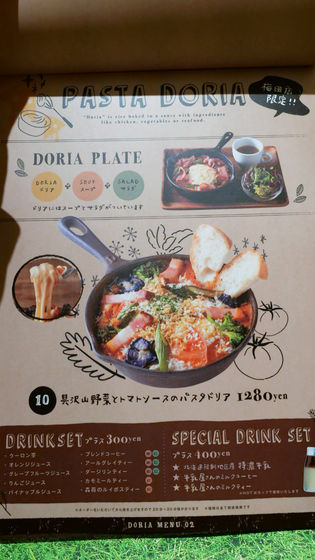 While ordering and waiting, I will drink a set drink "Milk tea's milk tea" (400 yen tax included) and wait. Tea leaves are Darjeeling, milk that entered a lot is gentle taste.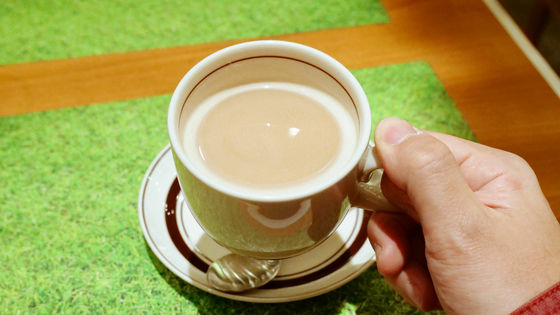 Fresh cream apple pie arrived in about 15 minutes. The cream that was brought to such a degree also has a considerable impact.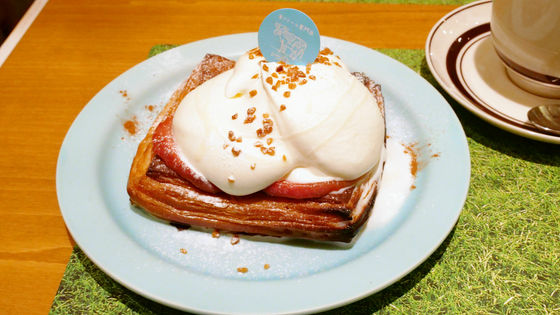 Between fresh cream and freshly baked pie there are layers of apples visible.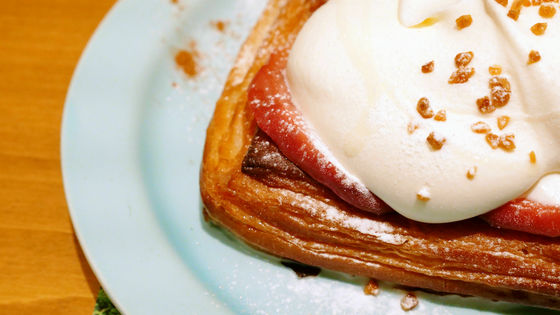 Almond praline and cinnamon powder were put on top of cream.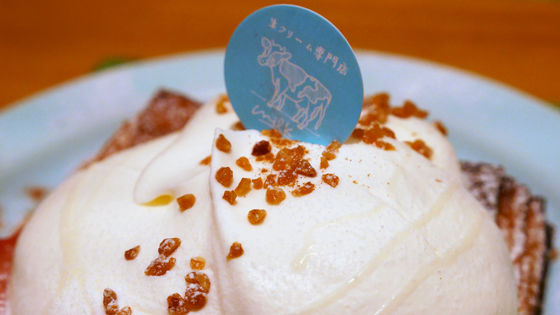 When eating, the freshly baked pie fabric is crispy, and the apple can also enjoy sharp texture with a sharp texture. Because it is fresh cream, I thought that it was too sweet and the aftertaste was refreshing and I could eat it without drinks. Almond praline was a strong taste and added accent to cream that seemed to feel a little monotonous as you continue to eat.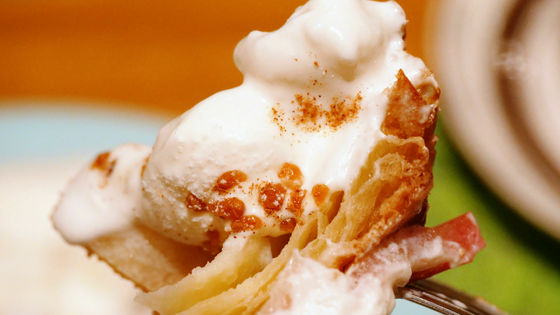 In the middle part of the pie cloth was a sweet boiled apple. Also, the custard sauce was hidden in the pie cloth, and as we proceeded to eat, we enjoyed various flavors not understood from the outside.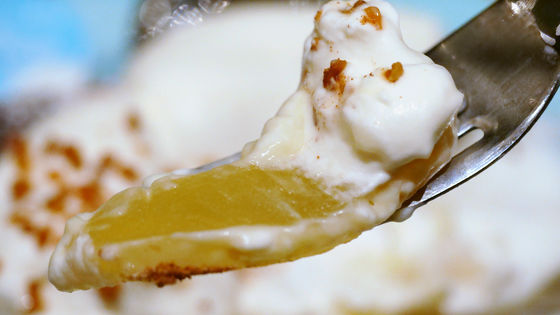 Perot and a complete meal. Fresh cream apple pie is a little expensive as a dessert after meal, it may be better to share it with someone and order it.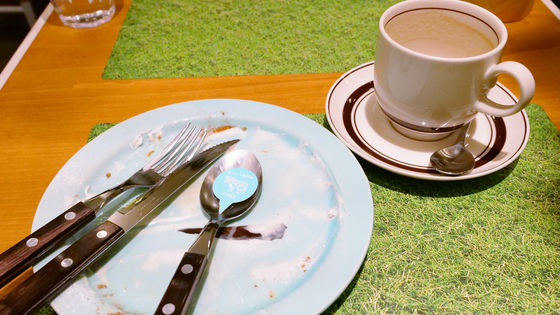 Milk bottles were lined up on the wall next to the cash register.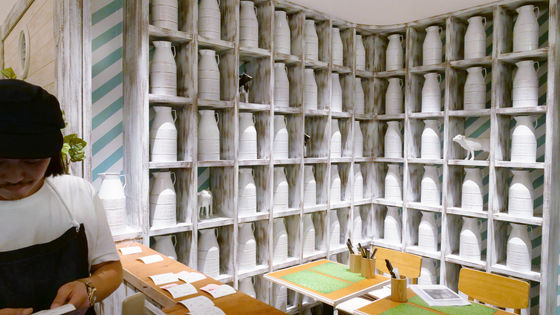 In addition, because there was a take-out corner on the left side of the entrance to the inside of the store, we decided to order it as well.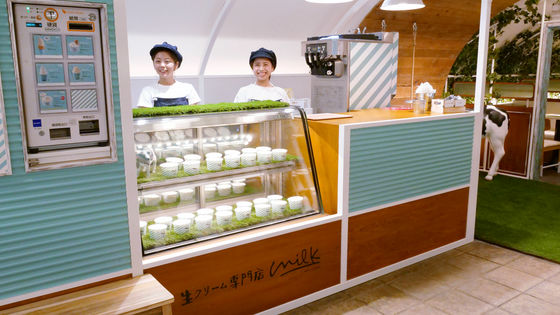 This time I chose a cream shake (600 yen) called a shop assistant recommended. Buy a ticket with a ticket vending machine ......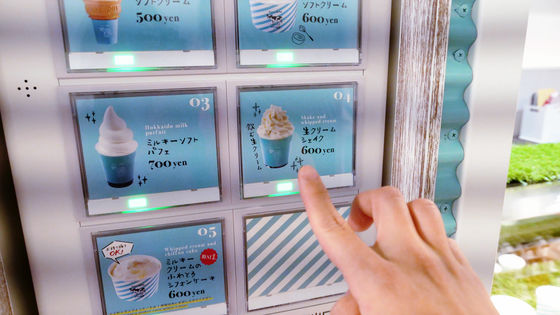 When delivering to a clerk, a raw cream shake arrived in about several minutes.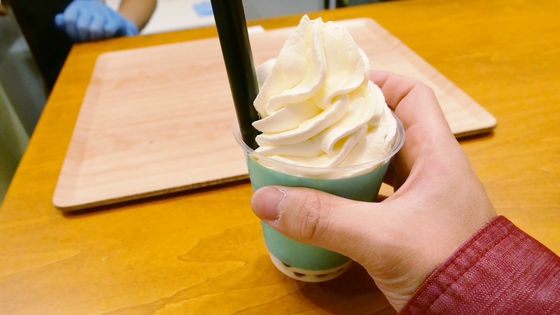 Ali is supplementing the Umeda dungeon by replenishing energy with plenty of creamy takeout sweets.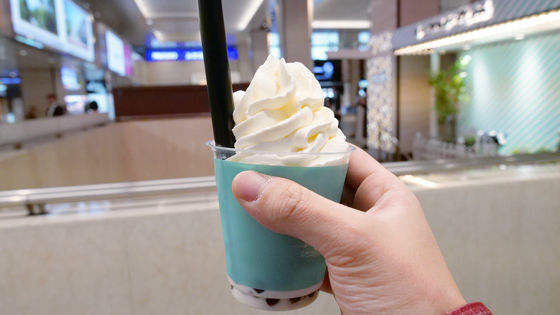 The opening time of the milk cafe Umeda store is from 11 o'clock to 22 o'clock.