The 2018 model 'MacBook Air' adopts the Y series of lower power consumption than the conventional U series as the processor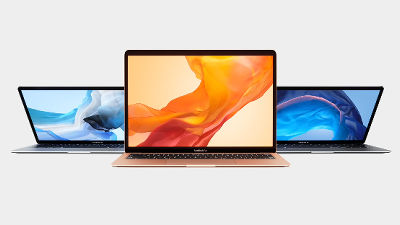 A new " MacBook Air " announced in a new product announcement event held by Apple on October 30, 2018. About Intel's 8 th generation processor to be installed at the heart, MacRumors says, "Performance will not improve better than expected but power consumption can be drastically reduced."

Apple's New MacBook Air Uses MacBook-Class Amber Lake Chip [Updated] - MacRumors
https://www.macrumors.com/2018/10/30/macbook-air-5w-amber-lake-chips/

The new MacBook Air is equipped with a 1.6 GHz dual core Intel Core i 5 (up to 3.6 GHz when using Turbo Boost), but Intel's announcement of the 8 th generation Core i 5 has the corresponding specifications It did not exist.

According to AnandTech , the product specification page ( ARK ) of Intel was updated, and it was the same specification as the processor mounted on the new MacBook Air " Core i 5 - 8210 Y "has been added. This is one of the Y series processors developed under the codename " Amber Lake ".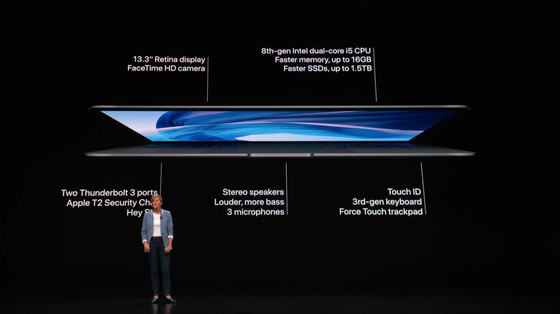 Until now Apple has adopted U series processors with TDP of 15 W for MacBook Air processors. For example, in the previous model "MacBook Air Mid 2017", it is possible to install Core i 5 5350 U of 1.8 GHz as standard and Core i 7 5650 U of 2.2 GHz as an option, both of which are U series at the end as "U" It is a processor. Until now, MacBook Air was upgraded to U series processor of the same concept which is installed every time the latest model appears, so it became easier to understand that "higher performance processors are adopted".

However, MacBook Air, which appeared in 2018, adopts Y series processors with lower power consumption than U series processors. As a result, the body size is 10% thinner than the previous model ......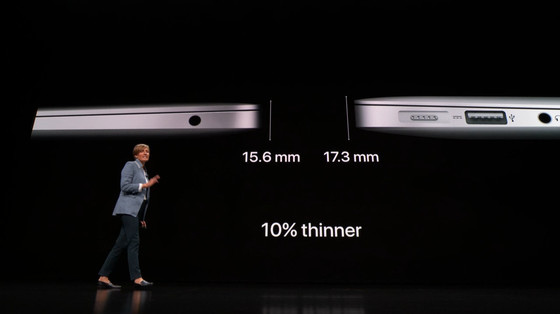 Batteries should have a full day. According to the specification, the 2018 model MacBook Air has a built-in 50.3 Wh lithium polymer battery, which enables up to 12 hours of wireless internet browsing, up to 13 hours of iTunes movie playback, up to 30 days standby time I will. This realizes the longest battery possession in the current MacBook, and the iTunes movie playing time is about 1 to 3 hours longer than the MacBook Pro.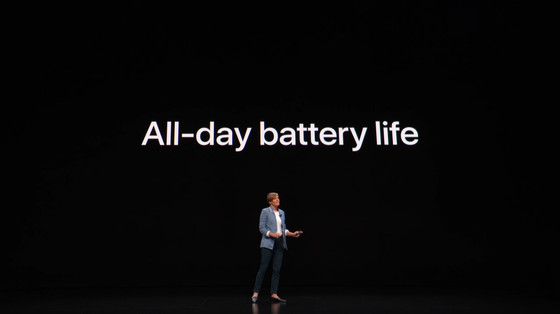 Still, MacRumors reporting Apple-related news, "Unfortunately, performance improvements would have been more impressive when Apple adopted a new U series processor." Although Y series processors have TDP of 5 W, although power consumption can be drastically reduced, dramatic changes can not be expected from the performance point of view as compared with adopting U series processors.

Apple can not upgrade to higher performance U series processors because it does not offer processor options on the new MacBook Air for Retina display. If you make it possible to upgrade the processor, you will not be able to find a difference from the 12-inch MacBook that features a slim bezel or Retina display, "even if a new 12-inch MacBook will be released in the future it's a user's choice Because it can not be, "MacRumors guesses.



The new 2018 model MacBook Air can be purchased from the Apple Store at a price of 13,4800 yen. This is a cheaper price for $ 100 (about 1100 yen) than the MacBook, but it is about 200 dollars (about 2200 yen) higher price than the previous model MacBook Air.

Buy 13 "MacBook Air - Apple (Japan)