It is obvious that intentional performance degradation will also occur in iPhone X / 8/8 Plus which appeared in 2017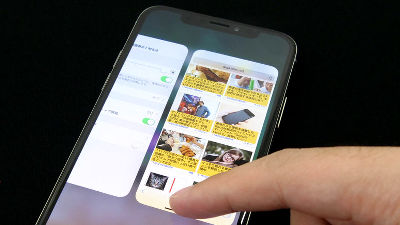 The problem " iPhone will start to degrade as soon as one year " which became obvious at the end of 2017 and begins to deteriorate is to prevent the unexpected shutdown due to deterioration of the battery, Apple intentional It was said that it had decreased to. Apple has officially apologized for this issue and has discounted the battery replacement cost by more than 60% for devices that were subject to performance degradation. About one year has passed since then iOS has released the latest version of iOS 12.1, among which iPhone X / 8/8 Plus that appeared in 2017 also incorporates features that reduce peak performance It is revealed.

Last year's iPhones get controversial throttling feature after all - The Verge
https://www.theverge.com/circuitbreaker/2018/10/31/18047174/iphone-x-8-plus-performance-throttling-battery-management-ios-12-1-update

Apple released a page called "iPhone Battery and Performance" at the same time as iOS 12.1 delivery. Among them, as the battery deteriorates, the possibility of a sudden shutdown occurring on the iPhone increases, indicating that the operation becomes unstable and can not be used. And according to this page, in order to make iPhone continue to be usable on the iPhone 6, iPhone 6 Plus, iPhone 6s, iPhone 6s Plus, iPhone SE, iPhone 7, iPhone 7 Plus, iOS is instantaneous in terminal performance We manage peaks, that is to say to prevent sudden shutdown by lowering peak performance. And in iOS 12.1 and later it is said that this function will be incorporated in iPhone 8, iPhone 8 Plus, iPhone X which appeared in 2017. However, "Because these models are more advanced in terms of both hardware and software, the impact of performance management may not be noticeable".

iPhone battery and performance - Apple support
https://support.apple.com/en-US/HT208387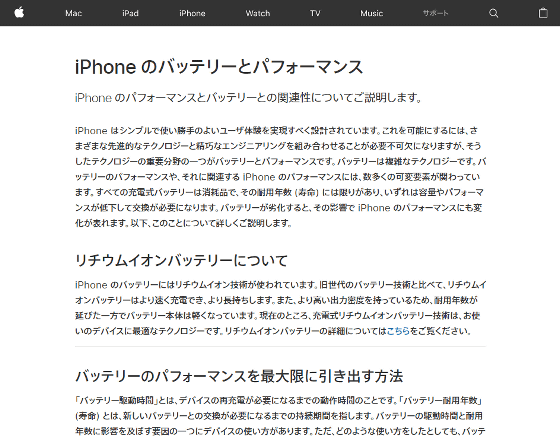 According to Apple, the iPhone 8 and later terminals are more advanced designs of both hardware and software, so the impact of lower peak performance than the previous model is not noticeable. However, degradation of the battery can not be avoided with the passage of time regardless of which model, peak performance will decline, and eventually it will be necessary to replace the battery.

Since each iPhone 8 or later model is designed to be more advanced both in terms of hardware and software, we can estimate both the required power and the power supply performance of the battery more accurately, maximize the performance of the entire system It is designed to draw to. This enables different performance management systems, allowing iOS to more accurately predict and avoid sudden shutdowns. As a result, the impact of performance management may be less conspicuous in iPhone 8 or later. However, with any iPhone model, the capacity and peak performance of the rechargeable battery will decline over time, and in either case it will be necessary to replace it.

Since Apple had declined the performance of the iPhone other than the latest model, it was filed suit against Autorità Garante della Concorrenza e del Mercato (AGCM) in Italy on the Antitrust Law violation and ultimately costs EUR 5 million (approximately 6.4 billion yen I was ordered to pay .

Although the 2017 model iPhone has also revealed that it is inevitable that the peak performance is inevitable, it is unknown at the time of article creation how much influence this function will be.

In addition, even if the iPhone repeats unexpected shutdown, if you do not want to hurt the peak performance, you can turn off the performance management function by following the procedure below.

By operating "Settings" → "Battery" → "Battery Status", you can check the battery status of your iPhone.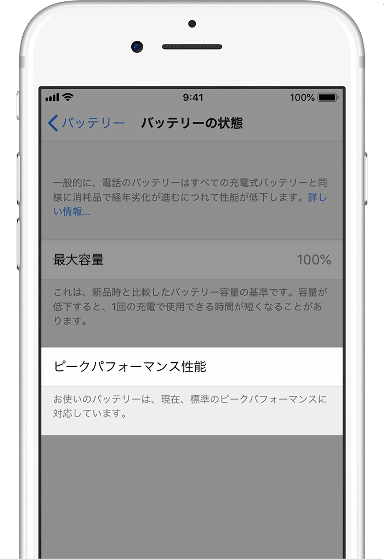 When the battery deteriorates and the maximum capacity is low, it is possible to invalidate the "peak performance" at the bottom. If you disable the performance management function here, you will not be able to turn this feature back on manually by the user. However, if an unexpected shutdown occurs on the iPhone, the feature will automatically be turned on again and the option to disable will be displayed.