Bill Gates talks about Paul Allen, both of whom founded Microsoft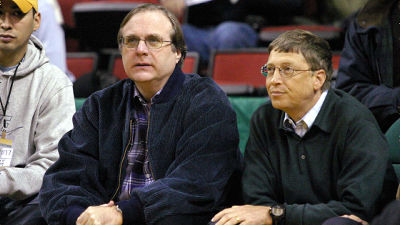 Paul Allen who founded Microsoft with Bill Gates died on Monday, October 15, 2018. They are acquaintances since I was a student, and Mr. Allen is described as "the oldest best friend" by Mr. Allen who has shared pain with Microsoft from its founding, but again Mr. Allen on his own blog I am keeping my desire for.

What I loved about Paul Allen | Bill Gates
https://www.gatesnotes.com/About-Bill-Gates/Remembering-Paul-Allen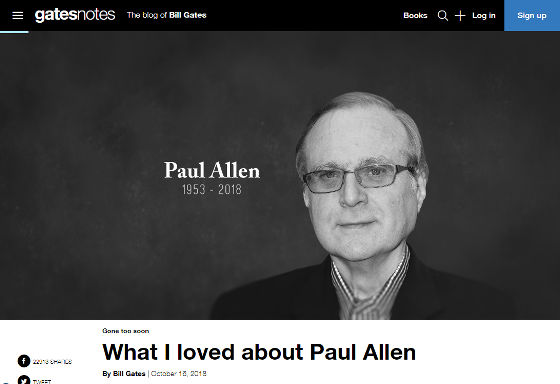 On Monday, October 15, 2018, Mr. Allen died of complications of non-Hodgkin's lymphoma, a type of malignant lymphoma, on local time. The reactions of celebrities in various fields who heard the death of Mr. Allen are summarized in the following article.

[Dango] Microsoft co-founder Paul Allen died - GIGAZINE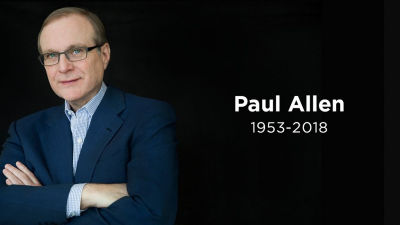 According to Mr. Gates, I first met Mr. Allen when Mr. Gates was in the first grade of junior high school. Regarding the encounter with Mr. Allen, Mr. Gates wrote that "It has changed my life." Mr. Allen was a seniors two years older than Mr. Gates, so he was talking to Mr. Allen at that time. Mr. Allen at the time was very tall, yet he understood that he was a computer genius soon. Later, Mr. Allen seems to grow a very cool beard, but Mr. Gates writes nostalgically, "I could not have a similar beard."

The reason I got along was that computers were introduced for the first time to Lake Side Junior High School and High School where two people passed. Mr. Gates recalls that time, "When we were able to touch computers, free time was always messing around with this computer."

The following picture is a photograph of two people in my school days. Mr. Allen from the left, Ms. Rick Wayland of a friend, Mr. Gates.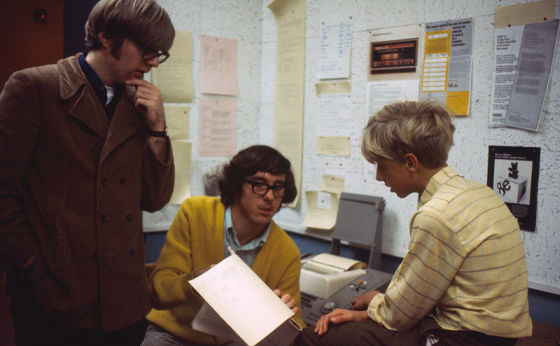 When he was a high school student, Mr Allen said he predicted that computers would change the world. In the days when no one knew even what the personal computer was yet, Mr. Allen predicted that computer chips will become super powerful, eventually creating a whole new industry. This insight is the "cornerstone of" the various things that the two have been doing together, Mr. Gates said.

"In fact, Microsoft never happened without a pole," Gates said. In December 1974 after graduating from a local high school, Mr. Gates and Mr. Allen lived together in the Boston area. At that time, Mr. Allen dropped out of college and worked as a programmer, and Mr. Gates went on to university. One day, Mr. Allen came to Mr. Gates and invited me to go to a bookstore together. When arriving at the bookstore, Mr. Allen showed the cover of the January issue of Popular Electronics to Gates. There, the appearance of a computer called " Altair 8800 " with a powerful latest chip is being widely advertised and while watching it, Mr. Allen said "This is happening without us!" To Mr. Gates He said he spoke. From there, two struggles in the IT industry began, and in 1975 we will start up Microsoft.

Mr. Gates told Mr. Allen, "Paul had extensive knowledge and special talent to briefly explain complex themes." Since Mr. Gates knew Mr. Allen from a young age, it seems that people around the world were aware of it before Mr. Allen's special talent was noticed. In the age of teens, Mr. Gates said that there was a time when I was interested in gasoline, at that time I felt most familiar with myself about gasoline as a person who came to mind is not parents, teachers, etc. Allen He said that he was. In fact, Mr. Allen explained that he explained about gasoline in a very clear and interesting way that Gates knows about as a teenager.

Also, Mr. Gates wrote that "Paul was cooler than I am." During the school days, Mr. Allen was addicted to Jimi Hendrix and he was playing "Ah Yu Experience" on a guitar. Mr. Allen who wanted to share great music to Gates who was still a student who did not know anything then played the guitar for Mr. Gates. About this, Mr. Gates wrote, "This is the person who represents him", he says that Mr. Allen has loved so many people in his life.

In addition, "Sports was another passion Paul liked to share with his friends," Gates said. Mr. Allen repeatedly invited Mr. Gates to the NBA's Portland Trail Blazers match, "It helped patiently to understand everything that I get on the court," Gates said I write it.

Mr. Allen (left) and Mr. Gates (right) who watch the Portland Trail Blazers match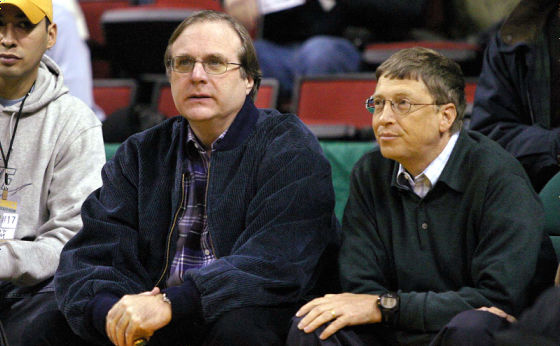 Finally, Mr. Gates said, "When I think about Paul, he is a passionate person who loves family and friends, and the memory is rising again and it is a brilliant technician trying to achieve great things, I remember him as a philanthropist, "he says, and more people in the future are going to miss Allen.
in Note, Posted by logu_ii