Wikipedia had rejected female researchers who received the Nobel Prize in Physics for the first time in 55 years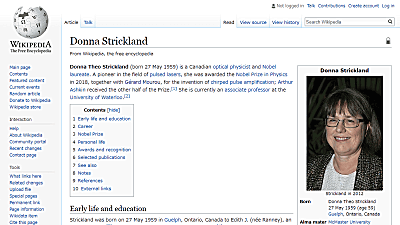 Dr. Donna Strickland of the University of Waterloo, Canada, who became the third person in history to win the Nobel Prize in Physics for women, became a topic that there was no decent Wikipedia page until it won the Nobel Prize It is. Wikipedia said that he had dismissed the page draft that wrote about Mr. Strickland in the past.

Wikipedia had rejected Nobel Prize winner Donna Strickland because she was not famous enough - Quartz
https://qz.com/1410909/wikipedia-had-rejected-nobel-prize-winner-donna-strickland-because-she-wasnt-famous-enough/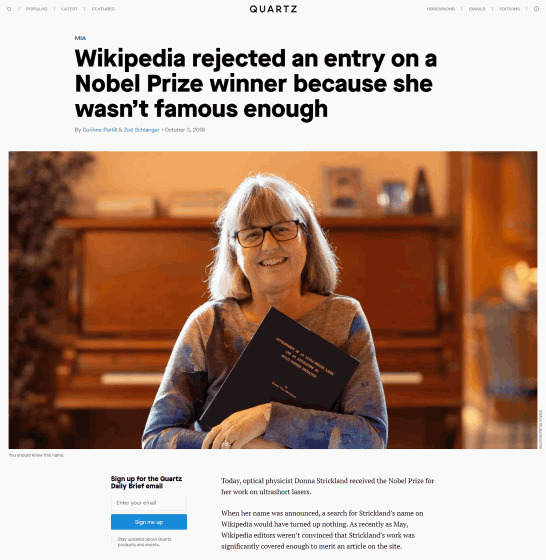 Wikipedia Rejected an Entry on This Physicist Because She Was not Famous Enough. Well, She Just Got The Nobel Prize
https://www.sciencealert.com/in-may-wikipedia-rejected-an-entry-on-a-physics-nobel-laureate-because-she-wasn-t-famous-enough

Female Nobel prize winner deemed not important enough for Wikipedia entry | Science | The Guardian
https://www.theguardian.com/science/2018/oct/03/donna-strickland-nobel-physics-prize-wikipedia-denied

Tuesday, October 2, 2018, Japan time, Nobel laureate physics prize was sent to the woman for the first time in 55 years. Mr. Strickland, who received the Nobel Prize in Physics in 2018, is the third woman who won the award, following Mary Curie of 1903 and Maria Geppert Meyer of 1963. Mr. Strickland informed about this fact at the press conference held on the same day commented, "I thought that it was really it? More."

Mr. Strickland who was awarded this award in the laser research, but until I was awarded the Nobel Prize I found that Wikipedia, the Internet encyclopedia, rejected the creation of the page. According to Quartz of the news media, when the editor searched for Mr. Strickland when the name of the candidate for the Nobel prize was revealed, he noticed that there was no name on Wikipedia. "Until around May, Quartz wrote that Wikipedia was not sure if Mr. Strickland had sufficient value to make a page."

Until the announcement of the Nobel Prize was announced, Mr. Strickland's name was only written on the Wikipedia page of Mr. Gérard Mull. And on May 23, 2018 Wikipedia rejected the draft of Mr. Strickland 's page as "not showing an important report of the target theme (not a brief mention)". In the draft at this time it was shown that Mr. Strickland was "the conference chairman of the Faculty of Physics at Waterloo University" and "was the representative of the American Optical Association in the past".

90 minutes after the announcement of the Nobel Prize was awarded, a new draft including the Nobel laureate was submitted. Astronomer Dr. Jamie R Lomax said, "Today is a memorable day in my life when a woman named Mr. Donna Strickland was awarded the Nobel Prize in Physics, the university did not promote her to a professor , 2 hours ago there was no page of Wikipedia ", posted on Twitter.

However, her university has not promoted her to full professor and she did not have a a woman-Donna Strickland. Physics who is a woman-Donna Strickland. ~ 2 hours ago.

- Dr. Jamie R Lomax (@ jrlomax) October 2, 2018

As of October 5, the following page is released.

Donna Strickland - Wikipedia
https://en.wikipedia.org/wiki/Donna_Strickland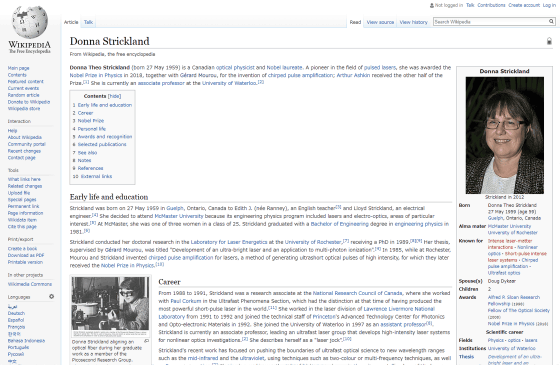 In addition, at the time of writing, 17% of the wikipedia biography genre was written about women.