A 16-year-old boy who kissed a 13-year-old girl is sentenced to 4 years and 6 months imprisonment with 'sexual assault'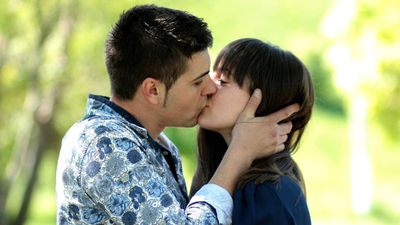 In Turkey, a 16-year-old boy hugged a 13-year-old girlfriend and kissed him, arrested and indicted as "worked for sexual assault," and imprisonment for 4 years and 6 months was given as a judgment that the local media I report it.

16-year-old gets 4.5 years in prison for kissing 13-year-old - Turkey News
http://www.hurriyetdailynews.com/16-year-old-gets-4-5-years-in-prison-for-kissing-13-year-old-137366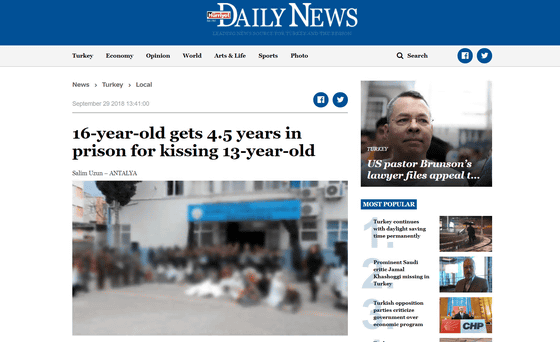 According to the Turkish media · HurriyetDailyNews , the boy hugged a girlfriend's 13-year-old girl in the school grounds and kissed him. When the boy kissed, a girl's classmate photographed the appearance of the two in the movie, and shared this movie with a friend, the couple's secret meeting was discovered to the school side. The boy was arrested by the police.

Not only the boy who kissed but the girl who shot the kiss of the couple was charged with the crime of "Producing inappropriate images for which the child appeared", and the four classmates who shared the movie also said " We shot inappropriate images that appeared, "respectively.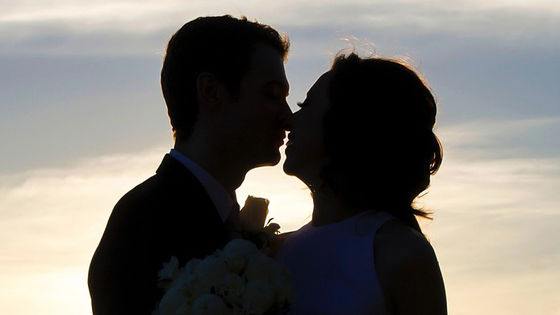 In a trial conducted at the Antalya Sixth Felony Court in southern Turkey on September 28, 2018, five classmates who shared with the girl who shot the movie were innocent of release, but the kiss who was kissed was " He worked for sexual assault on girls "and was sentenced to 4 years and 6 months imprisonment.

A juvenile lawyer emphasized, "About killing with adolescent impulses, the punishment is not necessary for the behavior of a 16-year-old boy", but the prosecutor and the judge should consider the assertion "There was a little play of boys and girls as an incident, and the story became bigger until the criminal court."
in Note, Posted by log1i_yk