Taketoyo jockey achieved 4000 victories in JRA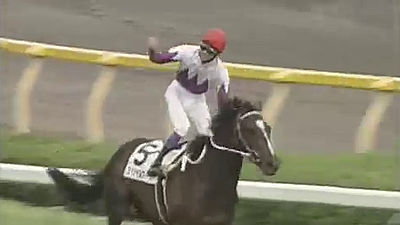 Since debuting in 1987, Takeuto jockey who has won victories with the escalation of Bashutake has won one race in the 10th race of the Hanshin horse race held on Saturday, September 29, 2018, and achieved 4000 wins in JRA . The second place is Mr. Yukio Okabe's total of 2943 victories, and indeed 1000 wins are wearing a difference.

Takefen Official Site
http://www.yutaka-take.com/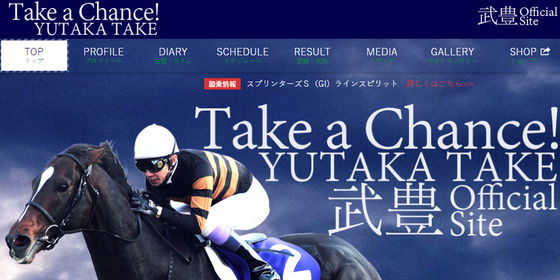 Takeuten Special Site | JRA
http://jra.jp/special/take 4000/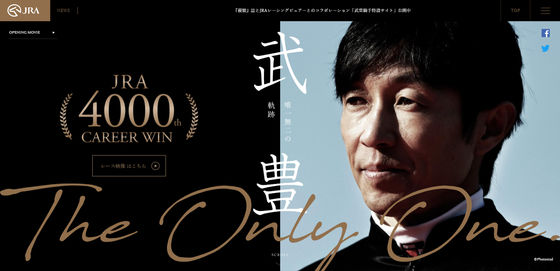 Takeuto Jockey was born on March 15, 1969 as the third son of Mr. Kunihiko Takebe. In 1987, debut on March 1 of the same year as my father opened the stables at the Ritto Training Center and became a trainer. I won the first victory in the third race on March 7, 69 wins only in this year, and rewritten the record of the newest winner at that time.

The first victory in the JRA 's G1 race was the Kikka Award of the year 1988 when he debuted and was riding a super creek. At this time, Muneyoshi was 19 years and 8 months and was the youngest winner of classic racing history.

1988 Kikka Award - YouTube


In the third year of debut, I won the JRA Reading Jockey with 133 victories.

Basically, the milestone of "JRA total wins" continued to achieve at the fastest youngest in history and achieved the first overseas G1 victory in 1994 as a JRA affiliated horsemen.

On July 21, 2007, we achieved 2944 victories to reprint JRA's most wins record held by Okabe Yukio (Retired in 2005).

Even then, without stopping, finally today, on September 29, 2018 (Saturday), reached 4,000 wins of JRA in 22 th and 25 th races. By the way, it is "JRA total", and there are more than 200 victories in local horse racing races and overseas races.

Takeshi is publishing a celebration illustration by being a promoter of a game application " Umaso daughter Pretty derby " in which girls who made real racehorse motifs appeared.

【Taketoyo Jockey JRA won 4,000 wins! 】
Taketoyo jockey, also a Uma daughter's promoter, achieved 4,000 wins in JRA! congratulations!
The Umagama Staff, We support Taketoyo Jockey further active. # Uma girl pic.twitter.com/RndlhFR44f

- Oma Girl Project Official Account (@uma_musu) September 29, 2018

The CM at the inauguration of the promoter was like this.
【Umaddy Daughter Pretty Derby】 CM "Inaugural Takefu Promotor Inauguration" Hen - YouTube


By the way, at the animation " Umaja Pretty Darby " broadcasted in the spring of 2018, the martial artist who was called a genius jockey led the warrior to the first victory at Tokyo Yusubo (Japan Derby) who could not win over a decade Special weekday served as the main character. After that, Mushiro has become the most winsest jockey in history that won 5 Derby by 2018.

1998 Japan Derby - YouTube


As of September 2018, Takeo is 49 years old. Since retirement of Okabe Jockey who had JRA's highest number of victory record before Muneyoshi was 56 years old, if it becomes active to the same degree, it may be visible until about 4500 wins.