'My hero academy' Production of TV animation 4th period decided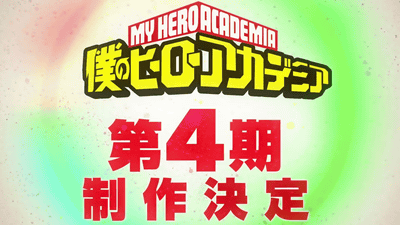 Popular manga " My hero academia " of the weekly Shonen Jump Truck series exceeding 17 million copies in series has been praised from April 2018 for the third period of the TV animation series. It was announced that the final round was broadcasted on Saturday, September 29, 2018, and the production of the 4th series was decided.

Hiloaka 4th period production decision! / "My Hero Accademia" TV Animation Fourth Period Presentation - YouTube


Fighting trajectory ... ....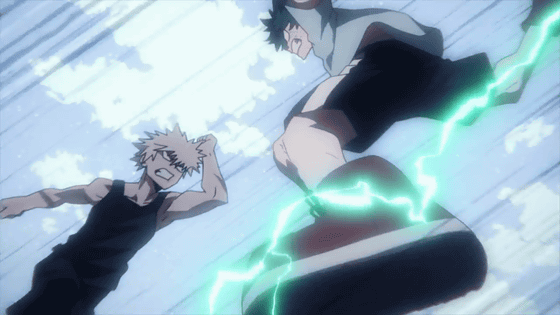 And "Yi Ying Big 3" which appeared in the end of the third term. From the left, the sky ring (voice: Yuji Okamura), Morio Mori (voice: Taruke Aragaki), wave twist (voice: Yasuno Yasuno).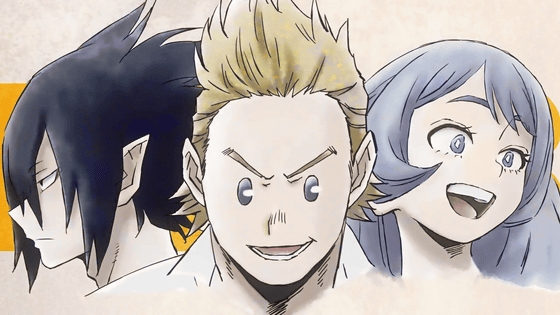 A new enemy (villain) overhaul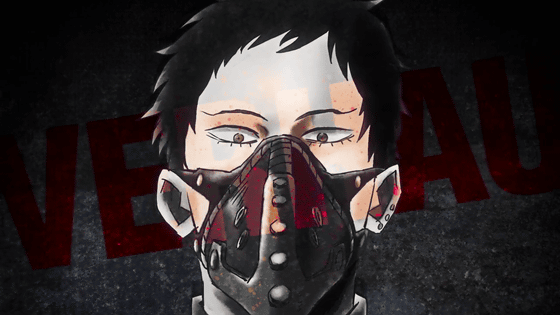 It is noteworthy what kind of activity they will show in the 4th term.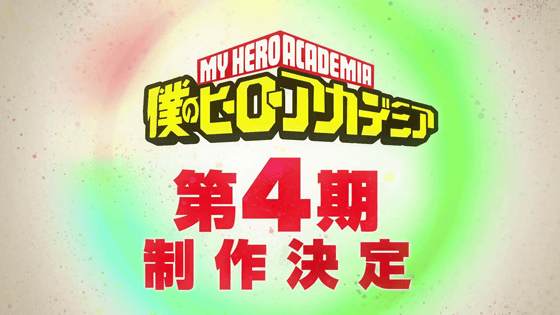 In commemoration of the final broadcast of the 3rd period, illustration by Mr. Yoshihiko Magoshi handling character design is also released.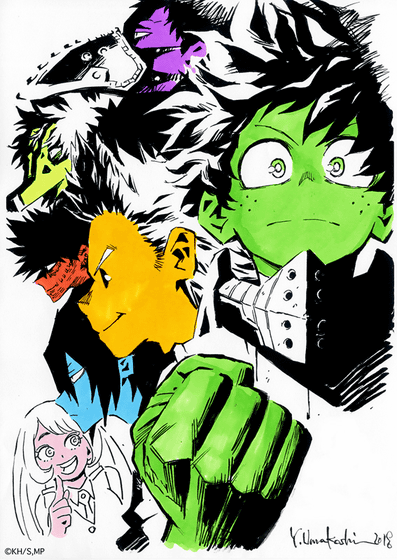 Although the Big Big 3 and overhaul came out, when I check it on the program guide, I think that there are not many people who thought "What is it to do?" With the "end" mark on September 29 broadcasting, It is safe to see continuations on a day not so far.

Today is the final broadcast of the 3rd stage of Hiroaka from 5:30 in the evening !!
Gyeonggi Big 3 's congruent Millio, Ceiling ring, Wave twist. Three characters who felt like showing their faces in the previous story showed full play in this last round?
"My hero academia" Yomiuri TV · Japan Television System 29 countries nationwide ON AIR! Https://t.co/2UpBs4vDzN #heroaca_a # Hiroaka pic.twitter.com/3vZ7L6TIB7

- My hero Academia _ Animation official (@ heroaca_anime) September 29, 2018
From today at 17:30, my final story of my hero academia "Friendless". Finally the last story! A new character is thrilled but the final story! Male and Female Big 3's ability to see? Does Mihisa's seniors pass the power of Takeshi who passed through several scenes? Today is the final story! Thank you in the rear tie. # heroaca_a # Hiroaka pic.twitter.com/tyivMKuDHT

- Yoshihiro Oobyu (@ karaage 0806) September 28, 2018

◆ "My Hero Accademia" Work information - Original: Kohei Horikoshi (Shueisha "Weekly Shonen Jump" series)
Director: Kenji Nagasaki Series composition · Screenplay: Yuusuke Kuroda (Studio Orphe)
Character design: Yoshihiko Magoshi Character design assistant: Hidetoshi Odashima Director: Odashima Hitomi, Komori Komori Music: Yuuki Hayashi Animation Production: Bonds

Masataka Midori: Katsumi Yamashita Katsumi Okamoto: Nobuhiko Okamoto Reiichi Oshika: Akane Sakura Tianya Ichida: Teruyuki Ishikawa Hitoshi Ishikawa: Yuuki Kaji Frog Fume Plume Rain: Yuki Akaikaku Hundreds of Million Years: Mari Inoue Kirishima Kirei Kinro: Masuda Toshiki Aizawa Shinta: Suwabe Junichi All mito: Kenta Miyake
© Kohei Horikoshi / Shueisha · My hero Accademia Production Committee