It will be announced that 'Disaster' that alcohol can be offered to Disneyland will be made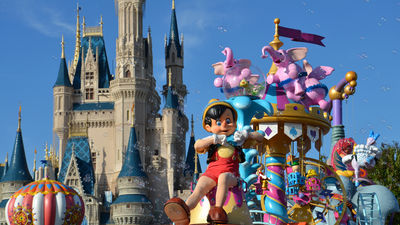 by Thomas Bunton

Disneyland, which is very popular among children and adults, is a "country of dreams", and it is well known that sales of alcohol are basically prohibited. However, it was announced that in original Disneyland located in Anaheim , California, "a bar serving alcohol" was newly created.

Oga's Cantina Coming to Star Wars: Galaxy's Edge in 2019 | Disney Parks Blog
https://disneyparks.disney.go.com/blog/2018/08/ogas-cantina-coming-to-star-wars-galaxys-edge-in-2019/

Disneyland's 'Star Wars: Galaxy's Edge' cantina will serve alcohol
https://mashable.com/article/star-wars-disneyland-cantina/

At Disneyland of Anaheim, in 2019 a new attraction group about the movie " Star Wars" series " Star Wars: Galaxy Edge " appears. Among them, the theme attraction is included as "a bar in the august " called the auger's cantina, and in addition to being able to eat meals in the auger's cantina, alcohol is also offered. "Cantina" is a wine store in Italian, and means a bar in English.

The auger's Cantina seems to be in the atmosphere like Charman's Space Port Cantina that appears in the Star Wars, and guests have pilots of the spacecraft, bounty hunters, smugglers, space travelers etc. It seems that there is. The auger's cantina is managed by the almanus oga and gala, and ordinary customers who are Earthlings may be treated as "strangers".

According to Disneyland's blog, "Although the eyes from the authorities are hard to reach and the caneers gather a lot, the auger's cantina is closely monitored by management and dangerous action customers are excluded" And that. Also, "Because the auger's cantina is also famous for the Milky Way, characters that have been seen in the Star Wars are sometimes visited" "Customers enjoy enjoying" adult-oriented drinks "made with exotic ingredients You can also do it "and explained.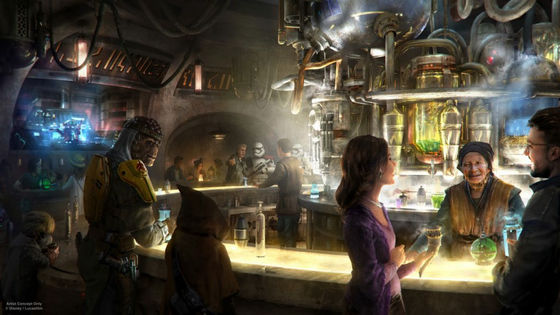 There is a " private membership restaurant " in Disneyland of California · Tokyo · Shanghai, where you can enjoy alcohol which is not usually provided at Disneyland. However, until now, ordinary customers can not enjoy alcohol in Disneyland, and the auger's cantina is said to be the first place to enjoy alcohol in public places in Disneyland.