Image explains why Sony takes time from Android latest release to update delivery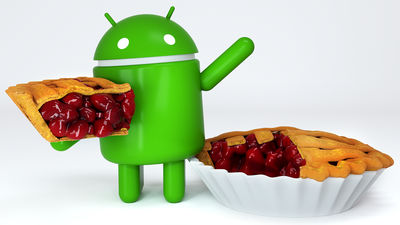 Google announced the release of the mobile OS " Android 9 Pie " on August 6, 2018. Delivery to Android 9 Pie has already begun on Google's Pixel terminal, but update files to Android 9 Pie have not yet been delivered on third-party smartphones. Sony Mobile explains on the official blog whether why updates can not be delivered immediately even when the latest OS is released.

When can I update my Xperia to Android Pie? - Sony Mobile Blog
https://blogs.sonymobile.com/2018/08/16/can-update-xperia-android-pie/

Sony, Xperia XZ 2 · Xperia XZ 2 Premium · Xperia XZ 2 Compact · Xperia XZ Premium · Xperia XZ 1 · Xperia XZ 1 Compact from November 2018, Xperia XA 2 · Xperia XA 2 Ultra · Xperia XA 2 Plus to Android 9 Pie in the first half of 2019 We announced that it can be upgraded. Although it will be updated a few months after the release, Sony uses infographics to explain the flow to update release release.

◆ 1: Get the platform development kit (PDK) - Google will distribute the PDK to the manufacturer several weeks before the release of the new version of the OS. This is a set of source files and various development, optimization and testing tools.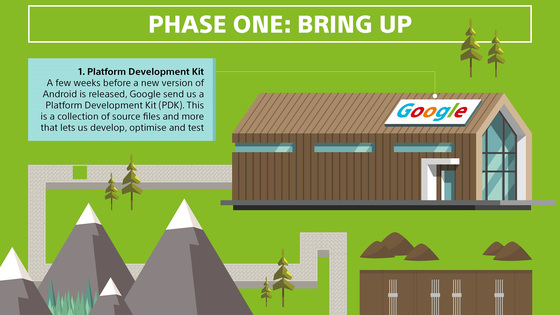 ◆ 2: Make foundation <br> When a new Android version is released, work starts from installing a new Android on your system.

◆ 3: Hardware abstraction layer (HAL)
Various chips are used for each model on smartphones. It is necessary to check whether the chip can support the new OS.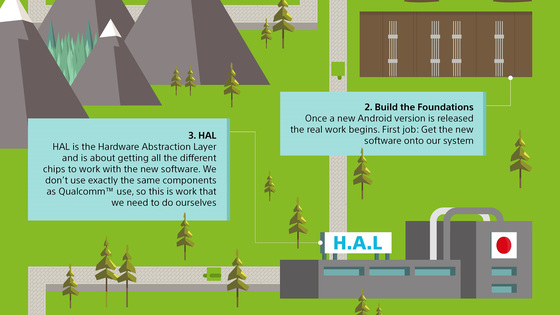 ◆ 4: Implement basic functions <br> We will check whether the basic functions of the smartphone such as phone function, mail function, Internet connection function and etc. will work properly one by one.

◆ 5: Optimize for Sony's smartphone
The appeal of Android is that it is open source and that it can be freely customized. In order to introduce Android to its smartphone, Sony needs to customize Andoird as OS to be installed on Sony's smartphone, such as functions, UI, graphics and so on.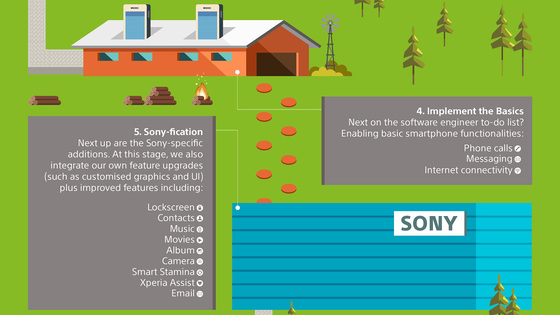 ◆ 6: Test - Install the latest customized version of Android on Sony's smartphone and test it for problems with functionality and stability even if it is used on a daily basis. Feedback from the tester will identify several major problems.

◆ 7: Further testing - In parallel with testing by testers, we will also run tests within the company and reflect feedback from outside testers.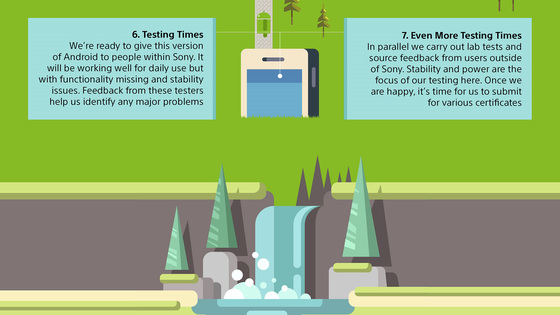 ◆ 8: High quality and high performance
The basic part is almost over when it becomes possible to reliably cooperate with commonly used technology such as Bluetooth and Wi - Fi, from here it becomes work to improve quality and performance on all devices.

◆ 9: Updating Operator Operation - When a user has an unclear part in operation, the first thing to rely on is a telephone operator. Therefore, some operators under contract must know what the latest version of the OS is. The operator tests the new OS and learns about the details of the OS and at the same time checks whether all of the OS works well.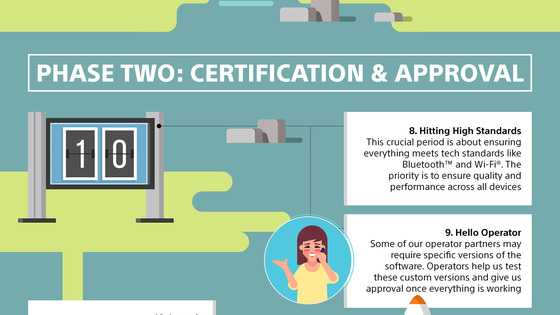 ◆ 10: Start distribution - After all confirmation and approval, the latest version of Android will finally be delivered.

◆ 11: After delivering <br> I can not be distracted even after delivery is over. The development team must monitor Sony's support forum and social media and check whether there are any problems. This feedback will be used for firmware updates until the next new Android announcement.