The demonstration experiment of the service that the commodity bought at the smartphone appliance arrives in the automatic driving car and arrives at the house finally starts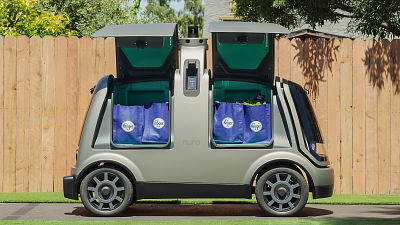 The service that the product which the smartphone appeared is put on the automatic driving car and delivered to the home is finally being realized. A startup "Nuro" launched by former Google engineer and a leading supermarket "Kroger" in the United States have joined hands and a demonstration experiment of automatic delivery service started in August 16, 2018 in local time at Scottsdale Arizona .

Nuro - Arizona
https://nuro.ai/arizona

Kroger starts testing self-driving grocery delivery in Arizona
https://www.engadget.com/2018/08/16/kroger-launches-self-driving-groery-delivery-in-arizona/

Robot cars start delivering groceries in Arizona - The Verge
https://www.theverge.com/2018/8/16/17693760/nuro-kroger-self-driving-delivery-scottsdale-arizona

In this experiment, products purchased at online shop of Fry's Food Store of food supermarket under user of Kroger are delivered by automatic driving car developed by Nuro. The service provision area at the start of the experiment is limited to the area of ​​Scottsdale, Arizona where the postal code is "85257".

Users who wish to use the service will first purchase items from the Fry's online store using the smartphone application. The delivery date and time can be selected as "the day" and "the next day". The shipping fee costs $ 5.95 per order (about 660 yen), but the minimum amount is not set. Therefore, although it seems to correspond to the order of "one beer", it is caution that the total amount of money will be about 1000 yen.

Kroger and Nuro announced that they will start demonstration experiments as of June 2018.

An American major supermarket announced that it will introduce "unmanned delivery by automatic driving car" - GIGAZINE



At the start of service, an automatic driving car which Nuro remodeled based on Toyota Prius and Nissan Leaf is used. Drivers of supervisors are supposed to board for this vehicle in case of emergency, basically all the driving is handled by the AI ​​installed in the vehicle.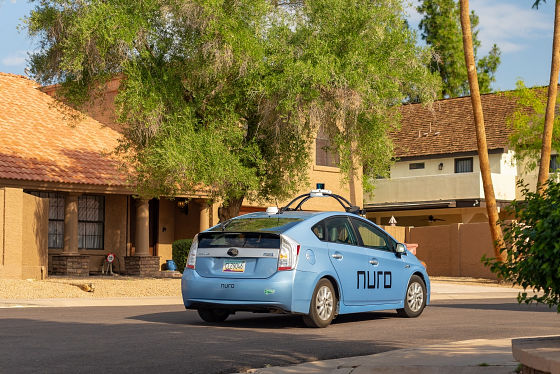 And in the autumn of 2018, the unmanned vehicle "R1" developed by Nuro will be deployed in actual war. For this vehicle, no human rides, the user will use the smartphone application to unlock the trunk and receive the goods.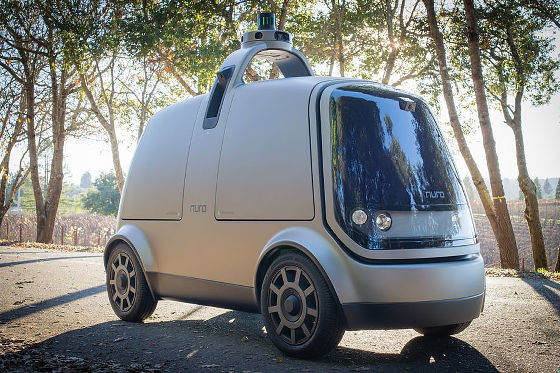 Nuro has continued to develop R1. You can check the actual running situation with the following movie.

Nuro Vehicle at Proving Grounds - YouTube


Although it is an automatic delivery service that is finally available actually, there are several points to be confirmed through this experiment. Phoenix, Arizona, the stage setting, is a temperate place and its population density is low, so it does not snow, and because there are few cars, it can be said that Phoenix is ​​relatively easy for an automated driving car. However, considering the provision of services in snowy areas and densely populated areas, it is essential to develop vehicles and algorithms that can respond to such evil situations. It seems that attention will be focused on future development as to how to clear the hurdles around it.