OpenAI's artificial intelligence 'OpenAI Five' won against the professional gamer team in a 5: 5 victory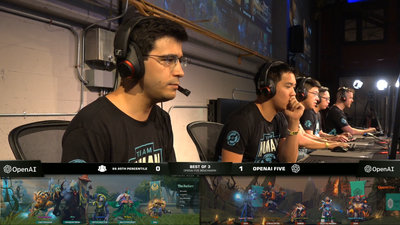 In the match strategy action game "Dota 2", the artificial intelligence "OpenAI Five" developed by OpenAI won against the team of professional gamers including the active team and won the victory.

OpenAI Five Benchmark: Results
https://blog.openai.com/openai-five-benchmark-results/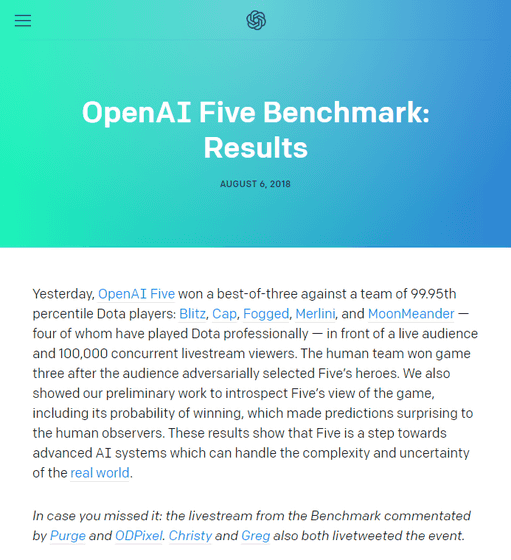 The OpenAI Dota 2 bots just defeated a team of former pros - The Verge
https://www.theverge.com/2018/8/6/17655086/dota2-openai-bots-professional-gaming-ai

OpenAI has been pursuing the development of artificial intelligence capable of fighting humans with "Dota 2" before, and in August 2017 he won the world championship of humans in one to one battle .

Even with the next target of 5 to 5 battle, in June 2018 he won the skilled player team .

And in August 2018, I played against professional players with more skill.

OpenAI's artificial intelligence "OpenAI Five" who won the human team at Dota 2 announces that it will play against the prominent player team this time - GIGAZINE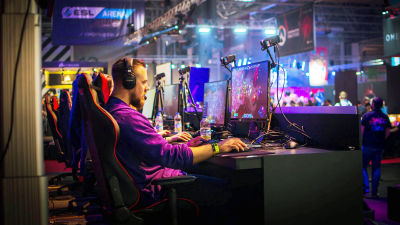 The opponent is an active pro player MoonMeander , former top ranker, Blitz who is currently active as a coach or commentator, Fogged also as top ranker, Merlini as former top ranker, and skill at the semi-professional level acting as a creator / commentator Team " 99.95th Percentile " by five people in Capitalist .

The match between OpenAI Five and 99.95th Percentile has been held for 3 rounds, and the full story is being released in a movie of 5 hours, 32 minutes and 45 seconds. Among them, the first race starts at around 1 hour 46 minutes, the second race starts at around 2 hours and 33 minutes, and the third race starts at about 3 hours and 46 minutes.

OpenAI - OpenAI Five Benchmark - Twitch


OpenAI Five wins in the first and second races. However, in the third game 99.95th Percentile stole the victory with a meaning and the competition result was OpenAI Five's 2 wins and 1 loss.

According to The Verge, it seems that even in professional players you may get confused about the situation judgment on the battlefield, but OpenAI Five is quickly and clearly and firmly done without the processing speed like human beings He said that he made the right decision.

In the future, we are planning to play against the professional at Dota 2 's world championship " The International Battle Pass 2018 ".